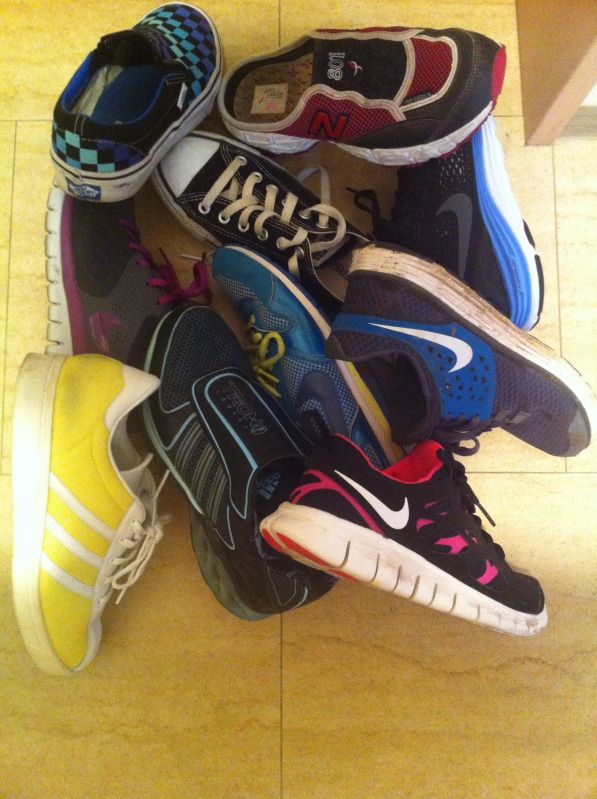 Yes, lots of Nikes. That's what happens when you have access to the Nike Employee Store in Portland OR, and everything is always half off!
How's the marathon training going, you ask? Tough. But if it was easy, then more than 1% of the world would have run one!
I have been having major foot problems that I have thankfully recovered from. What caused it? Simple: my shoes.
In 2010, Dan was at the Adidas Employee Store in Portland, Oregon and got me these sweet Tron kicks.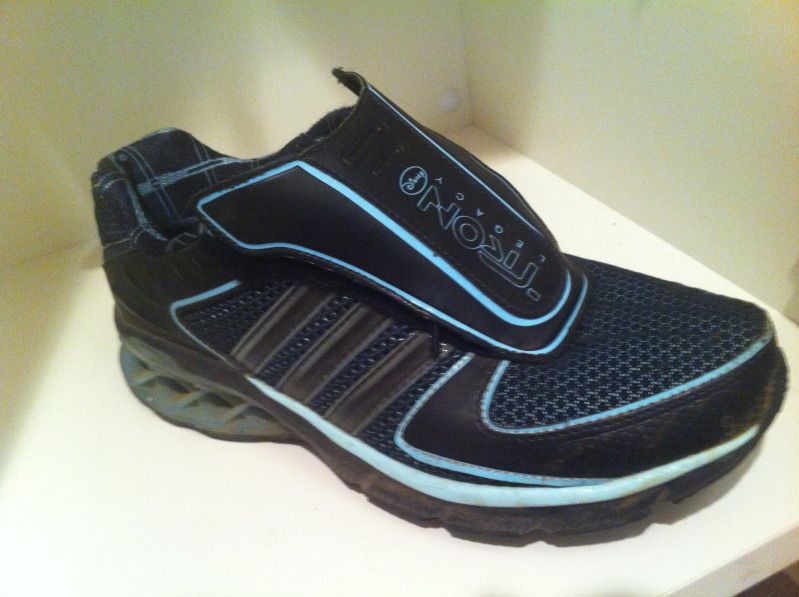 At the time I was well over 200 lbs and had no ambition to lose weight or be a runner. So they were my walking shoes for Japan, going to the store, Disneyland etc.
Summer 2011 I started getting out and making walks more mandatory in my schedule, and these were the shoes I'd go out in. Eventually that fell by the wayside and they were reduced to my "going to the store" shoes.
January 2012, I decided I didn't want to be fat anymore, and I wanted to run. I laced into these, but who are we kidding? The cushioning was all worn out in odd places and I'll be honest, they are totally from the kids' department. It was time for an upgrade if I was going to give this running thing a fair shot.
Enter: My first pair of Nike Lunarglides!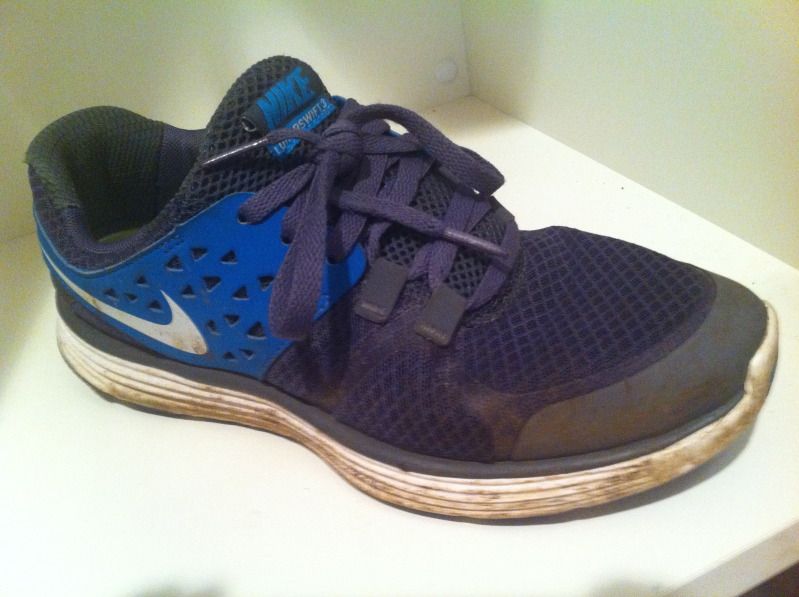 These had no break in time and were super comfortable. I ran in these from January until this fall. I'm only retiring them since I've put 450 miles on them!
Don't be swayed by what the masses say…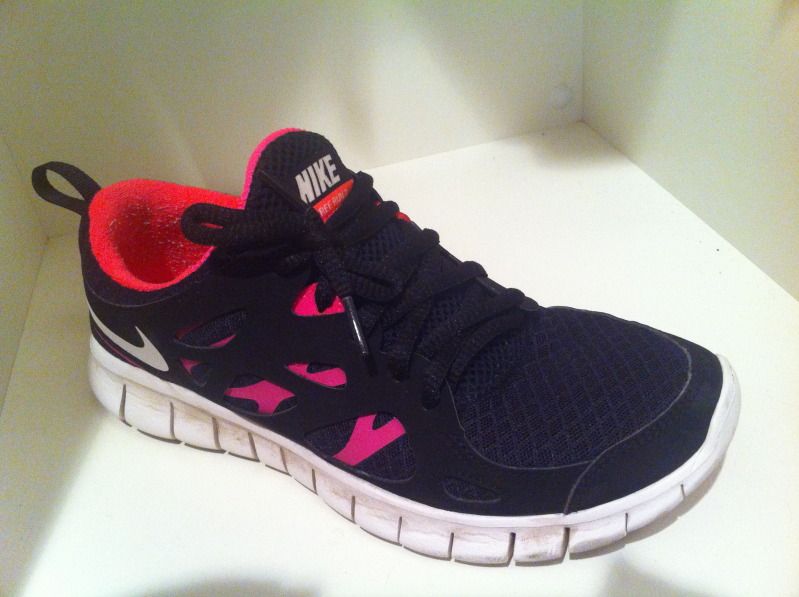 This is my first pair of Nike Frees. I got them half off from the children's section. I got them because A- they were a great deal and B- everyone says awesome things about Nike Frees, and they're pretty trendy in the states right now, for running and just hanging out in.
I got these in July and went on a couple runs with them, but they rubbed my arches a bit funny. They felt very different from my Lunarglides. Not bad different, just different different! With the Disneyland half marathon on the horizon in 2 month, I decided to shelf these and break them in later in the fall.
Then I bought the Nike FreeRun 2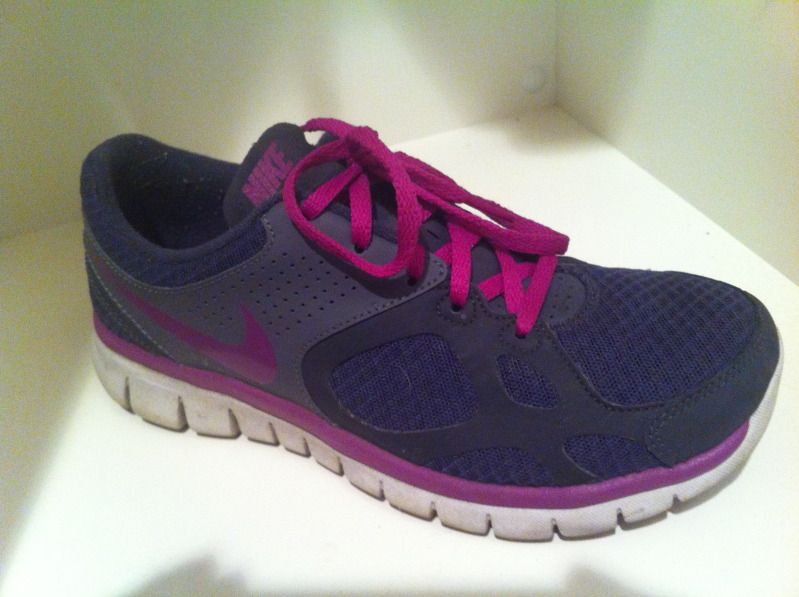 I know, I know. I had a pair of Frees at home! I was out shopping w girlfriends, saw these and tried them on, and they felt great. I didn't have that rubbing of my arch like i did with the Frees I already had. So I wrapped these babies up and took them home to Japan with me.
Things started out fine. I took them for a jog on the beach, and a quick jaunt in Seattle, no real problems. As usual, while visiting home my training dropped WAY down. I'd go a week or longer between runs. So when I got home and got down to business, running daily, I started having major foot pains. I chalked it up to 2 things- getting back on my feet and running, and the 5ish lbs I gained when back in the states.
But the pain didn't go away! On the contrary, it got worse. I'd run a mile and have to stop. I'd get so frustrated I felt like crying. Nothing made sense. I had brand new shoes and I was chomping at the bit to get down to business with my marathon training. Day in, day out, I was reduced to a walking, teary mess.
I turned to my online RunDisney posse and laid this whole mess out for them. It was unanimous- THE SHOES! There's something special about the Nike Free- It has hardly any cushioning to simulate running barefoot (think: those weird shoes with 5 toe pockets). If someone goes from a cushy shoe to a not-so-cushy shoe, it's gonna take some getting used to! Once I pinpointed the problem, I started Googling breaking in minimal cushion running shoes. Most the website advise walking around your house in them first, then maybe a 1-3 mile jog in them once a week. I tried to run 25 miles in a week with them! Shesh! No wonder my feet were howling!
So what to do? I decided I buy the newest version of my beloved Lunarglide: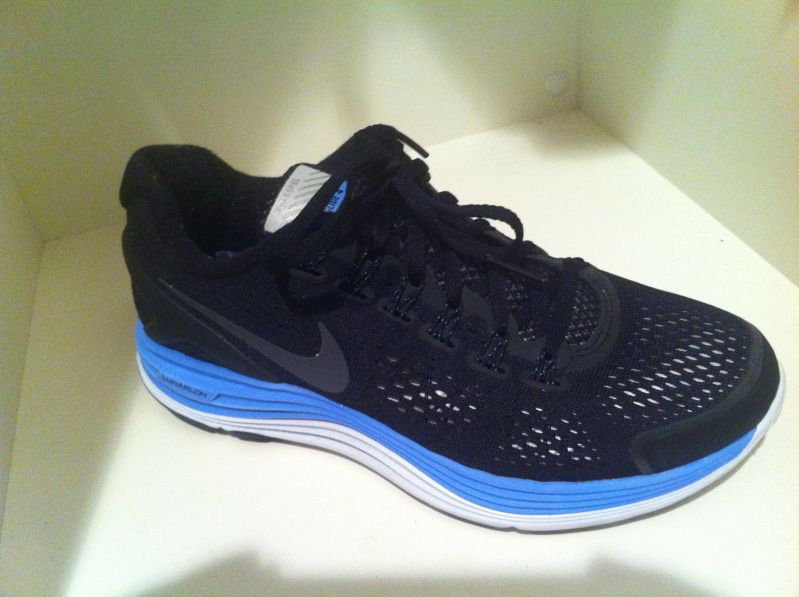 This version is water resistant. Hello dry feet!
But again, silly me. I strapped them on and tried to run. No such luck. Pain! I finally got a diagnosis of tendonitis, an inflamed tendon near the rear of my foot. I took a week off, iced, elevated, and got some great foot massages (thanks Dan!). I tell you, when there is a weekend looming in your future consisting of running 39.3 miles, this is torture!!
But I took it slow and got back on my feet, but in my old Lunarglides. My feet needed something familiar to run in. I'm currently slowly adjusting to my new running shoes and so far it's going great! No pain!
My advice is to do what works best for you, and stick with it! Don't be woo'd by fancy shoe ads or what works for other people. It's hard to remember I'm still new at the running thing, and I'm going to make mistakes. Hopefully this is the last big one for quite a while!