It was my second year running the Pints to Pasta 10k, and I loved it just as much as the first year (if not more!)
Last year I ran with Dan and his mother, but since he was back in Japan I went with my college friend Thomas. He's a blast to go to races with because he's a speed demon, and since he always finishes before me I get to have a fan cheering for me at the finish!
I wasn't feeling great the morning of the run. I got 5 hours of sleep, and had done a few training runs, but was still feeling meh about it all (I had also run The Color Run the day before as well). Last year I ran this race right after the Disneyland Half, and was in much better shape, so I felt like, comparatively, this wouldn't be a great morning.
I drove to Thomas' and he drove us to the race. We parked at the finish and shuttled to the start. We were really only hanging out for about 10 minutes when it was time to run! We both decided to just fun run the race since we weren't feeling particularly fresh (he was in the thick of training for the Portland Marathon).
This race starts out on a descent, which is awesome. I found a good groove and ran on. This was my third race of the fall season after a summer race hiatus. Mile 1 was super quick. I was wearing a shirt i just got from running with the Eugene Hash House Harriers, and I had 3 people come up and say hello during the race, which was pretty awesome!
I missed the sign for mile 2, so I felt like the race was starting to drag. I started having suspicions that I missed it when we ran up an onramp and across the steel bridge and sure enough, BAM! Mile 3! In racing I feel like that's always the best surprise ever! Soon after I hit the 5k mark and was officially half done. And I felt great!
Once over the bridge, it was about a mile to the waterfront, essentially a big "L" shape through the city. I kept seeing the course get halted to let cars pass which was nerve wracking, but luckily it would clear up just as I approached, or be right behind me.
The waterfront felt like a decent stretch, maybe 1.5 miles (give or take). Pretty, but I was starting to feel ready to be done. There was a dragonboat race event (same as last year), so that was cool to see. Finally I was winding through city streets again on my way to the finish!
Then insanity struck. I saw a volunteer preparing to shut down the street. I looked behind me and saw no one for quite a while. I figured, "well, he won't stop ONE person for these cars, I'm sure he'll wait for me to pass". But he didn't! He started holding up his little flag and put a hand up! And then it all happened so fast. I felt like my pace was pretty decent, and after remembering when Thomas evaded the traffic controllers at Portland Shamrock Run, I just went for it. I yelled, "sorry!" and kept running. I assure you all, my life wasn't in danger, the car wasn't moving, everyone was just fine. The volunteer looked pissed off and yelled at another volunteer if he got my bib number.
I sprinted on with my hand over my bib for a while (probably longer than necessary). After a while I looked back and no one was chasing me. No one was going to disqualify me. I was just a jerk on course, and I'm sorry to make the volunteers' job more of a chore instead of something fun.
But alas, the finish is before me! I crossed the finish line and clocked in at 1:08:44- about a 2 minute improvement from last year! Not bad considering I felt out of shape and was planning to fun run. Thomas was there at the finish and it was awesome to see him. I told him my harrowing story of dodging the volunteers and he just laughed, so I loosened up about it too.
6.2 done, and I earned my reward, a gold cup of Alchemy ale from Widmer!

It was such a nice morning. We grabbed plates of food and ate/ decompressed a bit from running, then grabbed our beers and stood in the sun and chatted. At this point I was still so happy to be out of the humidity of Tokyo, so I just enjoyed my beer and my friend and the weather. We people watched and laughed and it was an awesome reminder how much I love my friends back in the States.
Thomas and I, full of beer and pasta! Circa 10am 😉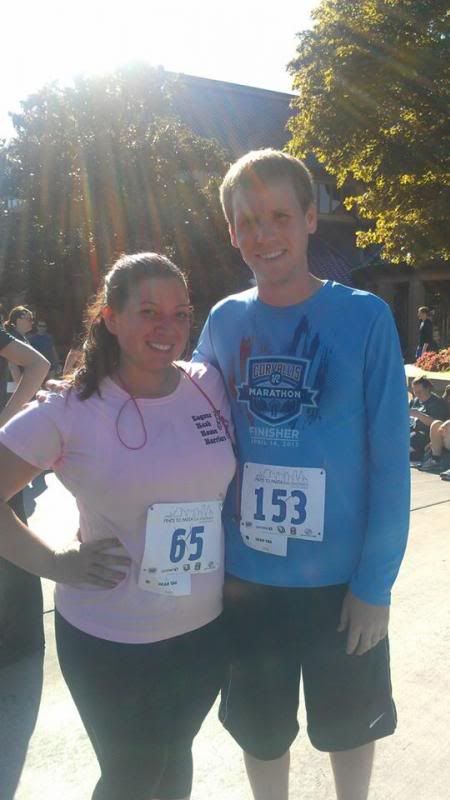 I love this race, and I do believe (besides walking Komen Race for the Cure annually) it's my first repeat run! So maybe I'll be back in 2014 to conquer again. I'm a sucker for a good race course. And the Pacific Northwest. And pints. AND pasta. So, I think it's safe to say I'll be back in 2014 😀