I've had breakfast and I'm dressed to go run 5 miles, but blogging about Nate in my cozy apartment sounds much better!
At this point in my blogging history, you all know my baby nephew Nate. He's 20 months, weighs about 10 apples and is about 15 apples high (how Hello Kitty is measured ;)). Also, like his mother and my sister when she was little, he looks like a baby cat.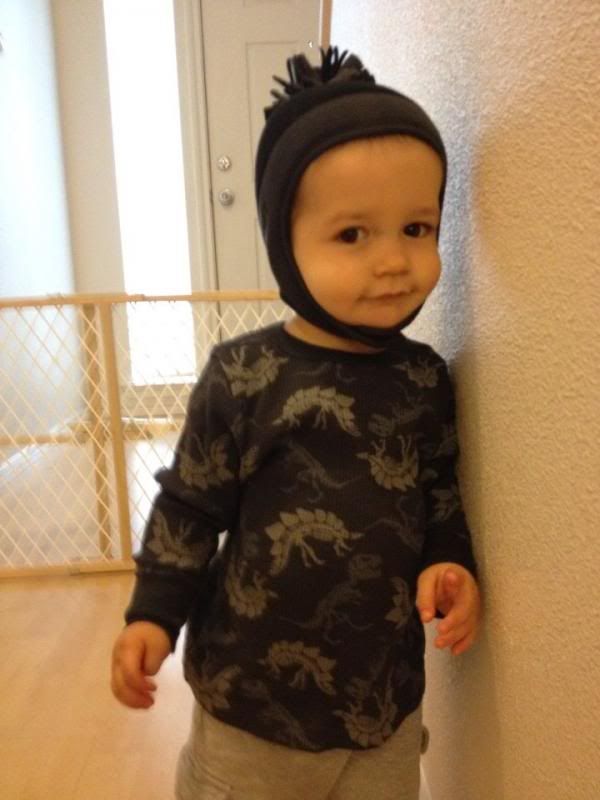 Our family had a big issue. Nate needed a Christmas stocking. In the past, it was tradition for my mother to make everyone's stockings.
My mom's handiwork on the mantle. My stocking, hers, my dad's, and my sister's. Mine is facing opposite because I'm left handed 😉 Also, my sister and Melissa and Vanessa opening some gifts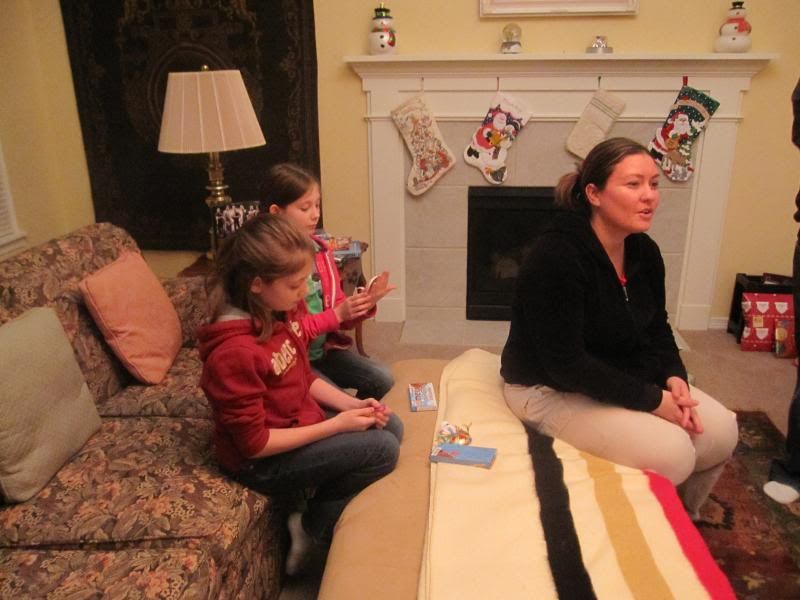 My mom happily sewed as a pastime. She made our stockings, sewed skating outfits for my sister and I, and other various projects, like rogue buttons and chair packs. When my sister married Paul and Melissa and Vanessa came into our lives, my mom made all three of them stockings.
But when my mom was diagnosed with cancer in 2010, she had to undergo surgery, chemotherapy and radiation. The chemotherapy wreaked havoc. It's left her with a lot of challenges, mainly that she lost a lot of fine motor skill in her hands. I remember when she came to me a couple years ago, sad to tell me that she can't make Dan a stocking. She said she tried, but she just couldn't do it. It made me sad, but really, just more mad at cancer.
My sister had Nate in April 2012, but I didn't get to meet him until that fall when I visited home. As I played with him on an October night, we got to talking about what to do about his stocking. My sister's family had such beautiful stockings- all hand made by our mother. I don't know what possessed me to do it, but I volunteered to TRY to make him one. My sister and her husband got really excited, and my brother in law and I started Googling designs and discussing logistics- "it should look Christmassy, but not sissy", "I like blue, do you like blue?" It got really exciting. But then I got really nervous.
I love to craft. I love making greeting cards, knitting, beading. But sewing? Besides buttons, I had never put much time into it. The next time I saw my mother, I told her, and she was really happy for me. We don't have many traditions in our family, but it felt like a torch of sorts was being passed down. She went to the garage and brought in a box full of felt and thread. "This was going to be Dan's stocking," she said as she laid out all the pieces. She then taught me different stitches, satin, straight, back, running, cording. It was pretty overwhelming, but I wanted to try.
I began in November 2012, and worked like crazy for about a month. It was A LOT of work, frustration, and trial and error (not to mention the first 3 seasons of Gilmore Girls!). Luckily, my sister emailed me to say she saw a "Baby's First Christmas" stocking she loved at Babies R Us, and picked it up. I felt so relieved! I shelved the project for the time being.
Fast forward to October of this year, I brought the sewing materials out and tried to get started. It was hard remembering where I left off and finding a groove, but ultimately, as the latter seasons of Gilmore Girls droned on, the stocking came together. Some nights I skipped going out with friends to sew. Some days it was all I did, only taking breaks to rotate the laundry. Sew, sew, sew. Bead, bead, bead. A blue stocking, nice and Christmassy, not too sissy.
This past weekend, I finished. It was last Saturday night. I went for a 13 mile run, then Dan and I went out to one of my favorite ramen restaurants for dinner. I came home and did all the final details- a sewed a panel along the inside so his fingers wouldn't get caught on my messy tie-offs, made sure every step was finished, attached the back and added a mantle hanger.
It took forever. It was SO rewarding.

I'm really proud of my work. I hope it holds up over the years! And I hope I get to make more. I'd love to make one for Dan some day. It reminded me a lot of running- right now I'm training and training for Goofy Challenge, and I feel like it's never ending. I run, and I run. I sewed and I sewed. But ultimately I finished and had a great stocking to show for it, and in a month I will have 3 beautiful medals to show for my running.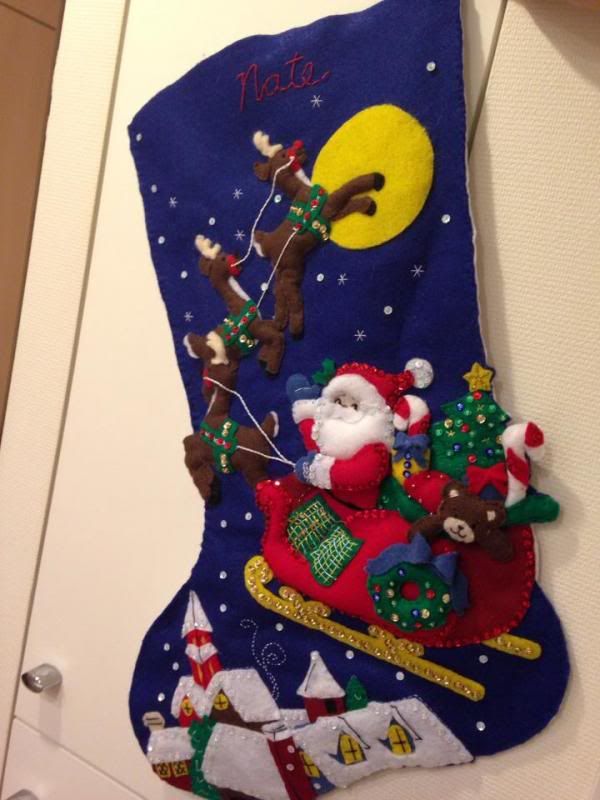 Now I'm just rambling to further procrastinate my run 😉 I'm definitely in the holiday spirit, and I hope you all are too!