I'm on the very common mission of running a half marathon in every state! And maybe someday 50 full marathons? One dream at a time!
Half Marathons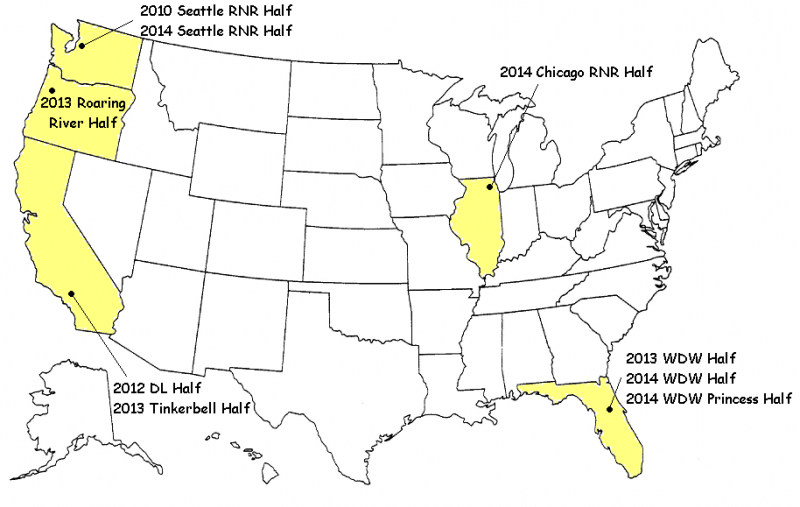 Full marathons

Upcoming Races
Walt Disney World Half Marathon– Orlando FL, January 10th 2015
Walt Disney World Marathon (Goofy Challenge)– Orlando FL, January 11th 2015
Star Wars 10k– Anaheim CA, January 17th 2015
Star Wars Half Marathon (Rebel Challenge)– Anaheim CA, January 18th 2015
Past Races
Hot Chocolate 15k, Seattle Washington, March 2014- 2:04:54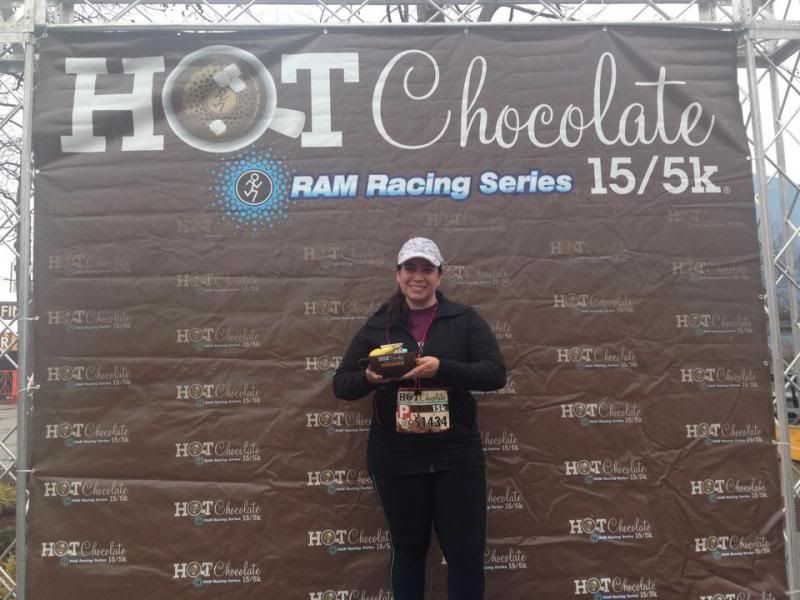 This race was 1- a long out-and-back, which I think is boring and 2- constantly had us on an incline or decline of varying steepness. But despite those two things, I really enjoyed this race! It went by quick and even though it was rainy I still had a good time. I'd definitely do this one again!
Princess Half Marathon, Orlando Florida, February 2014- 3:48:49


Crowded course and tired feet made this half less than dreamy for me. Still had a good time though taking photos and chatting with friends! Disney races are not a place to test your speed! 😉
Enchanted 10k, Orlando Florida, February 2014- 1:40:29


This race was fine. It wasn't amazing nor was it a drag. I definitely was adjusting to the FL humidity! Stopped for lots of fun character photos. Fun, but not sure I'd do it again.
Cinderella Royal Family 5k, Orlando Florida, February 2014- untimed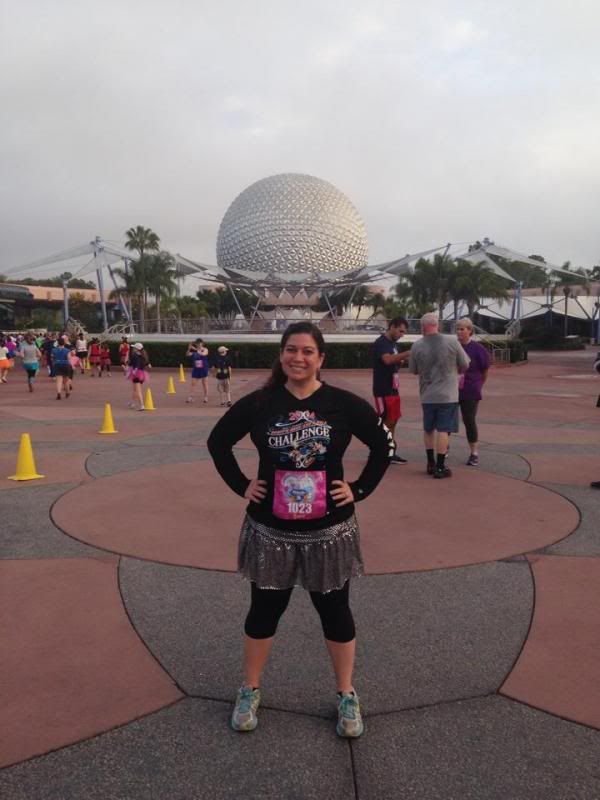 A fun run around EPCOT with friends Jindy and Marci! We stopped for photos and even Facetimed with Dan. No serious running here! 🙂
Walt Disney World Marathon, Orlando Florida, January 2014- 7:03:27


After trying last year and getting swept, I finished my first marathon and Goofy Challenge! I was sick and felt miserable so I ran the first half and wogged the second. Looking forward now to doing a stand-alone marathon.
Walt Disney World Half Marathon (Goofy Challenge), Orlando Florida, January 2014- 3:23:51


Definitely one of my worst half marathons. I was sick but determined to complete the Goofy Challenge, so I ran anyways. Also tried a new fuel that upset my stomach. Needless to say, not my favorite half this year!
Tower of Terror 10 Miler Orlando Florida, October 2013- 2:43:33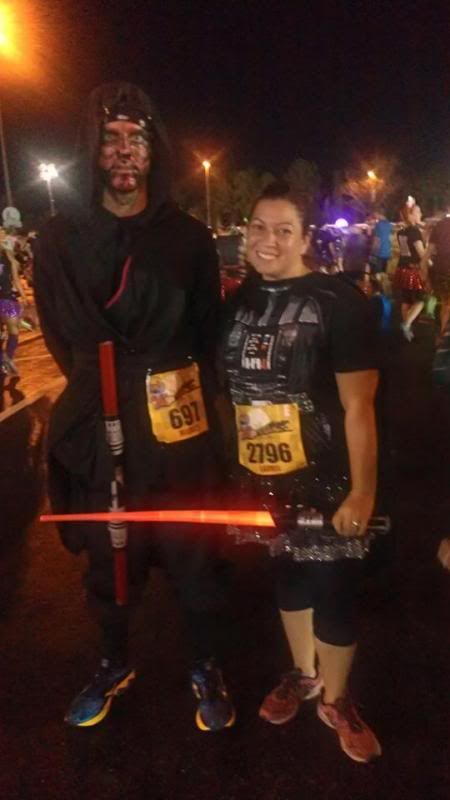 My first costumed run! A night race in Orlando= heat and humidity! I ended up fun-running this race and stopping at the character photo stops. Despite the weather, I loved this race!
Happy Haunted 5k Orlando Florida, October 2013- untimed


I was disappointed this was my mom's first RunDisney 5k, because it's the only 5k that doesn't go in any parks! It was a trail run which I didn't love, and I don't think I'd recommend it to a friend.
Pints to Pasta 10k Portland Oregon, September 2013- 1:08:44


I love this race! It's a 10k through downtown Portland and along the waterfront. This is my second year doing P2P and I would do it again. I also got a shiny new 10k PR! Had a blast running this with my college friend Thomas, where we enjoyed pasta and a beer post-race.
Portland Color Run 5k Portland Oregon, September 2013- untimed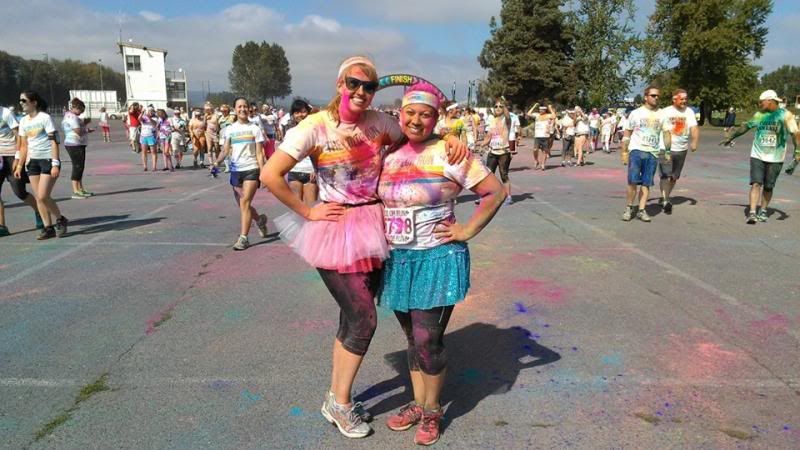 Amanda and I ran the Portland Color Run and had an amazing time! I wasn't expecting much from a 5k novelty race, but as soon as we arrived the MC had us excited to run. We got good and colored, and hung around for the after party. We even won some swag- hoodies and t shirts! You do get absolutely filthy, but I do recommend this fun run!
Tualatin Crawfish Crawl 5k Tualatin Oregon, August 2013- 31:40


I wanted to run this race for a few reasons. First, I love my neighborhood composed of Sherwood/ Tigard/ Tualatin, and it was great to run through a town I care about. I like supporting Run With Paula events. A "crawfish crawl" is an adorable theme and while it's all about the run, hey, it's also sometimes about a cute shirt! (with crawfish!). And finally, my bestie from college was volunteering and it was pretty awesome to high five him on course. My goal was to get under 32 min and I did indeed succeed! I was pleased that after not training, I could get just 30 seconds away from my current PR. Still have the same goal- get under 30 min!
Mango Days 5k Honolulu Hawaii, August 2013- 32:10


Dan and I signed up for this run to kick off our Hawaii vacation with my family this year! My mom joined us and we had a lot of fun. It was pretty hot out and besides hashing I didn't go on any training runs this summer, so with that in mind I'm pretty satisfied with my time!
Warrior Dash Sagamiko Japan, June 2013- 58:43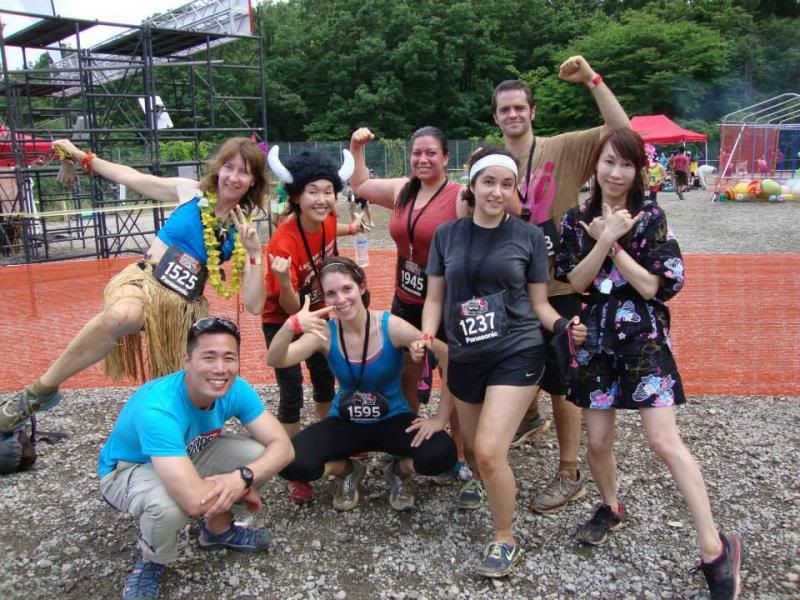 I ran the Warrior Dash for a second time, and improved my time by about 50 minutes! I think I could have been even faster, except the course was mostly uphill running, and I had to wait in some lines for obstacles to be free. They also didn't have a mud pit as epic as the US Warrior Dash races, more like a kiddie pool of dirt water. Still a lot of fun, ran with Dan and hashers!
Roaring River Half Marathon Scio Oregon, February 2013- 2:46:43


After running 3 races in 85 degrees the month prior, this flat, cold run was fantastic! What made it even more special was it was my two girl friends' first half marathon, and they kicked major tail!
Walt Disney World Half Marathon Orlando Florida, January 2013- 3:37:13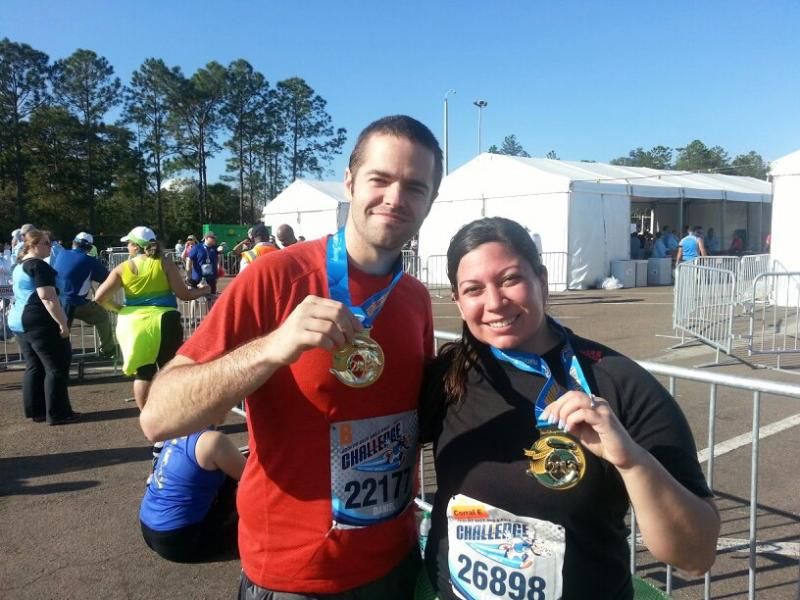 This one was tough. I didn't have time to do much training, and what training I did do was in freezing Portland, Oregon and even more freezing Tokyo, Japan. I wasn't ready for an 80+ degree day in Florida! I was planning to do the marathon the next day so I took it easy and walked quite a bit.
First Run 2013 Portland Oregon, January 2013- 32:39


I'm a little biased, but this was probably my favorite race of all time! In the heart of downtown Portland we had a countdown, kissed at midnight, then we were off in the 27 degree night! I got to the finish line and there was my man, on one knee. Definitely one I won't forget!
Dawg Dash 5k Seattle Washington, October 2012- 36:59

This was not a favorite of mine (despite the cute doggy tee!). I had been visiting the states for a while and had done zero running for about a month leading up to this. Not my best effort at all! Also super crowded course. But pretty run throughout the University of Washington campus! And as I always say- a good friend will encourage you to run, a great friend will run with you! Thanks for the company Kelsey!
Corvallis Fall Festival Fun Run 5k Corvallis Oregon, September 2012- 31:11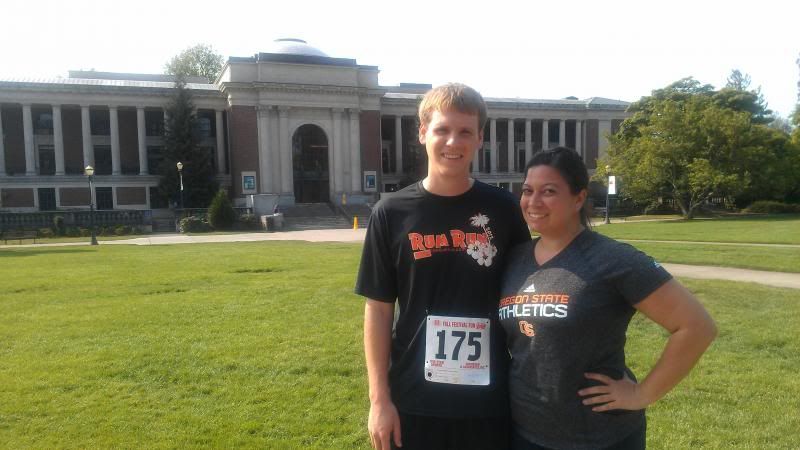 This was a fun 5k (and my current "official" 5k pr) through my college town of Corvallis! Relatively flat til the end, it was nice to run around the neighborhoods and Oregon State campus. I went with my college friend Thomas and after our run we walked around campus and reminisced!
Pints to Pasta 10k Portland Oregon, September 2012- 1:10:03


I really liked this race. I did it with Dan and his mother and we all had a good time. A 10k through downtown Portland, followed by spaghetti, bread and beer!
Disneyland Half Marathon Anaheim California, September 2012- 2:43:48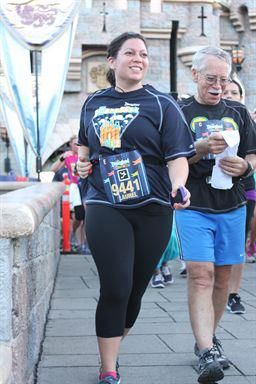 This was my first real, running half marathon. I had a blast! It was the first half marathon I truly trained for, I put my time in and this is currently my PR.
St. Pat's Dash 5k Seattle Washington, March 2012- untimed


Did this 5k with a gal pal from high school. In 3.1 short miles we got blown away by freezing wind, rained on AND snowed on! Oh, the beauty of the pacific northwest.
Shamrock Run 8k Portland Oregon, March 2012- 57:32


I was on a roll in March! I did this 8k with my girl friend Amanda (right). Our friend Thomas did the 5k (and kicked butt!). It was my first ever 8k (and only thus far, so PR?:)) and I liked the distance. Flat course with a small hill at the end. And as always I love running in downtown Portland!
Kona Run for Hops 10k Kona Hawaii, March 2012- 1:13:42


This was my first race after I began dieting and exercising. It was terribly hot and humid out, plus hills, and I was miserable! My feeling of accomplishment was through the roof though!
Warrior Dash Portland Oregon, September 2011- 1:43:09

I put ZERO training in this- OUCH! Did this with my sister and her sprained ankle and a friend with chronic asthma. I'd love to give this another go someday!
Rock 'n' Roll Half Marathon Seattle Washington, June 2010- 3:23:14

I decided to complete a half marathon before my 25th birthday. I hardly trained for it, and came home with a stress fracture. I vowed I'd never do a half again!