On Saturday, September 20th, Kelsey and I ran the Beat the Blerch 10k in Carnation, Washington. It was an inaugural race put on by Matt Inman, recreational runner and creator of the web comic The Oatmeal. This was a race we signed up for back in May, and it was really exciting because it was Kelsey's first 10k! We've run a few 5ks before but I was really excited for her because she trained all summer.
My training, of course, was halted in late August after a bad fall, and I wasn't planning on doing this 10k. Like all the other races I had to sit out, it was pretty disappointing. As we got closer and closer to race day, I was questioning if i could potentially participate. I had been in my boot for about a month. I had recently visited an orthopedic surgeon and he said I could slowly resume activities. I'm sure he didn't mean wake up and run a 10k, but surely I could walk it?
All it really took was Kelsey bringing our swag bags with our bibs and participant shirts home for me to decide I was in. I know, I'm ridiculous. But it's a really nice quarter-zip pullover!
Kelsey and I, along with her boyfriend Jim, arrived to the race site bright and early. I was planning on walking the 10k. This was going to be a silly fun run- the race was billed as having water stops, cake stops, Nutella stops, and couches for a rest. Also guys in giant blown up suits that chase you. Fun!
Saying bye to Jim before we're off!

Kelsey was a few corrals ahead of me, as she was hoping to run the whole thing and even if I was running, is a lot faster than I am. I think she was in the 8 minute mile corrals? I stayed back and on the right hand side so people could easily pass me.
Of course, once that starting gun went off for my corral, I got caught up in the moment and ran a bit. I felt weak and shaky in my ankle. But it felt good to run! I alternated running and walking. In hindsight I should have walked more, but I did ok.
It was a beautiful trail run!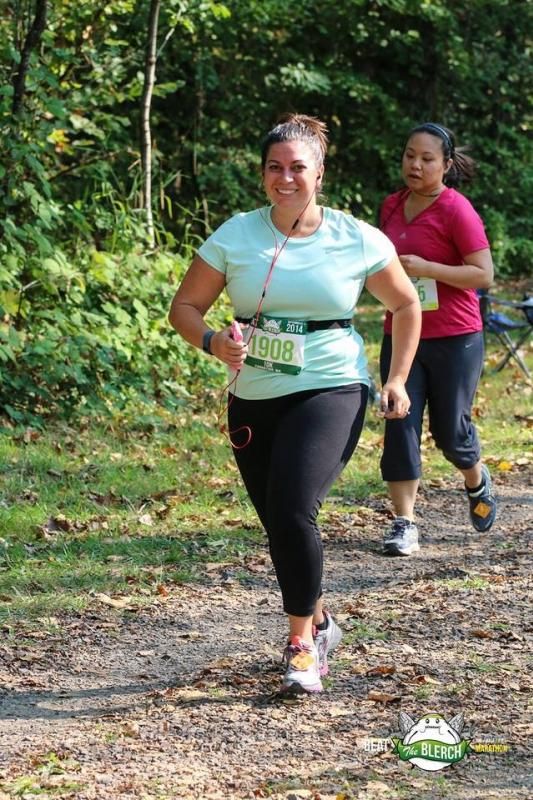 At some point Kelsey finished and text me. She had an awesome time! I was so proud of her, and that she had a good first 10k. I pressed on and finally made it to the finish. I wasn't even in too bad of shape! Ankle was a bit swollen and I felt out of shape, but other than that I felt good.
It was then Kelsey shared her big news- she WON her age group!!


AHHH YAY! I was so excited for her! I was super bummed i missed the awards ceremony though. In the mean time, I joined them in line, where we waited to meet Matt Inman and have him sign our books.


He left a note saying he can't pose for pictures, but you could take pictures of him

We met him briefly and got our books signed. I was trying to explain to him about my running group, Hash House Harriers, but he seemed pretty uninterested 😉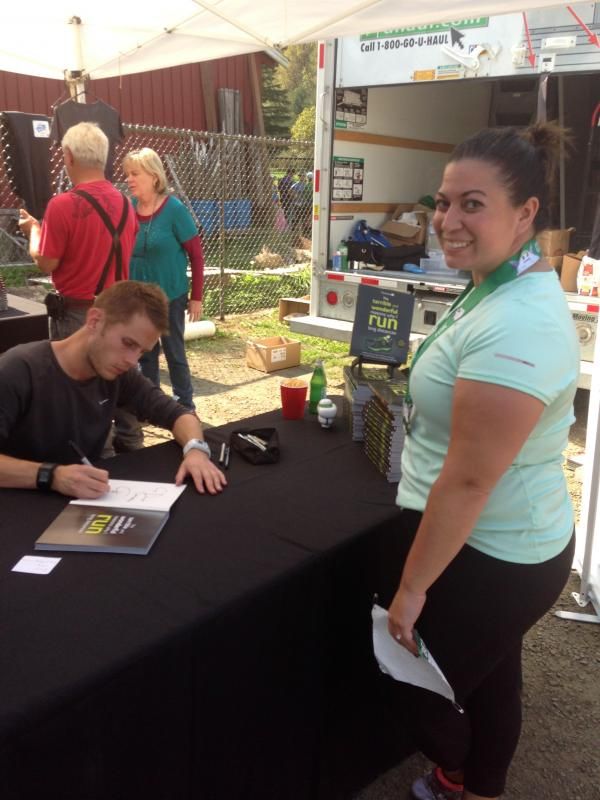 After that we later reunited with Jim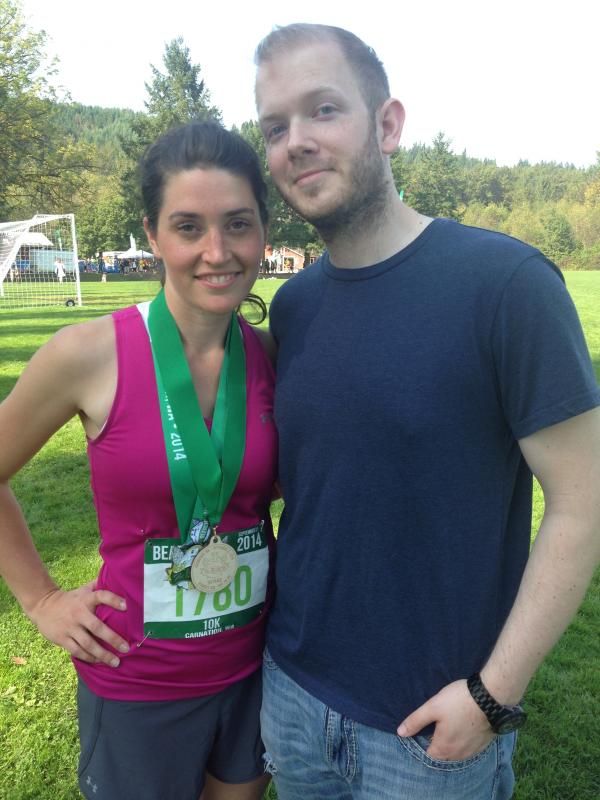 We then headed back home, stopping at our favorite burrito place. I really hope Kelsey keeps running. It's awesome she's so good at it and I love having another thing we can do together, especially while Dan's gone and I have no one to go to races with!