Dan and I left the apartment on a mission the other day.
1. Find Gu
2. Ride a boat
3. Score free shelves
But I'll back up first to clarify the need for Gu. I have heard of many distance runners carrying a packet of Gu with them for longer runs. Gu is an ounce or two of protein and sugar filled goop. I've read enough running blogs to hear people say it was truly a godsend, so I decided to try it, and had my lovely Seattle bestie send me a box of Gu. She chose the flavor Chocolate Outrageous for me.
I put off using it because I was skeptical something could taste as good as these runners bragged. Finally, I was going to set out on a 10 mile run, and brought a packet of Gu with me. 5 miles in, my half way point, I pulled out the packet and tore off the top.
Honestly, I was just hoping it tasted remotely like chocolate. I imagined it tasting "healthy", like fake sugar.
I pulled the top off and got some on my finger, so I licked it off. I was SHOCKED. It tasted like frosting! Chocolate frosting! I started squeezing the packet's contents into my mouth and was sad it was gone within a couple slurps. Just the deliciousness alone gave me more strength to run. I felt good. My legs were still a little achy, but I pressed on. I noticed in a minute or two, the achiness was gone from my legs.
Conclusion: Gu rocks!!
So Dan and I trained out to Harajuku to go to our overpriced Oshman's Sporting Goods. Normally they have a good size sale rack with clothes at normal prices, but this time they only had a few things, and I almost didn't look, but they had an awesome bright neon hot pink dri-fit Nike tee. So I excitedly grabbed that while Dan and I went to check out to Gu situation.
Unfortunately they didn't have any Gu, but they had other brands of "sport paste" as they call it here. So we each got a flavor or two to try. I also finally picked up a Spi-Belt. I've wanted one for months, but held off. It's a snug fitting belt that expands to hold a camera, phone, keys, whatever you want, without jiggling or making noise. Dan also got some protein bars and a new workout shirt.
My new goodies! I assure you, the shirt is much brighter than the picture depicts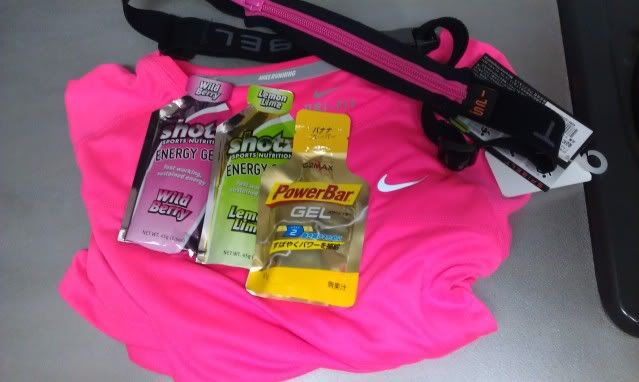 My SpiBelt loaded up with my phone and some gels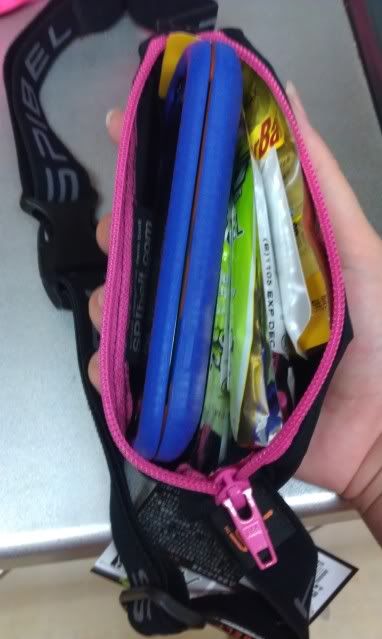 SpiBelt all closed up. No jiggle or bounce! My North Face fanny pack has been passed on to Dan for his bike rides.

After Oshman's we went next door to a store called IciSport, which is more outdoors/ hiking/ camping gear, to see if they had Gu, but they didn't, so we walked up a few blocks to Omote Sando station. On the way we stopped in Japan's first American Eagle Outfitters, but it was so packed we just left right away. We also may or may not have had lunch at Wendy's. Whoops. I REGRET NOTHING.
Dan and I trained out to Asakusa, where we saw the Hotaru festival (blue lights on the river).
Asakusa in the day time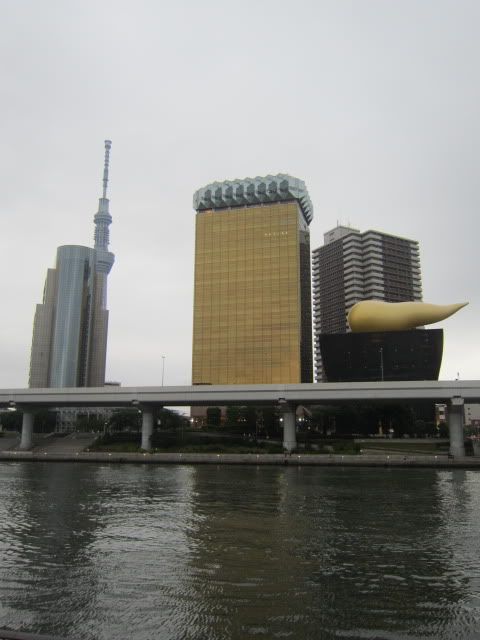 Both when Kelsey and Jim visited, and Dan's aunt and uncle visited, they took an hour long cruise down the Sumida River. We decided to do it too! So we boarded our little boat and cruised under 10-12 bridges and enjoyed a melon soda.
Dan and I

Enjoying the boat ride. You can definitely tell there's a spicy chicken sandwich and Frosty in my belly!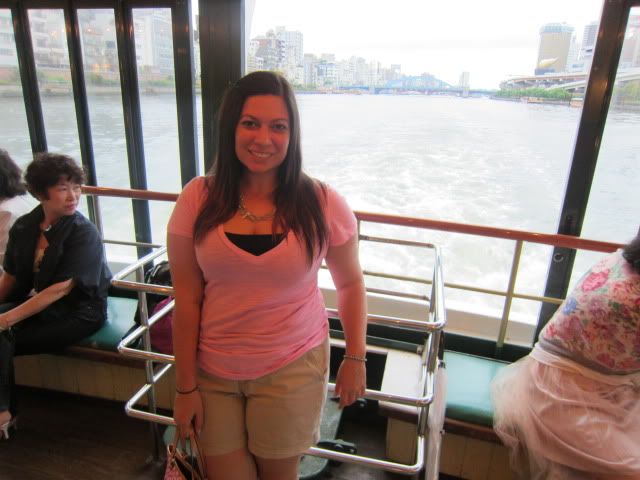 Enjoying the view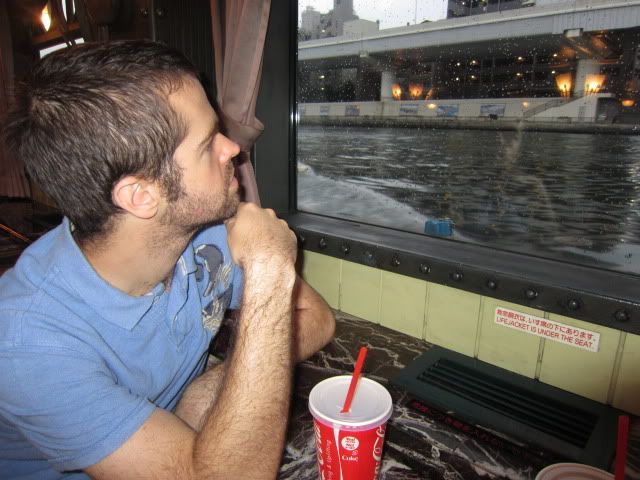 After we disembarked, we headed to Ginza so I could go to an H&M and try to scout out a pair of sandals I've fallen in love with on their website. But alas, just like the H&M in Shibuya, they also didn't have them.
We then trained out to my coworker/ friend Eddie's apartment. Eddie is sadly leaving us to move back to Brazil, and is giving away a lot of his furniture. He posted some pictures and I fell in love with a drawer set I thought would be good for my craft supplies.
Eddie has an amazing apartment on the high floor overlooking Tokyo. I'd love a deck with an amazing view! Dan's and my deck just looks to other apartments. Anyway, we got there and chatted with Eddie for a bit, then headed out with my new giant drawers. I might have underestimated their size a bit. Well, A LOT. But I knew if I could get them home I'd put them to good use!
So Dan and I walked 20 minutes to the train station with them, up and down countless flights of stairs (honestly, I don't know what handicapped people in Tokyo do for transit), and on 2 trains. Because they're made of plastic they weren't heavy, but they were definitely big and awkward.
But I got them home and filled them up!! I was pleased to see it would fit under my desk as I had hoped, but underestimated its depth and forgot my desk had a back, so it juts out a bit.
New drawers! Please pardon my messy craft desk during this remodeling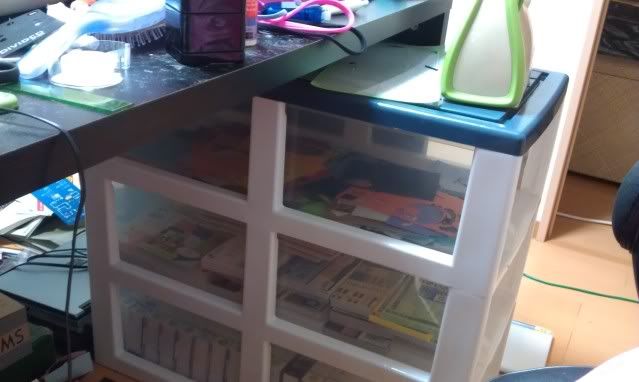 In the bottom drawer I have all my paper cutting supplies- cartridges, mats, cutters, etc. Middle drawer is fresh paper packs, and the top drawer is my deliberate chaos scrap drawer.

At this point we were exhausted. We finished the evening with Dan's Famous Tacos and called it a night!