I figured this life event was important enough to have its own entry: Dan proposed and I said yes!
On Monday the 31st, the first thing we did that morning was head into downtown Portland to get our shirts and bibs for a 5k we were doing that night- the First Run 2013 5k. We had such an amazing 2012, and we owed a lot of that to our new hobby of running, so what better way to ring in the new year than with a run?
We got our shirts and number and some Starbucks, and then Dan dropped me off for a lunch date with my friend Sandra. It was a cold day and I wasn't particularly excited for our run that night. It was supposed to get under 30 degrees! But in the meantime I caught up with Sandra over sushi and then we did some after Christmas sale shopping at the mall, while Dan went to Fry's to look at hard drives.
By the time he was done, Sandra and I had migrated to Target, and he met us there. We parted ways with Sanny and Dan said he was hungry. He then pulled over at the first place he saw, Carl's Jr. We sat there talking for a while, then got in the car and drove away.
Once in the car, Dan asked if I wanted to go ring shopping. I asked if this meant that he was ready to buy one, and he said no. A little disappointed, I said no, it was pointless. Nonetheless he pulled into the Shane Co parking lot and said we should anyways. As I was unbuckling my seatbelt he said, "I think they're closing. Let me go check the hours. Also, I have to go to the bathroom". And with that he was gone. I thought it was weird, and knew they wouldn't let him use the bathroom, but I didn't think much of it and busied myself on my cell phone.
A moment later I got a text saying "they are about to close

but they are letting me use the bathroom!" A laughed and waited for him to come out. When he got back to the car the thought crossed my mind… maybe there was no trip to Fry's, maybe he went ring shopping!
"There are a lot of cars in the parking lot considering they're almost closing. Were there a lot of employees working? And I can't believe they let you use the bathroom without buying something!" All he did was agree that it was weird. I couldn't figure it out. There was no way he just bought a ring. I just asked him if he was ready and he said no!
For good measure, I rested my hand on his thigh while he drove, thinking if he did make a purchase he'd pull away. He did not. Didn't think he bought anything.
We arrived at his mother's where we were staying, and I decided to rest for a bit before we headed out for that midnight 5k. It was getting colder and colder.
"The 5k was pretty cheap and it's so cold out. I'd be totally satisfied staying in and being cozy and watching the ball drop," I suggested to him. "Nah, we paid and made a commitment, we should go. We'll feel awesome after". It was settled, we were going.
At one point Dan went to take a shower as I was tidying up the guest room we were staying in. I saw his coat on the ground, and I couldn't resist… I ever so lightly patted the pocket. I know, I'm terrible! But alas, the pocket flattened, and I continued cleaning the room.
Before the race we stopped by my sister's house to wish her family a happy new year and have some apps.
My lovely nieces Melissa and Vanessa, celebrating with some sparkling cider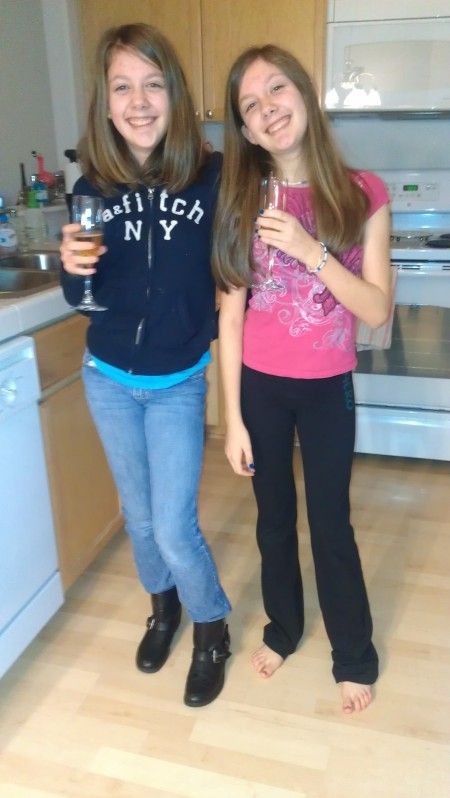 We were all sitting around hanging out. I was dilly dallying as much as possible because it was so cold. I was really dreading this run! At one point Dan and Lauren were in the kitchen and she burst out laughing. I looked up and she said she remembered something funny. At this point Dan said ti was time to go and we headed out.
I wasn't too happy, driving into Portland that night. It was already only 28 degrees! Dan and I like to wear matching race shirts, but I was so cold I decided to wear my jacket under my shirt. We parked a few blocks away from the start and walked over. I was wearing my new Team Sparkle running skirt to ring in the new year, but I wasn't feeling to cheery, I was COLD!
Down at the start line, we had about 10-15 minutes. We tried to warm up a bit. Being around so many other people helped. Just before we took off, I snapped a quick picture of Dan at the starting line


I was going to ask someone to take a picture of us but no one seemed available. "Don't worry, we'll take a bunch at the finish," Dan said.
We had a countdown to midnight, kissed, and we were off! Dan runs much quicker than I do so I was on my own. It was FREEZING. As the wind hit my face my eyes were tearing. It was a really pretty run though. I love Portland!
I finished in about 32 minutes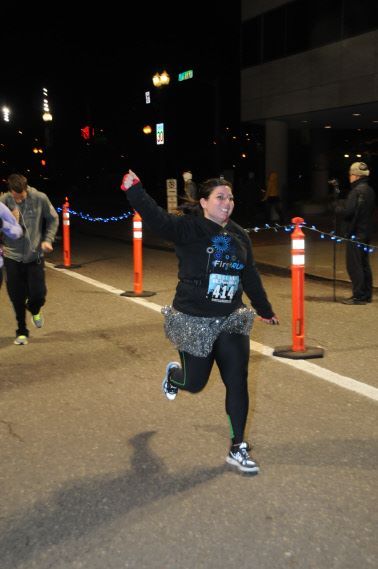 After I finished, I found Dan almost immediately. I caught my breath and we talked about it for a minute. Then he said, "let's take that picture I promised" Yay! Normally Dan is a good sport with my manic photo taking, so I get excited when it's his idea.
We approached a couple and asked for a photo. After, Dan looked at it and said, "the lighting is off. Let's try over here" Just then a couple asked us for their picture and we took it for them. Then Dan asked for our picture and they said sure. The lady took 2 of us and Dan looked at them and said, "could you take one more?"
In the instant it took me to look over at the finish line and back at Dan, he was down on one knee with a ring in his hand.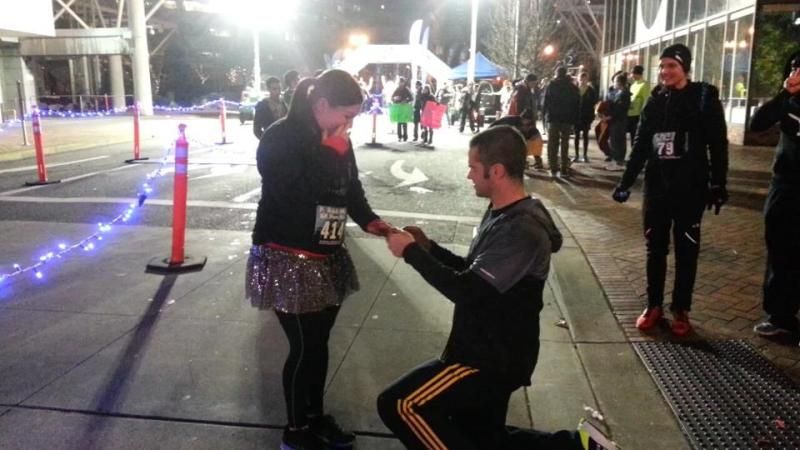 WHAT?!
I want to say, "I knew it!" but I didn't know! We were surrounded by strangers taking our picture and yelling and saying congrats. I just felt so confused! Happy but confused! I started tearing up and laughing and it made for an odd combination of noises. Once the crowd around us settled down we walked down the street a bit. I was just shocked.
"Who knows?" I asked him. "Just your sister" "How, when?" I asked. When I was at the mall he went ring shopping. He then needed to give them an hour and a half to put the diamond in its setting. Which is why we sat around Carl's Jr. And what seems obvious now, he didn't use the bathroom at Shane Co, he was picking up the ring. It was in his coat pocket, but he thought I might get nosy, and when he went to shower he took the ring in the bathroom with him! Smart guy!
He was wearing all thin running clothes, so I didn't understand how I didn't feel the giant ring box. He ran with it in his pants! Apparently at my sister's he pointed out the bulge of the ring box through his pants and she started laughing, at which point she quickly made up what she was laughing about. It was all madness.
But none of this seemed real. At Target, I bought some Dr. Seuss' How the Grinch Stole Christmas pint glasses. "So every year we can bring out those pint glasses, like tradition?" "Yes.
"Because we're going to celebrate every Christmas together from now on?" Yes.
"And when you leave Japan, I'm coming back with you?" YES! His answer to each question was yes and then in sunk in. We're together for life! We have a lifetime ahead of us to cook meals together, run races, vacation, visit family, watch good and bad movies, and just be together. Then it all sunk in. I was full on crying at this point.
The race had an after party but we decided to just head home. It was after 1am, and many of the bars and restaurants were all closed up. We wanted to celebrate though! In the car I pulled it together enough to text my sister and best friend Kelsey, and email my mother who was in Australia. We went to the first place we saw open- Shari's, a little 24 hour diner chain in Oregon. Dan called and texted some of his relatives while I admired my newfound jewel- he did AMAZING and I love my ring so much! Simple and pretty, a beautiful round cut solitaire.
What a crazy night I'll never forget. And to think, I didn't even want to go!