This is the life!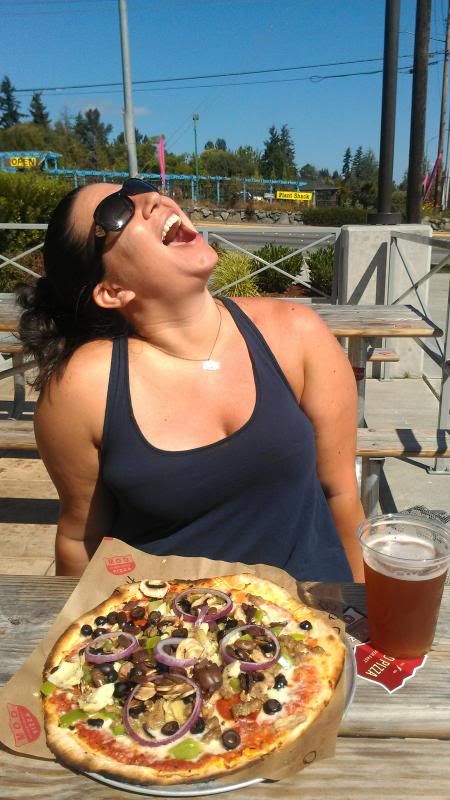 Needless to say, I'm having a great time being back in the states! Pictured above is me, drinking up the sunshine, as I have lunch at MOD Pizza with Kelsey in Seattle. So excited Oregon is getting one as well!
So far I spent a week in Hawaii with the fam, some time in Seattle, a few days at a friend's cabin on the lake, a few days in Canada, a day trip to the coast in Newport, and ran a couple races. I love being home! Even just the little things, like taking my nieces to the book store to choose books or going for a run without the smothering Tokyo humidity, or driving myself to the store to grab some dinner (yes that's right, I'm driving again after a 2+ year break!).
It's so great to see family and friends from college and Seattle. Though I was originally planning to take a trip to Boston and run the Rock N Roll Providence, I ended up scrapping it, to save money and enjoy myself in the pacific northwest more. I'm usually on the go constantly, visiting people and doing things, I'm making an attempt to spend more time just relaxing and enjoying some lazy days. The first couple weeks were hectic but now things are pretty nice!
As usual I've taken a slew of photos which I hope to share at some point. But for now I need to get a run in today- in a week I'm doing a 5k on Saturday followed by a 10k the next day!
And last but not least- GOOD LUCK to all my friends, family and readers running Disney this weekend!!!! I know quite a few people running the 5k, 10k, half marathon, or the Dumbo Double Dare (10k + half!). I so wish I could be there! I'm especially excited for my future-step-mother-in-law (phew!) who is running her first 10k! Have an amazing time everyone!