Shall we jump back to the last week of August and revisit the Disneyland half marathon?
I went from being so incredibly excited to go to Disneyland, run the half and 10k, to worrying how I was going to get around on crutches. After ample Googling, I realized I'll need to rent a wheelchair.
My travel day went ok. I requested wheelchair service, so when I checked in, a lady came to meet me with a chair, wheeled me through security and to my gate. My plane was relatively empty which was nice. I landed and my lovely girl friends Dee and Meghan picked me up, then we were off to the expo! I really wanted a pair of Goofy New Balance shoes, so I got a pair for myself and for Dan!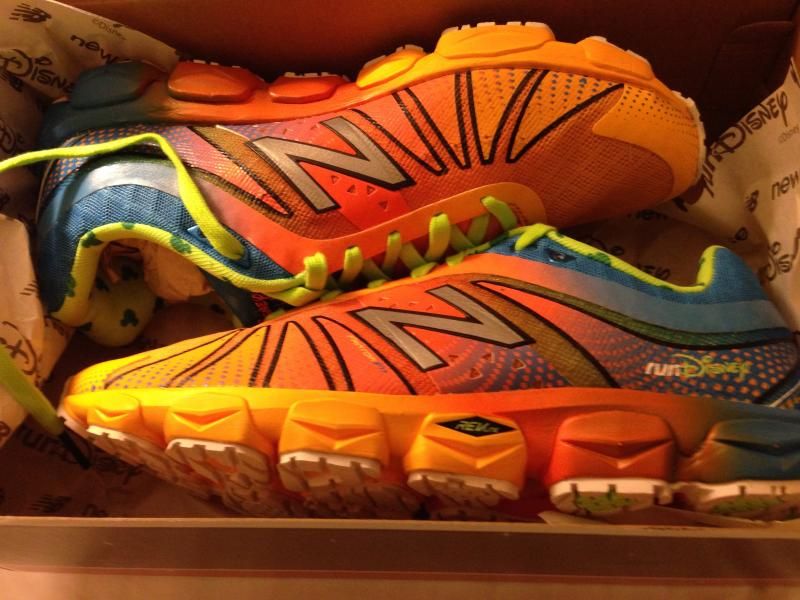 Dee and Meghan were seriously awesome. Dee pushed my wheelchair, and Meghan carried all my things. I called her my walking purse 😉


We then spent the day at Disneyland! We met up with some other runner friends and ride hopped, which was nice having minimal wait time thanks to my chair.

Before long the group headed to California Adventure, and I met up with the amazing Matt and Holly! You may remember them from 1- my Goofy Challenge blog post, 2- my Princess half blog post, or 3- the fact that they are total badass and WON the military division of the Expedition Everest Challenge.
Matt was totally amazing and put his Army training to use and pushed my wheelchair for hours. As I learned this trip, pushing a wheelchair isn't the easiest thing to do!

Matt, Holly and I went out to dinner, anxiously awaiting Dan's arrival. And finally the time had come, after 4 months we were reunited!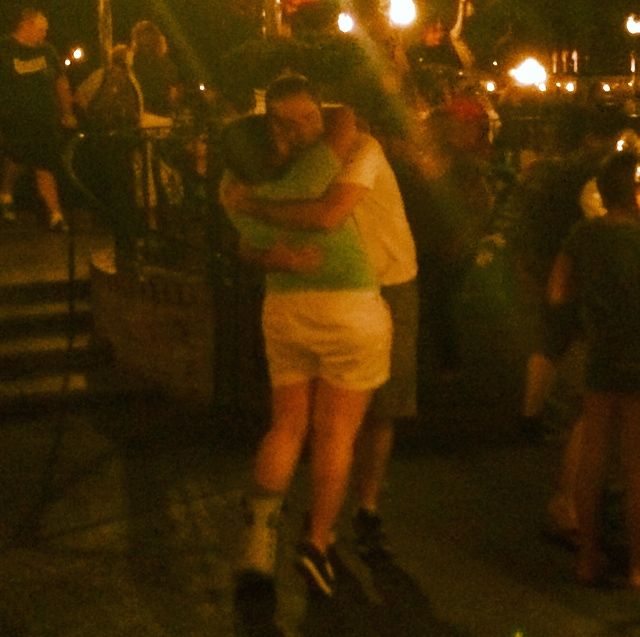 Oh I was so happy! The 4 of us went out for a quick drink and snack since Dan was hungry, then we went our separate ways to hit the hay.

The next day was the 10k, so Dan and I laid low so he wouldn't be too tired for the half the next day. Stopped by the expo to get his bib and saw my lovely friend Pam from Wife Mother Runner!


As I said, it was a really mellow day. Dan and I grabbed lunch with his parents, and laid low at the hotel, relaxing and making signs to cheer runners on the next day.
It was half marathon day! I met my friend Dee with our signs and we picked a spot at mile 12 to camp out at. It didn't take long before the runners started coming! Meanwhile Dan's dad sent me a photo of Dan as he ran down Main Street inside Disneyland:

Cheering was fun and gave so many people a boost, I want to cheer at races more often!

In the end Dan finished so quick he had time to come cheer w me! So that was fun. I saw Dan's stepmom's niece pass me in her pretty red tutu, and then we saw Dan's stepmom Ann pass us! She looked strong so I knew she'd have a good finish.
Everyone at the finish!
Dan, Ann's niece Liz, Dan's stepmom Ann, his dad Bob, Ann's sister Sue and her son Jeff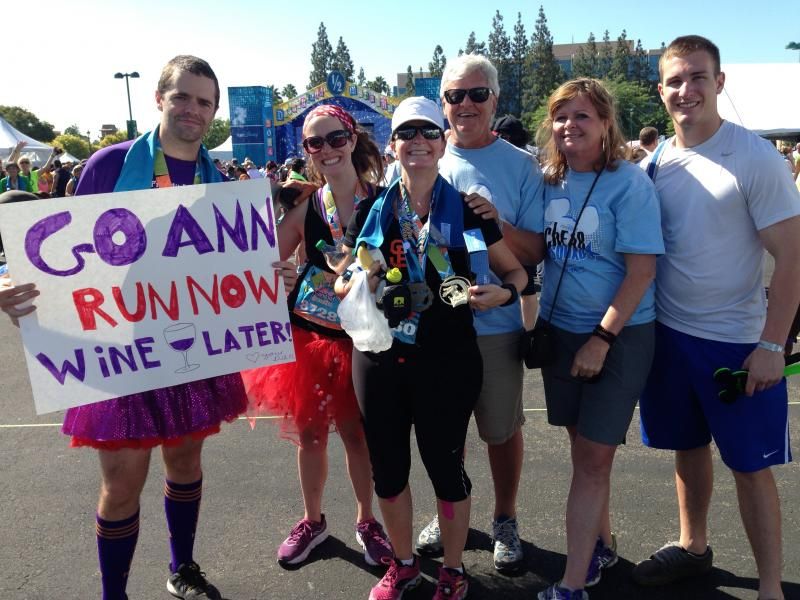 Such a great day! I was so proud of everyone. If I can whine for just a moment, I was pretty jealous. I trained all summer for this race weekend and it was hard to sit on the sideline. Hard to see everyone walking around in the well earned race tees and medals. But life goes on and I know I'll run so many more races.
Another mellow afternoon following the race. It was nice to just relax. We spent the following day at California Adventure. A lot of people had already left town, so it was nice to have a day to just myself and Dan. Tuesday was our travel day, so we started the day with some coffee and breakfast from Starbucks. While many shops are ADA accessible, they are all packed and it was just easier to leave me outside most the time 😉

Once Dan came back outside with coffee, we ran into our friends Rick and Sher! We chatted with them for about 20 minutes which was great, because i hadn't seen him all weekend.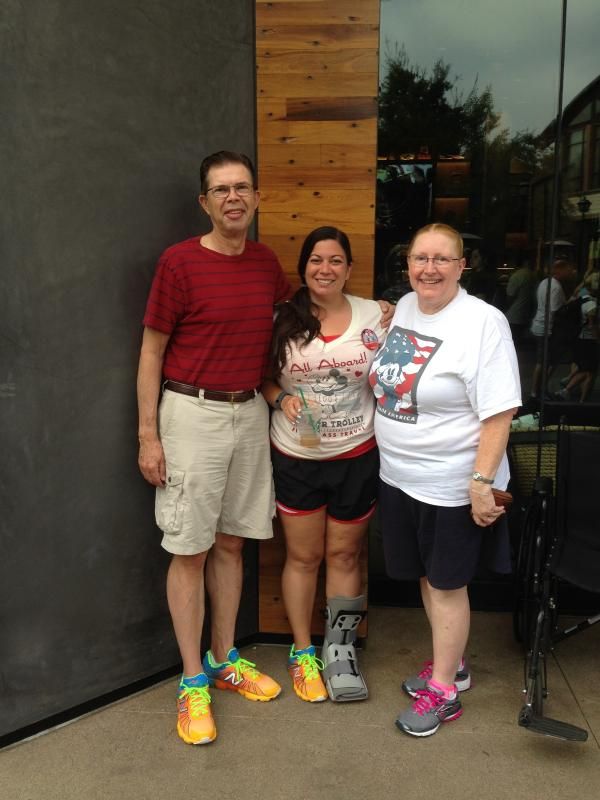 Soon after, it was time to pack up, return my wheelchair and head home. I thought i'd be so fun to ride in a wheelchair at Disneyland- but it's so stressful! You have no control over where you go or how fast because someone is pushing you, and you constantly think you'll nip someone's ankles! Difficult to weave through crowds too. I'm so happy to be healthy and able bodied (most the time 😉 ).