I leave in 2 days!
I had 2 wildly successful shopping trips last night (Tuesday) and today. Last night I met Dan in Shibuya where we were going to attempt to find a DIY store (what they call stores that sell construction materials, like Home Depot, sometimes huge, sometimes the size of a drug store). As I came off the Shibuya escalator I spotted Dan right away, which is easy to do here

Too bad this pic came out blurry!

We attempted to find a store a fellow volunteer told us about, but didn't have much luck. We had a quick dinner at a good burger place called Freshness Burger, where we enjoyed avocado burgers and onion rings. After that we walked about 10-15 minutes to Harajuku where we found all sorts of goodies.
We had 2 good finds at The North Face- a hip pack and a sleeping bag, both at decent prices (it's hard to find American company clothing and goods here at affordable prices, with the costs incurred to bring them overseas in the first place). We asked if they had the steel-soled boots I was looking for and the guy looked very confused, and we explained how I'd be on a tsunami cleanup team and stepping on glass and other debris. Unfortunately he didn't have anything but was so excited for me and thanked me and wished me good luck!
We walked a few blocks over to Ichii Sports, with an Oshmans next door. Between the two I found a bunch of other good finds- a headlamp to attach to my helmet, Powerbars, a mat for under my sleeping bag, water bottle and carabiner. Pleased, and not willing to carry more home that night, we hit the train and headed home.
Much credit of this journey goes to an acquaintance of mine from elementary school named Katie, the younger sister of my classmate Melisa. She volunteered in Ishinomaki and posted about it on Facebook, which is where I first learned of the opportunity. We've spent the past week emailing back and forth which has been a fantastic advantage for me- advice from someone who's already been! She told me about a store called Doito in Yokohama, and I discovered it was a chain and there was one in Tokyo. Woohoo!
On our way at a train station, I found a random fishing place. Looks relaxing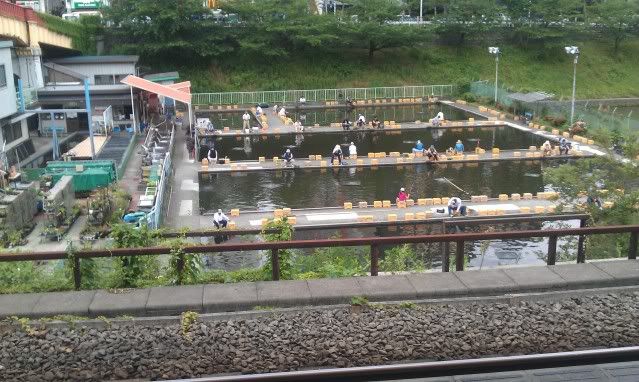 I had great luck at Doito. I picked up a weatherproof suit (not too flattering, but hey, that's not what matters I suppose!), boots, face masks, snacks and fabric tape. Dan and I had lunch nearby and ate outdoors since the weather was great today, low humidity. We got on a train together and he jumped off first in Shinagawa to head to work, and I rode home. I got off early at Shibuya instead of Shinjuku because A- Shinjuku station is a crazy busy mess, especially when you're carrying lots of heavy shopping bags and B- I love crossing the street in Shibuya.
Yes, you heard me right. Shibuya, Tokyo is home to Shibuya Crossing, the world's busiest intersection. With its giant tv screens, Starbucks and other shops Dan and I call it our own little Times Square. It's a "scramble intersection", meaning all traffic is stopped so people can cross all ways, including diagonally.
3 million people cross the street here every day. If you can't wrap your head around that, it's estimated that 1,500 people cross the intersection per minute!
I crossed the street and snapped a picture with my phone, but alas most people were gone by then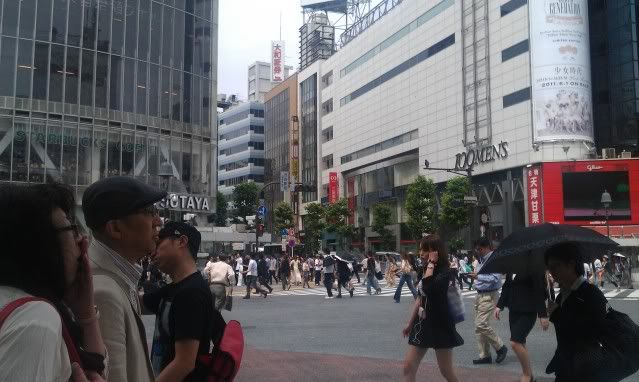 Here is a stock shot I was able to find with Google images. I should also add this intersection is very prominent in the Bill Murray movie Lost in Translation.

Anyways, 2 more quick train rides and I was finally home with all my goodies. All that is left is to pick up food for the week I'm gone and some little things I can get at the local store, like sunblock, cheap sunglasses, earplugs, band aids, etc. My group is doing community dinners, and for my nights I'm making pasta! We will have a tiny camper's stove, so hopefully that will go over ok. One team mate got really creative and got all the fixings for fish tacos and veggies! It will be a good trip, but I'm more excited knowing I have fun team mates who aren't afraid to get into the spirit of things and enjoy themselves