I have never received so much anticipation for blog entries before! It's so great everyone wants to hear about this great experience I was a part of. If raising awareness is half the battle, I know I'm doing my job!
So, let's rewind back to Friday the 17th. Departure Day!
I spent the whole day making sure everything was ready to go, packing and repacking. It was hard trying to fit all my gear, food and clothing into manageable luggage. By late afternoon Dan came home from work so we could have a final dinner together and I was all packed up. We went to a new Italian restaurant we found in Hachimanyama and it was delicious! Definitely a good sendoff dinner.
Around 8:45pm we began to gather my things and headed to the train station. Here's Dan helping me carry all my things!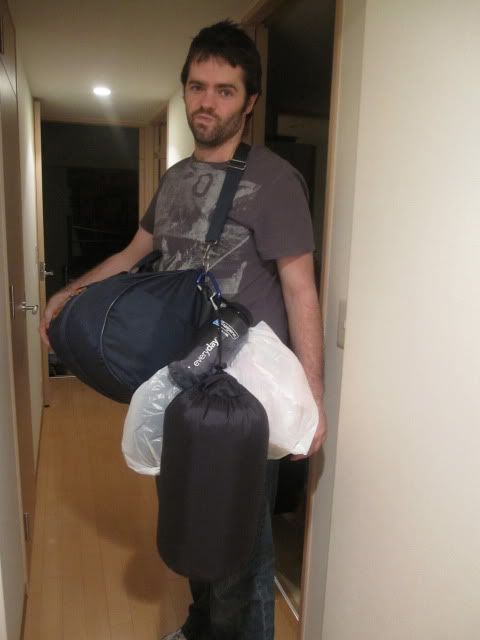 We rode out to Shinjuku and walked about 10 minutes to Shinjuku park. There were people in Peace Boat shirts everywhere and I soon met up with my group. We stood around talking a bit, then had our gear loaded into the hold of the bus. Then it was time to get ourselves on the bus! This was really happening! I became so nervous. My own excursion in Japan, without Dan or anyone I knew. But I committed to this and I was going to see it through. I boarded that bus, ready to take on whatever was thrown my way.
Once I settled in my seat I relaxed a little. I organized my things, pulled out my Nook, and listened to the English and Japanese chatter around me. Dan was across the street, and stayed until my bus left. At this point I noticed something funny about our buses- they had chandeliers!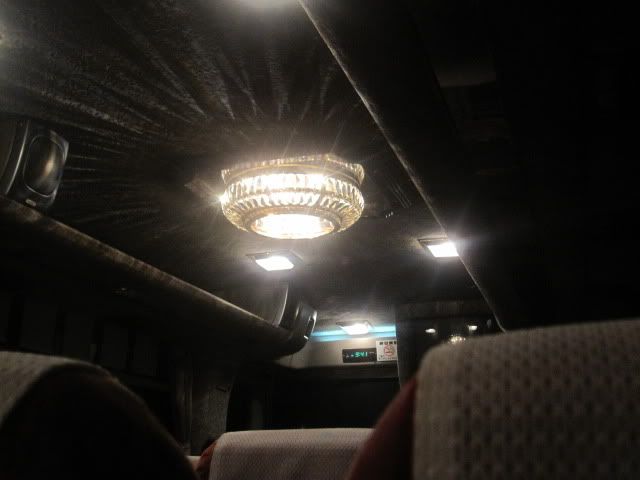 I thought I'd be sitting alone, then at the last moment our 5th team mate Calum showed up and sat with me. Before I knew it the lights dimmed, the bus was off, I waved bye to Dan and we made our way out of Tokyo.
Calum and I chatted for a bit and then entertained ourselves with books and iPods. The bus was full of 3 or 4 teams of 5-6, mostly international teams. At one point early in the journey, our team leader Aska approached Calum and I, as wells as team mates Joji and Wesley sitting behind us, and went over some first aid guidelines and rules for the week.
We were only on the road for a little over an hour when it was time for a rest stop. We were there for about 40 minutes. I got out and walked around a bit, then got back on the bus. Once we hit the road again we were told there would be another rest stop in 2.5 hours. I put on the score to Les Miserables and attempted to nap. No such luck! We reached our second rest stop and stayed there for about an hour. I just stayed on the bus.
At some point, it became Saturday. So now, on to Day 1!
I eventually learned that we took all these rest stops to time our arrival for late morning. Why we didn't just leave early in the morning instead of at 9pm, I'll never know. But we were back on the road for another few hours, and then hit our final rest stop in Sendai where we would stay for 2 hours. I got off the bus to read outside, and began chatting with another volunteer named Madeleine. She was a teacher in Yokohama. Eventually our time was up, and we piled back on the bus for our final hour to Ishinomaki.
This last hour went by quick. I began seeing more and more signs for Ishinomaki. We finally pulled into town, and I started surveying the sights. Everything looked ok. Kids riding bikes down the streets. Houses intact. That's good.
We pulled up to Ishinomaki Senshu University, where we would sit through an orientation before being taken to our base camp for the week. We got off the bus and waited about 45 minutes til orientation. We started being more chatty with one another, agreeing on how none of us could sleep on the bus, and that we have no idea what we've signed up for.
Arrival at ICU and waiting for orientation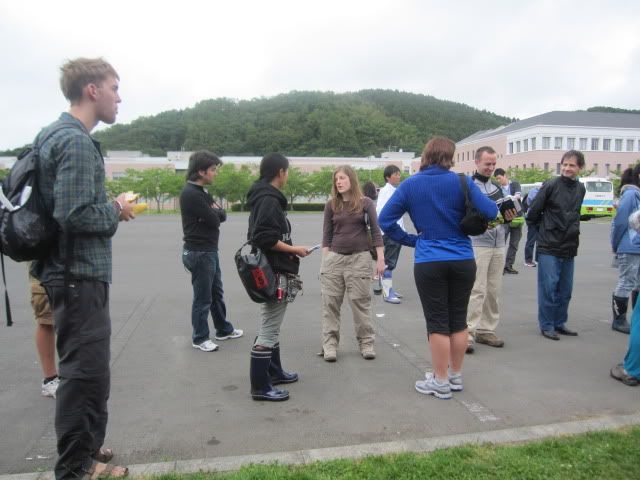 We were finally gathered and herded to a parking lot area to sit in our groups. It was at this point I realized I'd slept maybe an hour on the bus, and I was really, really tired. What's more, the orientation was in Japanese, so I somewhat tuned it out and tried to be alert.
My view of orientation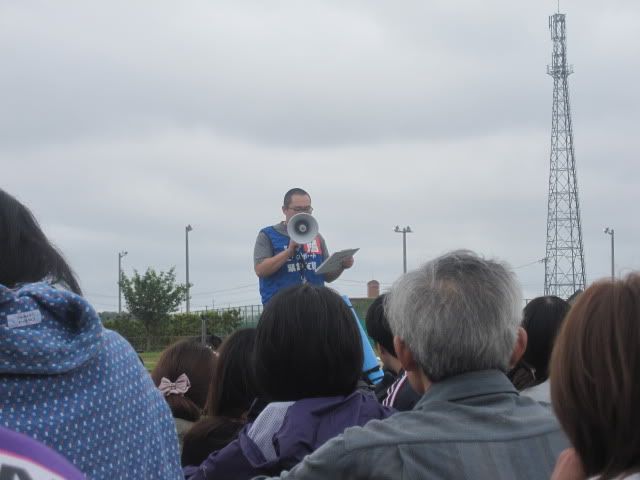 That lasted for about a half hour, then we were instructed to get back on the bus for our arrival at base camp. Our team leader Aska filled us in on the gist of the orientation. From the bus ride I got a glimpse at the first sign of something not right- a junk yard full of appliances- refrigerators, washers, dryers, etc

It was endless. By the time I recovered form that sight, I saw boarded up businesses

And then, true devastation

We had arrived at Kasuka (the "u" is silent, pronounces "kaska"), a textile factory that was gutted in the tsunami. We had made it to our home for the next week. We gathered our belongings as they were unloaded and stepped inside.
Welcome to Kasuka Fashion!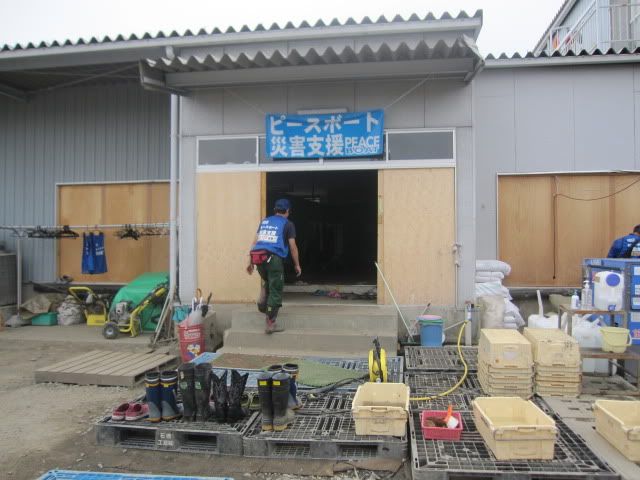 The restroom facilities. No western toilets here! Just what we refer to as "squatty-potties"

This is the boys' sleeping area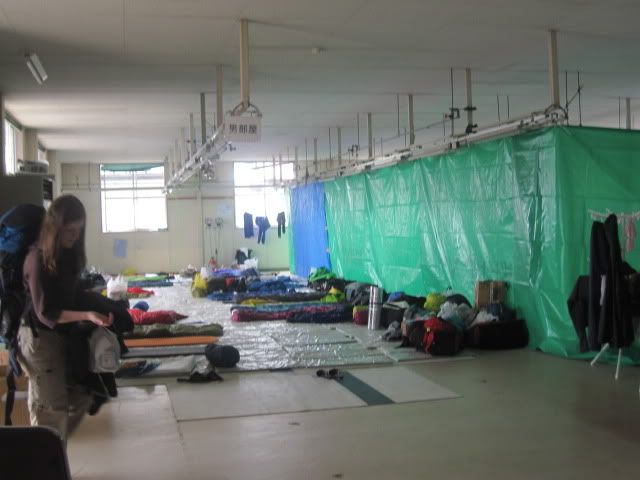 And the girls' sleeping area. I set up shop along that back wall.

We had another mini orientation with Ted, pictured below. Ted was born and raised in Japan, then moved to Florida where he currently works and resides. Upon hearing of the disaster, he went on leave from work to offer help. That was over 2 months ago. We call him Ted the Legend

Before I knew it, he wrapped up his speech and told us we had a half hour to get ready for our first day of work! I quickly found a spot on the girls' side floor, unpacked my gear and got ready. The girls' side was very crowded, but we were told they were mostly weekend volunteers and would be gone come Monday.
Ready for work!

We met outside where we were told we were going to be "wall busting" Mr. Sasaki's home. We would be knocking down plaster and pulling out insulation, shoveling it into bags, then hauling the bags off. Wow! That's an intense first day. This job is an important step, as the water soaked through all the walls and insulation, and now is growing black mold.
We gather our tools- wheelbarrows, shovels, dustpans, brooms, etc. We also take a bike or two- we work on site, and even if it is in decent walking distance from base camp, we need to have a bike on site for emergencies, to get forgotten supplies, refill water bottles or use the porta-restrooms.
We are ready to go! Here are 2 of my team mates, Wesley and Joji, ready to head to our work site.

The sight on our walk to Mr. Sasaki's house was pretty grim.

We arrived at the residential street we'd be working on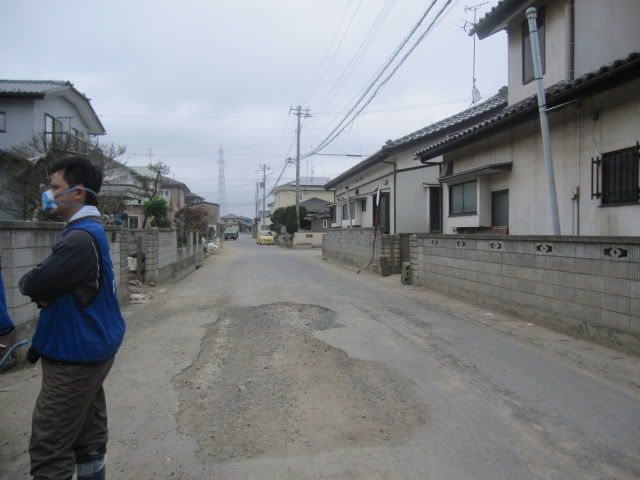 Next door to our assignment, the neighboring house lost their car shelter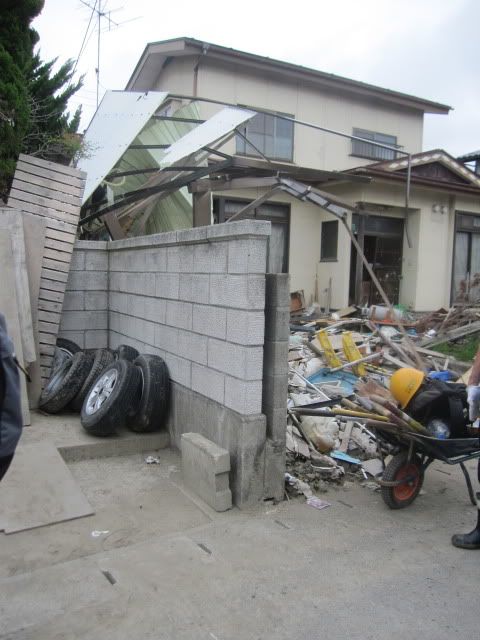 Time to bust walls! We start hacking away at the plaster, leaving only the wooden frames. Sometimes behind the plaster was a thin layer of concrete which took a lot more elbow grease to break through. Our team of 5 started working, and we found our roles we worked best in- the guys had the strength to quickly knock down the walls, Aska shoveled all the debris, and I bagged, tied off and hauled out the debris bags. The brown horizontal line above the yellow helmet was the height of water from the tsunami.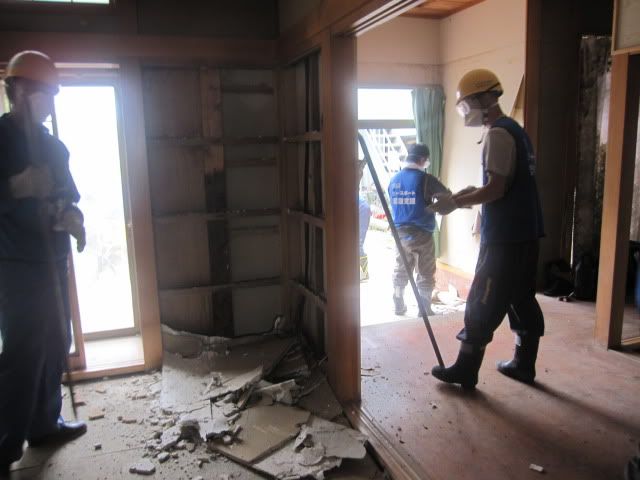 Some bags we hauled out

We worked hard and took a water break every hour. We were in waterproof pants and jackets so it was really hot. Sometimes I'd be so focused on the job I'd forget why I was there, but then something like finding a toy car in the wall brings me back to the disaster that has happened, and that we're trying to fix it.
We took a lunch break back at base camp, where I had a peanut butter sandwich and a liter and a half of water. We walked back to our work site for the last hour of work.
More of the same. Walls being busted, and then cleaning up. We didn't finish the job, so we would return the next morning to complete cleanup. On the walk home I saw some sobering sights.
A knocked over fence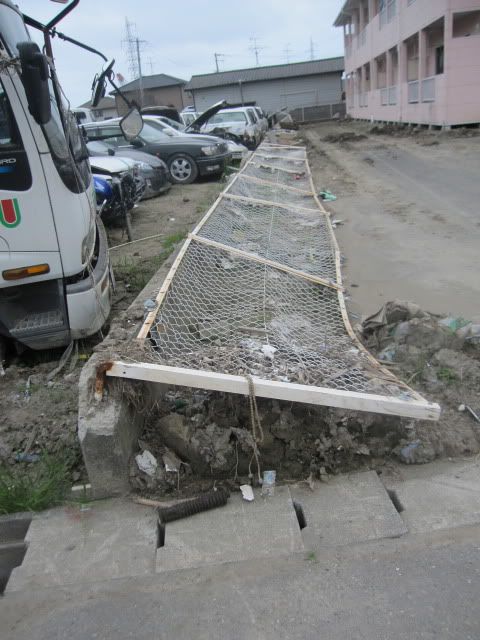 A car that had been carried into a cemetery. In Japanese culture, having a grave damaged or tampered with is a bad omen, so it's a very chilling image for some.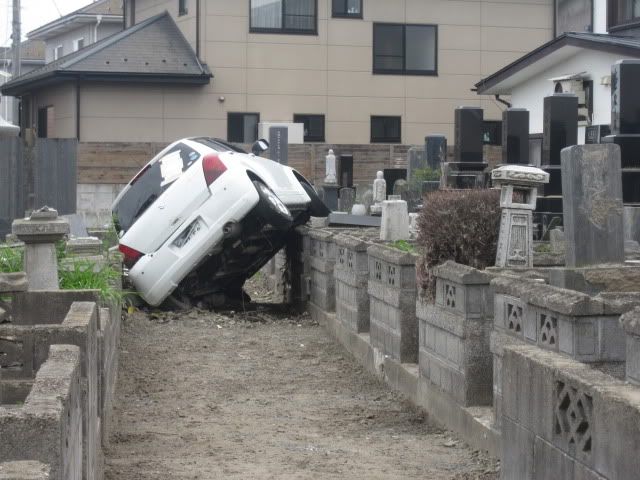 And then, just rubble. Lots of it

On our walk home we saw a team that had formed production lines and were passing off hundreds of mud-filled bags to load onto a truck. Our team stopped and helped them. When we returned to camp we familiarized ourselves with the end-of-day routine- clean your tools, your gear, then yourself.
All tools had to be powerwashed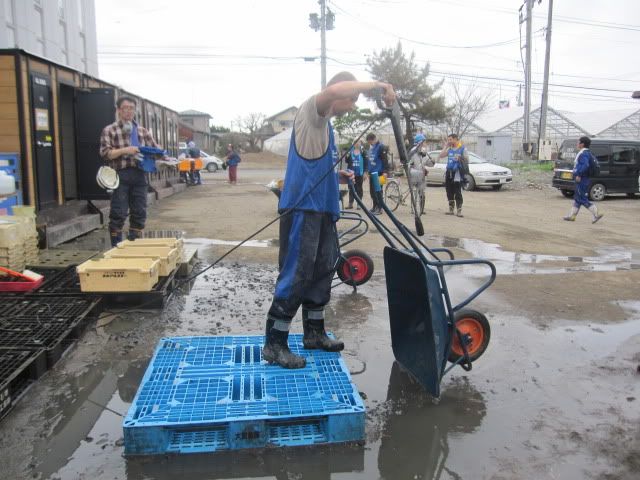 Then we would powerwash our boots and pants if needed.
Drying work jerseys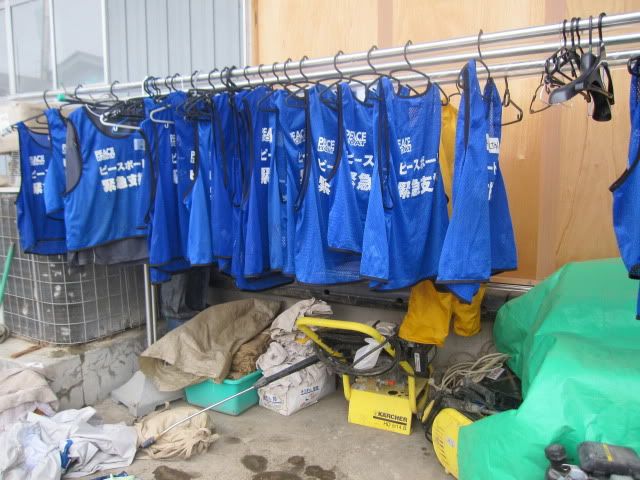 Drying tent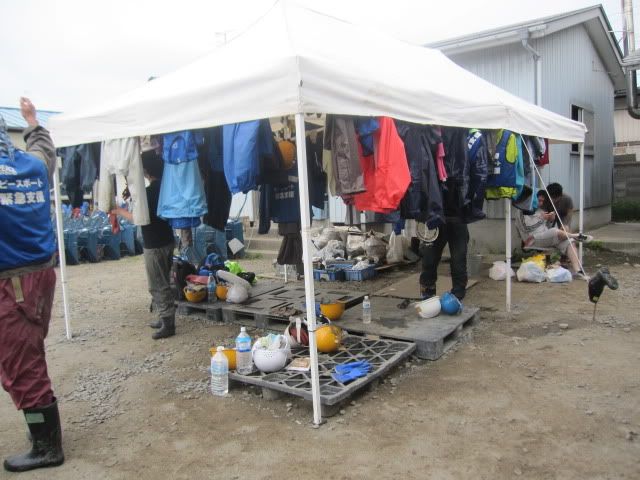 Then we'd take off our boots and go inside. Boots! Lots of boots!

By the end of the day I was so exhausted. I was so drenched in sweat that when I took my jacket off my shirt was completely soaked and when the wind hit me I got chills, despite it being 80 degrees. My legs were so sweaty my boots pooled with sweat. I changed out of my gear and rinsed it in water, then bathed myself in baby wipes (that's right- no showers!). I then laid down on my sleeping bag and attempted to absorb where I was and what I was doing. It wasn't sinking in, it all seemed so surreal. At this point I realized I was falling asleep, so I went to go be social with other people. I chatted with my group members, as well as people from other groups. Every evening from 5:45-6:15 our leader Aska had a team leader meeting, so once she was done with that we started to make dinner- curry.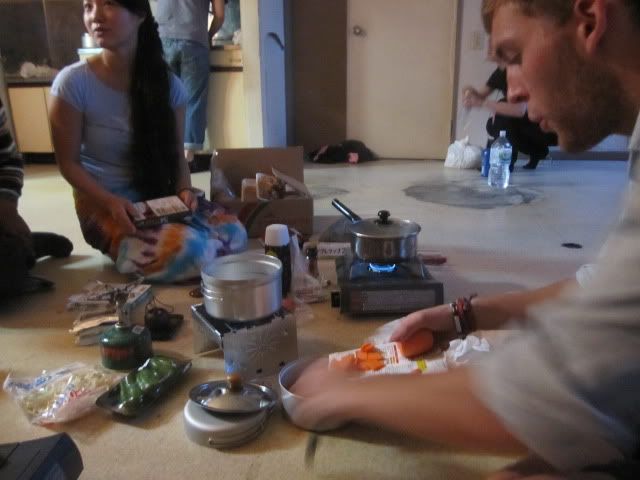 We ceased dinner operations when a tsunami survivor came to speak to all of us. His message was powerful- spread the word so we can rebuild, and make sure this doesn't happen again. Only with knowledge can we keep from repeating history.
At this point-maybe 7pm, we were tired. I mean, really tired. Like, fall asleep while waiting for dinner to be cooked tired.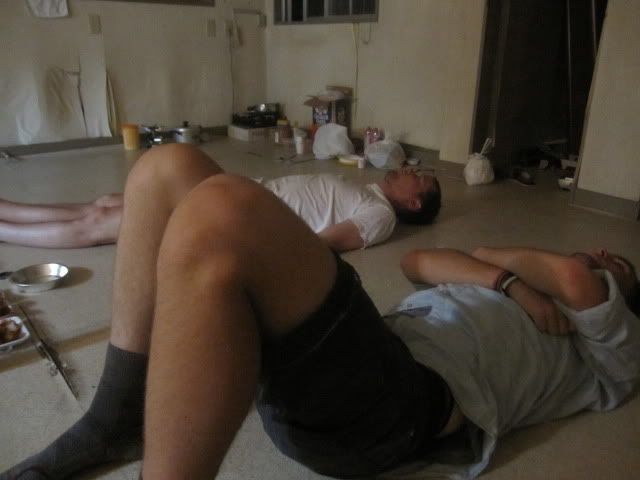 Dinner was delicious, and by the time we cleaned up and I headed back to the girls' area, it was about 9:15pm. I went out to brush my teeth for the night. With no actual bathroom on site, everyone brushes their teeth outside. When you slide the door to go outside open around 9pm, it's like hearing crickets- but it's just the sound of frantic tooth brushing. It was also pitch black, so people had to wear headlamps to use the restroom or brush their teeth outside at night.
I brushed my teeth and settled into my sleeping bag. My team mate Aska was in the sleeping bag next to me and we chatted a bit. Then the generators powered down and we were in complete darkness. And there I was, sleeping on the floor of an abandoned fabric factory, the windows open and a symphony of snorers, and I thought, "wow. I really am here." I smiled about it, popped in ear plugs, and from what I remember, fell asleep immediately and slept hard.
What a first day. Welcome to Ishinomaki.