Present Day update- I'm 26 now! I had a wonderful birthday- dinner and drinks out, cake!, and over 60 birthday wishes on Facebook! My family also sent me gifts! I was spoiled

I spent this past week adjusting back to Tokyo life, going out with old friends (Brent and Kana) and new friends (Mariko and Reiko). The weather is plenty hot now! Summer is officially on!
I did not sleep well Sunday night. I tossed and turned, I had sore muscles from working, and sore muscles from, well, sleeping on a floor. It was finally 5:50am and I got up for the day. I took comfort in knowing that a bad night's sleep + a long day of physical labor = a good night's sleep. Hopefully.
I did my usual morning routine- breakfast, changed, some free time for reading and socializing. At 7:45 I headed out to morning meeting, then realized I forgot my water bottle. I ran back to my sleeping bag to get it, and tripped on a tatami mat on the floor. I stubbed my toe badly. I mean really, really badly!!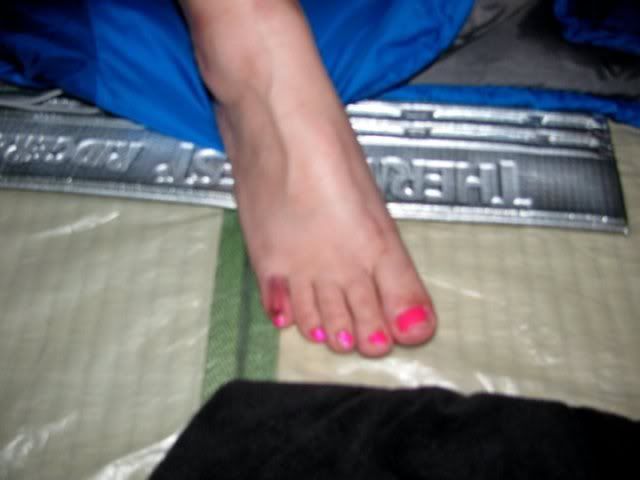 I recovered from the toe-stubbing and limped outside. Before morning meeting we said goodbye to the weekend volunteers. I only knew Tatsuya and Bastien, 2 guys who joined our team our first two days. It was sad to see them go- I only knew them for 2 days but we were inseparable as we worked, dined and passed the time that weekend.
Me, Tatsuya and Wesley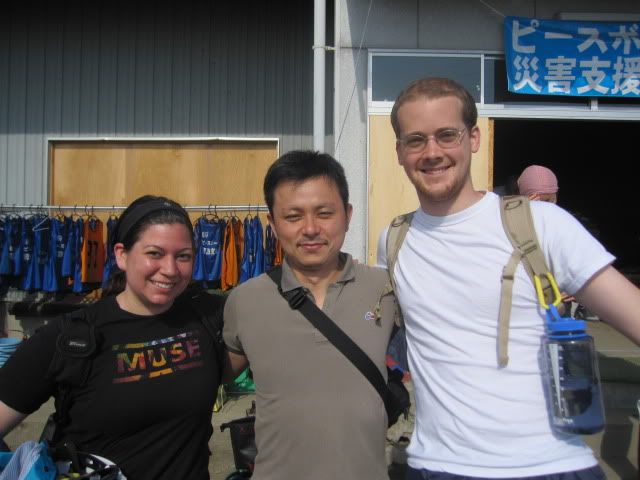 Their bus pulled away and the morning meeting got started. I should mention that these 10 minute meetings are completely in Japanese. So I stand there and pretend to look engrossed in what Ted is saying. What else am I supposed to do?! Usually after morning meeting, I ask Aska what he said and she says, "meh, nothing important." Alright then.
Next on the schedule is radio taiso- or morning exercises. This morning our friends Madeleine and JT got to lead us in stretching.

After exercises, Ted came and talked to our group (in English!). We would spend the day working at Abiko san's restaurant. When the tsunami hit, mud went everywhere. As water receded, the mud collected under houses and buildings. In the restaurant, the floorboards had been removed, and the mud had dried under the floorboards. It was our job to scoop up all the mud underneath. somewhere, under all that mud, was concrete. Looking at the job ahead of us, this was unbelievable, but I took Ted's word for it and we started to work.
The mud was somewhat layered- on top was cracked, dry mud that had decent exposure to air. Then below it was wet toxic sludge.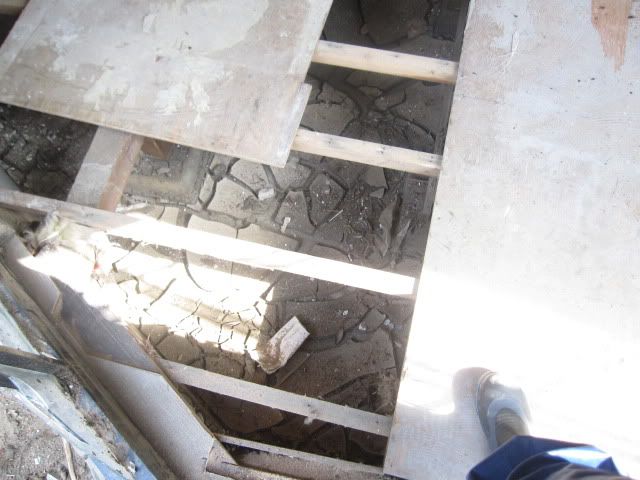 The best protocol for the job was to-
1. Pick up dried dirt cakes
2. Shovel out mud
3. Sprinkle drying powder on stubborn mud stuck to floor
4. Sweep it all up
This was going to be a long day. On top of everything, here's no floor to walk on! We navigated the foundation frame with big planks of wood that would tip over if you stood too close to the edge.

So we got to work! We worked all day on this job. We took our usual hourly water breaks and lunch at 12:30. My back was already aching by then. We were bending over to scoop and shovel below the ground level. We had lunch at camp, and Aska did our ritual- remove sweat-soaked pants, eat outside and chat. Lunch ended and we biked back to the restaurant. This was the first time I really lacked motivation. The work was hard and felt repetitive and never-ending.
By the end of the work day we had 2.5 rooms done. Exhausting. We even found a menu buried in the sludge!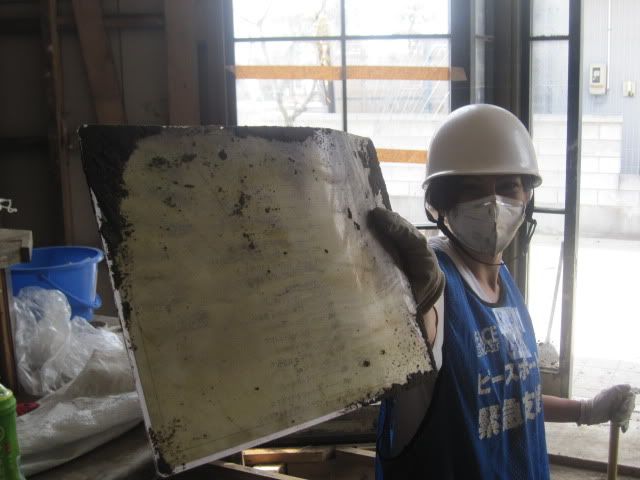 Does it look any better?!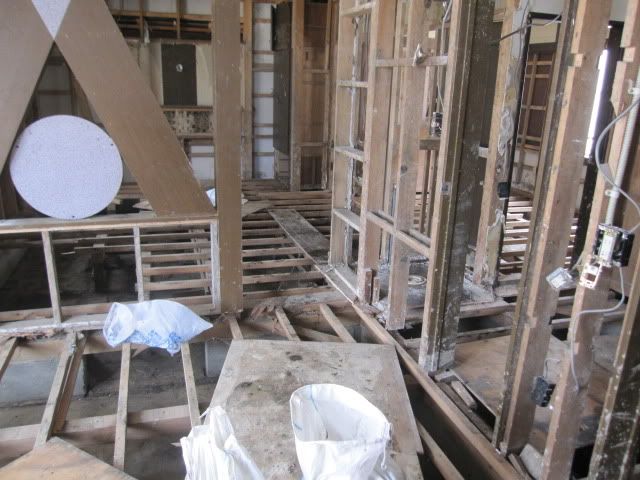 On our bike rode home we learned that not all houses can be saved. Here is one being demolished. Very sad.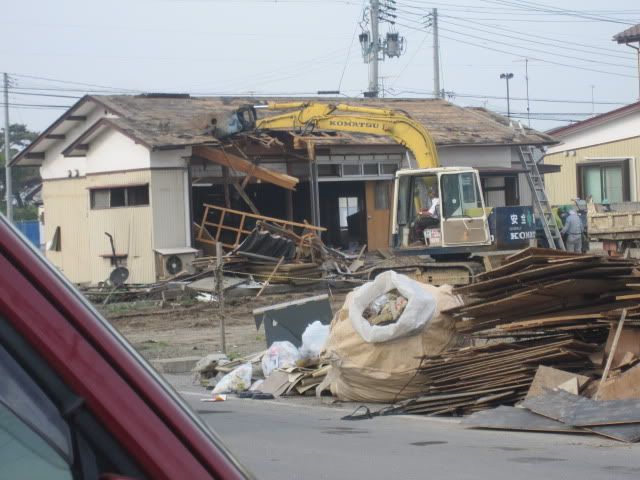 We returned to camp and got our gear washed. I cleaned up as quick as I could so I could lay down on my sleeping bag and give my back some rest. Eventually I got up and hung out with people until my group began to make dinner. We had fish tacos, and they were delicious. We beefed them up with rice and salsa
Aska's fish taco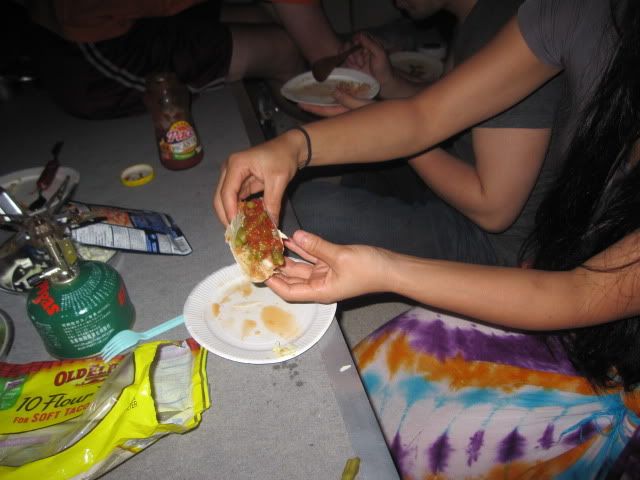 After dinner Aska and I just laid on our sleeping bags and chatted. A nice older lady came into our sleeping area and was selling Ishinomaki Volunteer stickers to benefit the council of city volunteers (basically the organization keeping track of the smaller organizations that are doing tsunami cleanup, like Peace Boat). Aska and I both bought some stickers; I put one of mine on my Nalgene bottle. It's a nice reminder of the experience I had

Before I knew it, it was 10pm and the generators powered off! I put my earplugs in and fell immediately asleep- that day definitely felt like the longest so far.