I was up Wednesday morning at 5:40am with my usual routine of breakfast, dressing and killing time until morning meeting. Someone asked why I don't just stay asleep until say, 7am if there is nothing to do until 7:45. That's mainly because
A- the sun wakes me up- no window coverings
B- there are 30 people around you getting ready for the day
C- it's fun to wake up early and chat w people!
I went outside for morning meeting and met up with my team mate Calum. This is us, being models for the Peace Boat jerseys we have to wear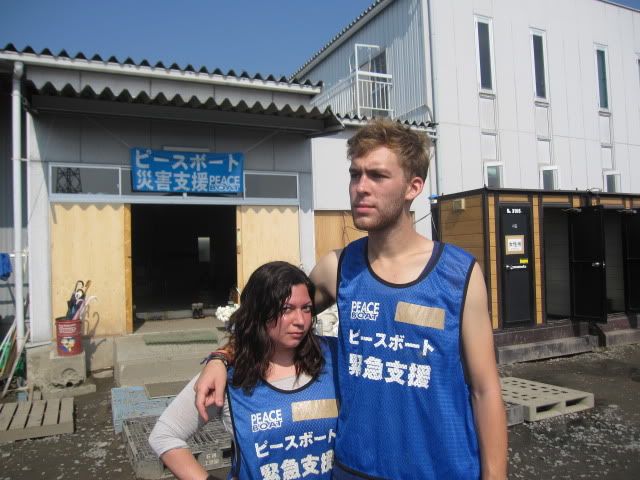 We had morning meeting and radio taiso, then got our assignment- knocking down the walls of Mr. Suda's house. I was just happy we weren't shoveling dirt out of floor boards again! Our director Ted loaded up a truck with all of our gear since it was a bit of a ways away, and we all took bikes to get there. I am, by no means a good bike rider. I can't even ride in a straight line! Job assignments where we had to bike always made me nervous, but luckily my friend Rachael didn't really know how to ride a bike, so we hung together and had mini lessons out front of Kasuka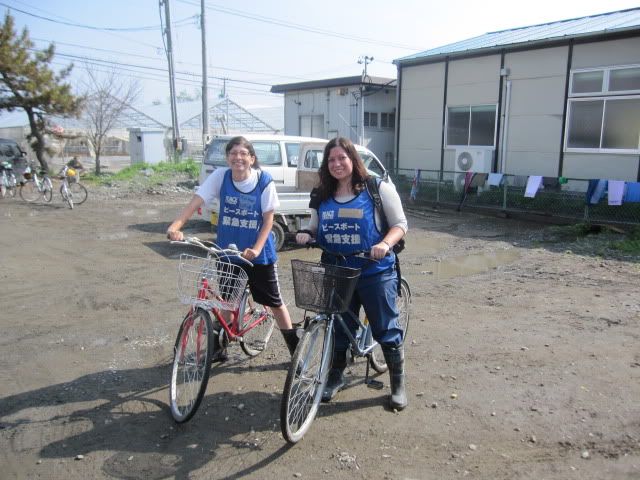 We soon arrived at the Suda residence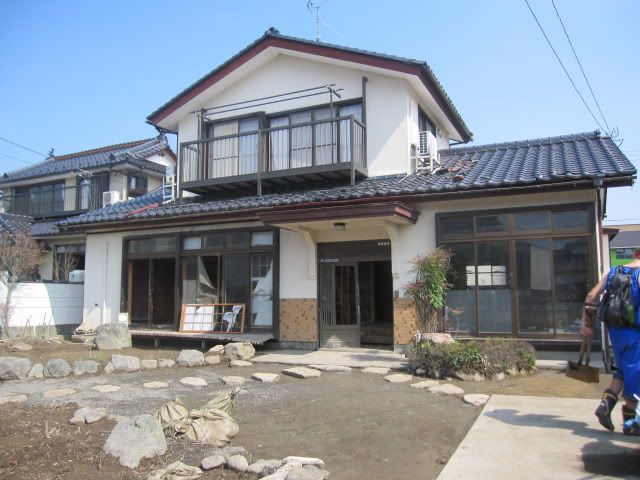 I should mention, all week there were so many planes flying over us. Low flying planes, heading to the military base we think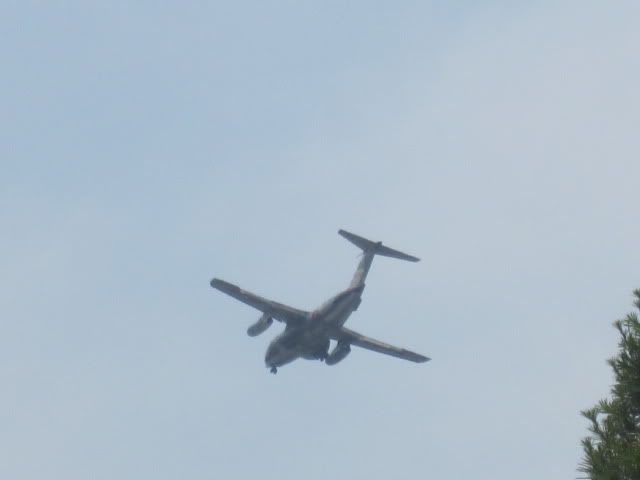 We stepped inside and familiarized ourselves with the house, then found a job to work on.
The bathroom sink. Yikes!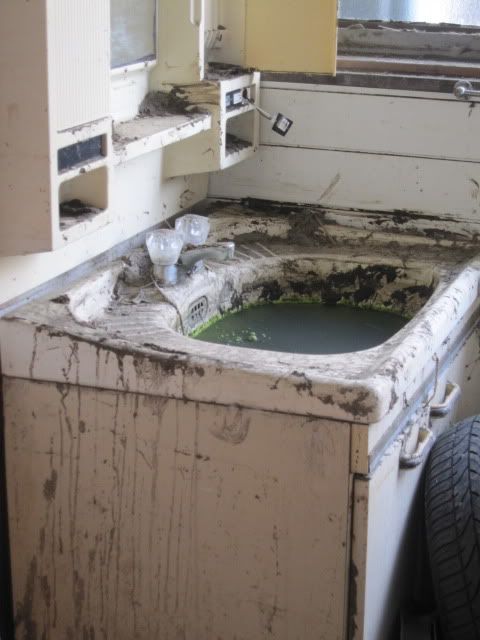 I worked on the bathroom. Before:

After:

Aska working hard in the other bathroom. GO girl!

We found some personal effects that always make the job harder. Luckily these calendars were laminated, so they survived the tsunami. See the dirt lines? That's how high the water rose.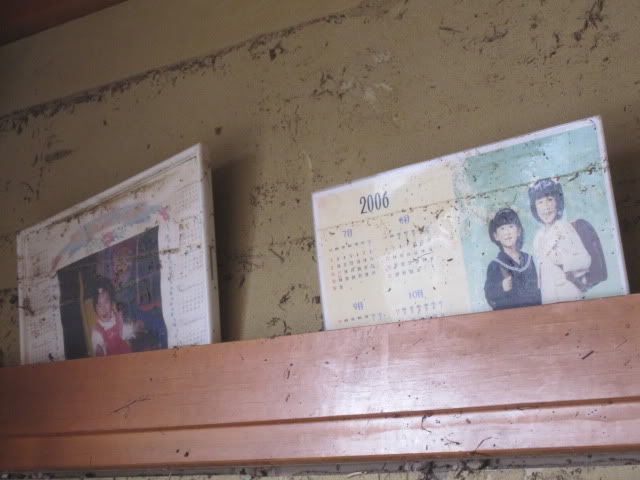 Taking a much needed water break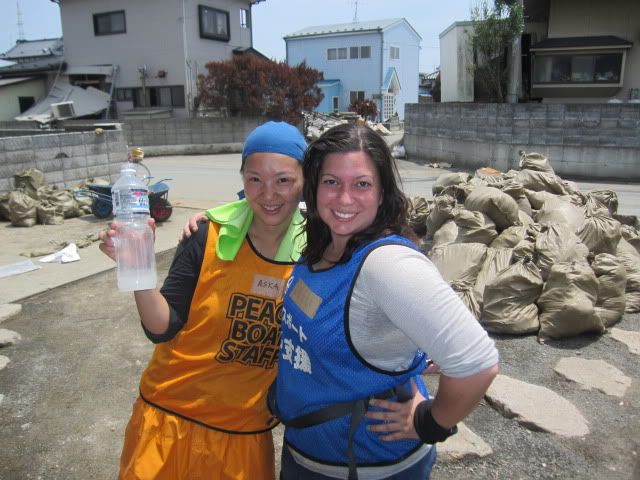 We biked back to base camp for a lunch break. Ted finds us and tells us that once we're done with the Suda residence, we have the rest of the afternoon off. Woohoo! We finish lunch and head back.
One of the hardest parts about working was estimating when you were going to be done. It's easy to say, "we have one room left, shouldn't take long", only to discover the wall behind the plaster is concrete, or we need to move personal belongings out of the room before we begin. Needless to say, underestimated how much longer we needed to work and ended up taking the rest of the day to finish the house after all.
Later in the afternoon the mother and 2 daughters of the house came by to visit. They talked to Aska and told her they were thankful of our work and everything was looking good so far. What a great attitude, considering most of their stuff was destroyed. They were pleased to see the daughters' growth chart was still visible as well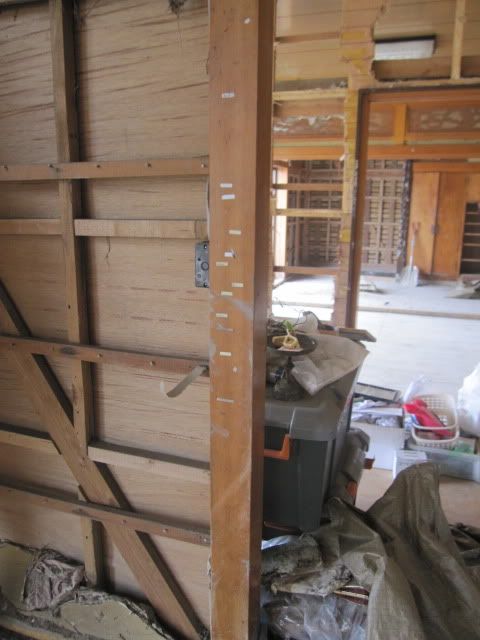 As the day was winding down we began to talk about dinner. Apparently there was a delicious 100 yen sushi shop down the road. Someone suggested we go for dinner, but then Aska wouldn't be able to join us because she had a team leader meeting. We decided to go immediately after work that day. Sushi! What a delicious end to a hard working day.
We finally finished tearing out the walls and cleaning up form it. The living room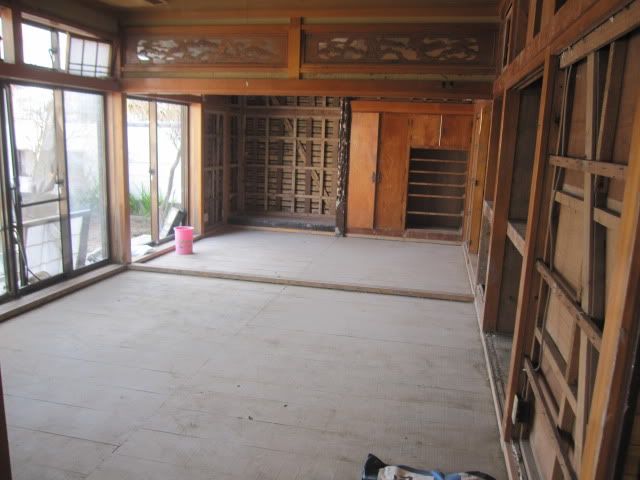 This was my favorite room. The mother in law's dance studio in the back of the house. It had a big mirror and beautiful floor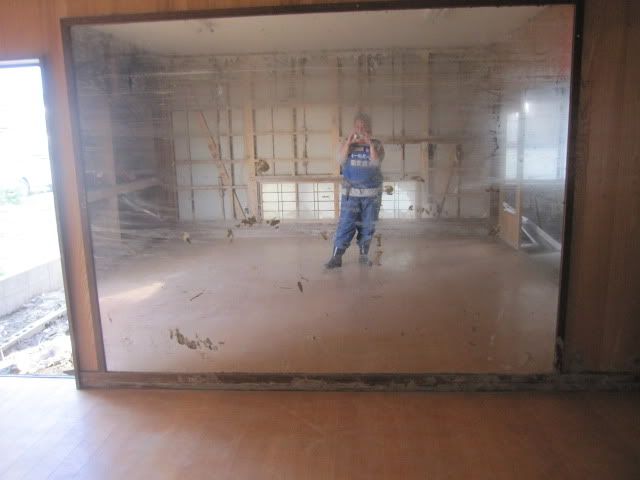 Needless to say, another job done, we felt triumphant!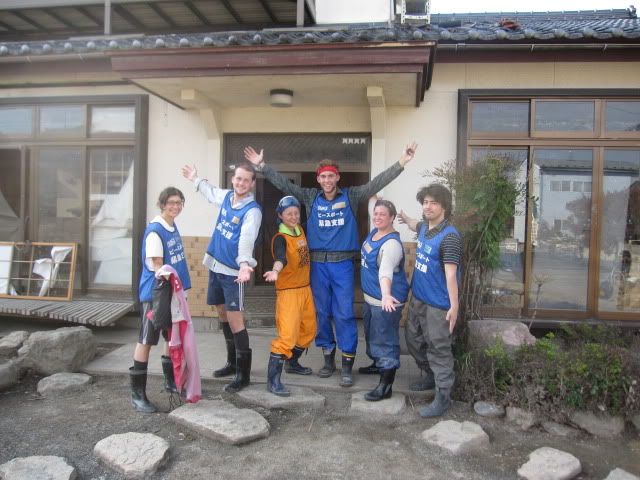 All the wall and insulation debris I bagged and hauled off!

Ted stopped by and approved our work. He loaded our gear up and said he'd meet us at camp. This was when Wesley stepped in and said, "actually we are going to make a quick trip to Lawsons" (the convenience store). Ted waved us off and took off down the street.
"ok, let's go fast!" Wesley called to us, already biking down the street. It was sushi time! We weren't really breaking any rules, but we also didn't want Ted to think we treated ourselves to fancy meals out every time we finished a job (fancy meals… we're talking dollar sushi plates! A week in Ishinomaki will make it feel fancy I suppose!). I tried to keep up with everyone but I wasn't good at stopping and starting on my bike, and there were a lot of busy intersections. When we got to the busy road Kappa Sushi was on, I ended up just walking my bike, exhausted.
We parked our bikes out front and stepped inside. Air conditioning!!! Wow! That felt amazing. The things you don't realize you miss! We were seated at a big booth and immediately began ordering. There were 2 ways to get sushi- a conveyor belt that passed plates by your table, and a mini tv at your table that lets you order any kind of sushi you want. It is then bought by mini train to your table.

Aska could only stay for a few plates of sushi and then took off. The rest of us stayed another 10-20 minutes. It was just too good- the sushi, the water, the tea, the air conditioning. They even had juice!
Calum with his grape juice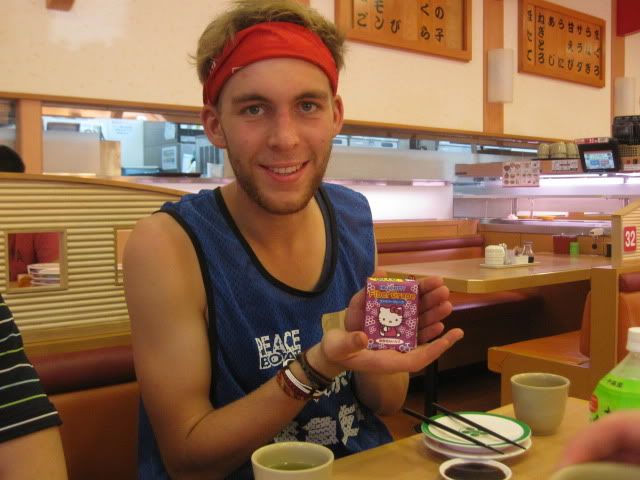 We eventually had our fill, paid and left. We went to Lawsons next door and got some water, juice and candy. We biked back to camp, Joji being a great friend and biking behind me in case I needed help.
We arrived back to camp feeling full and happy. Still in my gear, I changed and cleaned up and met Aska outside. We sat around and chatted while the sun set. We then got yet another nice surprise- KAKIGORI!
Kakigori is Japanese for shaved ice, or "sno cones". A nice lady came out to Kasuka to thank us for our hard work by making us shaved ice. Awesome! We got our sno cones and went back outside to sit on our crates and talk with other and enjoy our treat.
Me and my ichigo kaki gori (strawberry shaved ice!)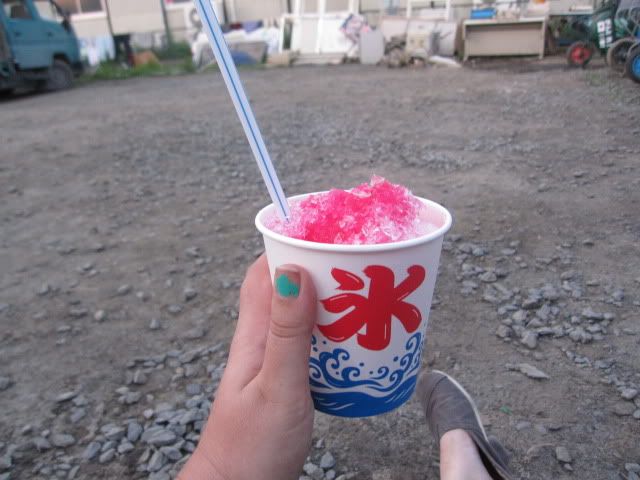 I will soon learn this night to be one of my biggest regrets- hanging outside for hours in shorts and a tee shirt with no bug spray. In all seriousness, I returned home with about 35 bug bites!!!!!
I also enjoyed this night because I got to talk to Dan on the phone for a bit and tell him all about what I'm up to

At some point we wandered back inside where Wesley taught us a fun game:
1. everyone writes down 3 names on 3 sheets of paper
2. they get mixed in a hat and we're broken into 2 teams
3. Round 1- say as many clues as possible to make people guess your person
Round 2- you can only say 1 word to make people guess your person
Round 3- No words, charades to make people guess your person.
It was really fun! At this point I'm very tired and ready for bed. I change and brush my teeth and hop in my sleeping bag. Unfortunately it was not a good night for sleep. It was very hot, so I wanted to lay on top of my sleeping bag. But then the flies would come sit on me, so I got under my bag. No good! But morning came before I knew it!