It was here, our last work day. I woke up at 6:15 and ate a Powerbar. I thought about how the first few nights I couldn't comprehend where I was and what I was doing, and now here I sit wondering how I can return to normal life.
I laid around talking with 2 girls I became friends with, Mariko and Reiko. Finally we changed and went out for our last morning meeting. This was going to be an exciting day, as we were only working til 1pm, then we were going on a bus tour to explore more of Ishinomaki.
Ted gave us our final job assignment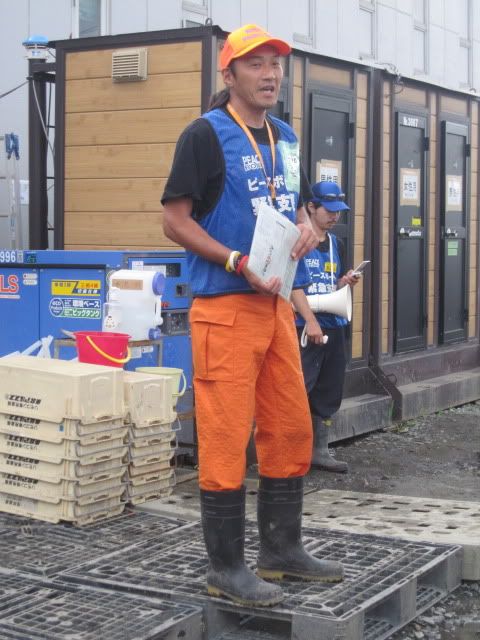 We would be working close to the harbor, at a house that hadn't been touched in over a hundred days, since 3/11. We would be shoveling the front of a house clear of debris. This house was by a paper factory, so everything was covered in molding paper.
Madeleine and I ready to work!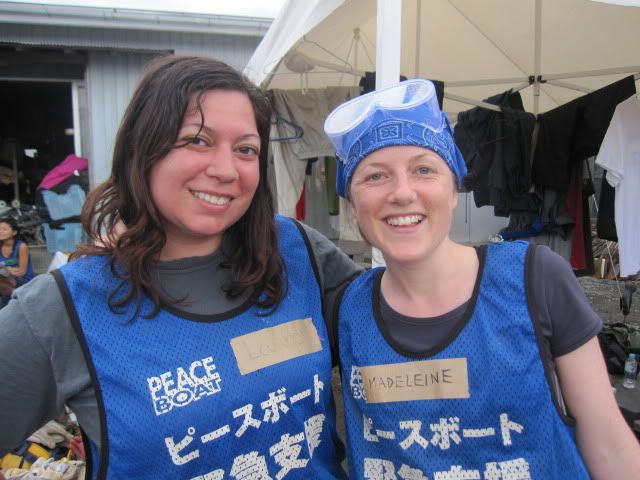 This job was also a 8-10 min car ride away, and we would be working with group 10. So we loaded the truck up with our equipment, then group 10 got in a van and took off. Everyone else had left for their jobs, so group 11 had all of base camp to ourselves! We sat around out front chatting. Ted, the assistant director, came out and joined us, and we took a picture of us with him.
Calum (London), Joji (France), Aska (Japan), Ted (Japan), me and Wesley (Virginia).

Finally the van returned and we hopped in. Aska and Calum rode shotgun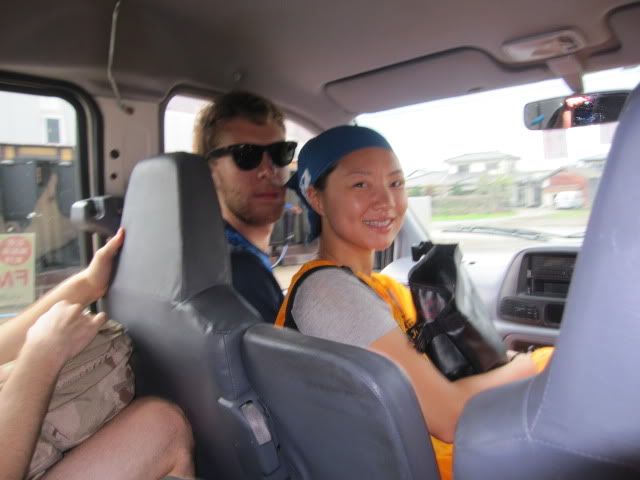 Saw a lot of devastation on the way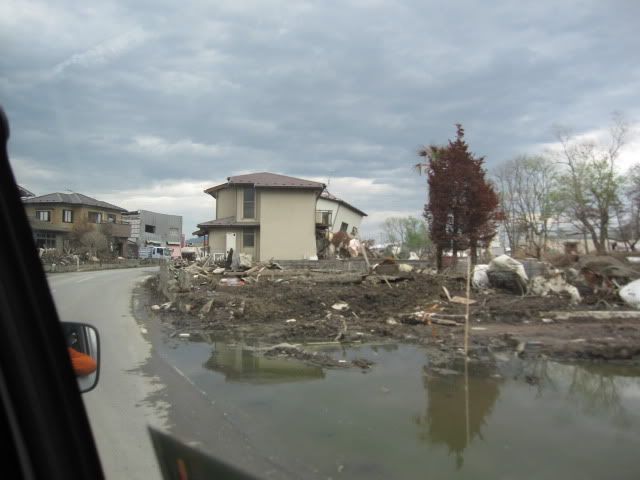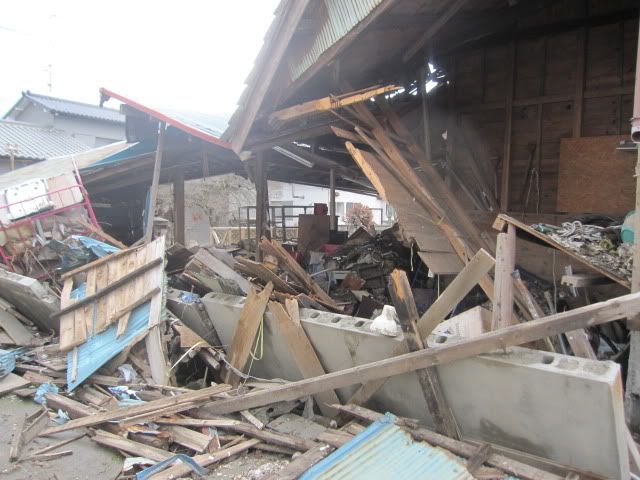 We arrived at the house, where team 10 was already assessing the work load. We got started, shoveling rubbled mud into wheelbarrows, and dumping them into bags. We had people shoveling, people manning the peach bags to keep them filled evenly, and then "runners", who would take full barrows, give out empty ones to be filled, then dump the full barrows into a peach.
Before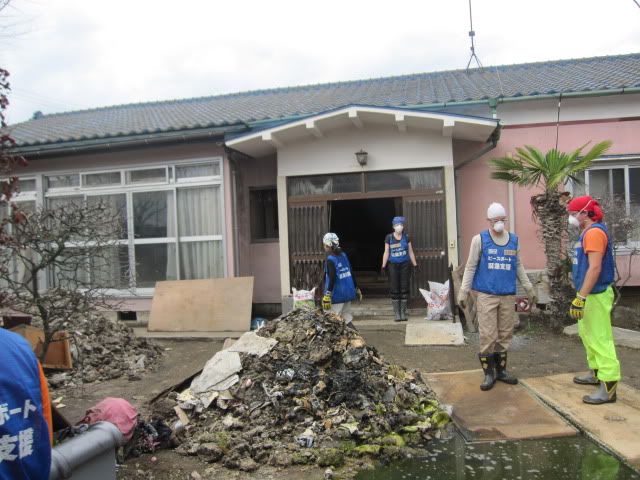 When getting full, peach bags can be about 3-4 feet high, so Chris got creative and built a ramp, and took a run at it in order to dump rubble into the peach

We met this 80 year-old man who shared his tsunami story with us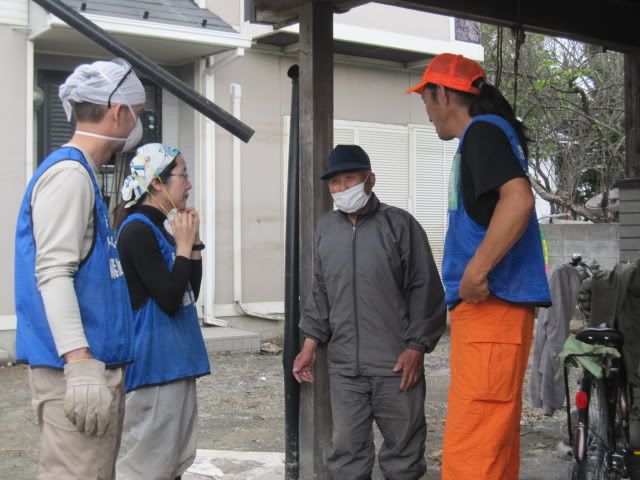 "I heard the tsunami warning sirens and got my family to high grounds- my children, their children, my wife. I then ran back down to the house but ran out of time, the tsunami as coming. With no time to get to high land, I climbed up a car onto the roof of a nearby house"
The roof he climbed onto with the help of a car

"The tsunami hit and I was safe. A car became wedged between 2 houses and I stepped on it to get to another roof. At this point it was snowing and night was coming. I stayed on the roof all night, surrounded by water, as it snowed on and off. The next morning, a house floated by, and I jumped on it and made it to my own roof, where later in the day I was able to signal help and was rescued".
That's quite a story from an 80 year old man!
We all got to introduce ourselves as he thanked us for his hard work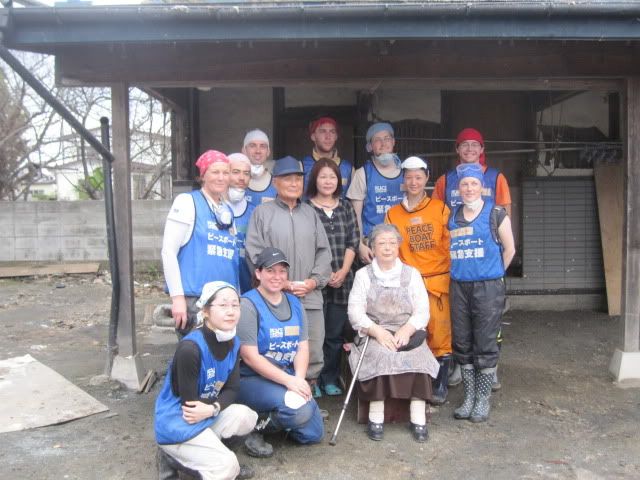 It was really hot out, so we took many breaks. Here is Joji, me and Aska being silly in our hazmat getups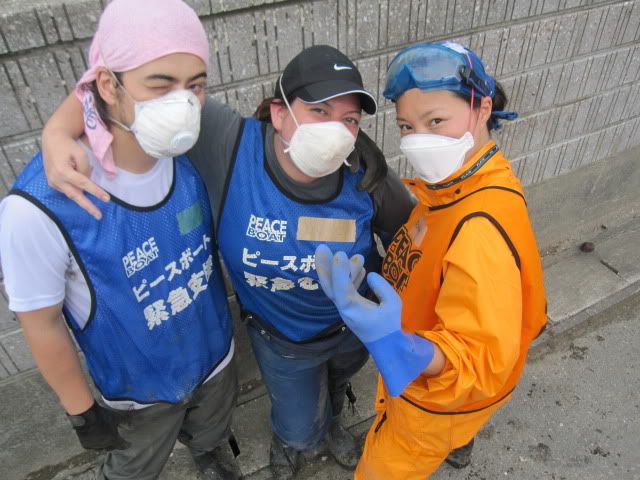 We powered through the last hour of work. I was definitely feeling it- I was drenched in sweat, it was so hot out. I also felt a little lightheaded- when you're working hard and panting the masks don't let in a lot of air, but you can't take it off to breathe because it smells so bad with all the mold and debris outside.
But alas, we finished! Our final mission accomplished!
Team 11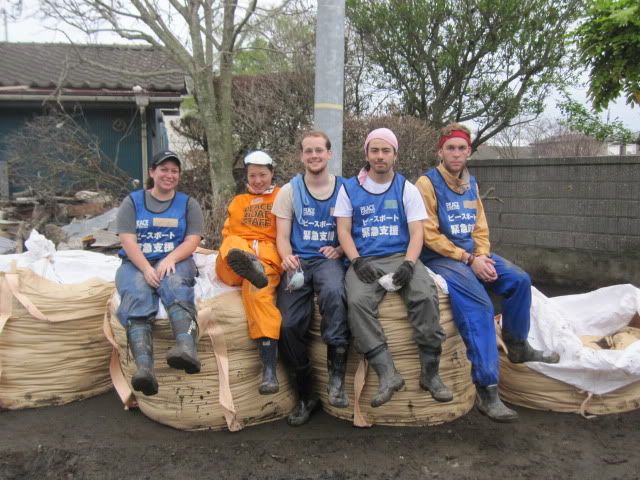 After picture

We headed back to camp with bittersweet feelings. Yes! No more sweaty boots and breathing masks and dirty everything! But we were going home the next day. It was too sad. We gathered our tools and the home owners gave us cleansing towelettes and energy drinks. We thanked them and boarded the bus, excited to get cleaned up, have lunch, and explore downtown.
As we returned to camp we began washing all our gear. Calum and Wesley remembered there was a second power washer, so they went aorund the building to plug it in. About 40 seconds later they came back, blood spilling down poor Calum's face. He bent over to plug in the power washer, and upon standing up hit his head on a metal corner of a window sill with all his force. He went to the hospital and needed his head stapled. Not a good way to end our last mission! Needless to say, he skipped out on our field trip for the afternoon. We cleaned up and made pasta for lunch, then boarded the bus.
We rode into town and got let off downtown. We walked down a few streets and came across a table where 2 people were making crepes and shaved ice to earn money. There was also a little shop where you could buy trinkets- bowls, towels, photographs, drawings, snacks, tees. I bought a tee shirt and then I stood in line with Joji, Mariko and Reiko to get a shaved ice, but we ran out of time, as our group moved along to climb a big hill to view the harbor from a lookout point.
The table selling yummy eats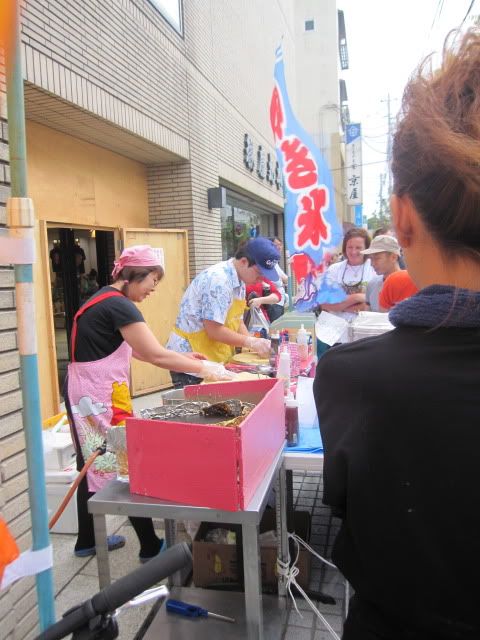 This hill was huge- steep and never ending.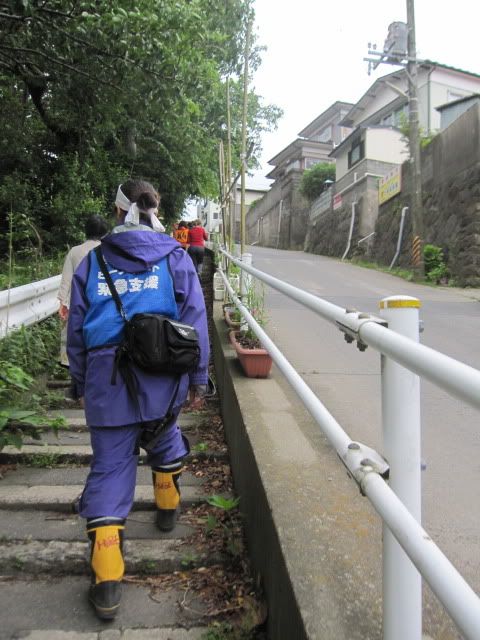 Halfway up we got a view of an island area. It's known as Ishinomaki's little Manhattan, complete with a statue of liberty.
Statue of liberty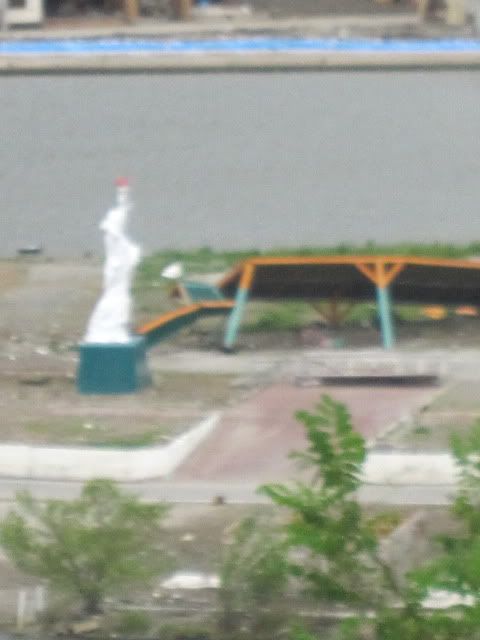 Taking a break to pose for a picture with Aska, with Ishinomaki in the background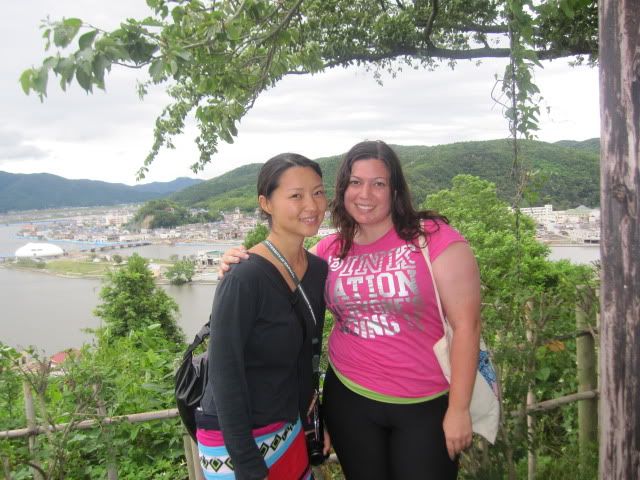 Eventually we made it to the lookout point! Me at the top in front of a torii gate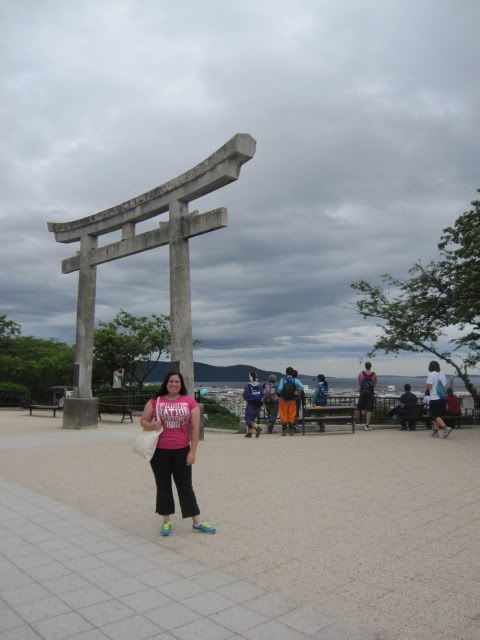 We were warned it's not a pretty sight over the edge, and when some people looked over they stood and cried.
In memorium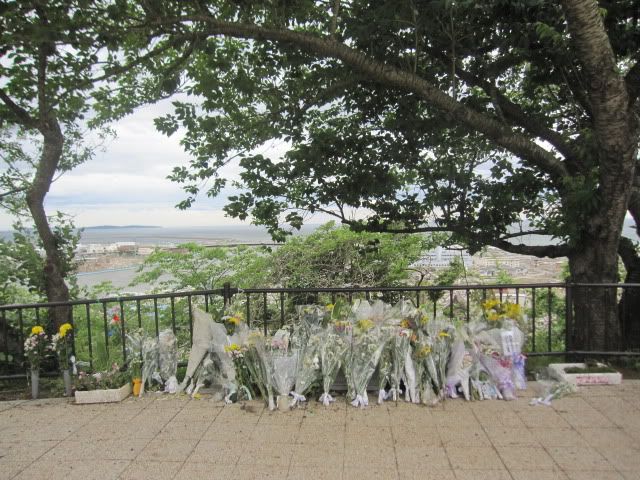 The water that caused all the trouble. The mound to the right is mostly paper form the paper factory, completely decomposed

Once all houses and businesses. All gone.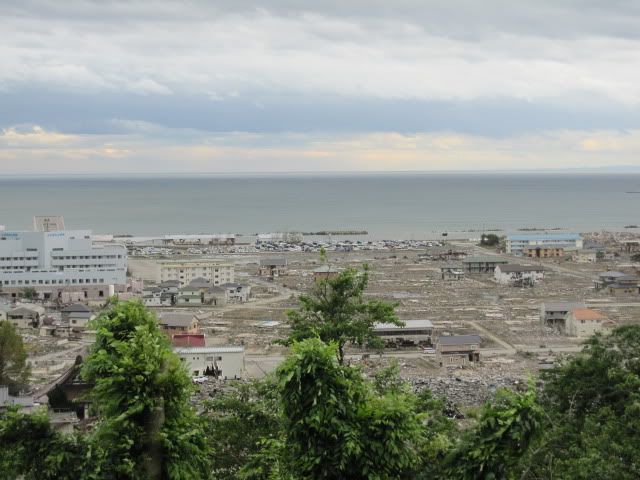 After some time we headed back down. Joji and I got crepes and waited for the bus. The bus took us back to camp along the waterfront, and I shot this brief video of closeup devastation. Apologies for the poor quality, I was on a bumpy bus reaching over people!

We returned to camp where we got to see Calum, who was back from the hospital. He was good as new! Almost!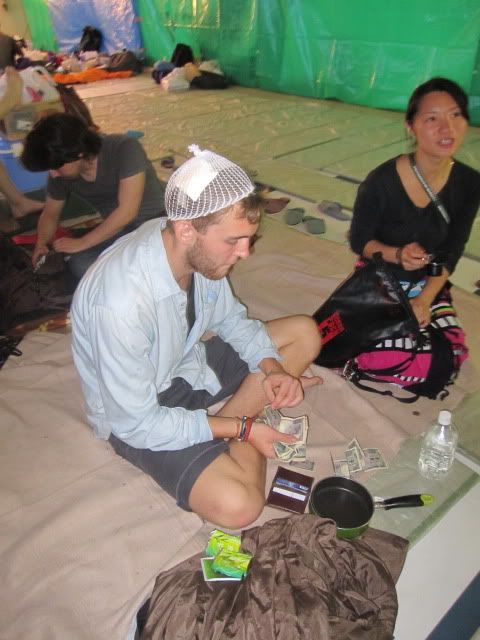 We returned to camp and had some free time before dinner. Aska and I hung out, not sure what the dinner plan was. We then ran into the boys of our team, who had gone out to bring us a sushi feast!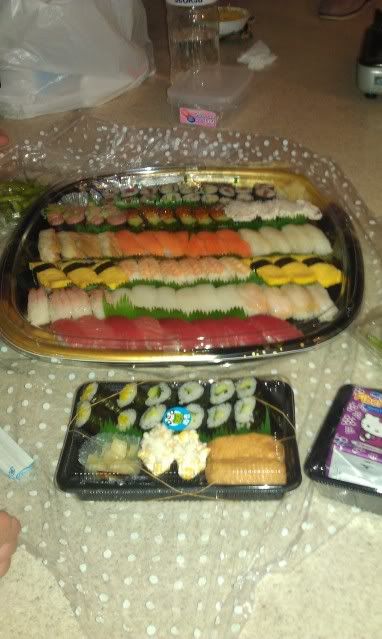 We spent our last evening at camp playing games and chatting about how exciting it will be to take a shower the next day. Ultimately, it was time for lights out.
Koba and I say good night!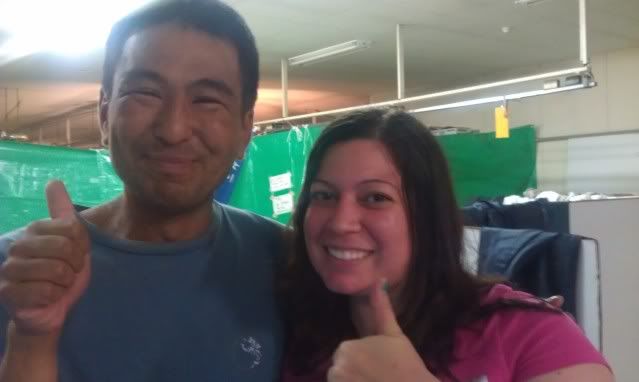 I went outside for the last time to brush my teeth. The tooth brushing symphony had become so normal. Some people were brushing their teeth, some were having a cigarette, some were just watching the night stars. What a great night it was. I was truly going to miss brushing my teeth under the stars.
I woke up early on Saturday feeling funny. I didn't need to get dressed for work. I didn't have morning meeting at 7:45am. All my gear was super clean so I could pack in into my duffel. I got dressed and slowly started packing up. I chatted for a while with Reiko and Mariko. Finally someone came in and told us it was time to vacate the girls camp.
As people left, my friend Airi wasn't leaving, she was staying another week. Here she is, taking advantage of having the girls side almost completely to herself!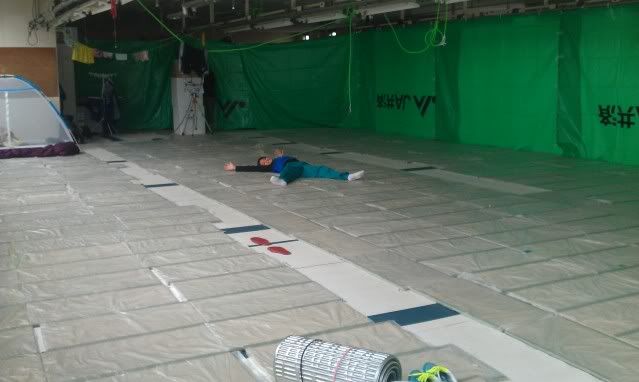 When I left the girls side, I walked into chaos. SO much going on at once. People saying goodbye in tears. Hugs and hand shakes. One last photo. To the left was where we put our gear to be loaded into the bus. To the right, out the front door the next batch of recruits were having orientation with Ted. It was too much to handle!
Aska and I with our new Ishinomaki tees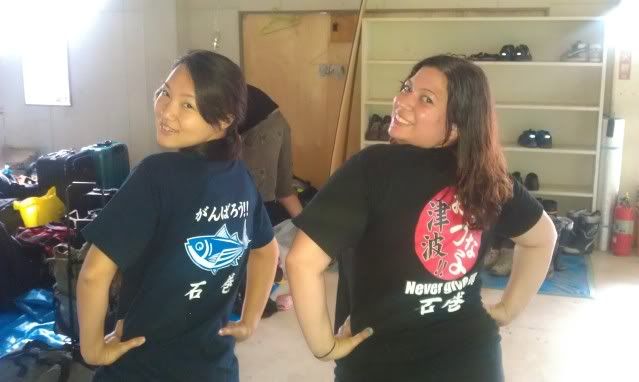 We were then told to vacate Kasuka. We shuffled out the side door to a waiting bus. The hugs goodbye multiplied. Aska and I ran around thanking people and saying our goodbyes. It was all a blur. Somewhere in the blur, Koba picked me out and thanked me and said goodbye. It was so touching. My friend who I'd never talked to. I'm happy Aska took a picture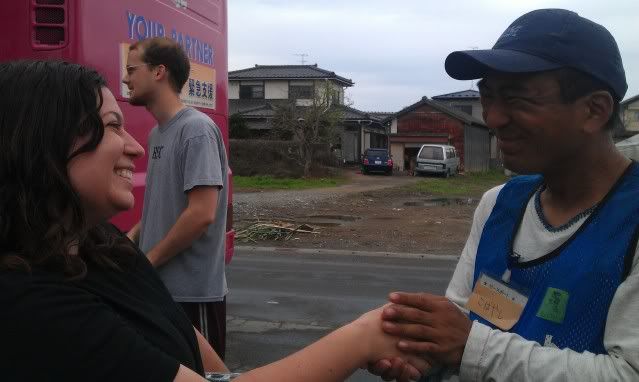 Aska, Joji ad I also said farewell to Calum and Wesley, our team 11 team mates who were staying on an extra week. Because this place does that to you- it's hard dirty work, but you just can't leave.
Team 11 put our hands in one last time. Director Ted told our team leader Aska he had never seen a team work so well and bond as closely during work and free time as our group 11. And it was true. We were a great team, Calum, Aska, Joji, Wesley and I.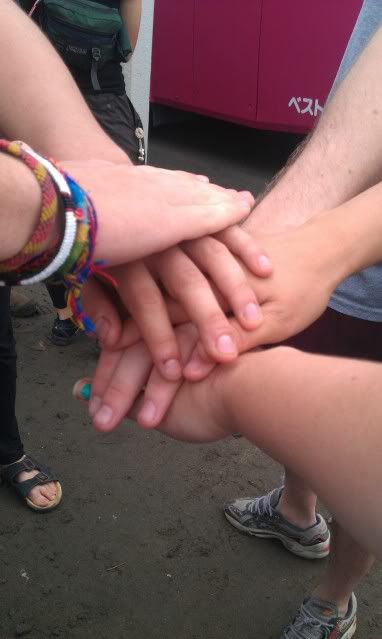 There was nothing left to do but get on the bus. Aska and I sat in the back with our friends Chris and Maki. I could hardly bare to look out the window and say goodbye to my wonderful new friends. Koba was front and center, waving at me, flanked by Wesley and Calum. My family for the past week.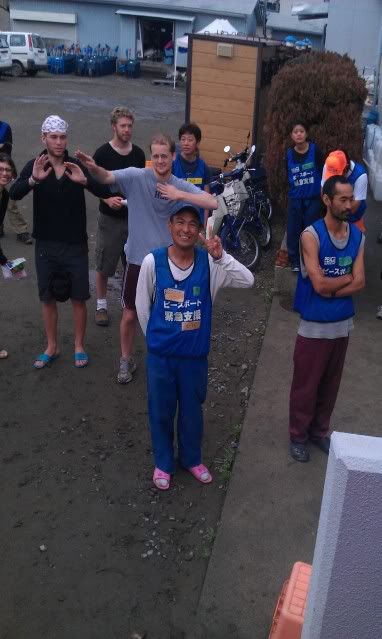 And then we were moving. They were out of sight, back inside Kasuka getting ready for another day of work. I didn't know how to feel. I was going to go home, hug Dan and my kitty, take a shower and eat whatever I wanted. But the friends I made, the work I did, I knew I would never forget the past week.
About 7 hours later, we were dumped on a curb in Takadanobaba, Tokyo. We collected our gear and the bus pulled away. And just like that, we toppled out of the rabbit hole we fell down the week prior. I stood on the curb with my gear, smelling like moldy muddy rubble like everyone else, and I couldn't believe I was back in the city. Then someone said they knew how to get to the train station, and we followed like sheep.
We got up to the platform and I found Dan. I was so happy to see him! It was like worlds colliding- my clean, city life and boyfriend, meeting my dirty, laborous life and friends. Introductions were made and a group of about 6 of us boarded the train.
Dan and I were the first to get off. I hugged everyone bye and we made plans to get together the following weekend. This wasn't happening! My family from the past week! Some of them I knew I'd never see again- Calum went to college in London, Wesley returning to the States.
I snapped one final picture, as my friends wished me well back in the real world, and then the train doors closed, then they too were gone.