To kick off our holiday festivities, Dan completely surprised me with a trip to Tokyo Disneyland! Because It was such a surprise, I didn't have my camera with me or get any pictures.
I had just had my job interview and I texted Dan to tell him how it went. He told me to meet him a few train stations over. I said "ok, but easy on the walking, I'm in my 4 inch heels!"
When we met up he said, "well, let's get you new shoes!" And like that we bought a pair of Adidas sneakers for me. I didn't understand why I needed new shoes for dinner! To top it off, I was now in a striped collared shirt, black slacks and yellow sneakers. We rode 2 trains before getting on a platform for Maihama. Since this is where Disney is, it's about as exciting as being told you're headed for Anaheim or Orlando. Here in Japan you can get into Disney parks for half price later in the day, and that was our plan for the night!
It was chilly but we had a lot of fun! Since we were so unprepared with our spur of the moment trip, we ducked into a gift shop to warm up and buy hoodies. But they didn't have any! We left with a fleecy poncho for me, and a fuzzy hat for Dan.
The night was spent riding rides, watching the electric parade and gorgeous fireworks set to Christmas music, and just enjoying strolling through the park, seeing the sights and having fun!
Next we went to Kamakura to see the second largest Buddha sculpture in Japan. We left Tokyo around noon on a Saturday, and it was an amazing day! It took us about an hour to ride out of the city, and it was nice to be on trains that weren't crammed to the doors with commuters for once. The weather was cool but sunny. Perfect!
We arrived in Kamakura and started our walk to the Buddha. It takes about a half hour, and in the mean time the streets are filled with shops selling clothes, sweets and paper crafts. We treated ourselves to some yummy mini puff pastries filled with custard, chocolate and strawberry.
At last we reached our destination! When you hear you're going to see a giant Buddha, I'm not sure that can readily prepare you for the sheer enormousness of the statue. Let's just say, he's really big!

It's moments like this where I realize I can't find a statue like this in Portland or Seattle. A moment where I can't believe I'm living such a dream; I'm on the other side of the world and everything is new and exciting. I hope I always remember these moments, and no matter where I end up in the future or whatever I'm doing, I can look back and remember how blown away I was by all the new things I see pretty much every day here.
A nice couple took a picture of Dan and I together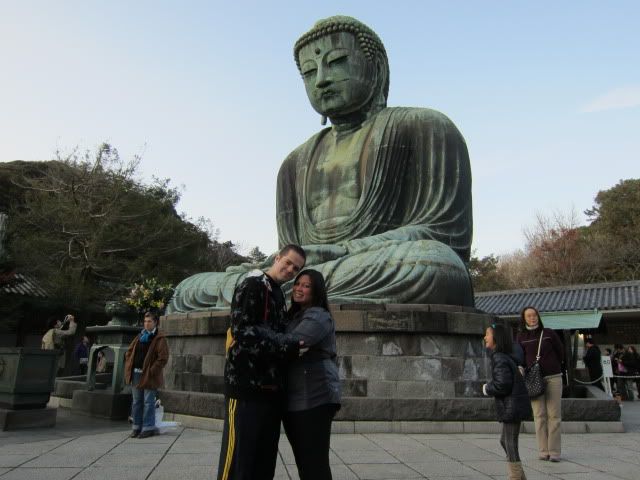 After being in awe of Buddha for a while, we perused gift shops and explored the rest of the shrine, then headed back to the train station. Since we were already a ways away from home, we decided to do some exploring in Yokohama. We had dinner at the Hard Rock Cafe which was a fun treat, then walked around the mall a bit. They had a Snoopy store which I loved!

It was getting colder outside but it was so pretty we couldn't resist.

Dan also took me to Landmark Tower, where we had an amazing view from the 69th floor! We also rode in the world's fastest elevator (Guinness confirmed!)
The same place as the picture above, just much higher up!

We walked around a bit more, then called it a night since we still had a few lengthy train rides til we were home. The day out definitely put us in the holiday spirit!