I realized I've fallen very behind in my running/ dieting/ fitness updates!
I've had a setback that's been getting me down. I use Nike+ on my iPod, and have always questioned its accuracy a bit. So I decided to download a cell phone app my college friend uses. It's called Endomondo, and it uses GPS to track you as you run, communicating w satellites for a pretty accurate readout.
I had my first big run with the new tracking app the other night. I decided to track my run with both the new app on my phone and still my Nike+, to see how accurate it was. I set out for an 11 mile run, and needless to say I wasn't pleased with the results…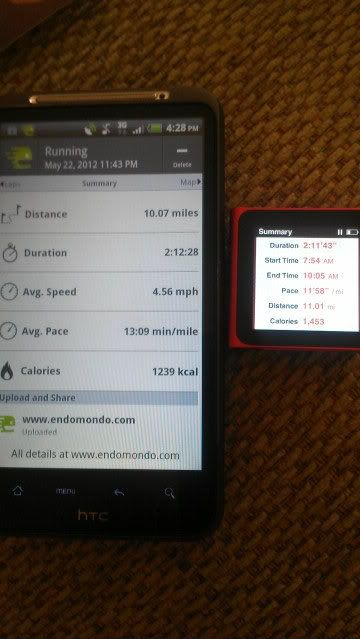 What I thought was 11 miles ended up only being 10! Which means what I thought was an 11:58/ mile pace ended up being 13.09. While it's absolutely possible and likely the satellite connection glitched for a second, it's still depressing to think I've been running for almost half a year now and I feel like I'm having this set back.
But enough complaining! Disneyland half marathon is only 97 days away! Dan and I have started looking into flights and hotels which is always exciting.
I've also been riding my bike much more lately. I learned if I bike to the next train station over, I can get to work quicker, so I've been doing that this week. I'm getting better every time I go for a ride! Also, Dan and I found a new park to run it, with fewer tall building surrounding it, so our running app will have fewer glitches. It's about a mile from the apartment so it's nice to bike out to the park to run.
Busy weekend coming up! Disneyland tonight and hiking in Hakone Sunday! Be ready for pictures