In continuing with my catch-up attempts, let's talk about the Tinkerbell Half Marathon!
It was a dream week, really. You fly to Florida, play at Disney World for a few days, then fly to California and have fun at Disneyland! Despite food poisoning and missing purses (see last post), we were determined to have a great time in California!
We arrived late Friday evening and got our rental car. It's the strangest thing: we always get minivans!!! We checked into our motel by the parks and met with Bob, Dan's dad (and my soon to be father in law!) and had a quick bite to eat at the Anaheim Garden Walk. We called it a night and went to bed- we were exhausted!
The next day we went to the expo at the Disneyland Hotel with Bob. These get more and more fun with every race, because you recognize runners, bloggers, famous athletes and favorite booths. It was fun introducing Bob to all our runner friends. We stopped by my favorite booth, Team Sparkle, and it wasn't me, but DAN who made a purchase! A brand new sparkly green skirt! More pics on that later

After the expo we walked through Downtown Disney and had lunch at one of our favorite places, Naples. It was a gorgeous sunny day, and after lunch we just enjoyed Downtown Disney.
Dan and his dad Bob

Sadly Bob had to catch his flight home, so Dan and I took it easy for the rest of the day. As for our pre-race dinner, it wasn't exactly the healthiest… but who can resist the calling of In-N-Out?!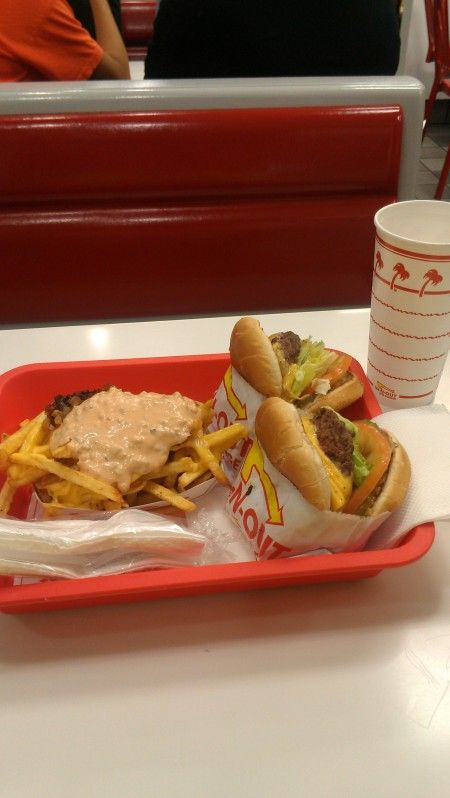 We got to bed early and woke up around 3:30am for our last race of our trip. It was exciting because I was starting in corral B and Dan was in corral C- as a women-centric race they make men start no earlier than corral C! So I thoroughly enjoyed this one time where I got to be in front of him

I said I'd keep an eye out for when he passed me.
Before I knew it we were off and running! I can't begin to tell you how much better I felt, just being out of the Florida heat. My pace felt good and I even got to say hello to some people I recognized from the expo on course!
By mile 6 I was out of the parks and just running on the streets of Anaheim. I never saw Dan pass me, but I was out there with 14,000 people and figured I missed him. I checked my time and I was making really good time, and started thinking I could maybe get a new PR!
At mile 8 someone tapped my shoulder. Dan! I say this endearingly- he looked awful! He was still sick from Florida and he said everything hurt, from his head to his feet. He told me to push ahead, but I decided to forget my time and jog with him. He was only out here for me, we got into running because of me, our vacation time was spent so I could do these Disney races, so we stuck together til the end! And besides, we never have a finish line photo together since he's so speedy, and we finally got one. I think I might have to buy this one, it turned out really good!
We got our medals and our coast to coast medals too, which was exciting! We then walked over to Downtown Disney and had an early lunch at Earl of Sandwich. So good!
Admiring our new bling!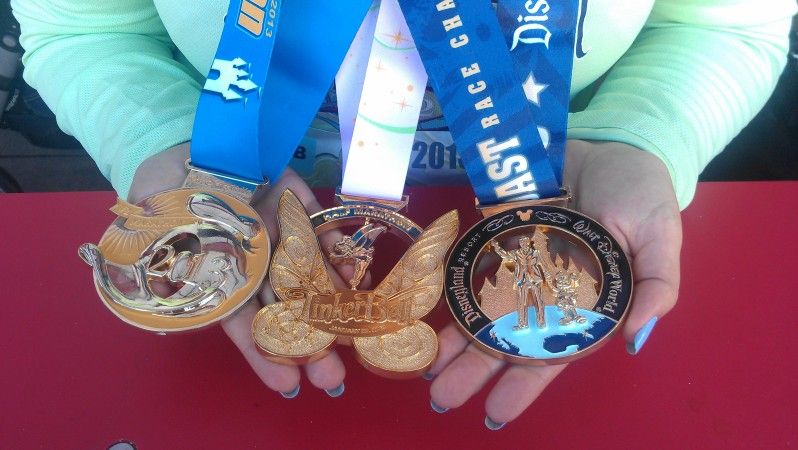 Since we were both flying out the next day we decided to have some play time at Disneyland.


Had to hit up one of my favorites, Splash Mountain!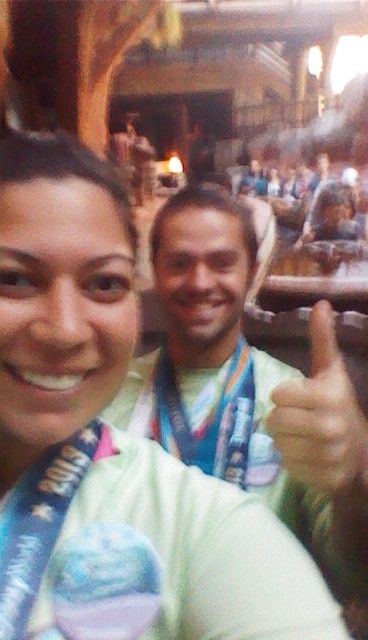 Now that's a finish line photo!

We decided to rest up for our celebration dinner that night, which was SO awesome it deserves its own blog post! All in all I had a blast at Tink and hope to run it again next year!