To start, Club 33 is a private club inside Disneyland park. Currently, membership is $10,000 USD, with annual dues at $3,000. It is not open to the public, not even for a peek! There is a tour you can take at the park that takes you into the lobby, but not the restaurant upstairs. The only way to get in is to have a lot of money, know someone who has a lot of money, or pray your company has a corporate membership at your disposal.
Needless to say, a meal at Club 33 was on my bucket list but I had no clue how I'd ever achieve my goal!
In the past year I have joined two amazing running groups online- Pacebook and Team#RunDisney. It was in one of these groups I made friends with a woman with a membership at Club 33, and she generously offered to share her membership privileges with Dan and I. We were so excited!
The evening after the Tinker Bell half marathon we arrived promptly outside Club 33. I was in complete disbelief I was about to enter that mysterious door in New Orleans Square!
The only distinguishing mark of Club 33 in New Orleans Square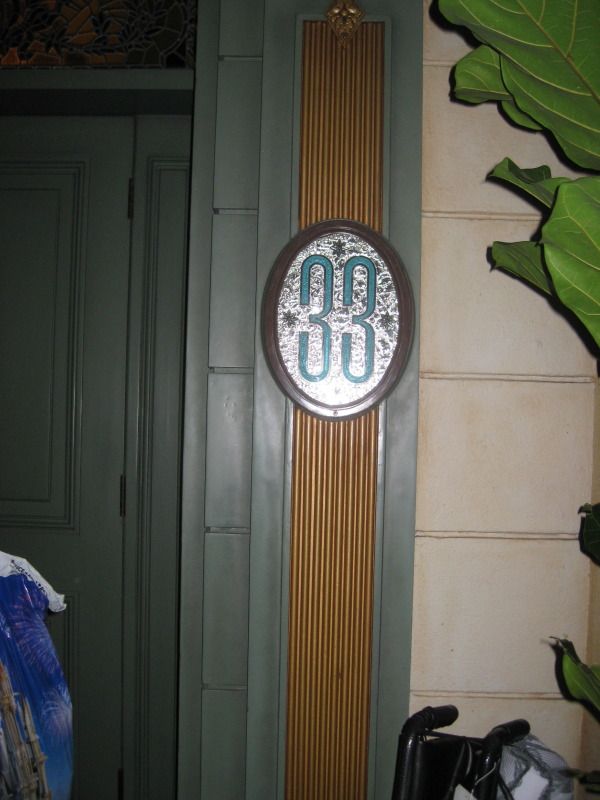 Someone in our party rang the doorbell and we told them our reservation. Then it happened- the door opened! People walking along behind us clustered around the take a look inside, but in we went and the door shut behind us.
We were then standing in a beautiful lobby with paintings and photographs. There was a beautiful Parisian glass elevator with a staircase wrapping around it. We opted for the elevator!
All of us runners decided it would be fun to bring our medals from the past week, so Dan and I put our on for a picture with the famous elevator!


Once we were all upstairs, our fabulous server gave us some interesting facts and pointed out photographs along the walls. Everything was just so beautiful! While Walt oversaw all the planning of Disneyland, this was supposedly his baby- the carpet, furniture, architecture etc- was all his choosing.
It was absolutely beautiful!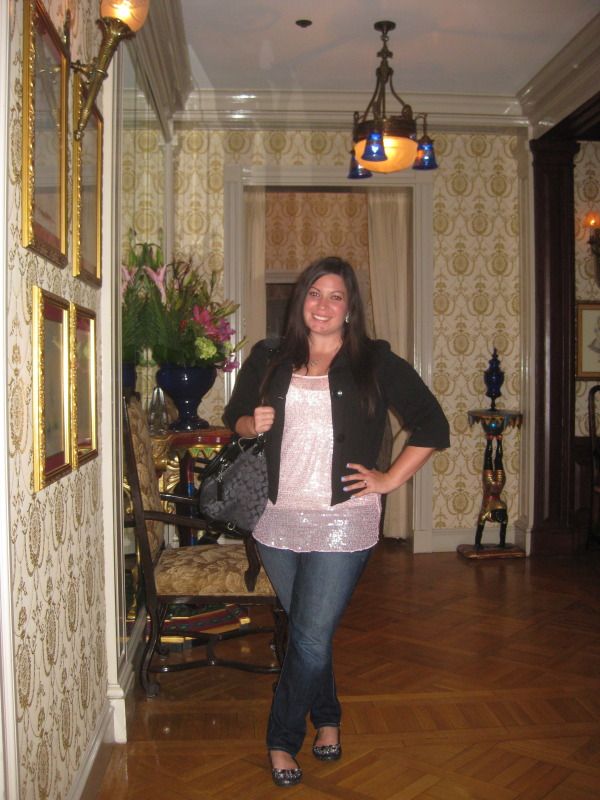 We passed by the trophy room and bar and were seated in the main dining room. I could hardly contain myself, I was about to enjoy a lovely meal at Club 33!
The main dining room from our table


I'm going to be honest, everything excited me!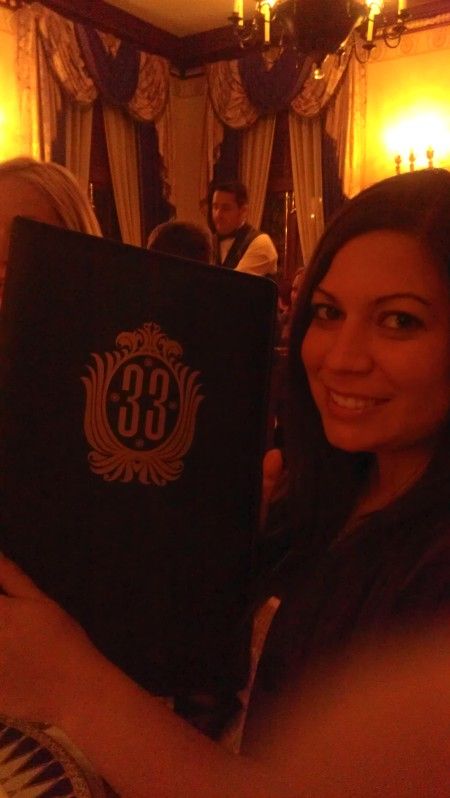 I mean really, EVERYTHING!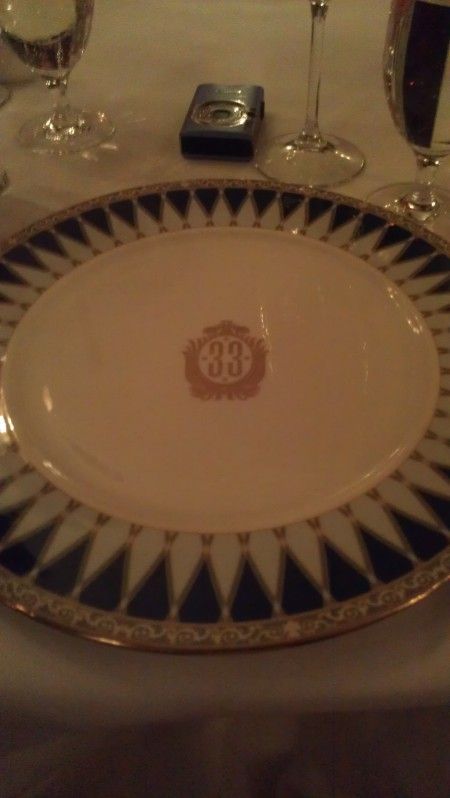 Cheese plate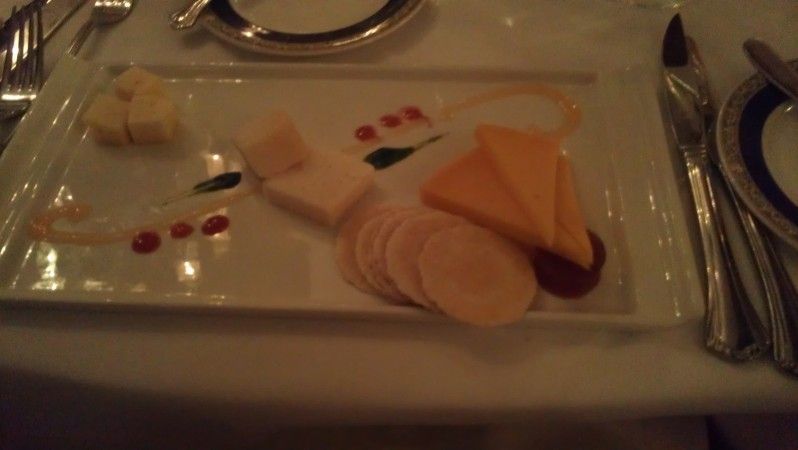 When you dine at Club 33, you have free reign over the restaurant. Meander down the halls and look at photographs and film cells, take a look at goodies for sale, and even go out on the wraparound balcony!
Out on the deck. Gorgeous night!


While I was up and about I excused myself to the restroom. Club 33 is known for having, quite literally, a Victorian throne of a toilet!
Fanciest toilet ever!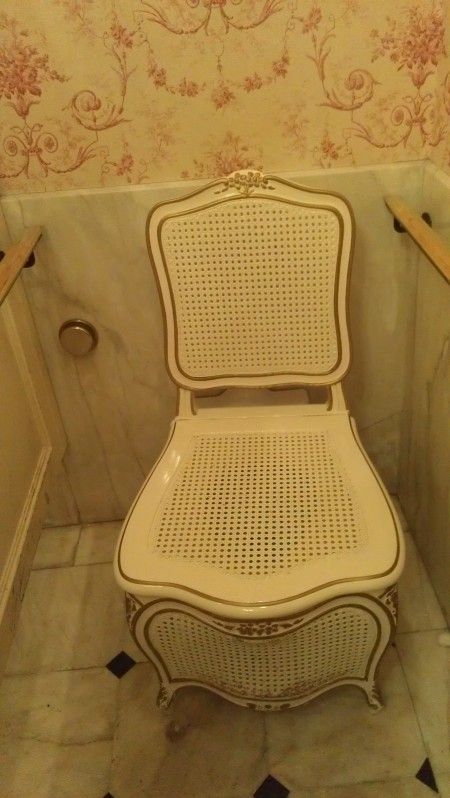 I returned to the table just in time for more deliciousness- dessert!
My s'more


The night was just perfect. Our waiter was full of fun facts and had so many good stories of serving celebrities! One I enjoyed was when he was serving Johnny Depp and he wanted to give his compliments to the chef, but the chef was too nervous! The chef came out and introduced himself but kept tripping over his words. So Mr. Depp stood up and put his around around him, and asked him questions about the meal and what his favorite things to make were. What a nice guy!
Our meal concluded with a plate of Club 33 mints. I gave mine to my mama


We got up and left the dining room and looked at the cabinet full of souvenirs to purchase. I bought a mug!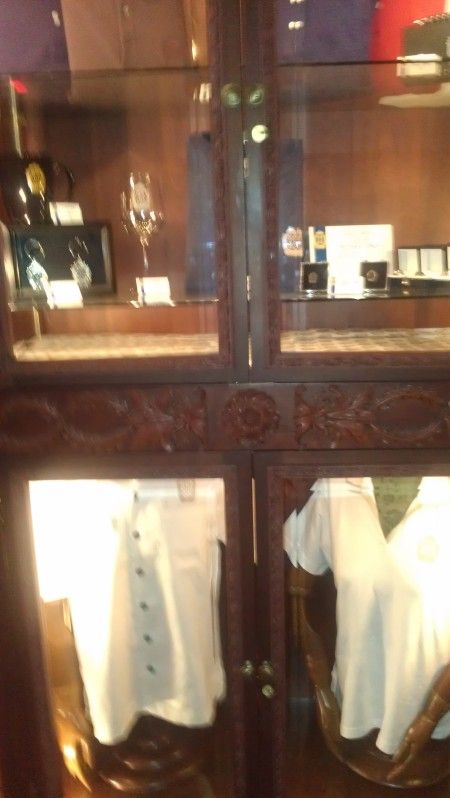 while they were wrapping it up for its flight to Japan, we went into the trophy dining room to look at the vulture animatronic. Walt's original idea was to fill this room with animatronic animals and have them interact with you during your meal. This dream never came to fruition, but you can still see the bird in the corner and microphones hanging! Speaking of sightings, when we wandered into the trophy room, we ran into Sean Astin!
Animatronic vulture


And of course, if you need to make a call, they have one of these old fashioned phone-on-a-cord-dealy-things! I can't remember the last time I used a corded phone!


Dan and I with some framed photos. Or, taking pictures to stall, because I didn't want to leave! I'll probably never be back here again!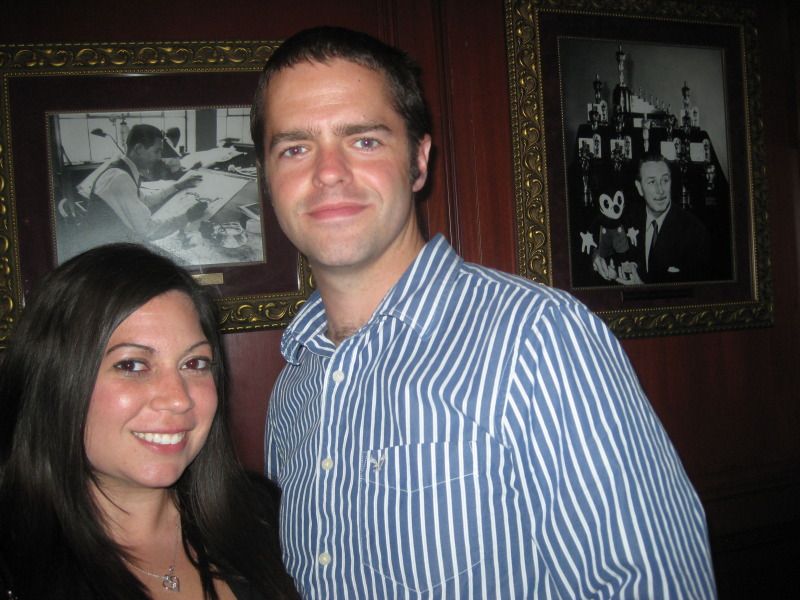 Sadly it was time to go, but I couldn't stop smiling because it was so amazing! Here I am passing through that glorious door!

All I can really say is if you ever, EVER get the opportunity to dine here, GO!