I'll level with you: my Saturday wasn't very thrilling. Chores around the house, and then Dan and I rode our bikes to one of our favorite sushi restaurants. That evening, we caught up with some episodes of The Big Bang Theory. And then we went to bed at 10pm.
Why? Because we had to be up at 5am Sunday to go skiing!!!
Skiing is something I have always wanted to do and never had the chance. In college my best friend Thomas took me to the mountains once, where I tried snowboarding. It just wasn't happening. Seriously. He suggested with a background in ice skating I should give skiing a whirl, that it might suit my center of balance better.
But the opportunity never presented itself, despite living in the pacific northwest, having a fiancé with some skiing experience AND having 2 of my best girl friends be competitive skiers.
But all that changed when my running friend Kyle invited Dan and I to join him and his girlfriend for a day trip to Naeba ski resort in Niigata! The plan was for Kyle to teach his girlfriend Mai to snowboard, and Dan would teach me to ski. Eeeee!!
We were up at 5am and on the train by 5:45am. We met Kyle and Mai and boarded a bus that would take us out of the city (gasp! that never happens!) and 3 hours northwest to the prefecture of Niigata.
I was so excited and nervous! I was worried it would be a repeat disaster of learning to snowboard.
Niigata bound! Dan and I in the back, with Kyle and Mai up in front. Photo by Kyle

About 3.5 hours later we arrived!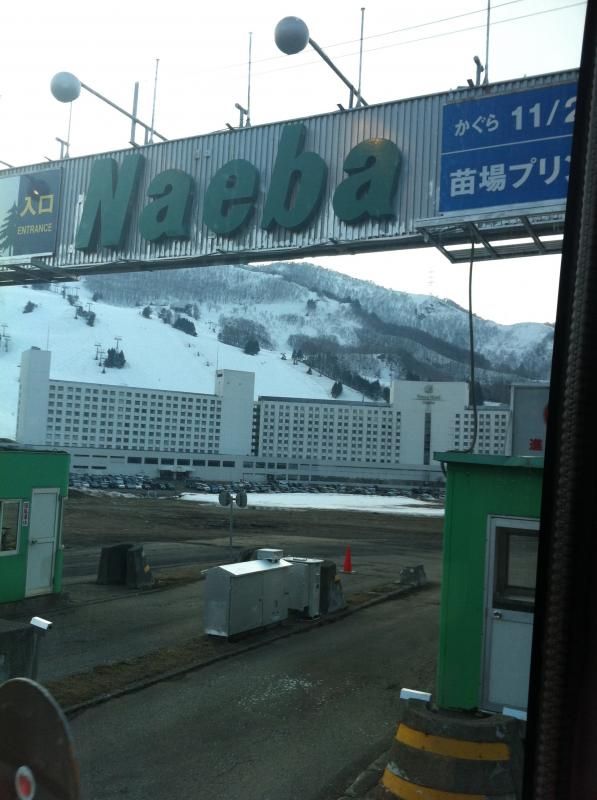 Snow!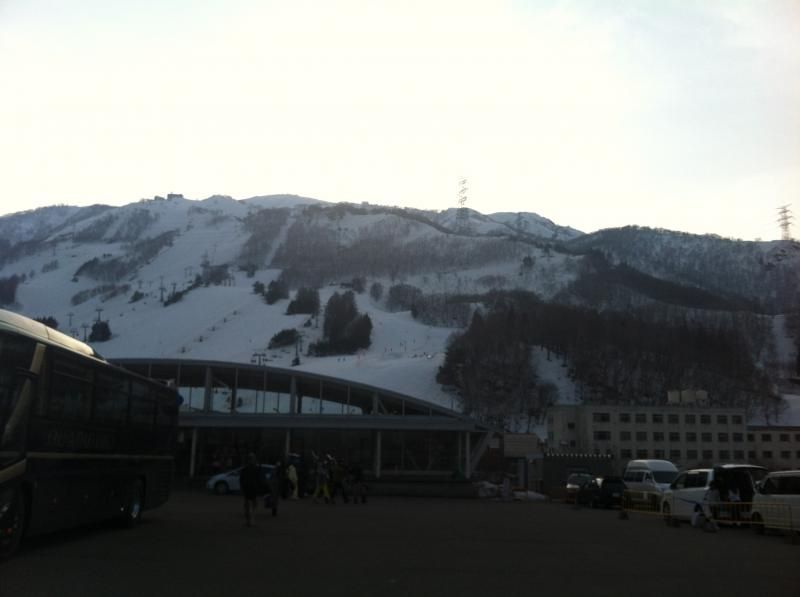 We got off the bus and took care of all the pre-fun stuff: renting gear, getting a locker, getting lift tickets, using the restroom, changing, etc. By the time we stepped outside, we were ready for fun!

Ok ski instructor, let's do this!!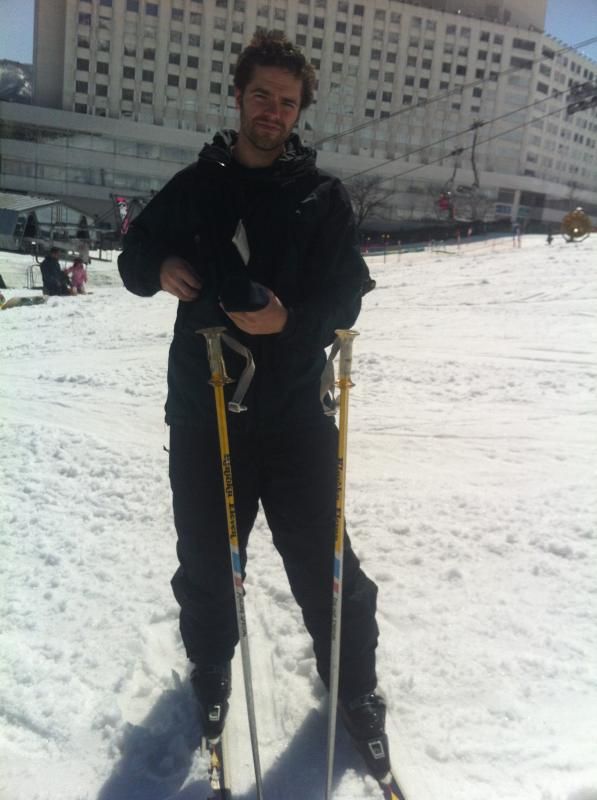 At first, I was really discouraged. I clicked into my skis, and Dan explained the premise of pizza-french fries (make a pizza piece shape w your skis to go slow, and make 2 french fries to go fast). We decided to start at the base of a small hill. I kept tripping over my skis! One ski would pizza while the other would french fry. I was mad at myself for getting discouraged- it had only been 10 minutes!
I had a good solid 10 second glide and that boosted my confidence!

I clicked out, ran my skis up the little hill and tried again. We did that a few times and then it was time to ride the chair lift and ski an actual run!
Gulp.
Meanwhile, Kyle and Mai were busy being adorable

Getting to the chair lift in skis was a little tricky. We got in position and the chair, quite literally, swept me off my feet! We had a nice ride to the top, and a gorgeous view of the ski resort. Too bad I didn't get a picture, my white knuckles were busy clinging to the chair lift!
We made it to the top, and I didn't fall on my face getting off the lift! I felt pretty victorious and was ready to take on a slope. We could go left or right, but the right side started with a big hill, so we went left.
Whoops!
Left was a little more advanced. It took me a long time to get down, and I just skied back and forth. I couldn't believe how easy I glided, how light I felt, how powdery the snow was! Well, til I landed face first in it!
My first fall wasn't bad. I was trying to turn and my skis got a little jumbled. I was about halfway down the mountain and Dan suggested we take a little rest. "Can we do that? Sit half way down?!" His answer, "sure, why not?" So we got to the side, and that's what we did!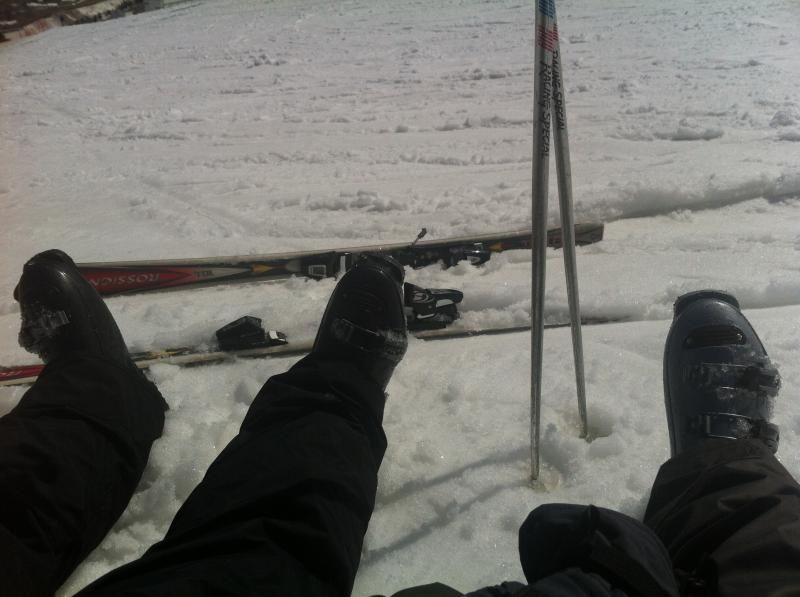 Eventually I made my way to the bottom and felt awesome!

I should also comment on the weather- it was amazing! I took off my hat, and really didn't need the coat and gloves, but wanted them in case I fell. I never imagined it could be so nice out! When I learned to snowboard, it was rainy and miserable!
We got right back on the ski lift and conquered the right side, the one we thought was too hard. That first hill was tough, and it had some flat paths I had to push myself through, but I liked it more than the first path we did. Once we finished that, we took a break and got some lunch.
Once we were in the lodge, and I had a full belly and my feet in my warm Uggs, I debating going back out. I was sleepy from waking up at 5. But I figured we had time for one more run and I wanted to make the most of our time there.
We suited up and got outside just in time to see Mai snowboard down her first run! She looked pretty pro! It's hard to see her, but she's in the pink pants!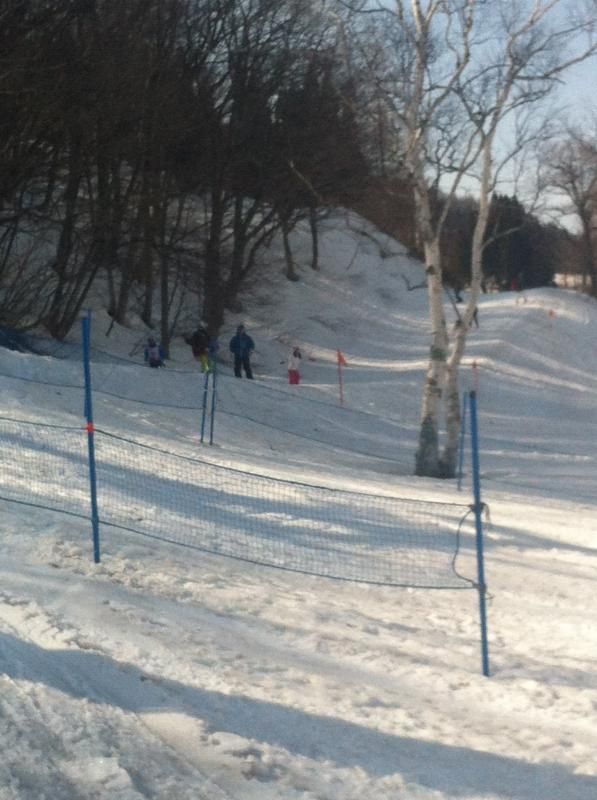 We chatted with them for a moment, and then got back on the lift to do the second run again. This time, I had a lot of trouble with the first hill. It seemed really uneven, some places TOO powdery, and other places icy. Before I knew it, I took another spill. I clicked out of my skis and sat there for a moment, then got back up. I tried to click back in but I kept losing my balance. I got one ski on and then clicked into the second- and fell back down! It was so frustrating! Dan was being awesome and waiting for me at the bottom of the hill. I got back up and made my way down, but my confidence was shaken and I took it really slow.
Once I made it to the bottom of that hill we were cruising along.
Dan skiing

The rest of the run went really well, and I decided it was a good time to call it a day. It was already 4pm!
We changed clothes and sat in the lodge and got to see Mai come down her second run. I ran outside to got a picture of her and Kyle really quick

While they were getting changed Dan and I perused the gift shop. I ended up getting a sticker that says snow monkey in Japanese 😀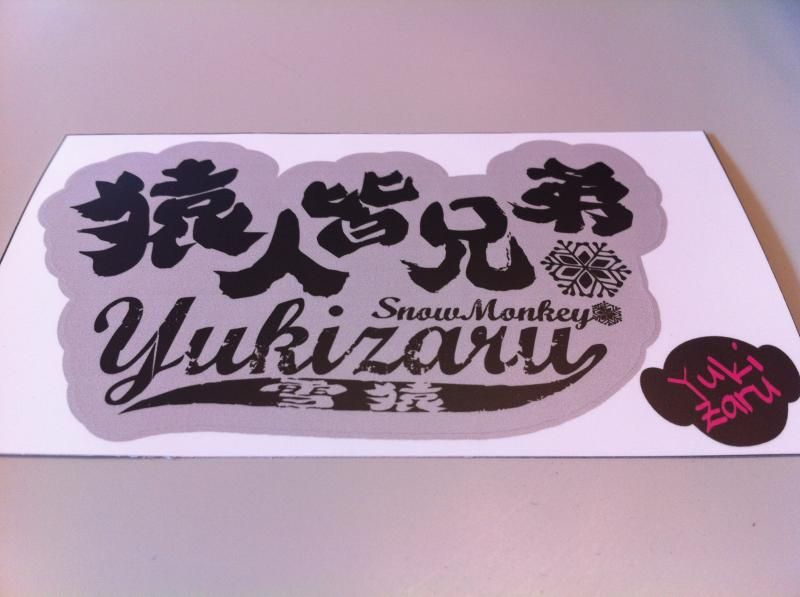 Two more awesome things about this place: first, I love that they piped music throughout the whole mountain, I loved skiing to music! And second, there was an area where you could watch skiers and snowboarders while soaking your feet in a hot spring! So nice!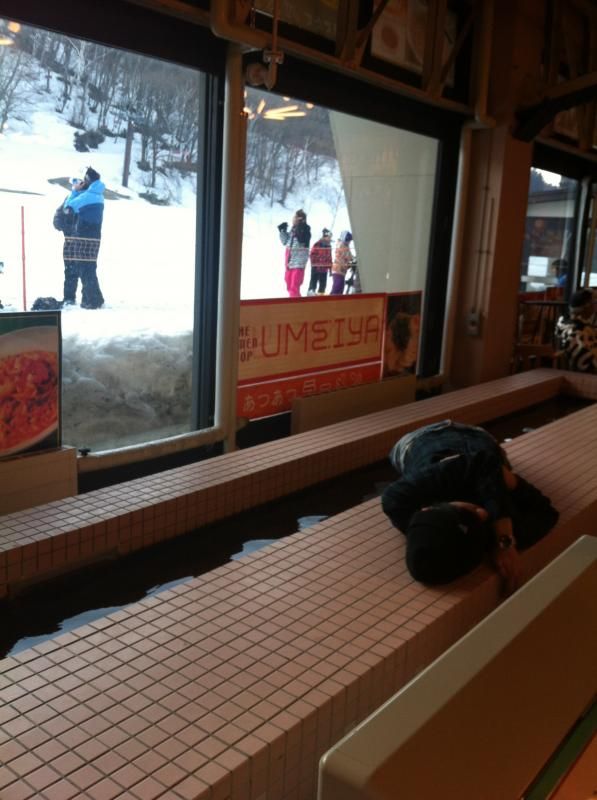 The only downside was that it took about 6 hours to get back to the city. That made for a long bus ride! We had a couple rest stops though in Gunma and Saitama. Perfect day otherwise and I hope I get the chance to go again sometime!