With most my readers living in the United States, by the time you read my daily entry, that day has already passed for me. On that note, happy Friday! I had a great one

My primary occupation here in Tokyo is teaching, however I spend a fair amount of time dabbling in voice work. It began a year ago when a coworker noticed whenever I retell stories, I give the people I'm talking about voices. He referred me to his modeling agent, and while I'm no model (HA!), he also tries to find me jobs for commercials and radio shows! It's really fun and I wish I could call it a full time job. Some day!
Anyways, today I started my day auditioning for a commercial at Sony Studios. Unfortunately I can't give any more details until I hear if they yay or nay'd me, but it was really fun!
No cameras are allowed in the recording booths, but I snapped a quick shot of the directory outside the studio


But that is atypical for an ordinary Friday!
I love Fridays because every Friday night my running group, the Hash House Harriers, get together for some running and drinks! Even though I'm currently out of the game with my torn achilles, I still go to be supportive, help collect dues and pour waters, all that good stuff.
Also, because I love baking so much, every week I make a treat! It's nice because Dan and I still watch what we eat, and it helps knowing I can enjoy a little piece of whatever I make at the end of the week! You saw my cupcakes for Dan's birthday last week, and this week I made a couple batches of brownies!
Unfortunately they were gone so fast I didn't get any pictures! But below I linked back to the recipes if you want to give them a try


Peppermint Brownies- the perfect cakey brownie, except I added the beaten eggs while the pan was too hot and they cooked a bit! I couldn't serve mint brownies w scrambled eggs, so sadly those didn't make it to the runners' palates


Dark Chocolate Brownies- They were awesome! They had that perfect flaky chocolate on top. Nice and soft without being too fudgy.
Peanut Butter Brownies- This is my classic, go-to brownie recipe. They are perfect!!! To feed my army of runners I doubled the recipe and added 3/4 of a bag of Reese's peanut butter chips. Mmmm

Tonight we were running in the lovely town of Asakusa. It's only mid March and I'm already seeing cherry blossoms!

It was quite a commotion getting home though. While transferring trains in Shibuya Station, we got to bear witness to some history in the making! The Tōkyū Tōyoko Line connects the wards of Shibuya and Yokohama. Today is the last day it operated under that name, before being connected with a much bigger rail line. Not too interesting. But what was interesting was everyone taking pictures of the Tōkyū Tōyoko Line sign before it was taken down!
My friend Noriko smiling while commuters take one last photo of the train sign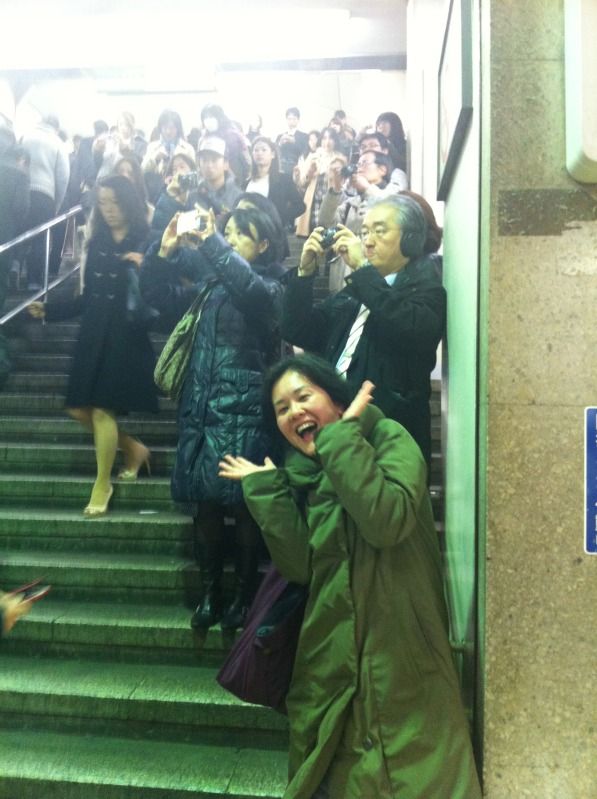 Do I miss having a car? Oh, sometimes. Only when I'm making my way through busy train stations! ;D Me on the right with my fiancé Dan and coworker Jenna, who is also my runny buddy


Some nights (like tonight!) when I'm on a train so crowded I can't even pull my phone out of my pocket because we're so packed it, it feels like a miracle that I made it home! In such cases, I think it calls for a victory cup of cocoa!


Do you love my mug? It's Marie from The Aristocats! She reminds me of my little tabby Penny

Speaking of cocoa, while curbing my dessert cravings during dieting last year I developed an addiction to cocoa, cider and tea. This led to an addiction to mugs! I LOVE cute, whimsical mugs and almost always seem to find one I can't live without while on vacation. Which makes for an inconvenient souvenir when flying internationally! Keep reading and I'm sure you'll soon be introduced to a good chunk of my collection