I have been meaning to make this post for quite a while, because I blog frequently on my running group, and I wanted to explain a little more what it's all about. I haven't been hashing as long as my fiancé Dan, so I thought it'd be fun to interview him and let him explain the joys of this unique running group to you. If I can get one person to at least Google a local hash after reading this, I'll be pumped!
Who are the Hash House Harriers and what is hashing?
Tokyo Hashers getting together to cheer runners on at the Tokyo Marathon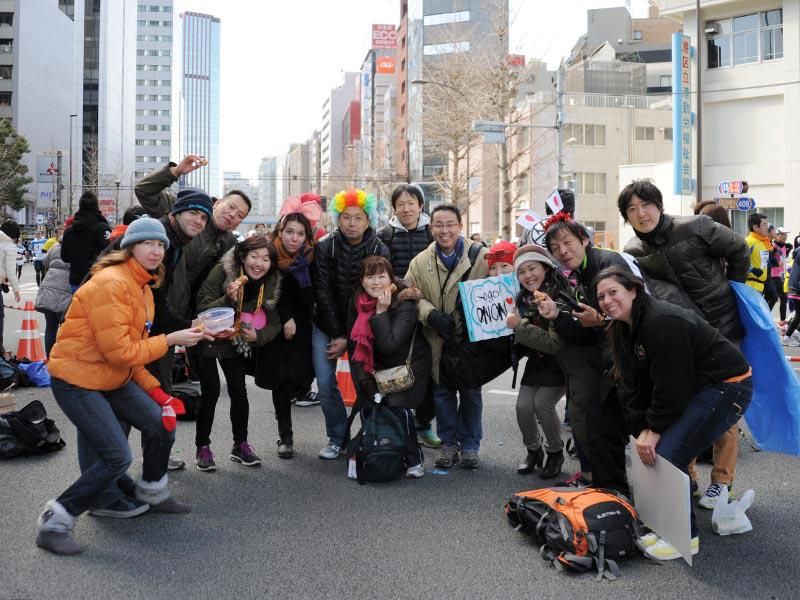 The Hash House Harriers is an international running and social club with the tagline "a drinking club with a running problem". After starting in Kuala Lumpur 75 years ago by British colonial officers, it has since spread all over the world. One runner (the hare) will created a trail with flour (or chalk or tissue or whatever suits the terrain), which may include hills, stairs, mud, bushes or other obstacles, as well as trail tricks like checkpoints and checkbacks that send the pack searching for the next mark. Trails can be on streets and sidewalks, as well, but just in case, don't wear new shoes. After the run, there are usually water, beer and snacks for consumption while waiting for everyone to finish. Then a ceremony (referred to as "circle" or "religion") commences where runners are called up for various reasons (fastest, injuries, ugly pants, cheating, etc) and they are serenaded with a "hash song" while imbibing some more beer.
Dan leading a circle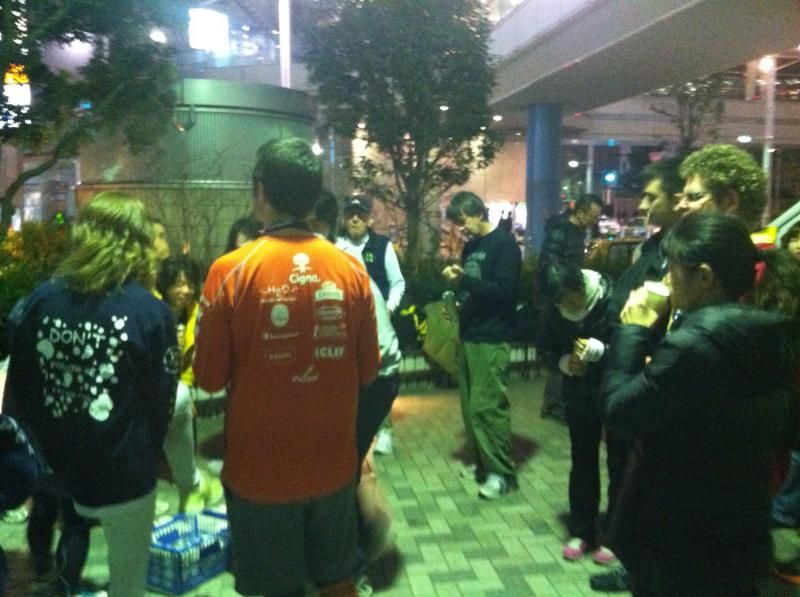 What's so great about it?
The greatest thing for me is motivation to run. Maintaining a healthy lifestyle can be difficult, and it's really easy to let routines slip away, but having a fun group of people motivates me to keep up my workouts and makes sure my marathon training never slows down to a standstill. I also love making lots of new friends and the high level of respect that everyone has for each other.
Last Friday's run. Always time for a group picture!

Is that it?
No! There's way more! Everyone gets a personalized hash name (a nickname for the hash).
(This was the day I was no longer known as Laurel, and now known as Froggy Style!)


Photo by Calinton
People get really involved and it becomes a huge part of their life to the point that they are making t-shirts to celebrate special runs and you can find hat and socks and jackets and backpacks embroidered with hash names. You see frequent visitors from all over the world who are visiting your town and looking up the local hash group was their first priority. There are awesome events like red dress runs, nash hash (national hashes), interhash (international hashes) and even non-hash related get togethers just to celebrate that you've got a great group of friends. Also, I'm still a 14 year old boy at heart, so I love the lewd jokes and innuendo-rific songs that comes from a social group that idolizes beer.
I don't know who loves the red dress runs more- guys or girls!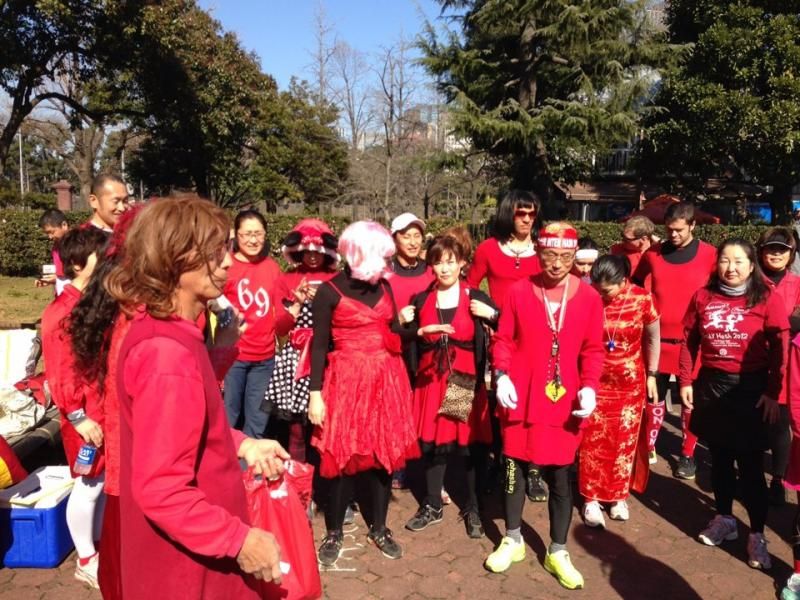 Photo by Kyle Fagan
There's probably a kennel where you live! Search the internet; sometimes the latest runs are announced with websites or email lists or facebook groups or yahoo groups or google groups, but they're out there! Some cities run monthly, some weekly, some whenever they feel like it, but if you're in a big city like Tokyo, well good luck making it to all of them! We have 5 weekly, 5 monthly and a few others on their own schedule, with hundreds of regulars among them.
And there you have it! All you need to know on how to become a hasher. Good luck and on-on! (the call of the hasher!)
QOTD- Do you prefer to run alone or w friends?