Alternative working titles: Fixing my Broken Feet, The Day the Podiatrist Took all my Money, How Laurel Got her Groove Back Part IV
I've been quiet on the running front this week, haven't I? In all honesty, it's been a less than stellar week. Achilles pain returning, now a new calf pain, and a lot of runs cut short and frustration. But I think I'm FINALLY on the path to recovery!
But first I wanted to share a product with you that the awesome folks at Bulu Box sent me.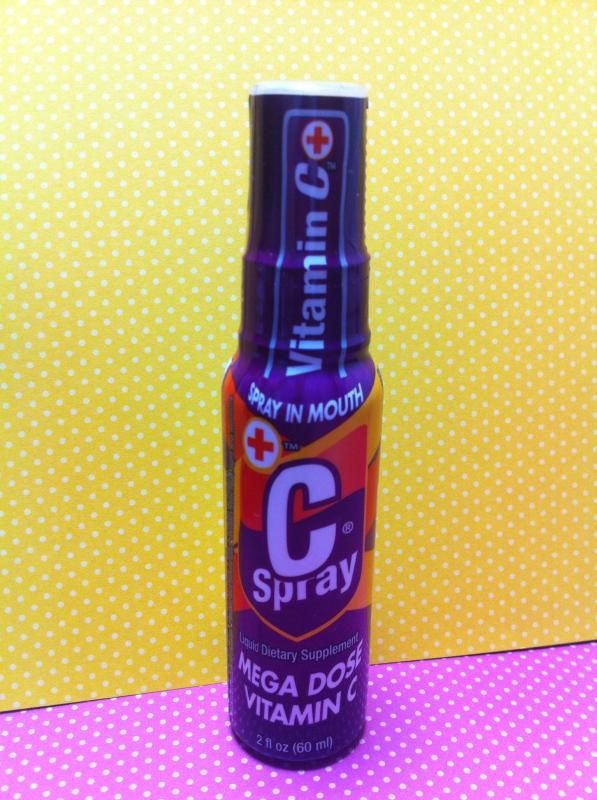 Vitamin C spray! I didn't know what to make of it when I opened it. I opened it up and gave it a whiff. It smelled… healthy. Not quite like medicine but definitely some artificial scent.
This spray boasts that it can help w stress management, increase vitality, maintain radiant skin, along with a sizable dose of vitamin C. You also get a healthy serving of echinacea, zinc, vitamin B12 and vitamin D.
I decided to give it a go! I gave myself a couple sprays and almost gagged. It comes out in a fine mist, not a splash. Once I was able to predict the spray it was fine. It was like a nice fruity burst. At first I had a nice placebo effect where I felt energetic, but ultimately I think it did give me a bit of a boost.
Pros- resealable container, easy to take (unlike some vitamins), 1 bottle lasts 30 days
Cons- if you don't like artificial tasting fruit flavor, this may not be for you.
You can try Vitamin C spray and other fun healthy goodies for free by clicking the link above or on my side bar and using the promo code BULUGAN771. Enjoy!
Anyways, after many frustrating and halted workouts, I decided to find a new doctor yet again (this would be doctor #3) to take a look at my angry Achilles tendon. I should mention, there is not a huge practice in podiatry here in Asia. It definitely gets a lot more attention in America. I eventually found a nice lady who worked out of her home office. I was skeptical, but at this point with the intermittent pain, I was ready to try anything.
On my way to her house I saw a Nissan Laurel! Not every day I see/ hear my name, especially as a car model!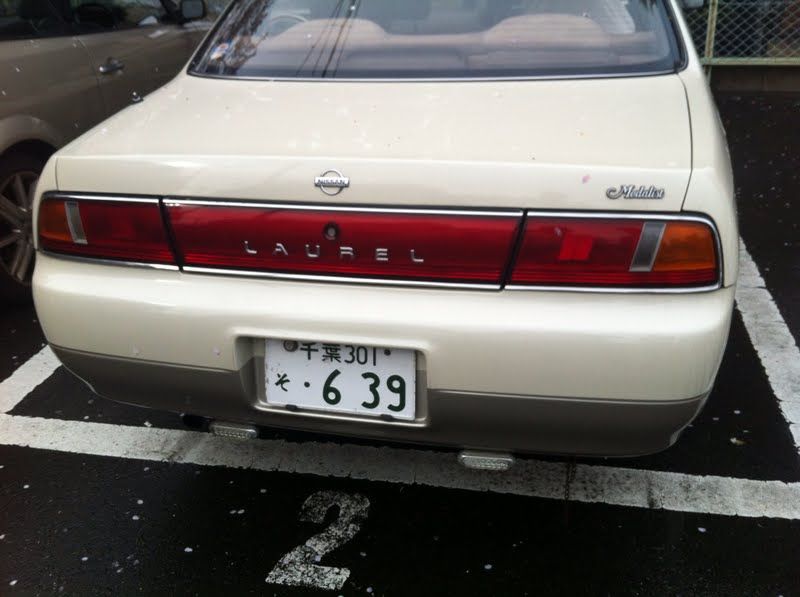 I arrived at her house and she escorted me into her very professional looking office. I was more relaxed once I saw it. She then did everything I was hoping a foot doctor would do: asked me a lot of questions, felt my ankle, looked at my shoes, felt my inserts, watched me stand and walk, took imprints. It was awesome.
Diagnosis? I have inward-turned feet! I run with all the pressure on the back of my heel and the ball of my foot. No pressure on the sides, middle or my toes. I've never noticed, I just run! First off, she said my shoes had to go. The runner in me cried just a little bit, as I still had a little more mileage to put on them.
On the left is the shoe I wore for most of last year's training and races, and on the right is my current running shoe for the past 6 or so months. The heel and ball of the shoe is completely worn down, and the toe and side areas are relatively untouched. Weird!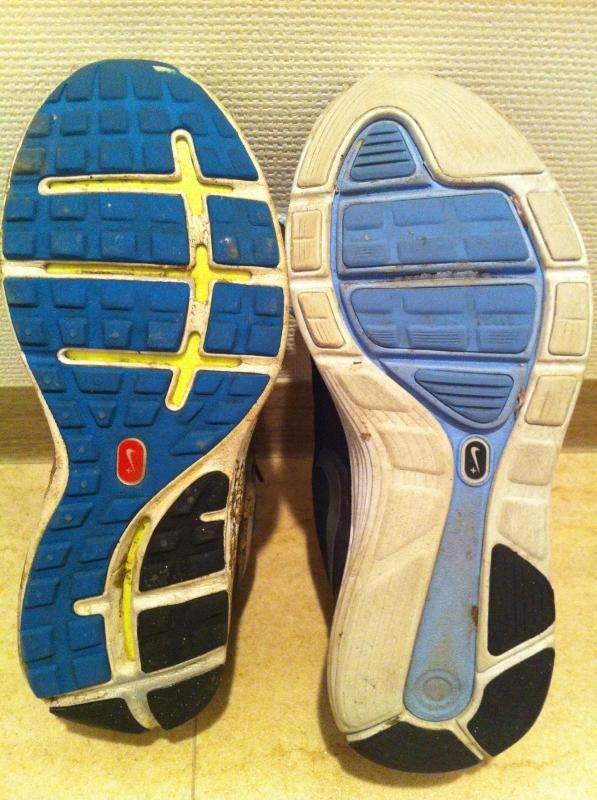 Then she offered to make me some good shoe inserts for $430. Moving on…. she gave me suggestions on what to look for in my next running shoe, and recommended the brand New Balance. We paid her and left for the shoe store.
While walking down her neighborhood street, saw this pretty shrine. Only in Japan do you come across such random beautiful buildings!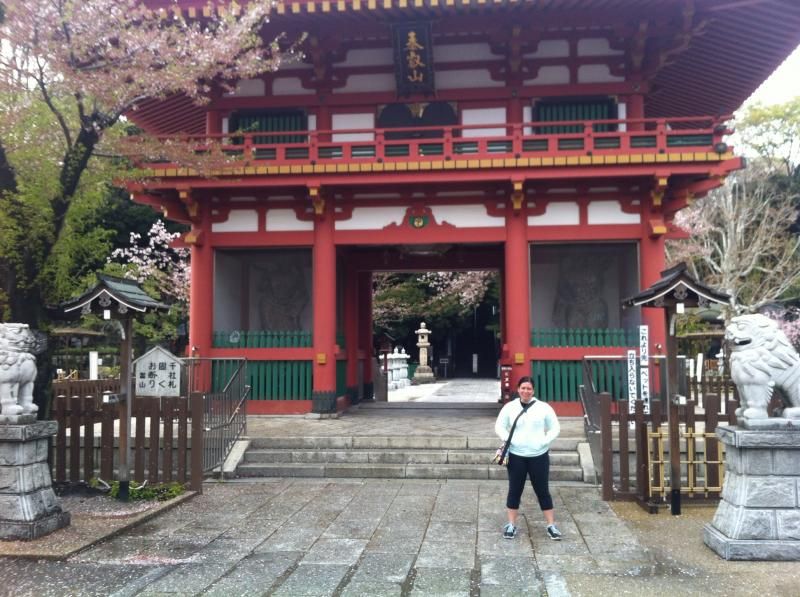 I tried on a bunch of shoes, and was torn between two. One felt good because it felt like what i was used to, and the other was the cushioning I knew I was supposed to get. So I went with the more cushioned shoe. They feel a little bulkier, but I need to correct whatever problem I have, and if the padding in this shoe will correct my stride and help my feet point forward instead of in, then yahoo!
My new 870v2 shoes I'm breaking in around the house.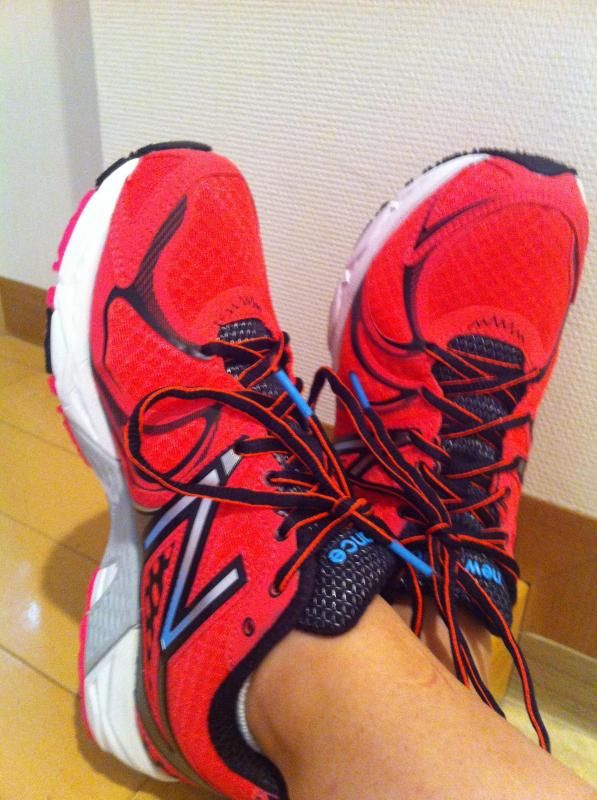 I have the Tokyo Paracup Half Marathon Sunday, and I'm really nervous I won't be able to run in it 🙁 I'll go for a test run in the new kicks tomorrow and see how I do!
QOTD: Has an injury ever held you back from a sport you enjoy?