Hi all! I am SO sorry I've been gone so much! I know I sound like a broken record, but my girl friends from college and I have been so busy! Check out what we accomplished in 2 weeks:
Meiji Shrine
Harajuku
Shibuya
cat cafe
geisha makeover
Kyoto
Osaka
Nara
Yokohama
Tsukiji
Tokyo Disney Sea
Sky Tree
Mori Tower
Roppongi
Asakusa
Senso-ji
Kamakura
world's largest Buddha
Mt. Takao
2 hashes
Osaka Aquarium
Yomiuri Giants game
drinks at Tokyo Park Hyatt
Ghibli Animation Museum
And SO much more!!! We also got to share with them some of our favorite places for ramen, sushi, sake, brews and yakiniku.
Amanda and Brittany buzzing my building for the last time. I really miss them!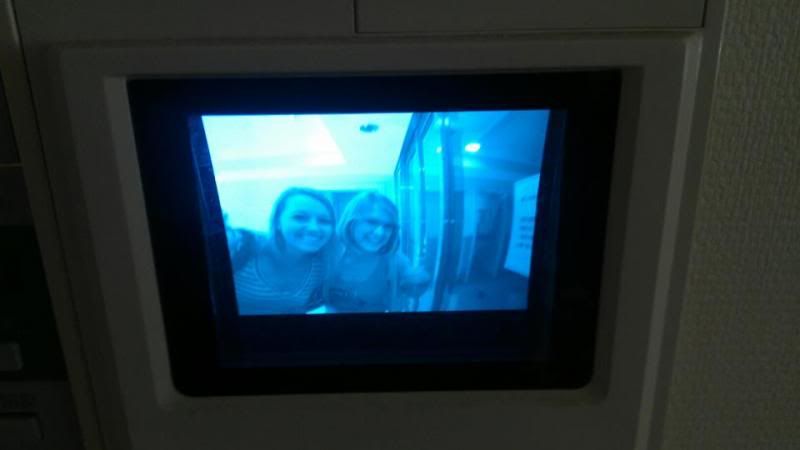 I have SO many pictures to upload of our shenanigans, but rather than dump all my photos into one giant entry, I thought I'd spread them out. Today though, I thought I'd blog about something a little more serious. Many people say Tokyo is one of the safest cities in the world. Normally when I hear this, my gut instinct is to say, "that's not correct… Tokyo's a prefecture, not a city!" But in all seriousness, Tokyo is an incredibly safe place. Good people live here, crime is low, and all summer last year I never felt afraid to go for my late night runs in the park (my attempt to beat the swampy heat).
But this doesn't mean crime is nonexistent. Dan and I got hit with an absurd amount of bad luck in the past 24 hours. Last night, after his running club went out for a few drinks, his backpack got stolen. This is really unfortunate because in it was his alien ID, house key, a decent amount of money (which is common in a city that usually doesn't take credit cards), credit cards, running gear, my Disney World marathon shirt, and some other things. Stuff I don't care about, the running gear can be replaced, but I get the willies thinking someone has our address (on his ID) and house key.
The backpack was actually a gift from a running friend. Here's Dan getting his bag on his bday. I know everything inside was just stuff, but when you attend various hashing events many give out patches, and he'd built up a nice collection over the past year. Also in the bag were some gifts hashers had given Dan to give to my friends, like key chains and bottles of sake. What can I say? A hasher is a friend for life!

As I mentioned, today was my last day playing tour guide with my girls, and I thought I'd show them the wonders of cheap clothes shopping at Uniqlo. I saw a hoodie I liked, and set my iPhone down on a pile of hoodies to try it on. About 45 seconds later, it was gone. I couldn't even fathom it got picked up. In my awful Japanese I had the staff on all fours helping me look and calling it over and over, but of course I never use ring tones, only vibrate.
Now Dan is without his identity in this foreign town and I'm without a phone.
Dang.
After I took my friends to the airport Dan and I hit the town to find his stuff in hopes someone turned it in to the restaurant he was at, or the police station or train station. We walked for hours with no luck. We came home, canceled all his cards with his bank, and moped. After that, we did a little more moping.
Tokyo can be a place that is vast and full of adventure waiting to be conquered. Today it felt like a big, mean, cold place. Maybe we all need these experiences to shrink us down a bit, appreciate what we have, teach us a lesson. My lesson was that I'll always put my phone in my pocket or purse.
I still think Tokyo is a safe place, believe it or not. But regardless how safe a place is, you need to be aware of your surroundings. Dan and I didn't have the best of luck this week, but maybe our misfortune can help people prevent something similar happening to themselves. Bottom line: be safe, people!! <3