I never thought I'd see an actual Tsukiji tuna auction. First off, it's about 45 minutes-an hour from me. Second, it begins at about 5am, and I didn't really know that existed either. And finally, it's so popular that if you show up at 5am, you're late and don't get in. Seriously.
But let's back up a bit. When you're in Tokyo for only 13 days, you gotta cram as much in as you can. Sometimes your itinerary planning isn't always ideal. This led to us spending an entire day on our feet at Tokyo Disney Sea after 5 hours' sleep, and then heading almost directly to the fish market after.
The problem is that we were planning to get to the auctions at 4:30am, but the trains don't start running til 5ish. So, an amazingly awesome person in my life who will remain nameless allowed us to sleep in their office downtown for a couple hours before we headed to the auctions.
We got about 2 hours of sleep, on benches and a couch! We left this office around 4am, and were off to the fish market! I type that with enthusiasm, but let me assure you, there was minimal (if any) enthusiasm. We were ridiculously tired.
To Tsukiji we go! (pronounced skee-gee)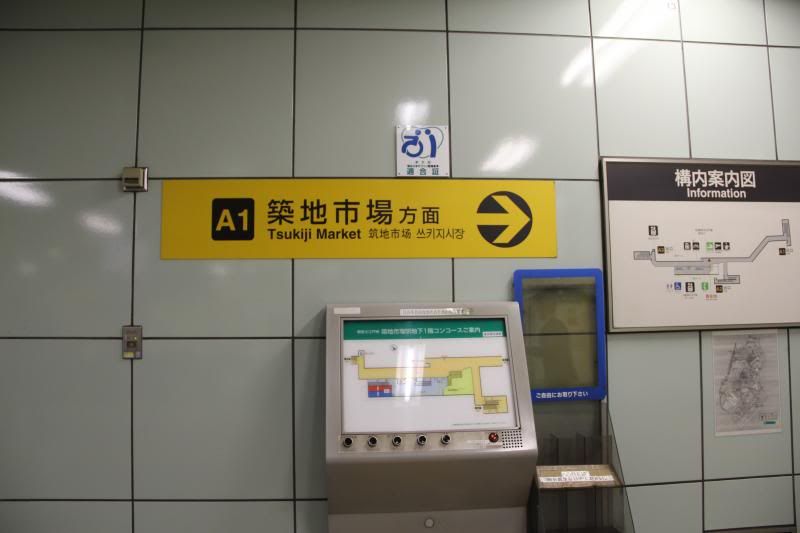 We arrived at the main office via cab and told the guy working there was 4 of us. Whoever told us that 4:30am was a good time to arrive was wrong! We barely made the cut. They allow 120 people in per morning, 2 groups of 60. And believe it or not, it sells out every morning! We got in, and so did a couple behind us, and that was it for the day.
We're in! Now… we wait. For an hour. On 2 hours' sleep. After a day at Disney Sea. Which was after 5 hours of sleep. OY.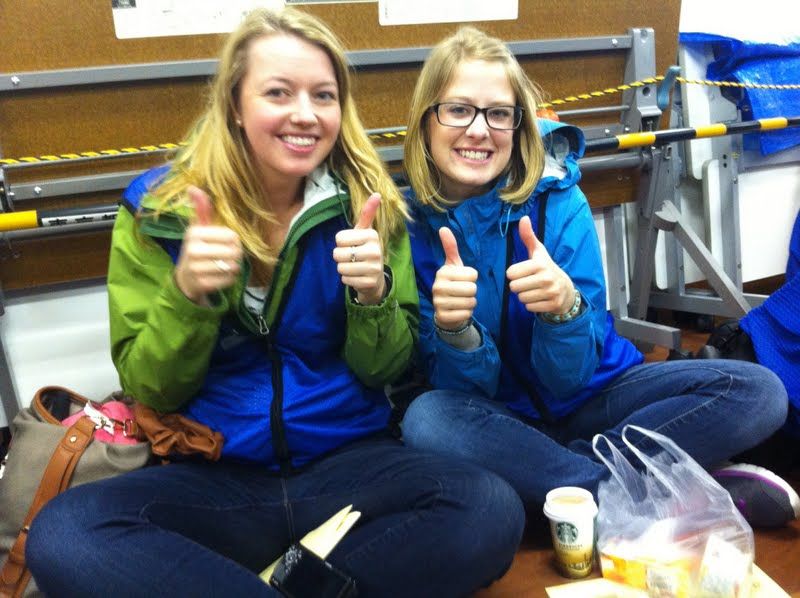 While we're waiting to go in, allow me to explain the tuna auctions a bit. They didn't use to be such a tourist affair. It's a fish market that brings in fresh catches of fish for Tokyo's restaurants to bid on. At some point, word spread about the appeal of the auctions- the fast talkin' auctioneers, the action, the smell of fish, the pre-dawn wake up call.. I'm not sure what the appeal is, but hey, there we were, about to experience it all!
Eventually it was our turn, and we were led out of a waiting room and through the open market streets to the auction room.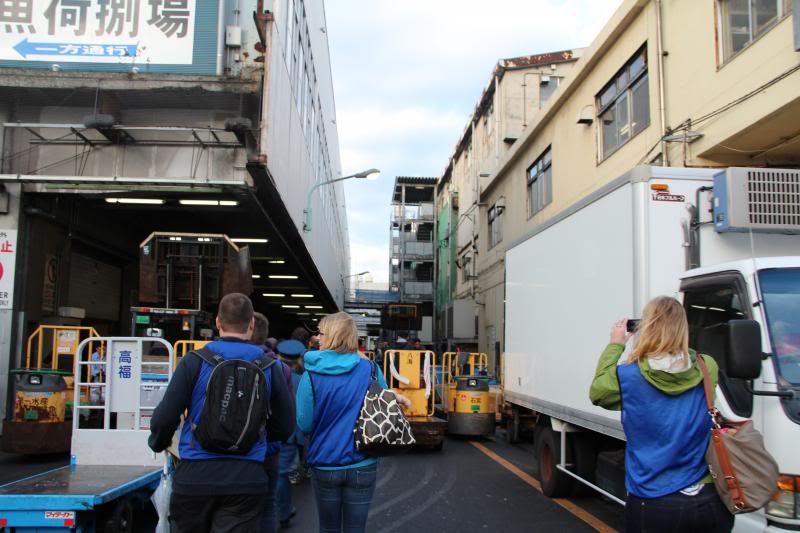 Did someone order the tuna?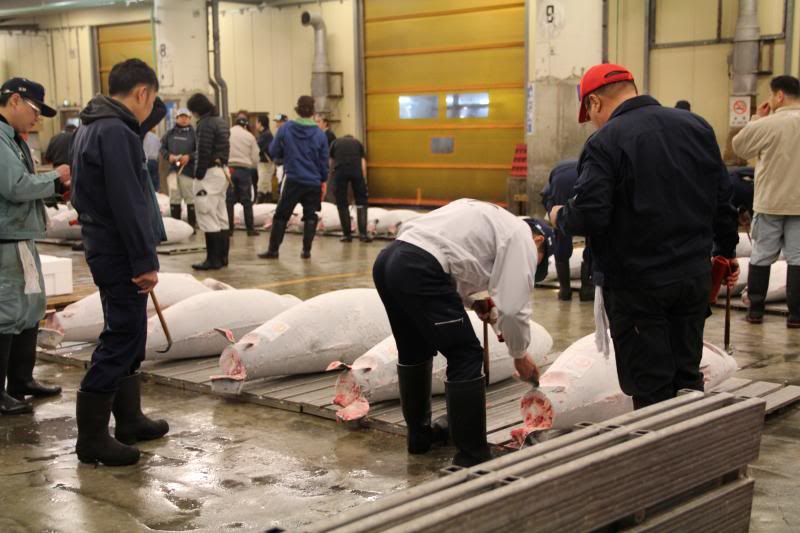 We observed for about 5-10 minutes before the auction started. We watched restaurant reps and fishermen inspect the tuna, pick at it with small pick-axes, rub the texture, even give it a whiff. All at once, bells started ringing, and the auctioneers began their fast talking and taking bids.


And before I knew it, it was over and we were being ushered out! The auction part probably lasted 3-4 minutes total. I feel the same way I did when I celebrated New Years Eve in Times Square- glad I did it? Sure. Would I do it again? Eh, probably not.
So, what do you do at 6am in a fish market? Eat the freshest sushi of your life!
We wandered up to a fisherman and asked where the best sushi place in the market was. He told us 2 places, and pointed us in the right direction. The first place had a 3 hour wait. What?! It's 6am! Didn't people want to go home and go back to bed?! That sounded pretty good to me… but alas, the next place had a much shorter wait, so we headed there.
Sushi for breakfast!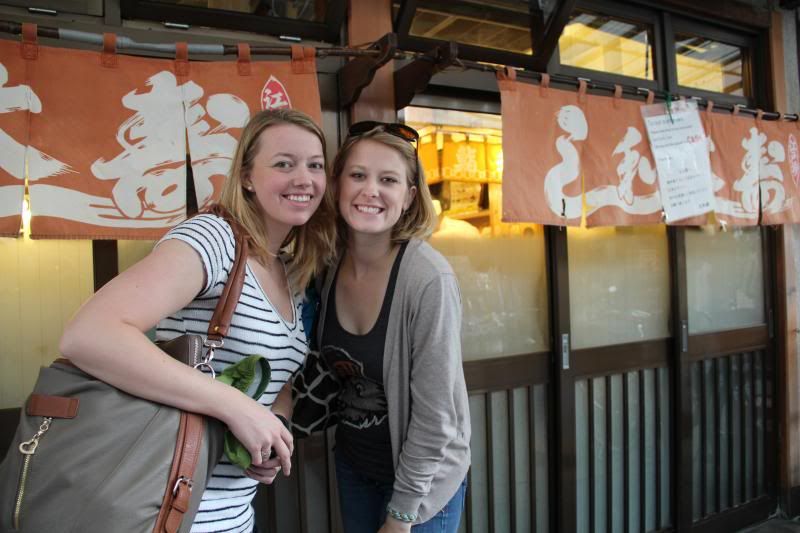 The wait wasn't too long, but being so tired made it feel pretty long! We got in and seated at the sushi bar and each selected a sampler platter. Dan, not being a fan of fish, opted for kappa maki, better known as cucumber rolls

Some snaps of our amazing meal…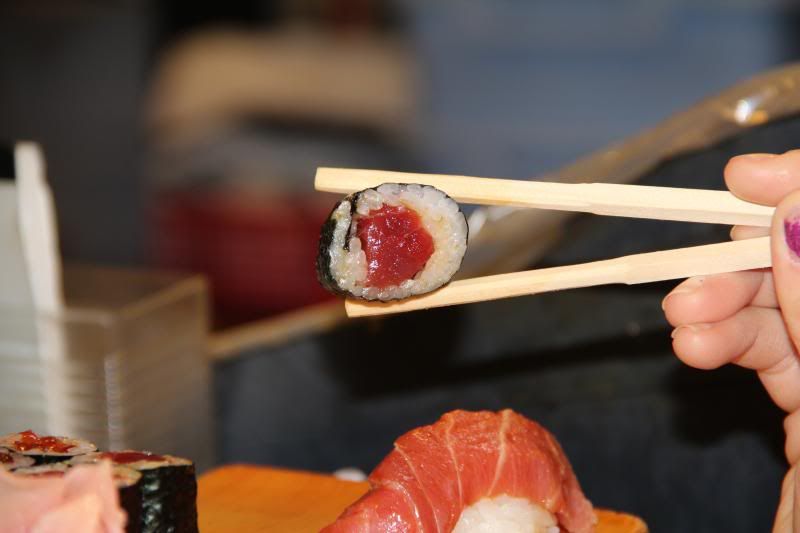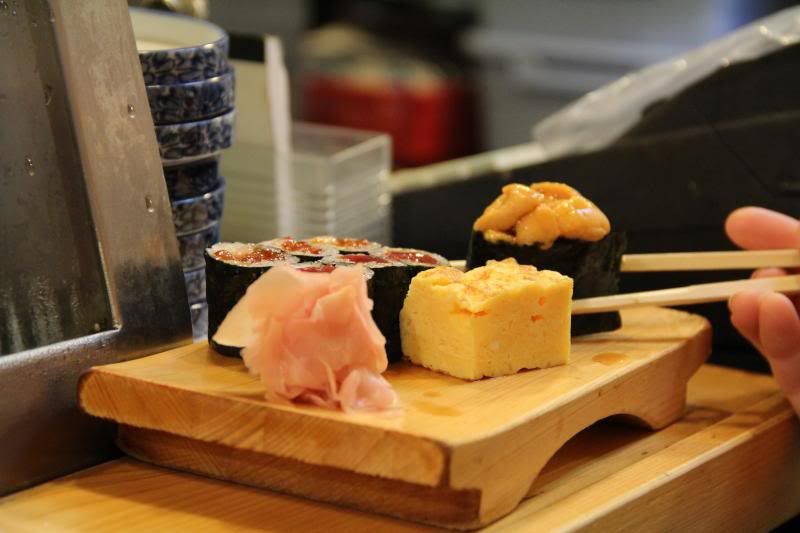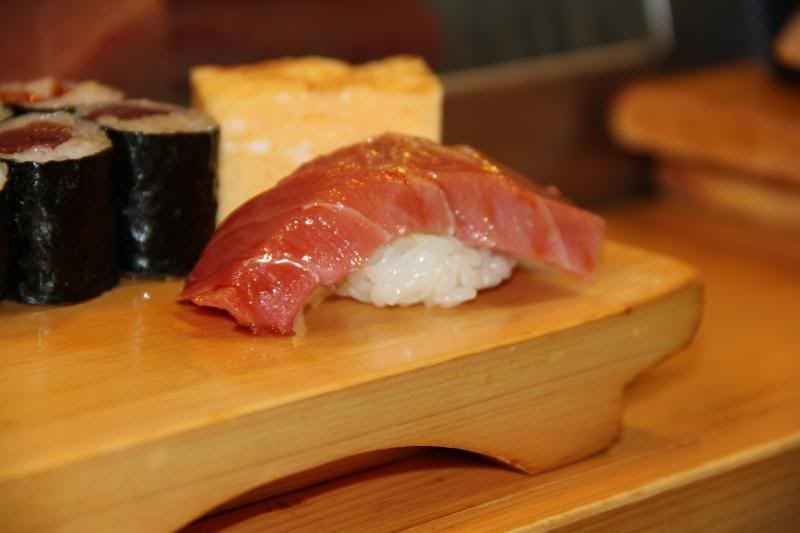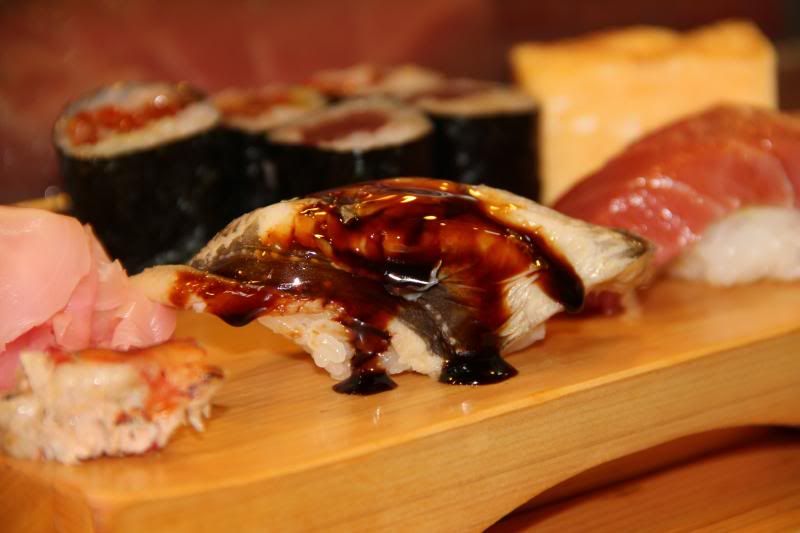 Our amazing chef

It was such an amazing meal! Everything tasted fresh and wonderful. Even the sushi I don't normally care for, like jumbo roe or tamago, were good. It makes me want to venture out and find more good sushi places near our apartment.
We perused the market a bit more before heading out. Lots of fish goodies, like shirts and keychains, sushi magnets, postcards. Lots of hand made goods too. I liked this plate and bowl shop. Cute plates for super cheap! Sadly I 1- don't like mismatched plates and 2- my kitchen is packed to the brim!
Pretty!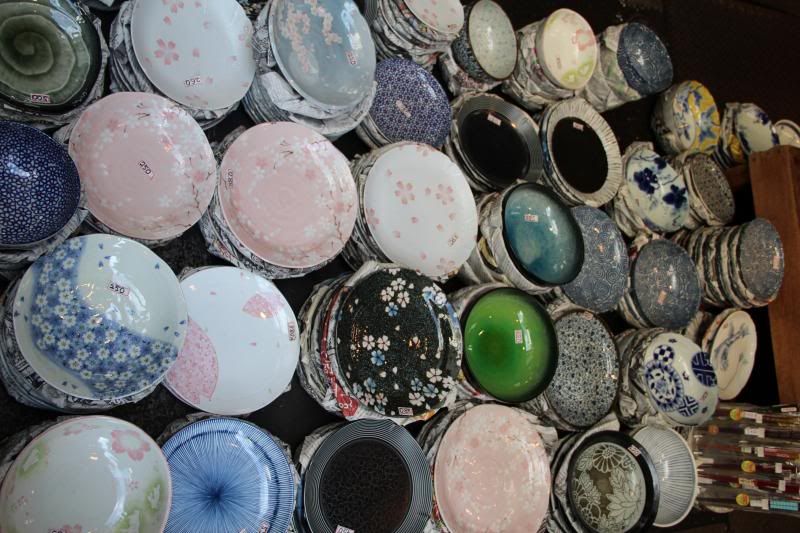 After shopping we all concluded we were tired and headed to the train station. Dan and I went home to catch a nap, but the girls found the strength to do some sight seeing on their own that day. I don't know where they had the energy… it must be because they're two years younger than me! ;D