Kelsey and Jim have been here about a week now, and we've been busy running all over the place checking out this and that. I'm not sure if I've mentioned this before, but this is by far the most sight-seeing I've done since becoming a resident. I was here in Tokyo for 2 weeks in November, but was ill and didn't want to leave the couch. Came back in March and was here for a week, then the earthquake hit and we went back to the northwest for 3 weeks. Came back for a week and then our guests arrived, so while Dan is busy at work I'm tagging along to finally see my new city. And I have to say, the greatest part is that I'm simply a train ride or two away from all these amazing places!
I suppose I should start at the beginning! Dan and I trained out to Narita Airport to get Kelsey and Jim, who flew in from Seattle!
Kelsey & Jim waiting for the train to our apartment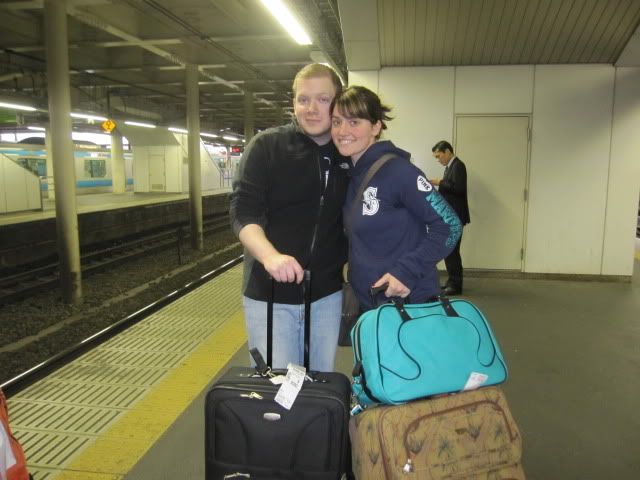 Our first stop: Tokyo Metropolitan Government Building in Shinjuku, Tokyo. AKA Tokyo City Hall, this building is a 3-structure building comprised of 3 city blocks. The main tower is 48 stories that splits into 2 towers at the 33rd level. The top floor? An observation deck!
The Tokyo metropolitan Government Building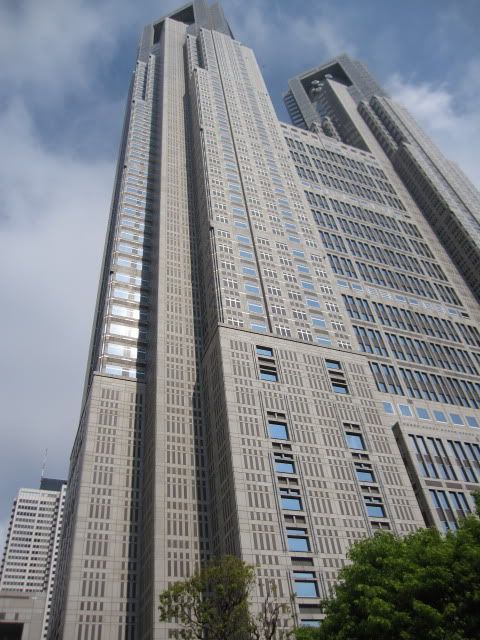 I can only describe the view as "city as far as the eye can see"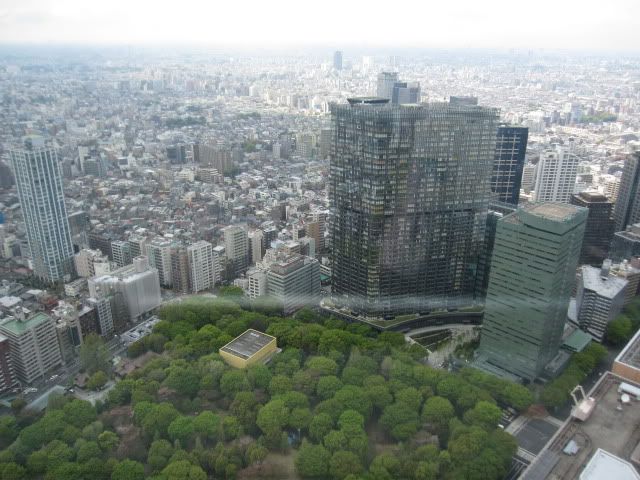 We're high up!


I love this building! Formally known as Mode Gakuen Cocoon Tower, it's composed of 3 schools- a fashion/ arts school, medical school and technology school.


Kelsey and I saying hello- 48 stories up!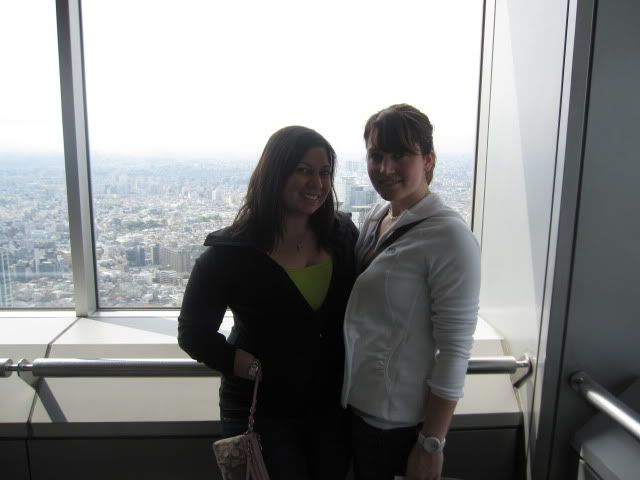 We also visited the Kumano Shrine.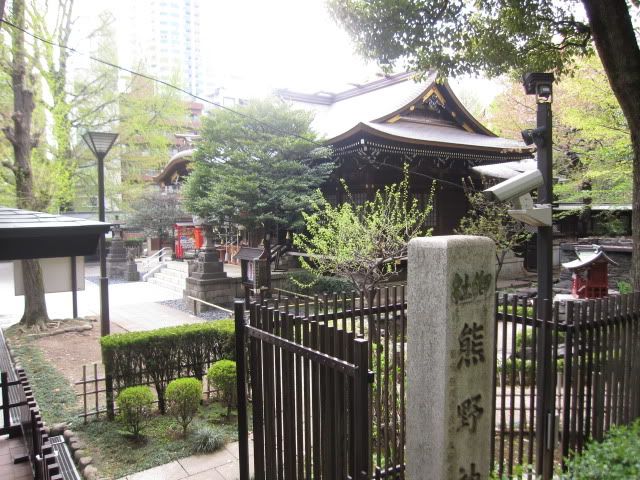 Jim in front of the shrine


Kelsey at the water basin. Before entering a shrine, one must wash their hands and mouth


Another prayer shrine and koi pond

Another day, while Dan and Jim were hanging out, I decided to show Kelsey what shopping in Tokyo was all about. We started by hitting the streets in Shibuya at a 9 floor mall called 109.
Across the intersection, 109 is the building on the left. I wasn't able to get a great picture of it!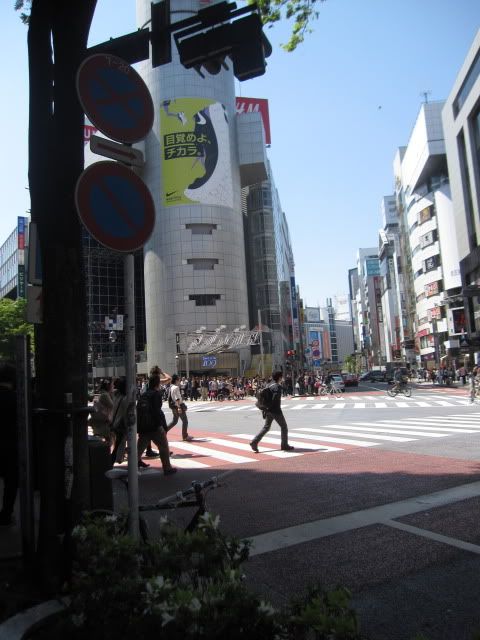 Kelsey and I with Hachiko! He is the dog statue behind us. The legend is that Hachiko came to Shibuya train station daily to greet his owner after work. He continued to do so daily, even after his owner had passed. This branch of the train station is also known as Hachiko Station 🙂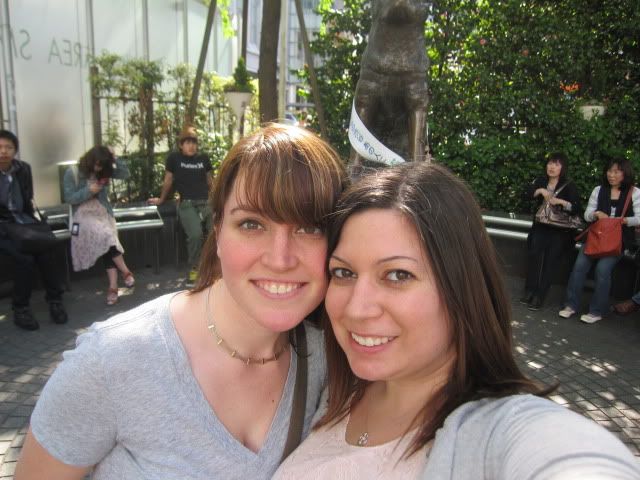 Once we finished shopping and had a quick lunch in Shibuya, we hopped a train for the next stop over- Harajuku! While many people think this is a crazy, "anything goes" kind of town, I liken it to Las Vegas- basically, a run of the mill town known for it's one crazy street. That street in Harajuku is called Takeshita Street. Here you will see many people dressed in crazy styles, most popularly being cosplay (dressing like an anime/movie/manga character), punky (chains. zippers, dark plaids), and ganguro (the "western" look, typically girls dressed like Californians- bleached hair, tan skin, and fake lashes).
The entrance to Takeshita Street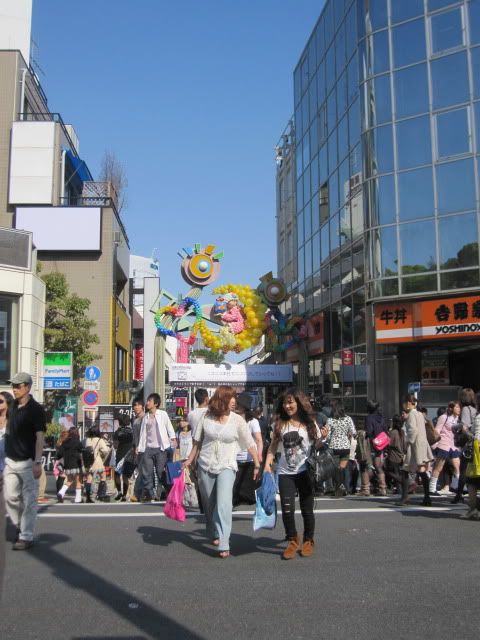 So many people


A costume store we passed


Because it's so crowded, one walk down Takeshita Street is enough for us. We continue walking around Harajuku where there are plenty of shops and restaurants.
Taffy pullers!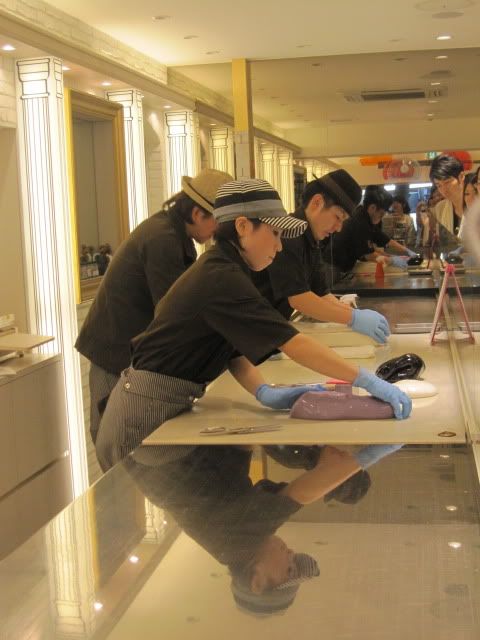 It starts out as such a massive log, only to get rolled out!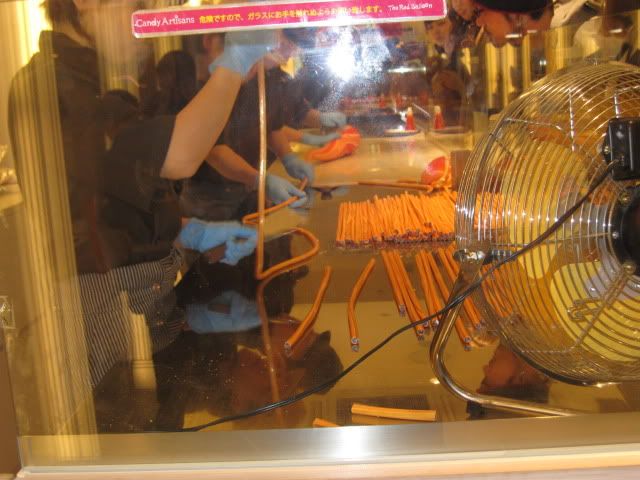 The final product- a little Tiger candy! Kelsey and her candy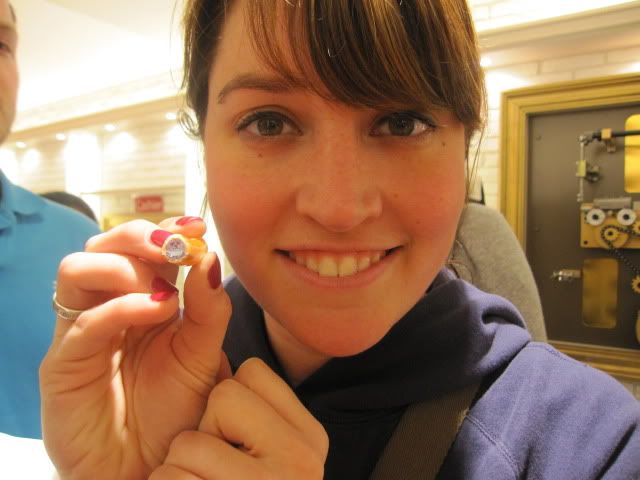 As the sun began to set, Jim and Dan came to join us for dinner. Kelsey and I leaving Harajuku. The train station is on the left.