This might seem silly, but I'd like to dedicate this blog post to my mommy. She made a Snoopy lover out of me 🙂
I come from a family of Snoopy lovers. I remember a grey Snoopy sweatshirt my mom dressed me in on chilly days when I was 3. My sister had a Belle doll; Belle was Snoopy's sister from Daisy Hill Puppy Farm. And my mother has quite possibly the coolest Snoopy art I've ever seen in her current home.
Enter Kiddyworld. I happened upon this place in Harajuku with Kelsey during our girls shopping day.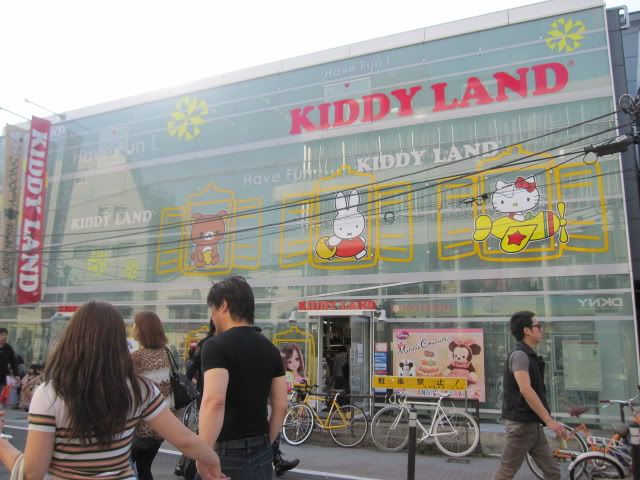 Kiddyworld is a 3-story shop that caters to all things cute. They sell all sorts of knickknacks- notebooks, plates, cups, blankies, pens, small toys, office supplies, kitchen goodies, shirts, socks, tote bags.
The first floor is mainly Japanese characters- characters from Miyazaki films, Rilakkuma, and some other characters I didn't immediately recognize. The second floor is more mainstream toys- Barbie, toy cars and trucks, monster toys, Star Wars toys. The third floor is by far my favorite- It's called SNOOPY TOWN.
The third floor begins with a good area dedicated to Hello Kitty and other Hello Kitty characters. But the rest of the floor- Snoopy. Words can't describe how happy, excited, and youthful I felt here. So much Snoopy! Vintage Snoopy, comic Snoopy, novel Snoopy, Cartoon Snoopy. At the moment I missed my mother and sister so much and wished they were there with me!
Kelsey and I spent a good long while in the store marveling all the goodies. She hopes to go back before she leaves next week, so I will have to pick up some goodies for myself then. I'll leave you with some photos of this neat place- you may notice even my photos are biased toward the Snoopy section 🙂
This is the Gigi the Cat section. Gigi is from Miyazaki's film Kiki's Delivery Service.


I notice many large displays of small towels. I'm not sure what people need so many small towels for, but there's a draw for it here. These towels feature Totoro and Catbus, from the Miyazaki film My Neighbor Totoro.