Tanabata dancing is the activity of learning and performing traditional Japanese dances, typically while wearing a yukata (a summer kimono). There are 2 types of dances- stage dances, where we perform in a formation for an audience standing in one spot, and circle dances, where we practice maybe an 8-12 count dance moving in a circle, but at festivals perform while in a parade.
I first learned about the Yokota Tanabata Dancers from a former coworker of mine. She lives on Yokota Air Force Base, and last summer she invited me to watch one of her festival performances. It looked really fun, so she offered to let me tag along to one of her classes. It was really fun!
This year I went to practice at the base every Thursday to work on dances with the girls in the group. They were all wonderful and friendly. Some of the friendships even continued outside of dance class, which was great. Earlier in the summer, there were some nursing home performances here and there, but it wouldn't be till later in the summer, when we would get a chance to dance in the big fun festivals.
Unfortunately for me, I will not be in Japan for August this year, which means I will miss all the festival performances. But at least I got to do one this past weekend! But let's back up to two weekends ago. Some of the girls and I performed at the Yokota Home Festival. This was a very small festival held in the courtyard of a nursing home.
About to take the stage! Well, there wasn't a stage. About to hit the parking lot!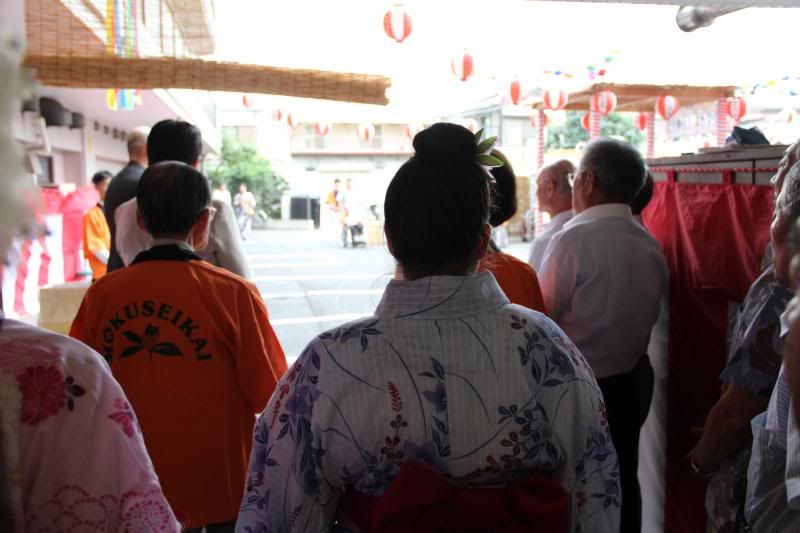 First we did a stage dance called the Flower Dance. It's representative of a girl being shy from a boy (hence us hiding behind fake flowers and whatnot).

After, we did circle dances with other tanabata dancers. This was really fun, dancing with other people in big crowds who knew the dances! I got to do my favorite circle dance, the peace dance, and learned a fun new one, known as the towel dance

The towel dance is representative of a day of hard work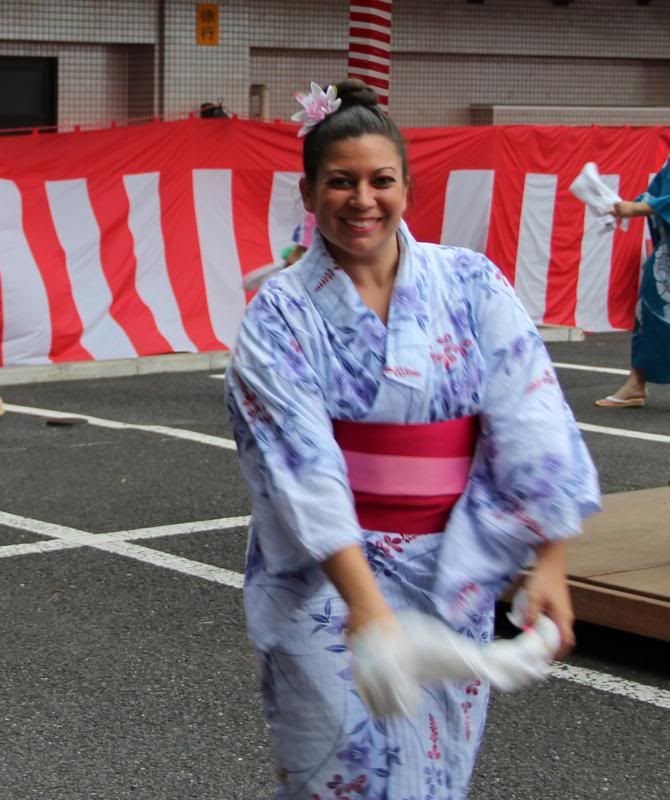 This past weekend, I had my first parade performance. It ended up being another crazy weekend for Dan and I- Friday running group, then the tanabata performance. Tanabata always tends to take all day- at home I need to do my hair and makeup, make sure I have all the pieces to my yukata (I WISH it was only the robe and belt you see! I got a lot of ties and bands and towels under that getup!), pack, train out to Fussa (about an hour), meet with the group, get dressed, practice, usually a lot of waiting around, perform, head home for an hour.
I arrived in Hamura and got ready with everyone. Then of course, waiting, all queued up between other groups to hit the streets.
There's always time for a group photo!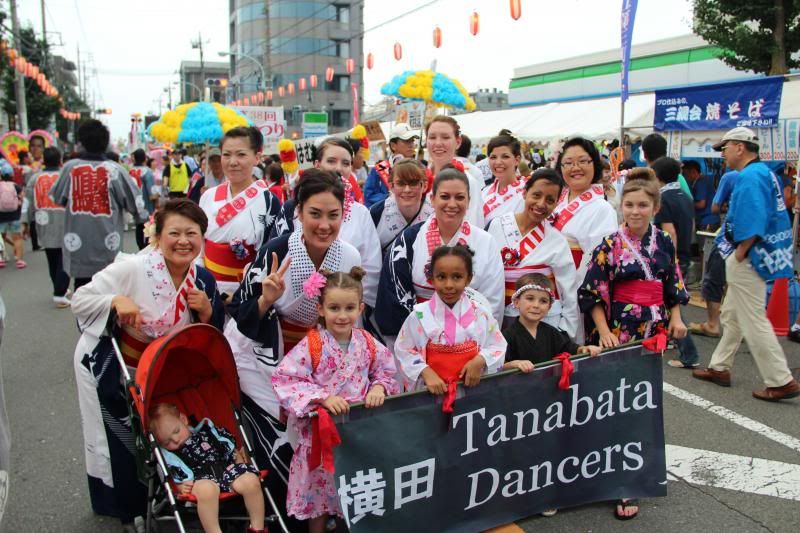 Some of the wonderful friends I've made in class! Liz and I in the front, Ashlee, Arlen and Jessica in the back

After much waiting, it was time! Can you tell I'm excited?!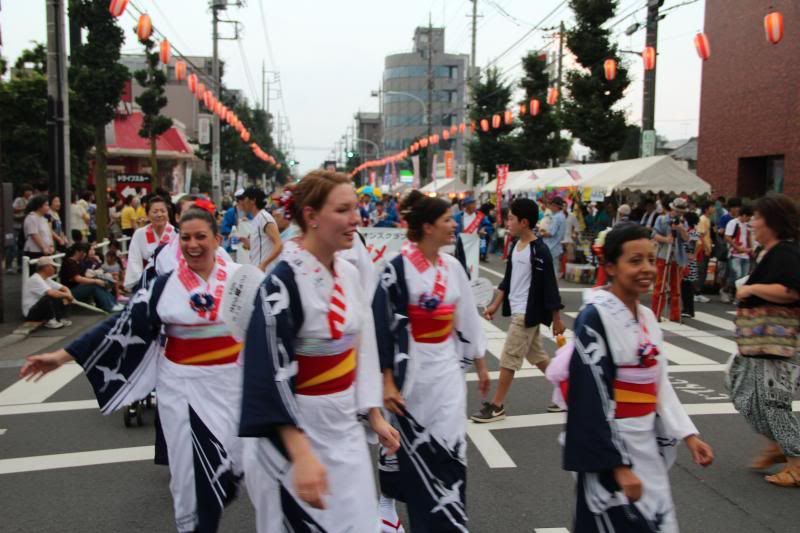 Gracing the streets of Hamura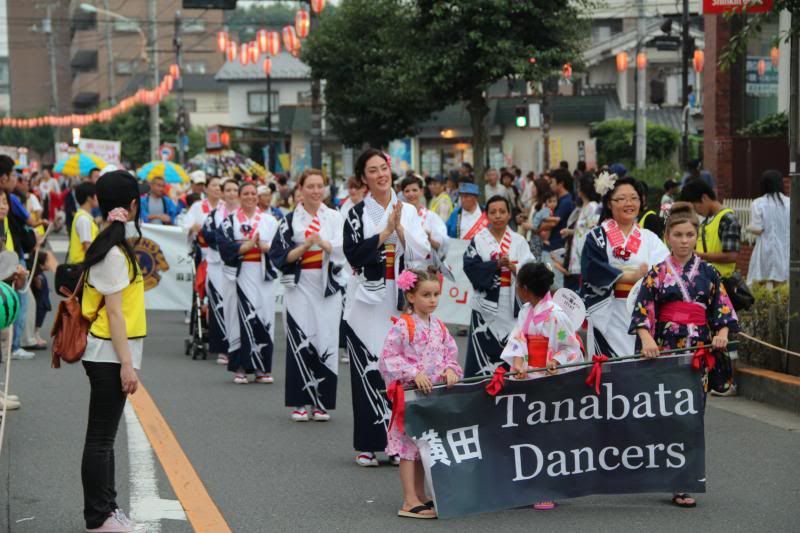 Carrying the bucket


Eventually we finished and I got to see Dan. It was a long, hot day of waiting, so I was really thankful he was there and didn't complain once!

But the day didn't end there! We had to rush back to the air force base for an officer's retirement ceremony. At this point, I was exhausted. Just as we left Hamura, it started storming. Lightning, thunder, and the fattest rain drops you've ever felt. Crazy Tokyo weather- hot one minute, storming the next. Since I'm not with the military, I have to wait in the visitor's center to get signed onto base.
But for a while, not one came. I started getting nervous they forgot about me! Or maybe everyone thought someone else would do it… but then my friend came in and we got all checked in and hot stepped to the facility where the ceremony was.
This was the strangest performance. It was an a banquet room, with a bunch of round tables set up and people eating. We performed, and people kept eating. Or texted. This was actually torture because I was really hungry. We did 3 stage dances, and maybe it was just me, but those dances felt crazy long! They are only about 2 minutes each, but I was soaked from the rain, my feet were tired, and I was hungry.
Ready to perform the tea picking dance!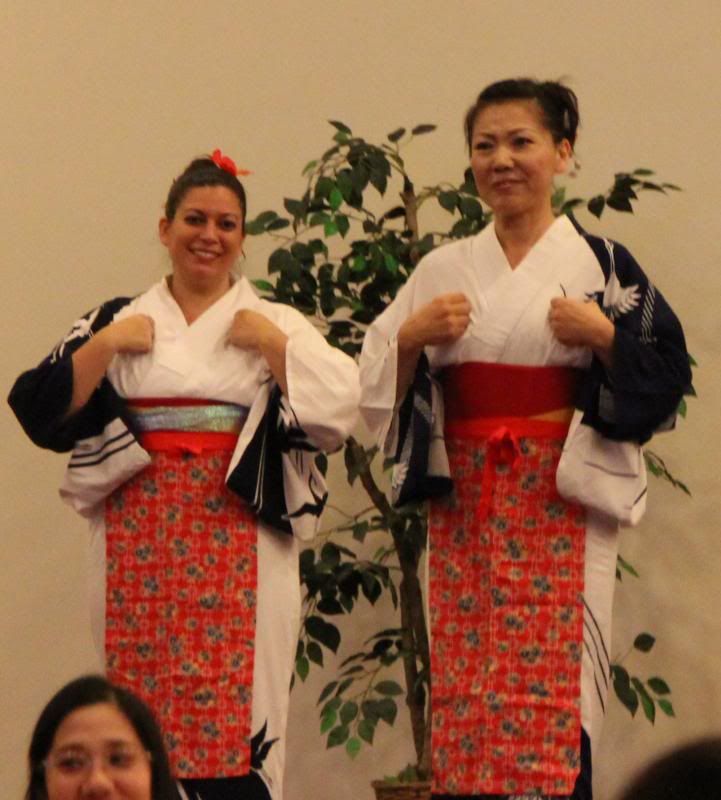 Okinawan Hula Dance. Not my favorite!

At last we took a bow and got off the stage and kicked off our uncomfy shoes, only to learn that the officer who's retiring wants a family photo with our dance group. So shoes back on and out we went, where we spastically smiled for about 15-25 different cameras/ photographers. And just when I think we're done, he wants to take a silly photo.
Oh, we're just so silly

Our team has a bunch more performances this year, and I hope they have as much fun as I did! I really enjoyed being a part of the team!