First off, I owe so many of you a big thank you. The support I have received for my last blog post about my DNF at Goofy blew me away. I am so incredibly thankful to be a part of the running community. I have new followers on Twitter, received upwards of 60 comments on Facebook, and an overwhelming number of messages and friend requests.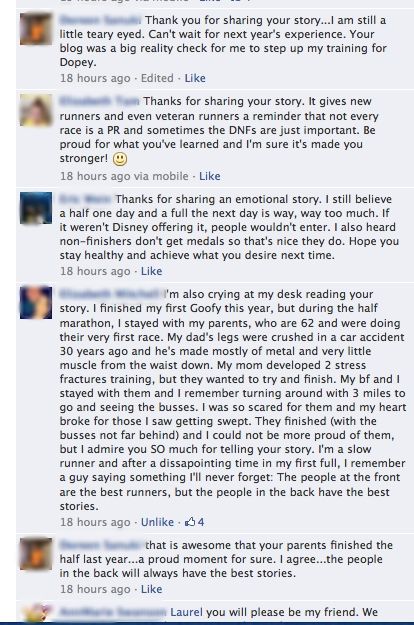 But really, I can't say it enough. So, thank you.
To say I've spent my summer so far hashing would be a gross understatement.
I am signed up for quite a few races this fall while I'm visiting in the US. In case you're too lazy to click over to my Race page, here are my upcoming runs:
Mango Days 5k- Honolulu HI, August 4th 2013
Tualatin Crawfish Crawl 5k- Tualatin OR, August 10th 2013
The Color Run- Portland OR, September 7th 2013
Pints to Pasta 10k- Portland OR, September 8th 2013
Rock N Roll Half Marathon- Providence RI, September 29th 2013
Disney Happy Haunted 5k- Orlando FL, October 6th 2013
Tower of Terror 10 Miler- Orlando FL, October 6th 2013
Fuji-san Marathon- Mt. Fuji, Japan, November 24th 2013
Goofy's Race & a Half Challenge- Orlando FL, January 11th-12th 2014
Neverland 5k- Anaheim CA, January 18th 2014
Tinker Bell 10k- Anaheim CA, January 18th 2014
Tinker Bell Half Marathon- Anaheim CA, January 19th 2014
Cinderella Royal Family 5k- Orlando FL, February 21st 2014
Disney Enchanted 10k- Orlando FL, February 22nd 2014
Princess Half Marathon- Orlando FL, February 23rd 2014
With all the running I'll be doing this fall and winter, I decided to take a break from my training runs for the summer. This is for a few reasons:
1. Burnout. I run 1-mile loops in the park, and it gets old fast. With no races all summer, I decided to take a mental break from running laps
2. Heat. It's a hot, humid summer here in Tokyo. Regardless if I get out early in the day or wait for the sun to go down, I'm looking at temps in in high 80s and 90% humidity.
3. US trip. I'll be stateside for August and September, specifically in Portland OR and Seattle. Knowing I'll have plenty of time to train in cooler, drier weather allows me to relax a bit this summer.
Oh, but I'm still running!
I've been averaging 3-4 hashes a week (learn more about what hashing is here!). It's easier than training running- I'm with friends, I'm in new parts of Tokyo, walking breaks. Dan and I have truly been having a blast spending our summer with our beloved running friends! Here are some snippet of fun from our summer hashing!
Earlier this summer, Dan and I promised a friend we'd run their trail for the Samurai Family Hash. We completely forgot that we also planned to run the Rising Moon hash an hour later! So we did 2 back to back 4 mile runs! Behind us in this photo is John, aka Old Sock. He is the founder (or in hashing terms, the Flounder) of our Friday running club that we take care of now!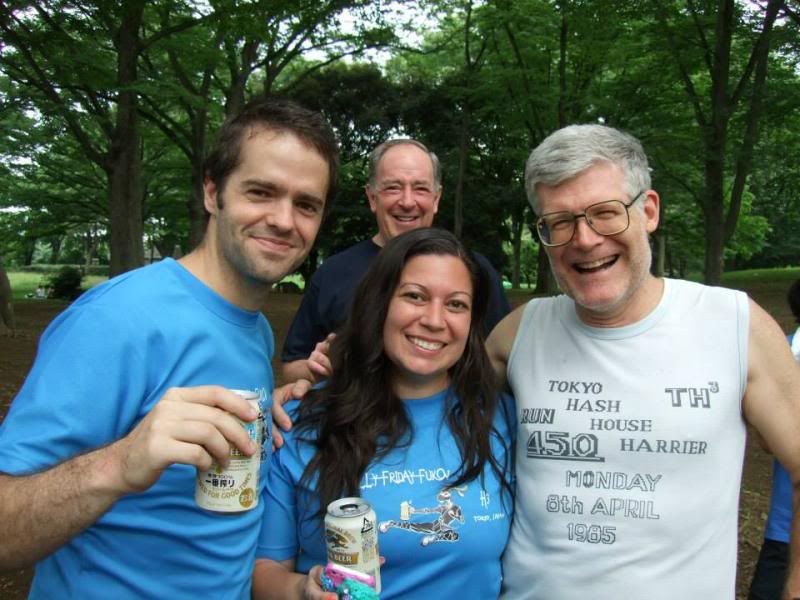 Trying to survive another Saturday trail run with the Samurai hash! SO unbelievably hot out this day!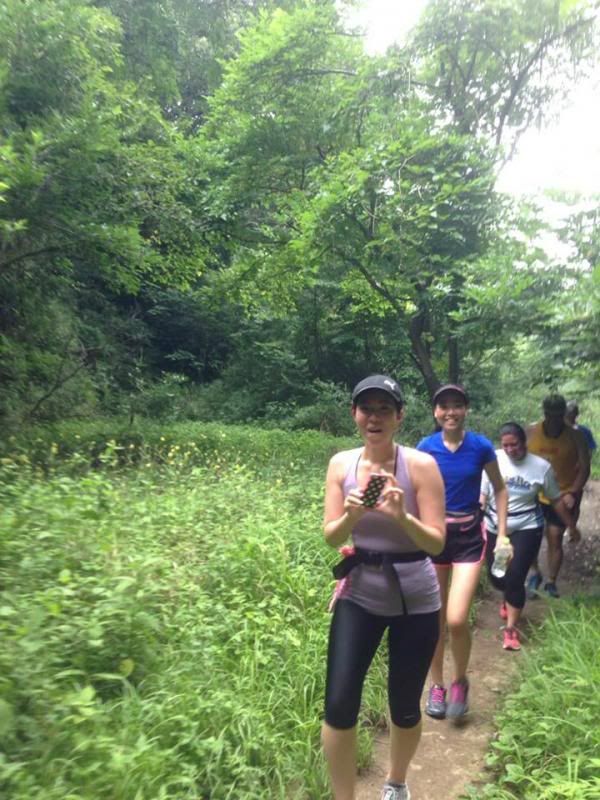 A great perk of Samurai hashes being outside of Tokyo though- there is often a beachfront finish!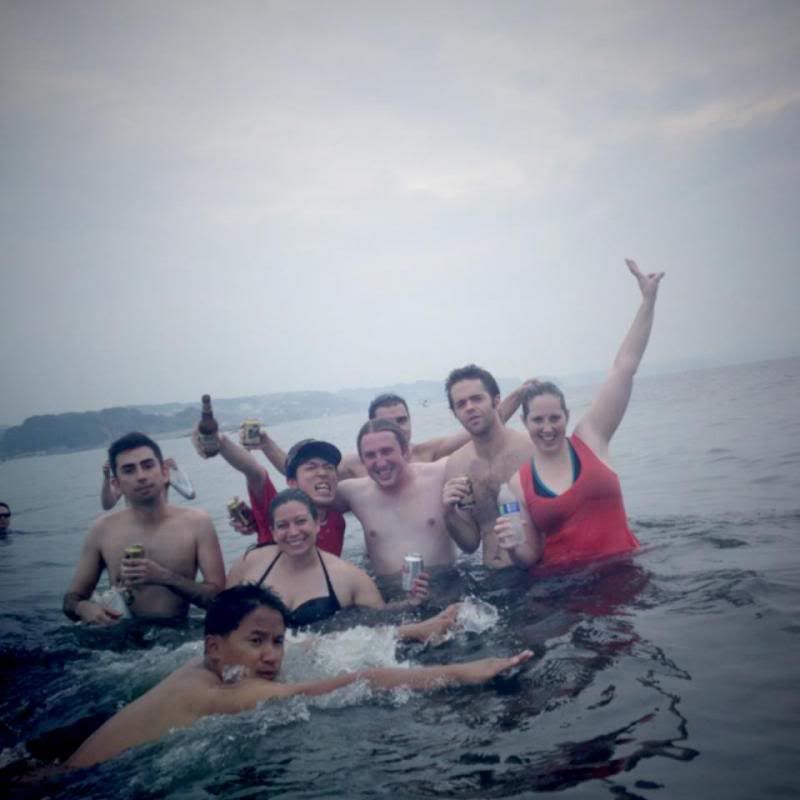 We had a freak rainstorm one night for our Friday hash. Trail washed away, latecomers, wet bags. So we moved the finish and everyone's bags to the nearby park bathroom! My friend Doug and I trying to keep dry! (Also- like my hat? All of us who did Warrior Dash the week before wore our new shirts and hats!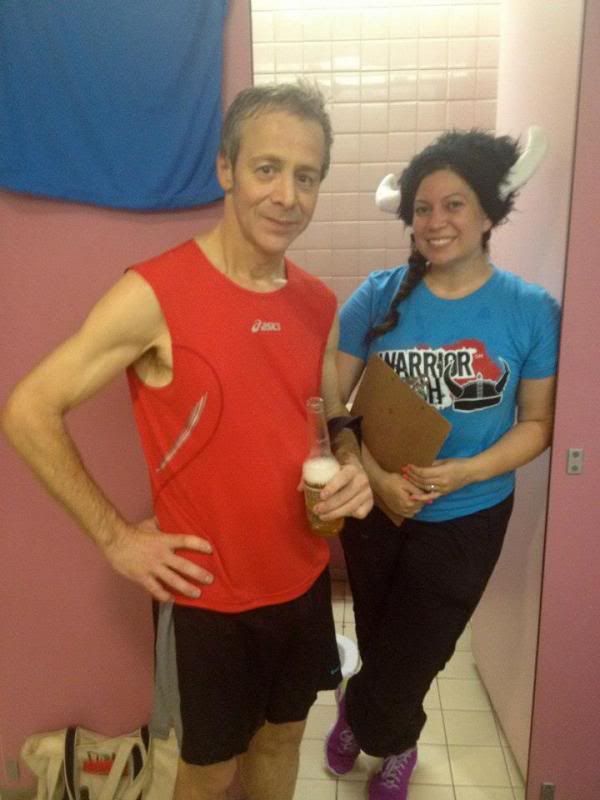 At my birthday run, I asked everyone to bring a baby photo of themselves. It was hilarious and a lot of fun!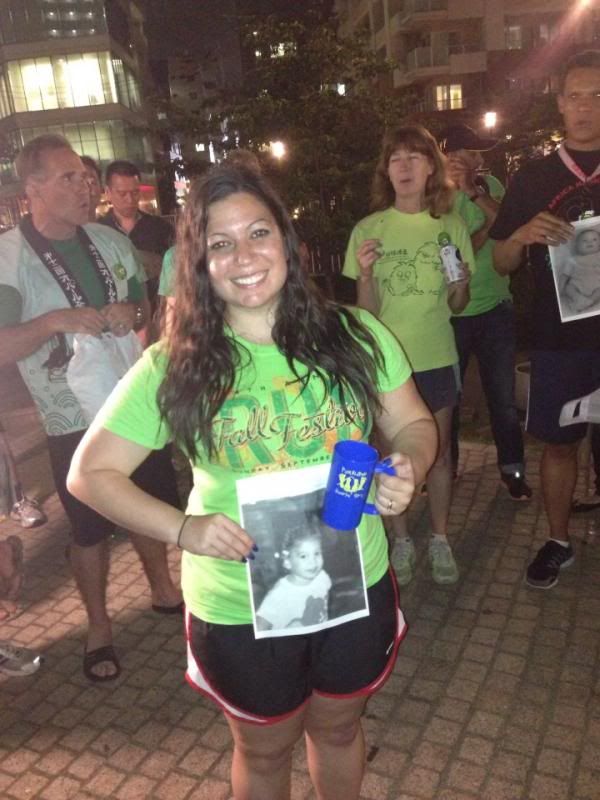 The Samurai hash has sashing ceremonies- when you reach a milestone run, you are tied with a commemorative sash. This is my 10-timer sashing!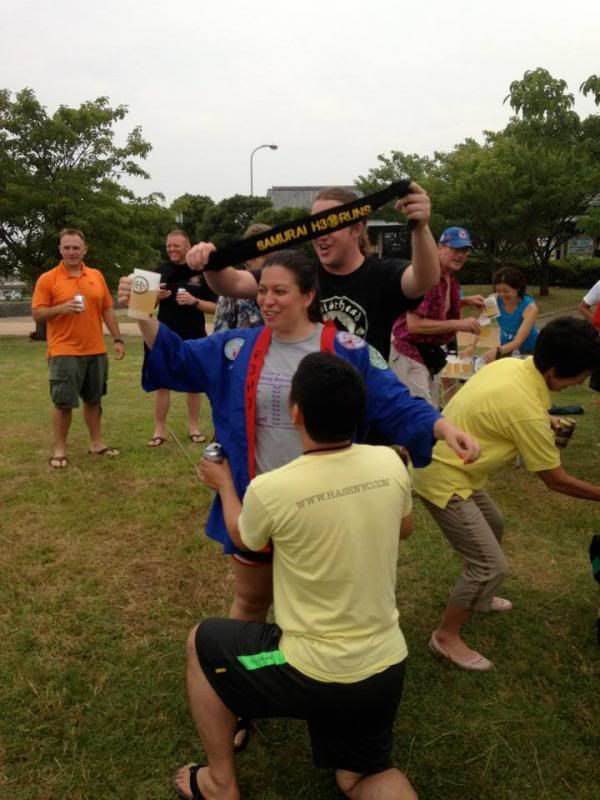 Even more fun, sometimes you get to sash other people! This guy has been to Samurai 950 times!!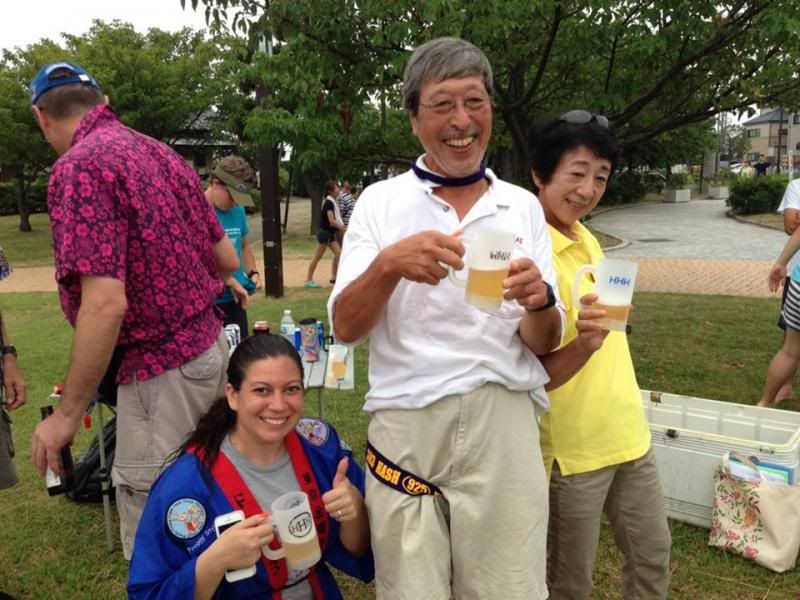 Running the Friday hash. A lot of work, but a lot of fun!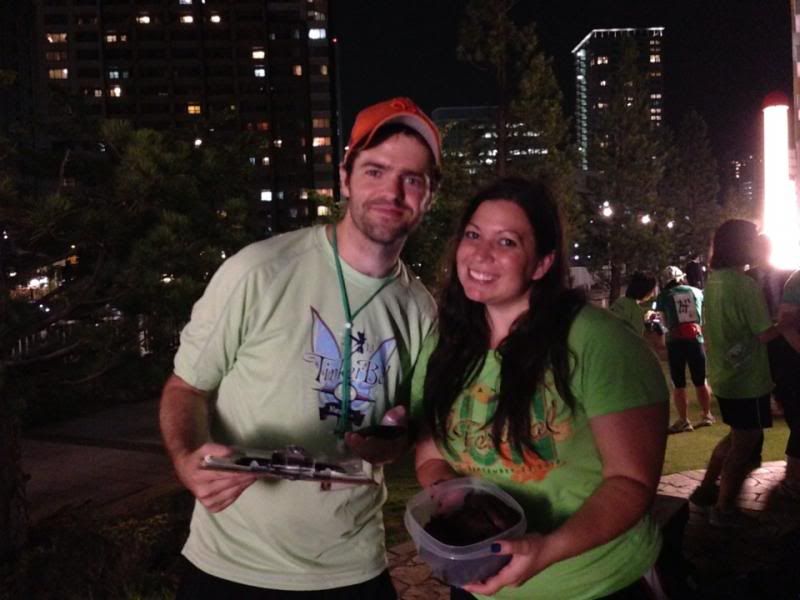 A group shot of Samurai hash last week. I'm in the front row in pink sneakers!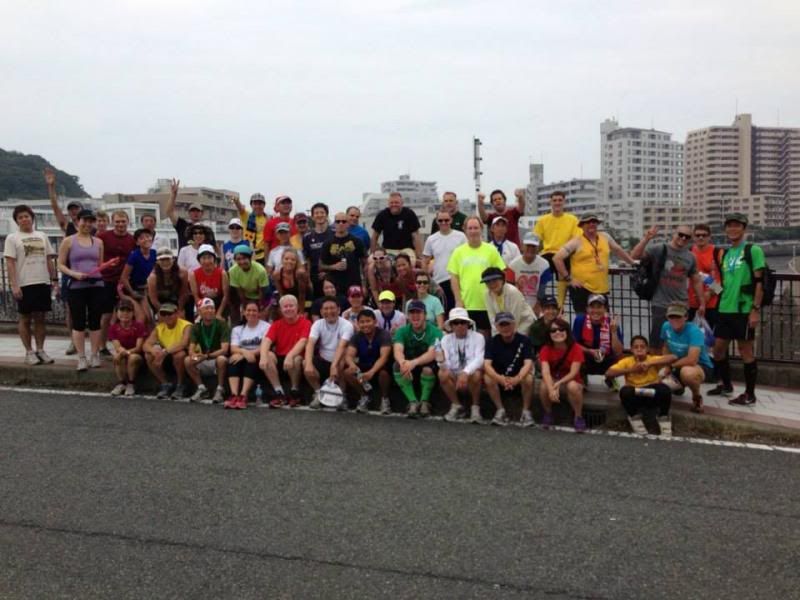 Just yesterday, Dan and I went to our first Sake hash- a run through the city, then sake tasting! It was fun and I learned a lot more about sake!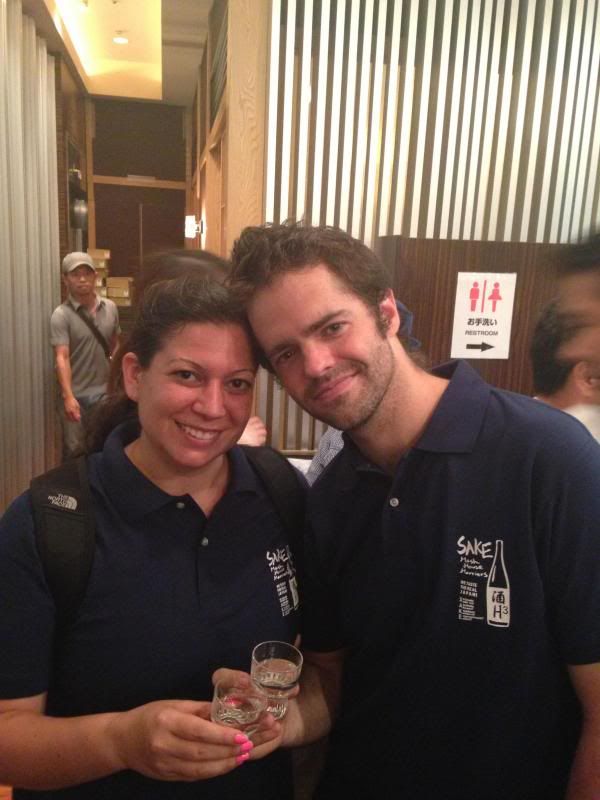 Hashing has become an awesome way to stay in running shape without the monotonous training schedules. I always say this, but with 2,600 chapters worldwide I guarantee there's one near you…