This past Saturday I ran the Portland Color Run 5k. I was pretty indifferent about it. No speedwork since it was untimed. I figured it'd be fun and unique.
The Color Run is a 5k race where you pass through 5 "color stations", staffed with volunteers that spray you with fine color dust. Almost like chalk dust. Some have squirt bottles, some just throw it at you from barrels. You are given a white shirt, and at the end of the race you have a fun, funky, tie-dye looking creation.
I did this race with my runny friend Amanda. She and I sat in a ton of traffic before finally reaching the Portland International Raceway. It was a lot of walking but we finally got to the start!
We call this "the before"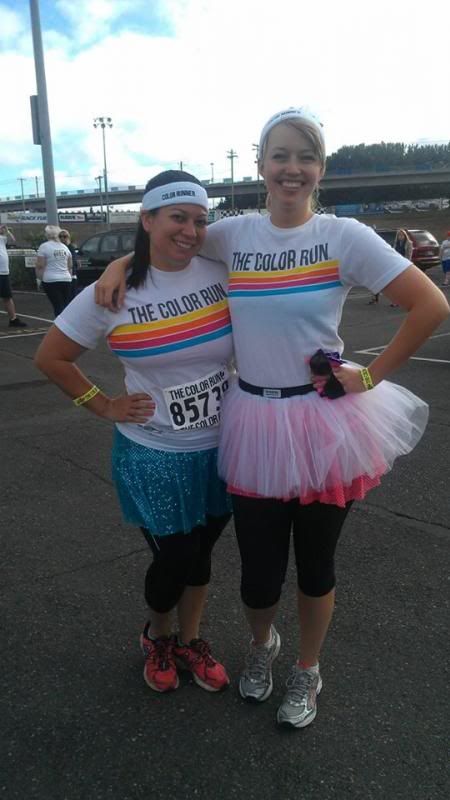 They give you a packet of color powder for the "big finale"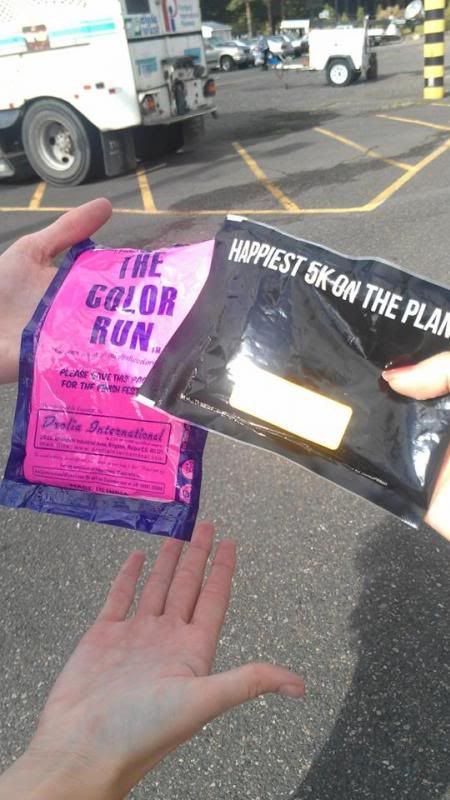 Before we knew it we were off! This was definitely a fun run. There were no sprinters and a lot of walkers. We just jogged about chatting. We approached the first color station which was blue. It was intense! So much cloudy dust it's hard to see and breathe. But we pranced through and got some healthy doses of blue on us.
Next was pink, and I was far better prepared. I closed my eyes and held my breath. I wanted a lot of pink on my shirt so I dilly-dallied and spun around. We continued on to some more colors, and finally got to orange! As an Oregon State alum, I loved it!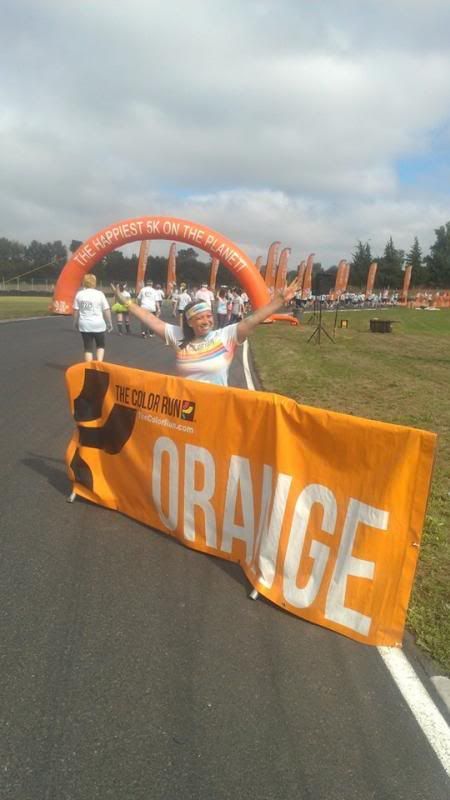 We eventually reached the finish!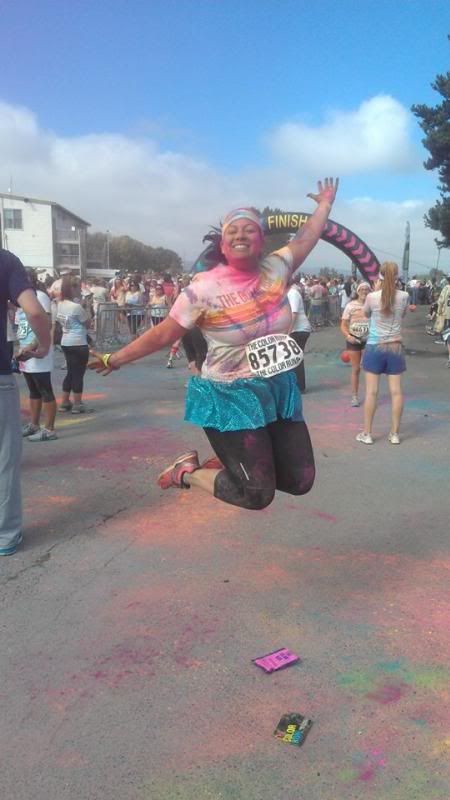 We'll call this "the after"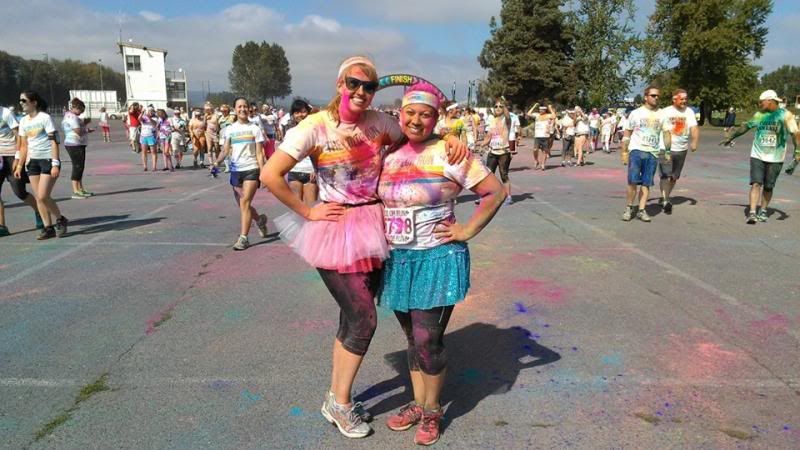 We got water and checked out the booths/ entertainment. The cell phone case company, Speck, had a booth where you could splatter paint on an iPhone case. There were some other food and drink vendors. We eventually made our way to the "After party", a stage with some loud music.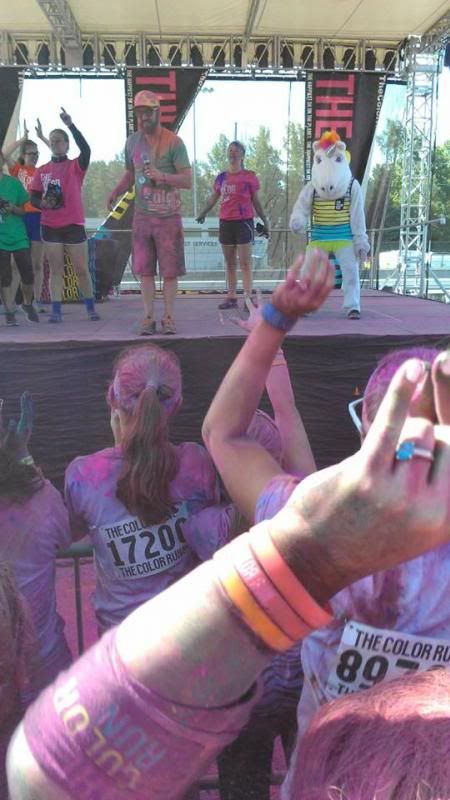 We weren't planning on staying, but they kept throwing out color packets for people to break open. And even more exciting, swag! Amanda caught 2 tee shirts and gave one to me, and I caught a hoodie!
After dancing to lots of music, we made our way out of the crowd to head to the car. As we were leaving there was a giant color bomb. here's Amanda in a cloud of pink!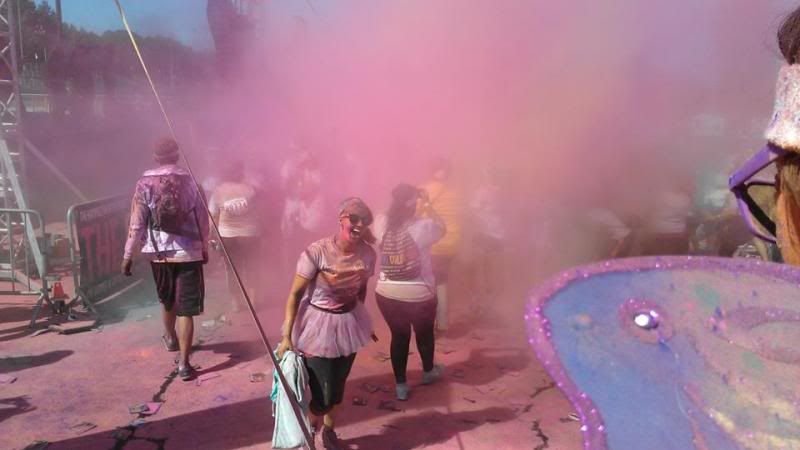 And now, here are the things Color Run doesn't tell you!
*You will stand in the shower for 20 minutes and the water still won't rinse clear
*Your finger and toe nails will be stained
*Your scalp will get stained
*Your snot will be black or rainbow
*If you wash tech fabrics immediately, the color mostly comes out.
*You should bring towels to sit on in the car.
It was a lot of fun. I feel the same as I did about Warrior Dash- it was a blast, but I got really dirty, and it might be a "one and done" thing. I think Dan would really enjoy it though, so I'll probably do it some day with him. For fun and zero seriousness, I highly recommend!