I had a really great trip to Orlando with my mom, and I want to tell you all about it, but I think it would be the longest post ever! So I'm breaking it up into 2 parts, my race reports and the fun stuff we did.
First up: the Disney Happy Haunted 5k!
This was my first time ever doing a Disney 5k, and honestly, I wish I picked a different one. All RunDisney 5ks go through to theme parks except this one! It was sold as a "trail run around the Wide World of Sports Complex". Before I signed my mom up, I asked someone on a forum if it was hilly, and they said, "heck no, flat as a pancake". So, while not understanding what made it a trail run, I signed us up.
We met outside our rooms at about 5:45am and took a bus to Wide World of Sports. It was still dark out! We walked into the facility and I got so excited. I just love Halloween and Disney, and here were 2 of my favorite things colliding!
My mom took this picture. Halloween Mickey and me!

We wandered around and I found some running friends here and there. We got to watch the sun rise, which was gorgeous!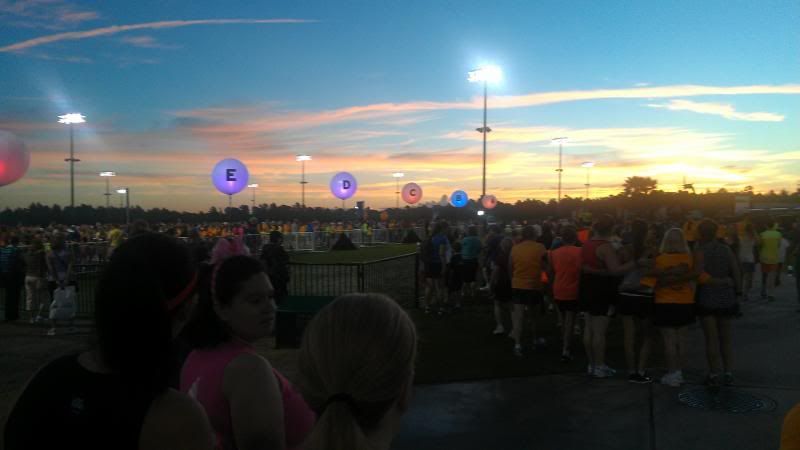 Before we knew it, it was time to head to our corral! As we were lined up, the announcers told us a special visitor would be making an appearance, and the Headless Horseman rode by! It was really neat to see, but I didn't get a picture of it.
Before I knew it we were off! The 5k was pretty uneventful. We also learned why they call it a trail run- it's sandy! Sand got everywhere! The course was narrow and I just wasn't a fan. I also felt bad this was my mom's first Run Disney event, and I hope I can convince her they're usually so much better.
Random shot of me at the 5k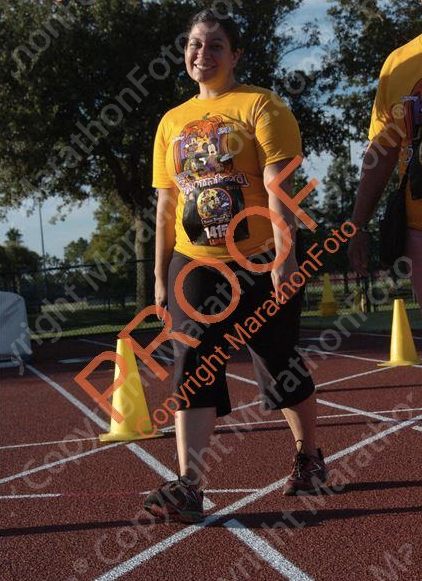 We finished and got cute medals!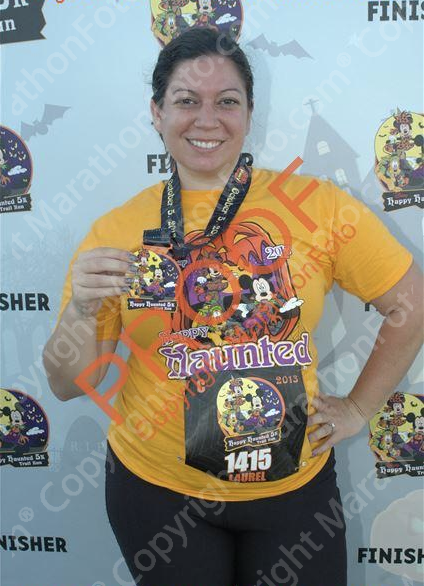 We got our usual Run Disney snack boxes and sat for a moment to get organized, but then we were off to an amazing brunch at the Grand Floridian Cafe! More on that in my other entry though.
I lazed around in my air conditioned room all day drinking tons of water and resting for the 10 Miler that night. Around 5pm, I met my mom and we grabbed dinner at Shutters, a restaurant at our hotel. I got a big Cajun style bowl of pasta with sausage and shrimp, it was delicious!
After that I went back to my room to take it easy for about an hour and let everything digest, then I started getting dressed. My friend Staci came and met me at the hotel and then we went to the bus stop together. It was a quick ride and before I knew it we were spilling off the bus and into total race chaos!
This was about 2 hours of milling about, chatting with people, taking pictures and a final pit stop before hitting up the corrals. My online running group got together for a photo. Thanks for the picture Heather! She blogs over at Through Heather's Looking Glass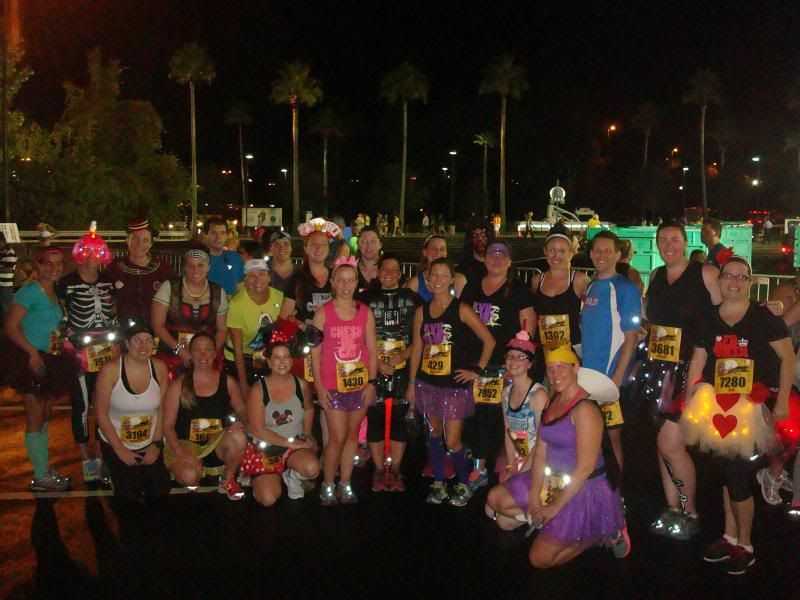 After our group photo we all headed to our corrals. Once we were all in, we were walked, corral by corral, to the start, which was almost a mile away! Basically the perimeter of one of DIsney's Hollywood Studios' parking lots.
More waiting. I was in Corral E, but luckily there was only 3-4 minutes between the top 5 corrals. After E, I think it was 5 minutes. Before I knew it, we were off! As soon as we left Hollywood Studios, we proceeded up on onramp. Not only was it hot and humid, but the onramp encircled a small swamp/ pond, and in the middle was a flame thrower that would shoot a giant flame in the sky every 30 seconds. You could feel the heat and it was miserable!
Once on the main road, we ran to Animal Kingdom. This was 4 miles of torture- 2 miles out and 2 miles back. It felt never ending! It was really hot, did I mention that? I was only about 5k in when I was ready for a break, so I did something I've never done before- stopped for a character photo!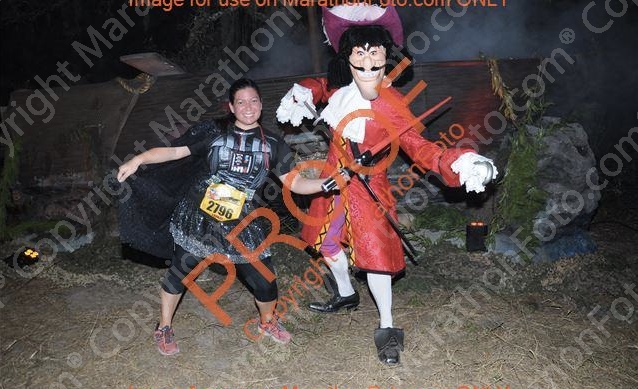 I took this because I knew Dan would be proud. I actually can't stand being anywhere near costumed characters, but this was so quick it was perfect. I didn't have to touch him or anything, I just posed for a picture and ran off!
At mile 5 we had another "trail run", except this time not only was the ground sandy and all uneven, it was dark! Come on Disney, light that area up!! Again it was really narrow. I would have much preferred running around Animal Kingdom than Wide World of Sports, but oh well.
Once in WWoS we circled some fields and then the baseball diamond. Sidenote- this race was themed very well. There were a lot of character stops and decorations. Inside the baseball diamond alarms were going off, and on the Jumbotron there was a picture of an alien and the loudspeakers were saying an alien escaped and to flee the area. Kinda fun to experience when surrounded by thousands of runners!
I hit up a few more character stops along the way- zombie football players, the gravediggers from Haunted Mansion, and Dr. Facilier from The Princess and the Frog.
Here's a random shot maybe 7 miles in. I was having fun!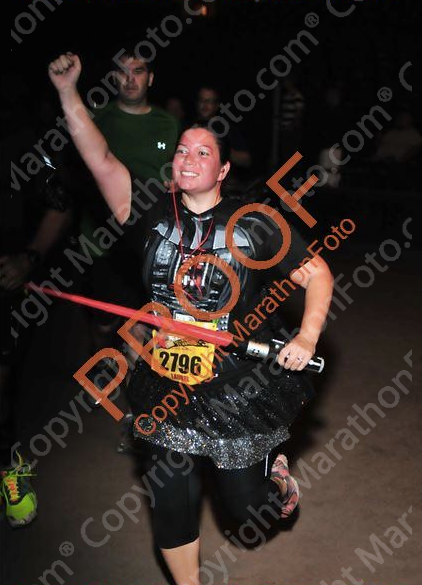 By mile 8 I was really ready to be done. I reminded myself that my photo stops were breaks and pushed on. Alas, we returned to Hollywood Studios! But we had to run past the flame thrower again which is even worse 9 miles in!
We entered Hollywood Studios by the Lights Motor Action! Stunt Show, and ran through the Backlot Tour, which I thought was really neat. I was completely out of steam at this point, but knew we had to be close. We ran past Mickey's big sorcerer hat and past Toy Story Mania, then ducked into a behind the scenes area.
We ran down a long passage and I saw bright colorful lights at the end and thought, "This is it, we're done!" So I booked it for a couple minutes, only to discover it was a band stand!!" Oh I cursed everything at that moment! But then I turned a corner and was about 100 yards from the finish. I had conquered the Tower of Terror 10 Miler!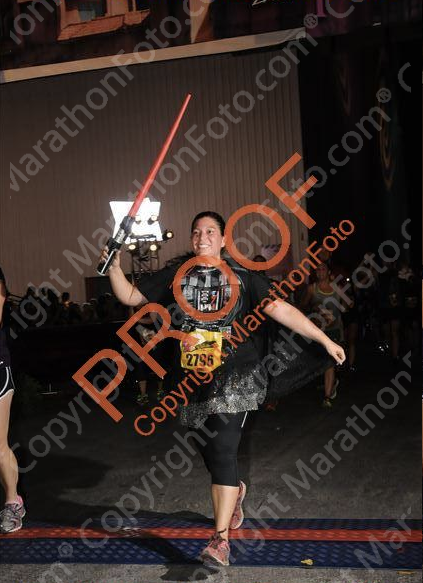 Also, this was totally my last run in my running shoes. They were so dead, dirty, out of cushioning, etc. I actually just left them in my hotel room when I checked out! RIP pink New Balances!
Once I stopped running, I didn't feel great. I got my medal (Super cool, it glows in the dark and has a dropping elevator!) and was herded through the finishers chute. Got a water and Gatorade and snack box. Walked up a giant hill and got a finishers photo.


From there we had to walk up another hill! Oh, who would do this torture to tired little runners?! After a while I decided to wait for my friend, who was having her hand looked at int he medical tent. I sat on the curb, still in the backstage area of the park, basically behind the Tower of Terror. I drank Gatorade and felt better.
We left soon after. We were so hot and tired. I thought our bus would be empty since we were leaving the after party so early, but it was packed! Many runners shared our sentiment.
Would I do this race again? Totally! It was really fun, I loved all the costumes, and it was my first time running in costume. I don't have too many complaints. The weather, but Disney can't do much about that. Maybe scrap the whole "Trail run" thing. No one likes the sand!!
My next Florida race is Goofy's Race and a Half Challenge. Eek!