In my last entry I blogged all about my races at Tower of Terror, so now I'll tell you all about the fun stuff my mom and I did!
But it starts with the not-so-fun: waking up at 2-something in the morning for the airport shuttle! Oh it was rough. But what was really nice was my mom wanted to make the trip special for us, so she upgraded all our flights to first class!
I know, this is tacky, taking a picture of first class. But it's a rare thing for me!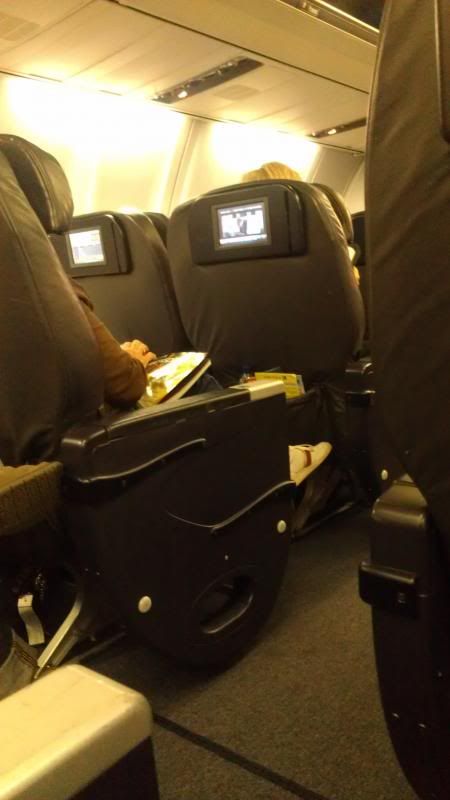 We had a few hours' layover in Houston, then were on our way to Orlando! The Magical Express grabbed us at the airport and dropped us off at our resort, Caribbean Beach. At this point we'd been awake since 2:30am, so we promptly said good night and went to our rooms.
The next morning, Friday, brought excitement- our first ADR (advanced dining reservation)! Believe it or not, Disney has some amazing food options and signature dishes, and they're often so popular you need a reservation in advance. Our first ADR was the Kona Cafe at the Polynesian resort.
We arrive early and walked around a bit. It's so pretty here!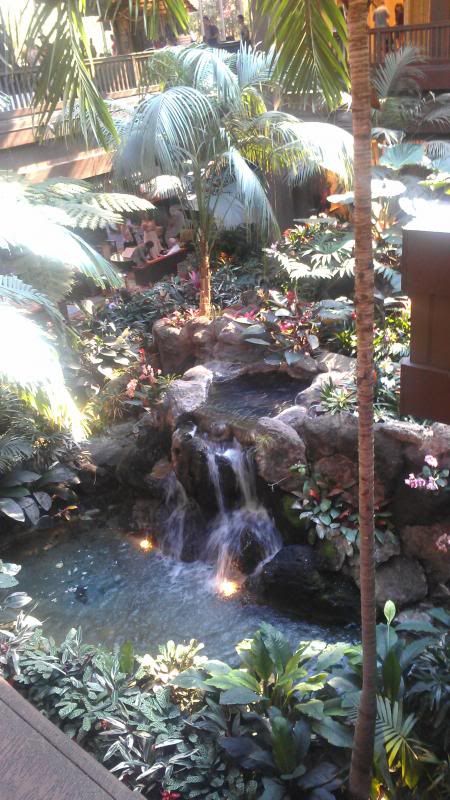 So, why Kona Cafe? They're known for their Tonga Toast


My diabetes-inducing breakfast. It was amazing!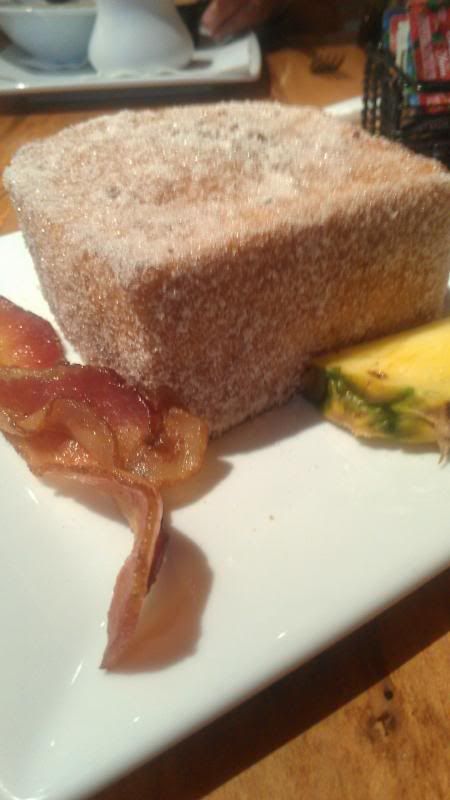 After breakfast we headed to the runners' expo at the Wide World of Sports complex. It was probably one of the best expo experiences I've had with RunDisney- smaller, saw friends, less crowded, got shirts and bibs, checked out booths, and even got the infamous RunDisney shoes (pictured a few paragraphs below)! My mom was a good sport and waited in line with me, all the while sales clerks were calling out sizes they were sold out of. But we finally got to the front of the line and my mom liked them so much she got a pair too!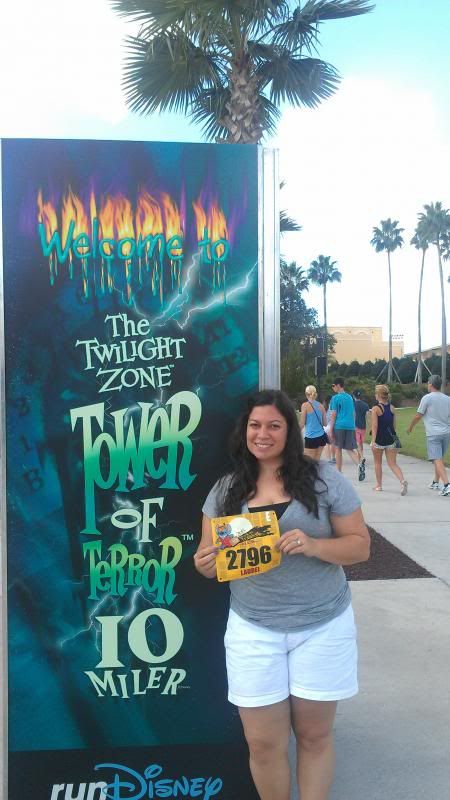 After the expo we dropped our stuff off at the hotel then went to spend the rest of the day at EPCOT. I know it's not a favorite with many, but I love EPCOT. You can truly stroll about and admire everything at a slower pace than other Disney parks.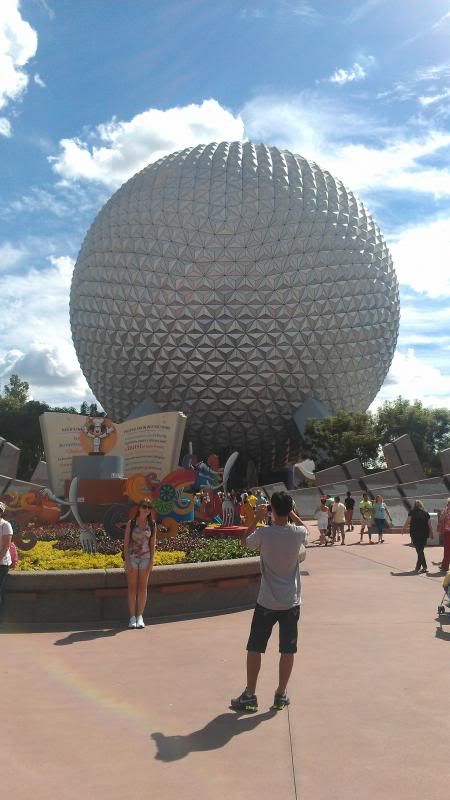 It was a little frustrating being at a theme park the day before race day. No fancy foods (but it was Food & Wine Festival!), no alcohol (Mexico's margaritas!), no new clothes (sorry new Disney sneakers) and trying to rest the feet (not about to stand in line for Test Track or Soarin'). But luckily EPCOT has tons of lengthy, high-capacity sit down rides (namely Ellen's Energy Adventure, a 45 minute air conditioned heaven).
We hit up plenty of those rides and window shopped, then made our way to Italy for our ADR at Via Napoli. We had a table by the window which was nice for people/ park watching.
Our view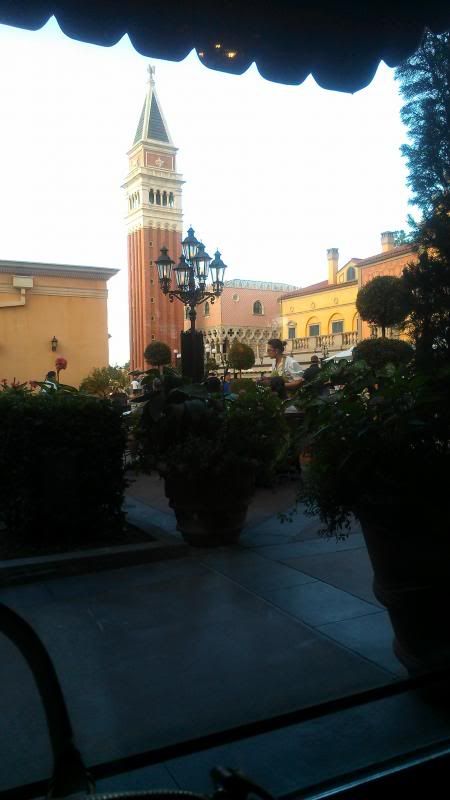 After dinner we called it quits, since we had an early wake up call for the 5k the next day. As for Saturday, besides the running I took it really easy. After the 5k my mom and I had a really good breakfast at the Grand Floridian Cafe, then headed back to our hotel. I took a long nap (since I'd be up all night running), then just tried to stay hydrated and enjoyed the last few days of my Netflix account (no Netflix in Japan!). I met my mom at 5 and she had made an ADR at Shutters, where I had a really good bowl of pasta with sausage and shrimp. After that it was race time!
Sunday, I was ready for fun. I met my mom outside our rooms with my new RunDisney shoes and finisher shirt on. We were off to the Magic Kingdom! We stopped into the Starbucks on Main Street and grabbed some breakfast, then sat outside Casey's to eat and enjoy the park waking up.
This jerk was greedy for bites of my muffin. Then he bit me!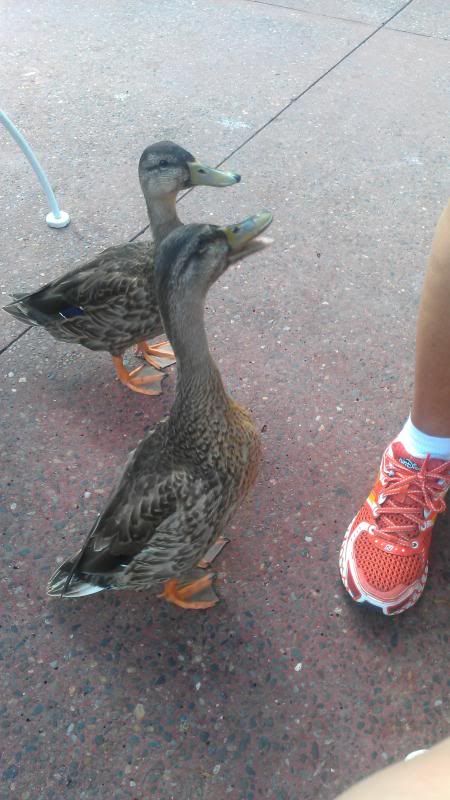 After breakfast we rode rides and snacked on junk food all day. I got a coveted ADR at the newly remodeled California Grill, and we didn't want to have a heavy lunch before then.
The best way to cool off- Dole Whip!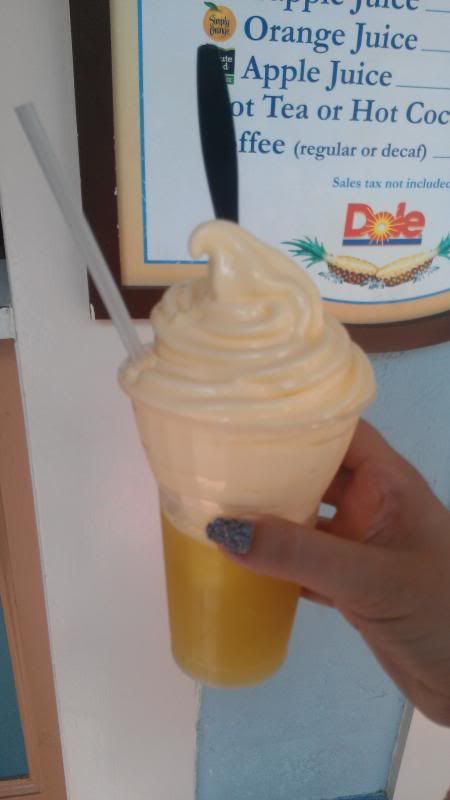 Lovely Main Street in the fall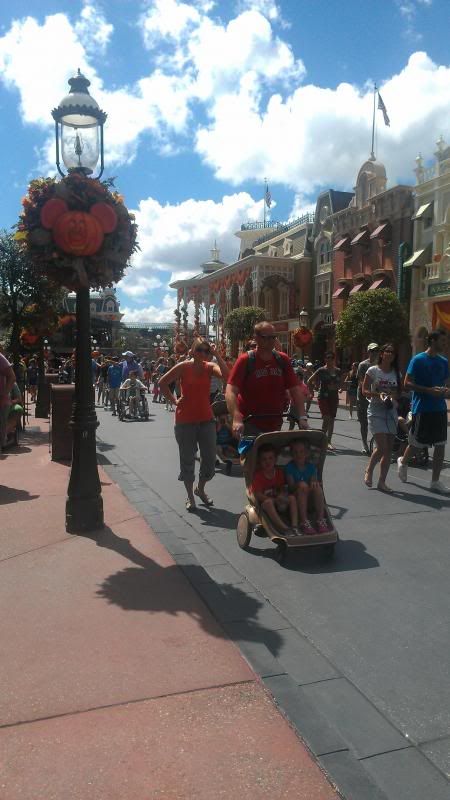 Our Magic Kingdom day was incredibly relaxed. We wandered. Rode rides. Ate. Lucky for me my mom was happy to explore gift shops with me, something I inexplicably love to do. After a fair amount of walking we'd duck in for an air conditioning break and look at all the goodies for sale. We might have stared for quite a while at the confectioner case in New Fantasyland…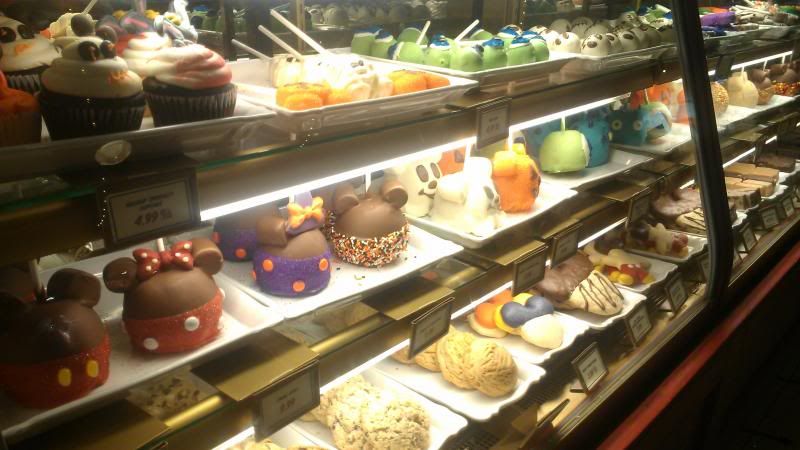 It was pretty hot out, but I enjoyed sitting in the sun and just relaxing. Especially relaxing my feet!
New Fantasyland. and RunDisney shoes!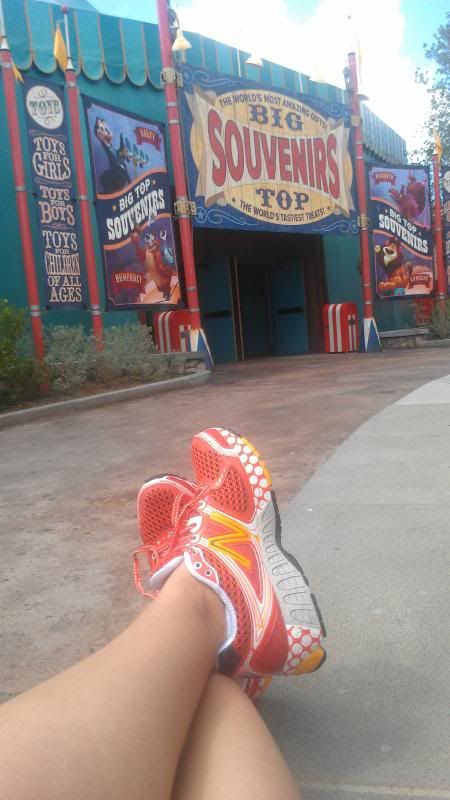 A perfect day at the Kingdom!


At one point, the People Mover broke down for a few minutes. In a dark, cool hallway. It was heaven!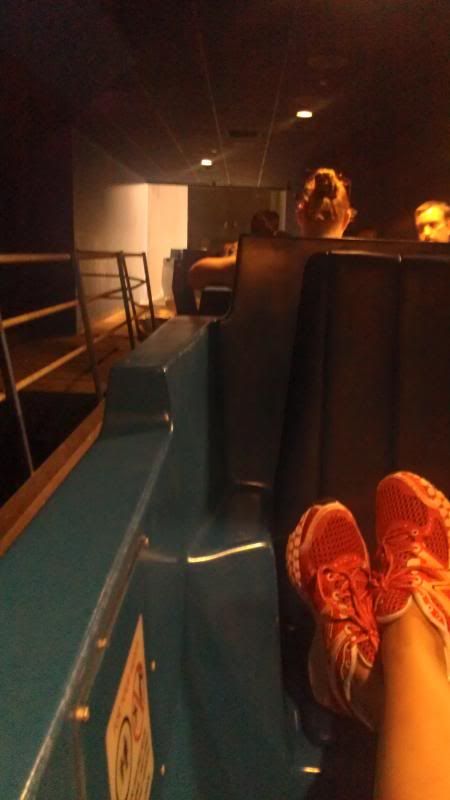 Alas it was time for dinner! We rode the monorail to the Contemporary resort and up to the top floor. My mom wore a sundress and I changed from my RunDisney shirt to a nice top, but that didn't necessarily hide our matching, bright red sneakers. We had a good laugh about being in a nice restaurant with them on. We were right by the window and had gaping views of Magic Kingdom and the Grand Floridian, and a bit of the Polynesian.
And at last, I got to enjoy a cocktail on vacation- a sake martini


My main course, the dragon roll. It was SO good.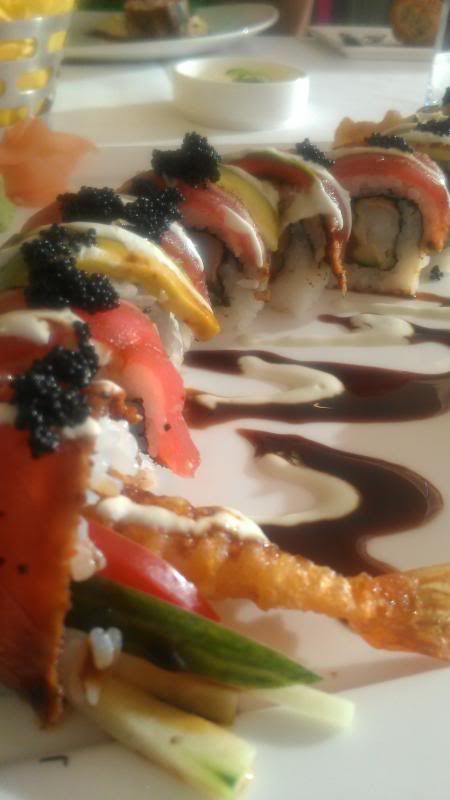 After dinner we went out to the observation deck and took some photos. The view was amazing!
Magic Kingdom from California Grill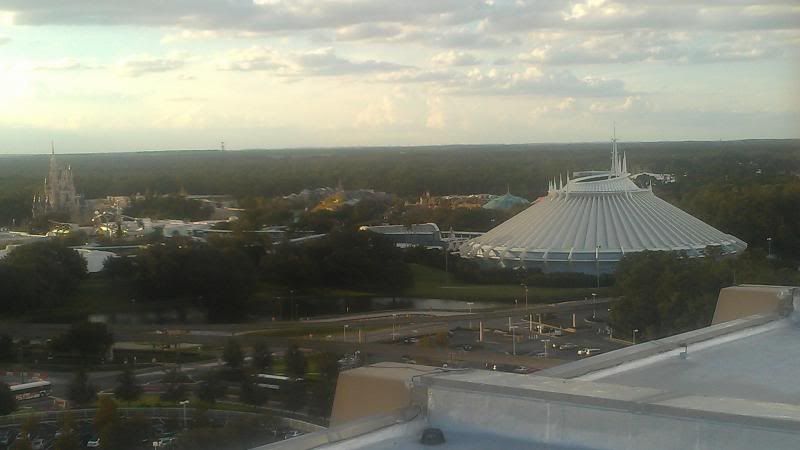 The Grand Floridian


You could see all of Disney World, and I pointed out all 4 parks to my mom. I wish I'd brought a better camera to capture the view!
At this point, we were exhausted. It was only 7 or 8, but we had another 3am shuttle to catch to the airport. We each grabbed something sweet to enjoy before bed…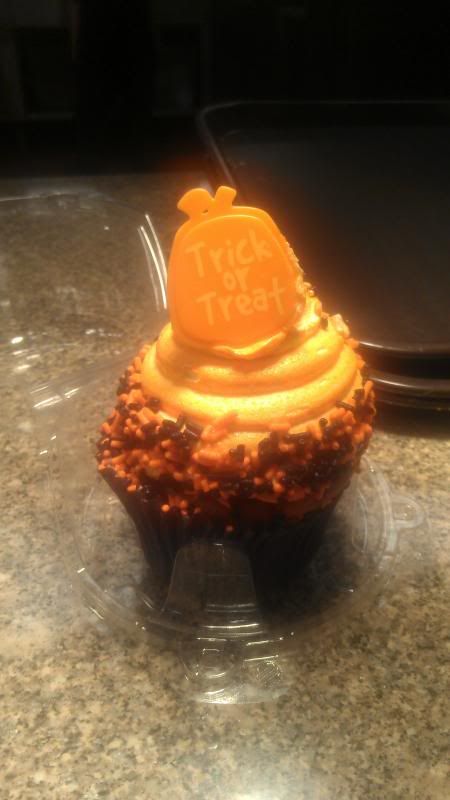 And that was our trip! People ask me all the time why I love Disney so much. They ask if I hit my head. If something traumatic happened in my lifetime. If I have weird issues with my family. If I wish I was a child. The answer to all those things is no! I really can't explain what I love about Disney, but it's special to me, and I'm so glad I got to share this trip with my mom. It was a really good weekend and going through all the photos again makes me miss it even more!