Alternate working title- Nobody Puts Peacock in the Van!!
This is an event put on by the Samurai Hash House Harriers. (More on hashing here). A hashathon is a hash where you run 3 legs in one day totaling 26.2 miles/ 42 kilometers, or a marathon, give or take some distance. It's a day long event beginning at 8am when the hares take off to lay Leg #1's trail and we all follow 12 minutes after. All our belongings are loaded into a support van (or 2!) and drive off to the first exchange. After leg #1 is lunch and a little break, run leg #2, a break and finally leg #3. It's definitely a day-long affair.
Dan and I signed up for this a few weeks ago. I was always nervous, but serious nerves struck me this past week. This wasn't just a 26.2 mile run. Samurai hashing is known for never ending stairs, tough mountain climbs and making you crawl through bushes. I was bracing for the worst. Also, for everyone who finishes all 3 legs, they print everyone's hash names on the back of this year's hashathon shirt. I really wanted "Bloody Peacock" to be emblazoned on cotton!!
On Friday, Dan and I still had to run Friday hash, and my friend Amanda and her boyfriend Steven were in town visiting. I feel so bad I was so worried about hashathon while she was here, I don't think I was very fun! They're in Kyoto right now and we'll be reunited in a few days!
Not a great pic, but Dan (in the grey and orange jacket) and I at Friday hash, trying to get everyone excited to run in the cold wind! Amanda's on the right in blue!


Photo by Danny Guillot
After Friday hash, Amanda and Steven went to a local hotel in Tokyo, and Dan and I took a train for a little over an hour to Isehara. With hashathon starting at 8am, we'd have to leave our apartment at 5:40am! No thanks!
Our tiny accommodations. Dan and I got separate rooms so we'd have some space!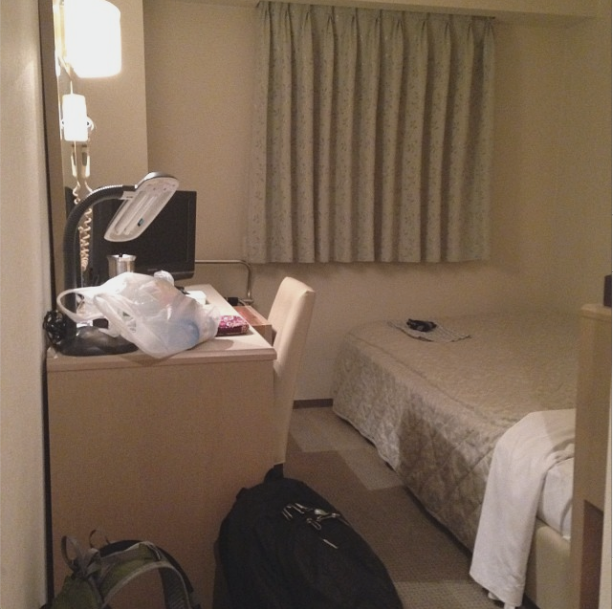 That bed was hard as a rock! After not the greatest sleep, I got up and met Dan, and we headed out to the start.
Everybody participating! (except Dan and his 2 friends who went to go buy a drink!)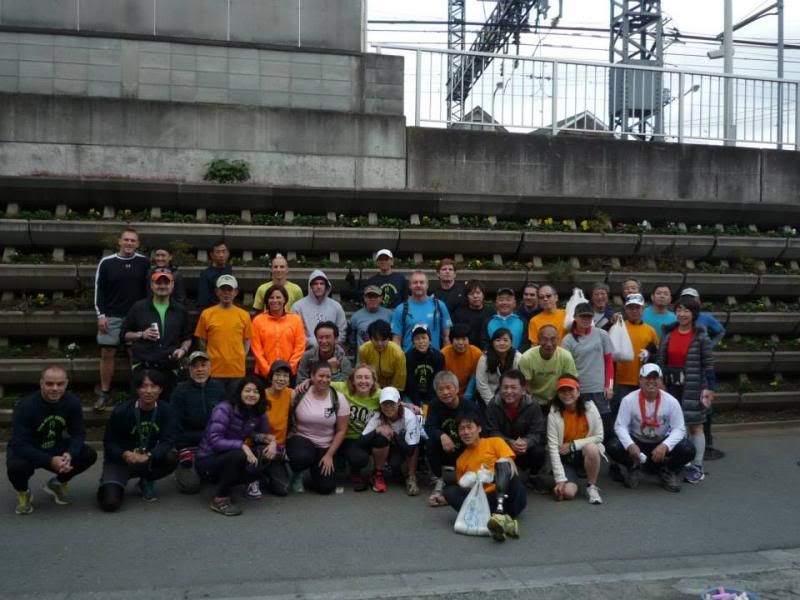 Photo by Hiromi Suzuki
Before I knew it we were on the move! My strategy was to take it as easy as possible. I had nothing to prove, I just wanted to finish comfortably, and didn't want to injure myself before Goofy in January.
We mark our trails in chalk and often times some hashers race one another. Here some guys left their hash name initials. Dan is MM!


Leg #1 was not nearly as bad as I thought. I was incredibly slow because I was waiting for a tough hill. There were a bunch of stairs but that was it!
And nice views!


Finished with Leg #1!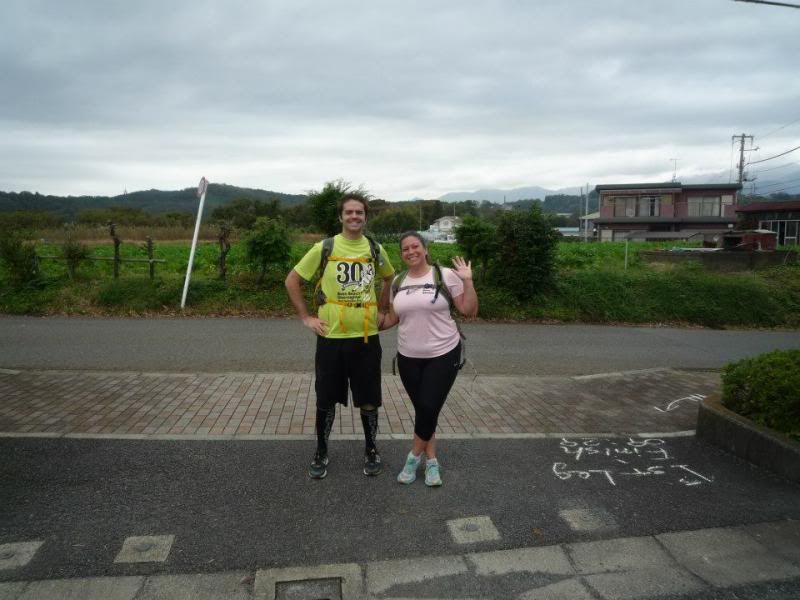 Photo by Hiromi Suzuki
After this picture, I learned I was last to arrive to the exchange point. I didn't mind- I'm an overweight runner and I'm used to being in the back of the pack. And I didn't want a long break because the longer I sit, the less I want to get back up!
But everyone fussed over me. They asked if I was ok. If I was hurt. If I want to sit in the van. If I want to quit. No, no, NO! I was fine! If anything I was in better shape than everyone else because I took it easy! I came in about 10 minutes after the last people, a group of 3 girls. I just wanted to sit and eat my granola bar and have some Powerade but they kept huddling around me trying to get me to eat a ham and potato salad sandwich. BLEH!!!
Leg #2 was about to start and the hares took off. Again, 2 of the coordinators tried to stick me in a van. I calmed them down by saying "I'll try leg #2" instead of my usual "I'm going to finish all 3!". We took off for leg #2!
My friend Debbie and I


Photo by Hiromi Suzuki
This was by far the hardest. Leg #1 was only about 8.3 miles. This one was 10. And absurdly, insanely steep. We were climbing a mountain! Sometimes on cement, sometimes on really loose, fine dirt/ soil. Up, up, up we went.

At one point, I ran into Dan on trail! That was a nice surprise. We ended up walking most of leg #2 together, just chatting.
Dan admiring our view of the ocean.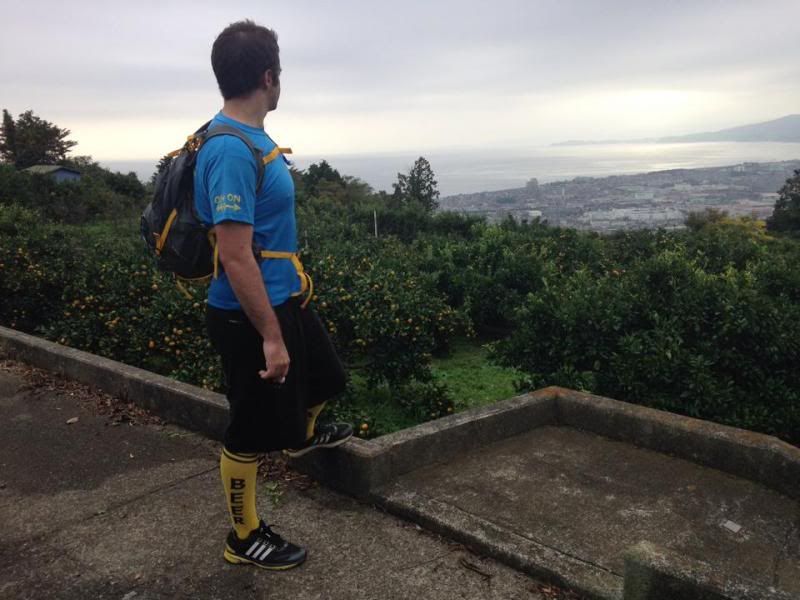 Then towards the end Dan said he wanted to get back to running since we weren't going up hill anymore, and we parted ways. I also picked up the pace a bit- now we were running down a steep, twisty hill. I hated it!
As I was nearing the second exchange point, Dan texted me to warn me that the pack already took off for leg #3 and they really wanted to stick me in the van. The heads up was nice. When I reached the exchange point I was all business. The helpers (and as annoying as it was, that's all they were trying to do, just help) swooped in on me and asked if I was ok. A nice gal said she would take the train with me if I didn't want to ride in the van. A few people had called it quits after the 2 legs, and honestly, my feet really hurt and I was thinking about it, but when so many people wanted to throw me in that van I thought no way! I'm in it to win it!
So I just went as quick as I could through the exchange point. My bag was laid out waiting for me (thanks volunteers!), and I had been running with a Camelbak backpack with a bladder for water. With the last leg being only 7 or so miles, I ditched the backpack, grabbed some money, granola bar, train pass, my cell phone and backup battery, crammed it all in my Spibelt, and told them I'm good and ran the heck out of there! Nobody puts Peacock in the van!!!
Once the adrenaline of evading volunteers wore off, I realized how bad my feet hurt and how tired I was. A very common problem with runners training for a marathon is weight gain and I am definitely suffering as of late. The sun started to set and I'd get a few sprinkles of rain here and there. The good thing about leg #3 was it was in the city, so no hills! The bad thing was that the hares who laid the trail didn't use crosswalks! It was terrifying trying to get across busy roads as the sun was setting. I was not a fan AT ALL!!!
Dan texted when he got into the finish and I was so jealous! But alas I finished too, and wouldn't you believe it, I wasn't even last! I guess all my saved up energy kept me on an even keel, as I ended up passing some walkers/ crawlers.
My hashathon trail!

I did it! I completed my first hashathon! I got lots of high-5s and of course, everyone asked me if I was ok. Some people were highly doubting I completed all 3 legs. I kicked off my shoes and put on flip flops and a jacket, then sat around with friends and celebrated the awful torture we'd just put our bodies through.
Samurai had rented us a conference room in a building which was nice to finish at; it was warm and plenty of chairs for all of us to sit. We indulged in some American snacks bought from one of the military bases (Cheetos! Little Debbie!) and had a beer. I'll be honest and say it stung a little when no body thought I'd finish. I know they were trying to be helpful, but it would have been nice to get a "you can do it!" instead of "good try, get in the van". And now all the 2013 Samurai Hashathon shirts will say Bloody Peacock on them, and no one will ever forget I dominated that course!
Dan and I began our long trip home. It was now an additional 26+ miles out! We bought reserved car seats so we could stretch out and be comfortable. We chatted for a bit but then, after a marathon hash and terrible night's sleep, I conked out til we got back to Shinjuku

Let's just say I slept amazing last night! A cushy bed and a kitty at my feet!