In Japan, it's officially Christmas! I am worn out! We last left off Sunday night, when I successfully completed my last 20-miler for Goofy training. The next day, Monday, Tokyo Hash House Harriers was having their Christmas run and party. It was my last free Monday before I leave, so I figured I might as well drop by…
Yes, I did. I ran 5 miles Saturday, 20 Sunday, and 5 Monday! OW! I'm so glad I went though because I got to see a lot of hashers I don't normally see (those loyal to the Monday hash), and the party was an absolute blast. I was trying to leave early, because the next day was my moving day, but the drinks were flowing and everyone was having so much fun!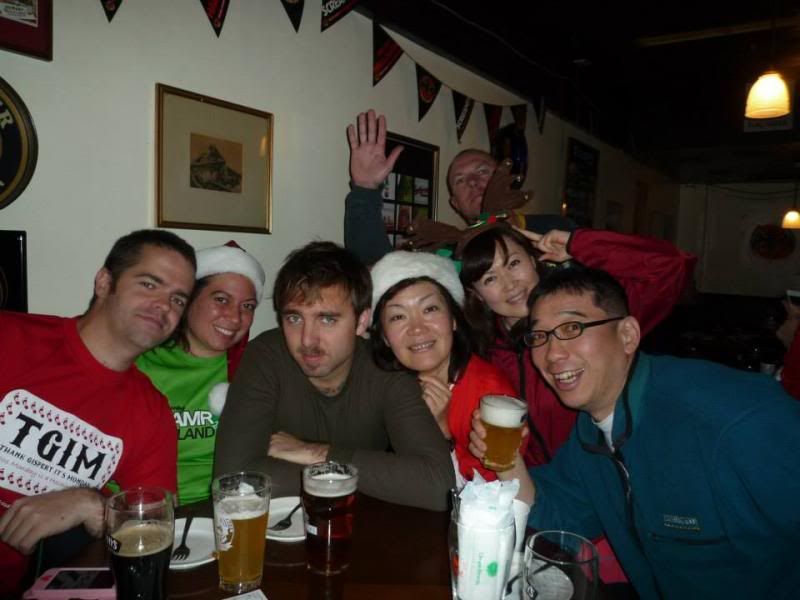 Photo by Hiromi Suzuki
I got to spend a lot of time with my friend Hiromi, who I don't see often!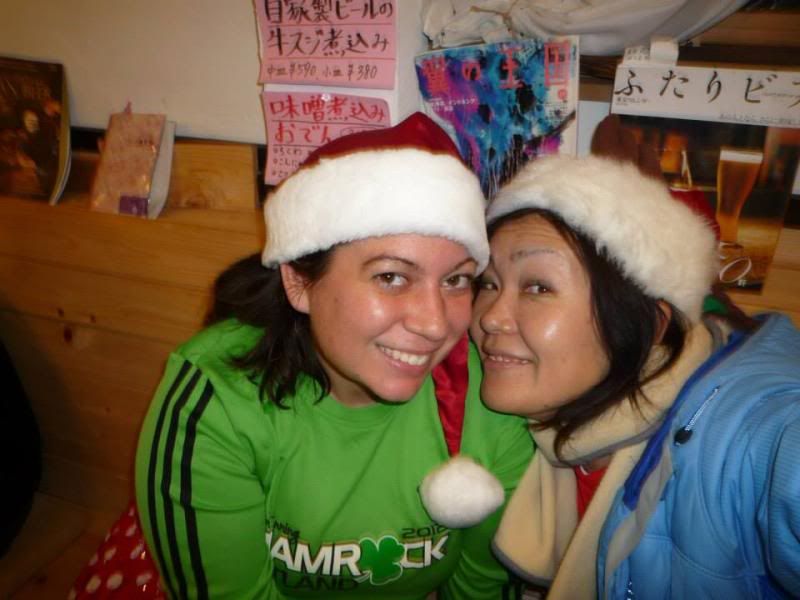 Photo by Hiromi Suzuki
Mike led our circle, and played Santa while giving us all a gift from hash kennels all over the world. At first I got a pair of shorts from a Thailand hash, which I thought was an awesome gift! But then they said they had goodbye presents for me since it was my last Monday hash, and showered me with so many gifts- a duffel, tote bag, shirt, mug, koozie… it was so thoughtful and I was so happy!!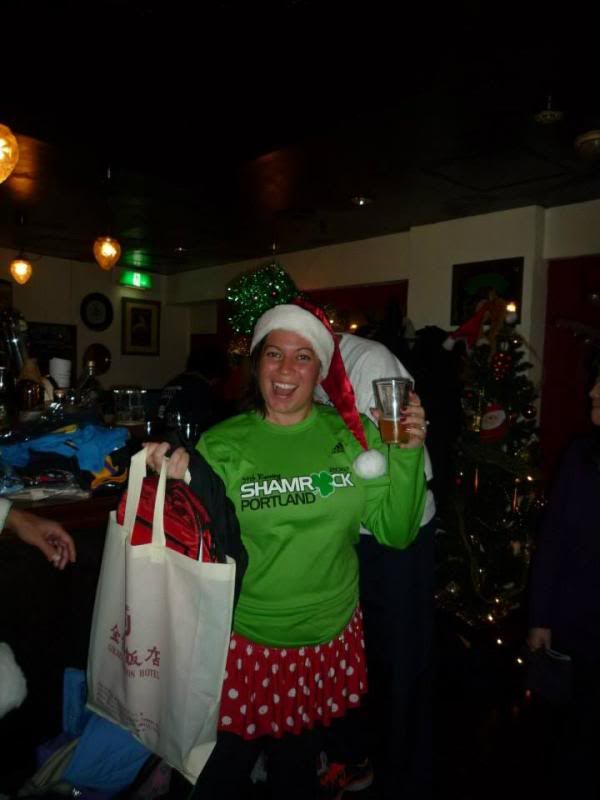 Photo by Hiromi Suzuki
The Christmas party was a typical 2-hour nomihodai (all you can drink), and the 2 hours flew by so quickly. So we all piled out and went to another restaurant! Every time I turned around my glass was refilled, and Dan and I were only able to stay maybe 45 minutes before I realized the time, and all the packing I had left to do, and hightailed it out of there.
Needless to say, I came home, scarfed some food, and went to bed immediately.
Now, I know what you're thinking. If I'm moving Tuesday, shouldn't I already be packed? That wasn't the plan!! My awesome friend Dave generously volunteered to drive over an hour to my apartment on the west side of Tokyo from the naval base to gather my boxes. Then he would mail them for me from the base, so I don't have to pay international shipping. This literally makes shipping costs about $1/ lb instead of $11/ lb. It's a huge help and an awesome Christmas present! We were originally planning on doing this Thursday after Christmas, but Tuesday worked better for him and I wanted to be flexible since it was such an awesome favor.
I woke up Tuesday morning and started packing immediately, before brushing my teeth or eating or anything! Dan ran out to Sengawa to get more boxes and coffee. We worked nonstop for a few hours, right up til Dave arrived.
Penny supervising boxing efforts.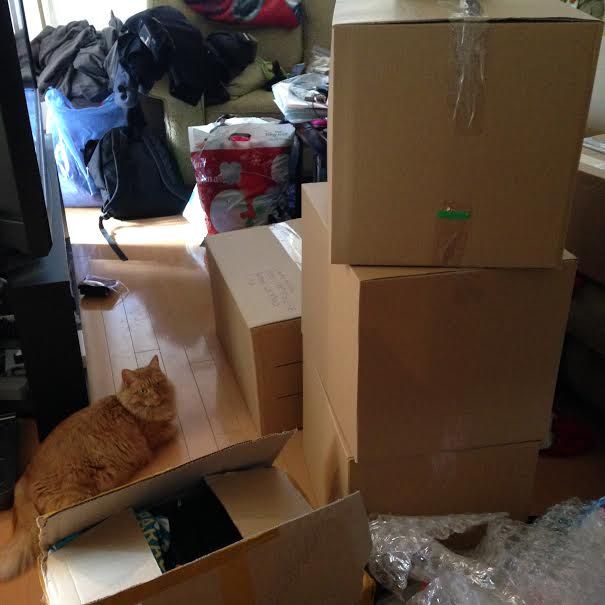 Dave arrived and we loaded I think 9 boxes into his car. Thank goodness they fit! From there we were off to the navy base! I never get to ride in cars in Japan so I had a blast and couldn't stop pointing out things I don't usually see form the trains. Dave found it hilarious. At one point we saw a bunch of guys on motorcycles in Santa suits!
Dave and I, driving through Tokyo and out to Atsugi!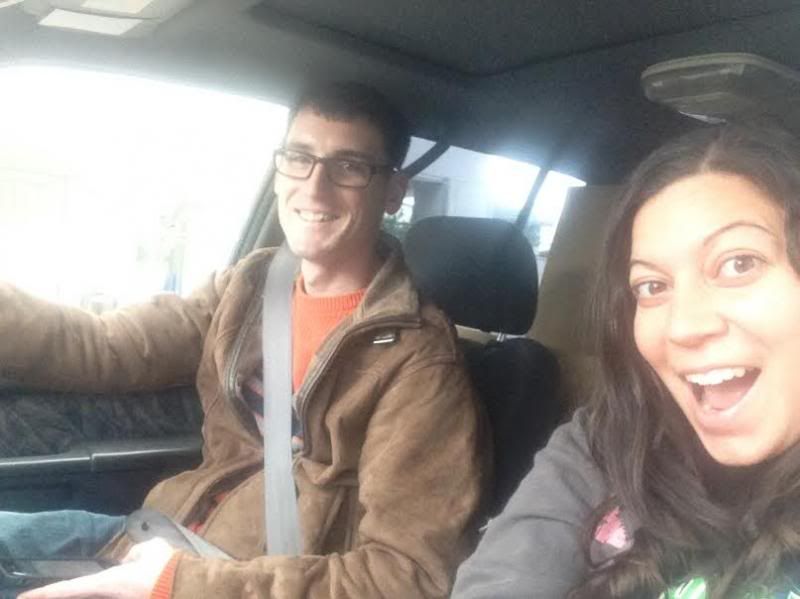 We met up with Dan who had to run an errand, and made it to the naval base. we decided to have Christmas eve dinner there- Taco Bell. Yes, that's right! I was in no mood to cook and we never get Taco Bell out in these parts, so we indulged. It was trashy and oh so delicious.
After spending a little more time together, Dave drove us to the train station and Dan and I started the long journey home. We relaxed at home for a bit, and I got some of my energy back. I randomly decided to make my mother's chocolate pecan pie for Christmas!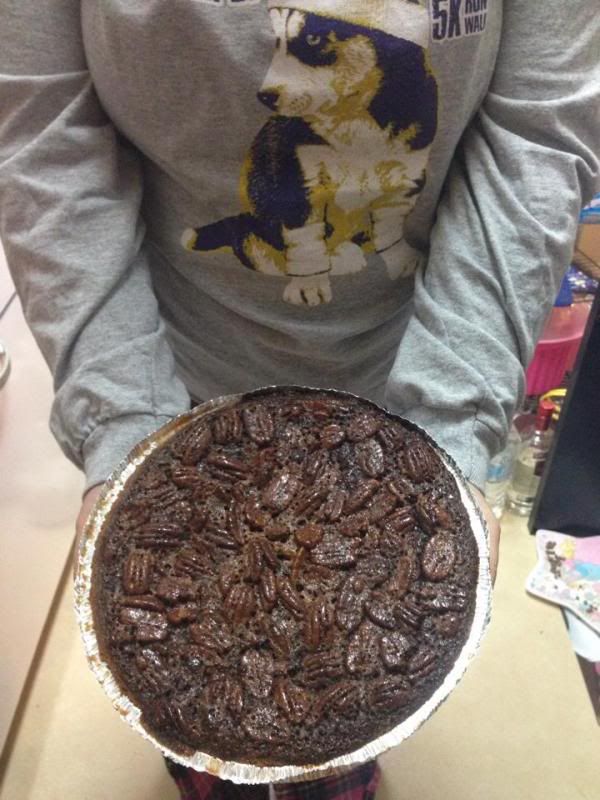 Needless to say, we got a great night's sleep last night! Now it's Christmas day and I'm enjoying a relaxed day of laundry, dishes, cleaning and sewing patches on Dan's and my happi coats. Did someone say patches? Oh yes. I may have got some new ones made as a going away/ thank you gift for the Tokyo hashes…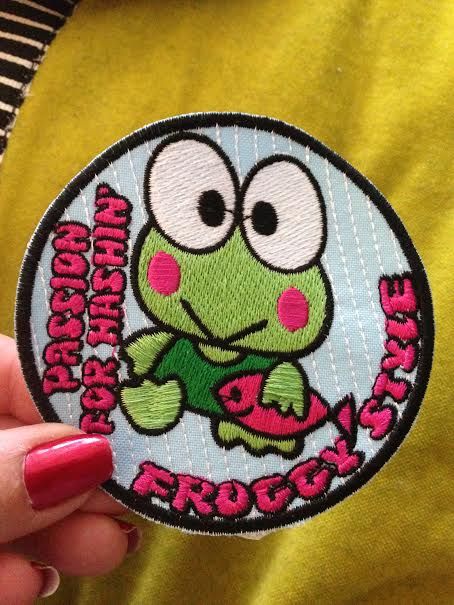 I hope everyone has a great Christmas!!