I'm completely cloud-9ing right now after a great weekend of running. A successful hash and a successful distance training for Goofy's Race & a Half Challenge.
Saturday- Samurai Jingle Bell Run (Samurai Hash House Harriers)
Yesterday (Saturday) Dan and I chose to run at the Samurai hash because A- it was a Christmas run, B- we hadn't been in a couple weeks, and C- it was our fellow runner Abacus' 77th birthday. We didn't exactly spring out of bed Saturday morning, and the prospect of riding trains for 75 minutes to go run in the cold wasn't very enticing, but I'm so glad we went. We were late but the gear van was still on site, so we threw our backpacks in the van and tried to catch up with the pack.
It was a good, short (5 miles) trail. TONS of stairs. At least 7 or 8 giant flights. I didn't feel super confident after being sick the past week, but I pushed on and caught up with some of the pack despite being so late, which felt good. After, we hung out at the park!
My friend Mai and I. Everyone dressed up for the Christmas run!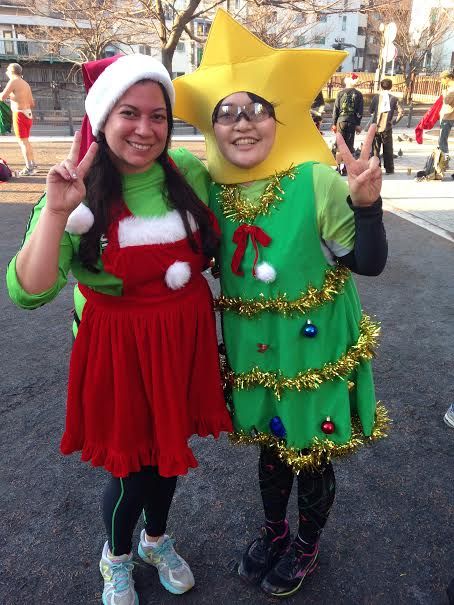 Some of us took advantage of the on-site playground… Dave and Kimiko having fun on the slide!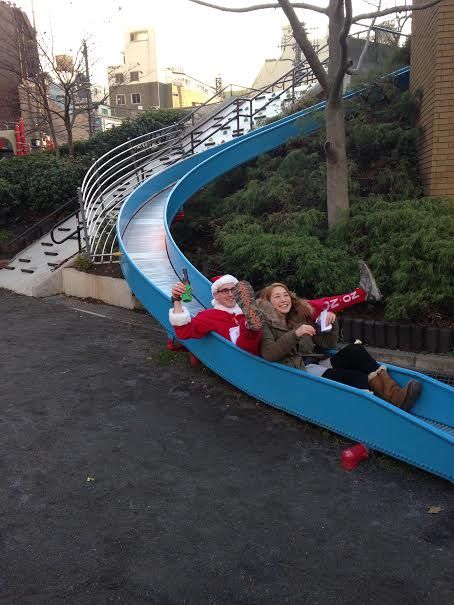 Dan and Dave. We love Dave because he's helping me move my boxes back stateside!


After a while it was time to start circle. I love Samurai circle. They always start with the "old farts down down", where the 2 longest-running members have a drink. Here is Ice Delight and Abacus. They have each attended at least 1,350 Samurai hashes. Think about that. That's over 25 years of attendance!!!
Ice Delight in red, Abacus in green, and Shuckoff on the far right leading circle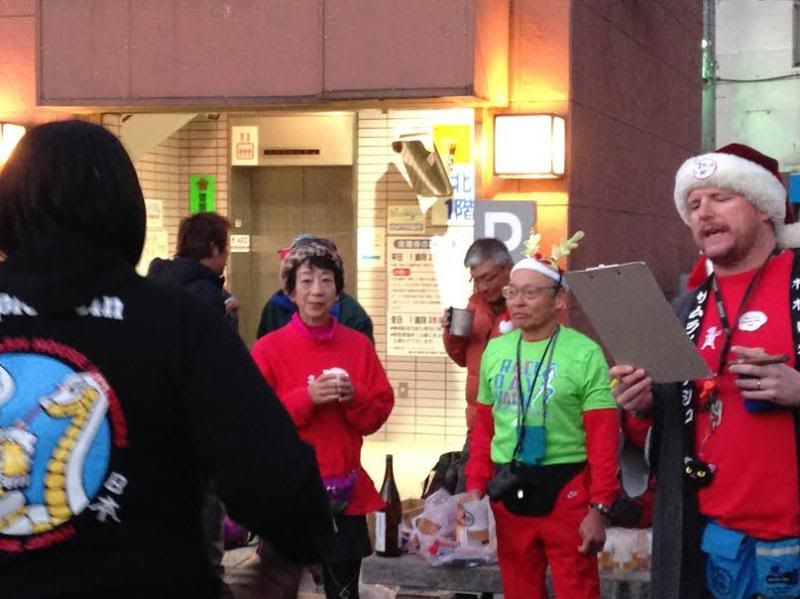 Some time later, I was called into the circle. I had run enough with Samurai to earn my hash coin! It's a coin you are always supposed to have on you, and wherever in the world you may happen to meet a fellow Samurai hasher, if you can produce your coin and they can't, they have to buy you a drink!
But of course, they can't just hand it to you. They make you catch it in a mug of beer! If you don't catch it, the hash is welcome to step on it, spit on it (usually they're polite enough not to), rub it in the mud, before depositing it into your mug.
Here I am… ready to catch it! (btw do you love my friend Pugwash's costume on the left? He's a Christmas tree!)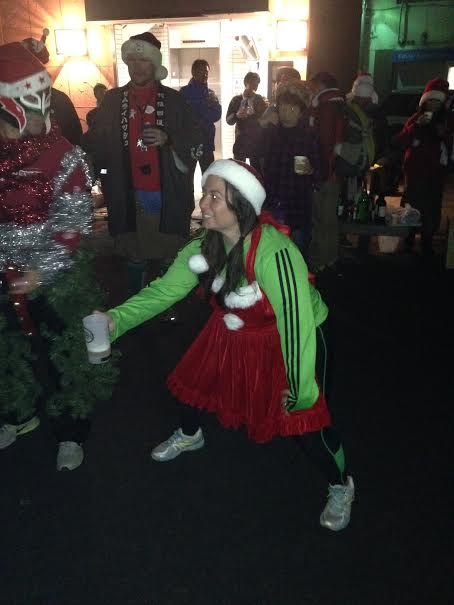 My friend Chester had the pleasure of dirtying my coin up, then threw it in the air. I kept my eye on it, and though it didn't land in my mug I was first to see it and scooped it up before anyone else could. Woohoo!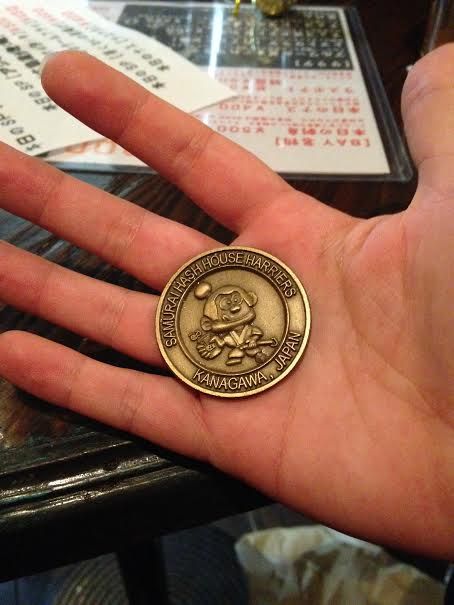 After circle ended, we migrated to Bay Brewing so Pugwash and Monster (a visiting Seattle hasher!) could show off their costumes. We had a drink and I showed everyone my coin which was still in its plastic wrapper. With that, Pugwash plucked the coin out of my hand, unwrapped it and dropped it in my beer! Everyone laughed, including me, as I spent the next 10-15 minutes drinking my coin out of my glass.
He looks pleased with himself, doesn't he?

After a drink at Bay, we walked a block to Antenna America. I got sad. Dan and I don't come out to Yokohama much, but we love this little bar. I realized this was likely my last trip to Antenna.
We arrived and as usual recognized friends right away. Tsuruyo and Dan had matching shirts!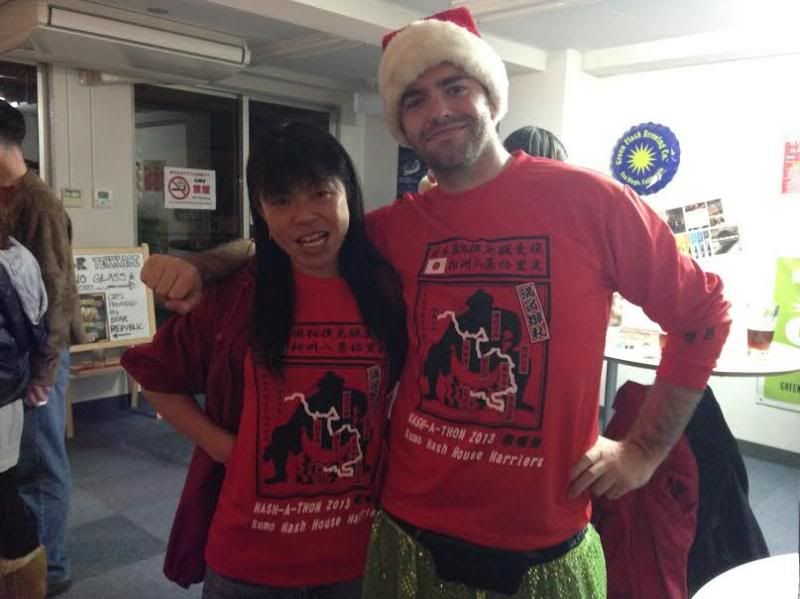 It was a night of fun and laughs. Dan with Steven and Mark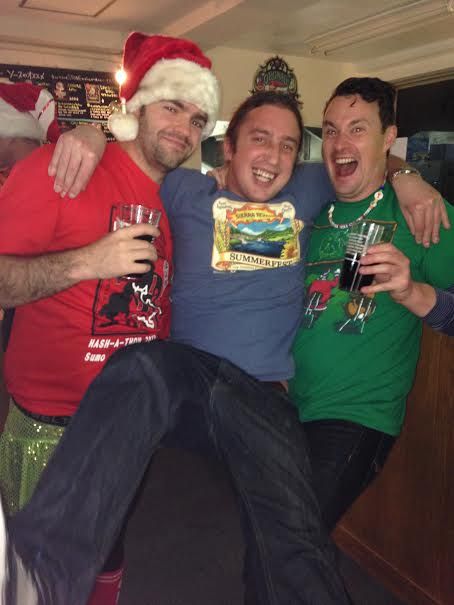 I couldn't drink much because I had to run a 20 miler the next day, so I was one of the first to head out. I said bye to Clayton, my favorite bartender who has attended a couple hashes in Tokyo. He has always taken such good care of us hashers, and I try to send as much business his way as possible!
One of the bartenders, Clayton in the middle and I

Check out their Facebook page: Antenna America, and if you like what you see, give them a "like"!
Sunday- Goofy 20 mile training run
I had a long train ride home and a good night's sleep, then it was up and out the door for my 20 miler! I tried to think of every and any reason I could to avoid today's run, but my next week is jam-packed with holiday festivities, hashes, moving and final visits with friends. It had to be today. I still dilly dallied a bit, but I desperately want to avoid a repeat of last year's Goofy experience, so I got moving.
I made 3 eggs and downed a glass of Nuun, then got changed.Body glide. Gu. Spibelt. Podcasts. Headphones. Cell phone case for running. running socks. On with the show!
With a belly full of eggs I was great for the first 8-9 miles. I ran a 4.8 mile loop 4 times, and got creative on the third lap to eat up some time so when I finished the 4th I could just be done. Around the 10 mile mark, aka half way, I started really losing steam. My legs felt really heavy and my feet hurt. Besides running the hash yesterday, Antenna has no seating, so I was standing around all night, in the bar and on the train home. Luckily I had Gu on me which seem to instantly perk me up. That plus finding a water fountain in my local park a few weeks ago really boosted my energy to help me push through. I wanted to simulate race day and get a good idea of my pace when there's no pause button, so unlike most my runs if I need to stop I didn't pause. I walked when I ate Gu, stopped to drink and stretch a few times, and used the restroom in the park. I ended up running an hour after the sun set, so Dan came out and brought me an extra shirt and we chatted for a few minutes. It felt like sooooo longggggg. But I finished! My last 20 mile training run!
Woohoo!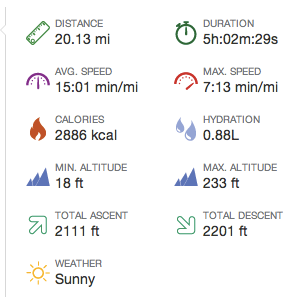 My laps. Also, I couldn't just run 20 miles… I ran 20.13 to commemorate my last 2013 distance run!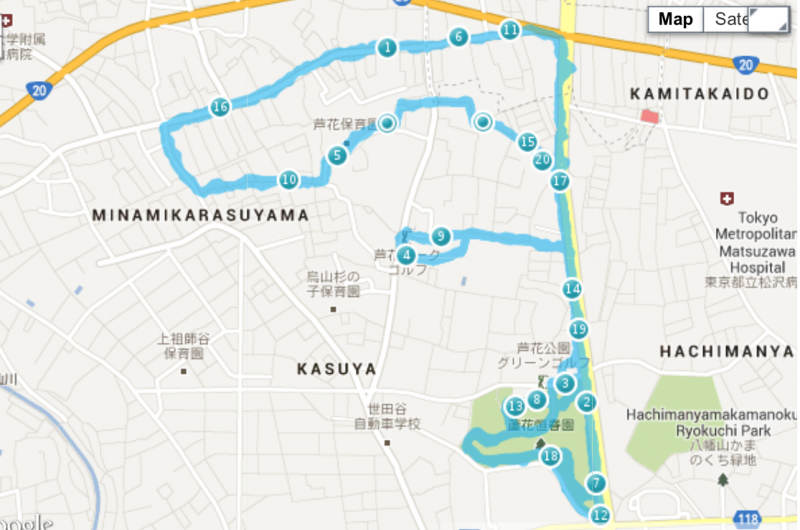 It felt soooo good to be done! I wanted to quit A LOT today, but kept telling myself that if I could get through today, I could definitely handle Goofy in January. And I'm so glad I stuck it out!
Me: postrun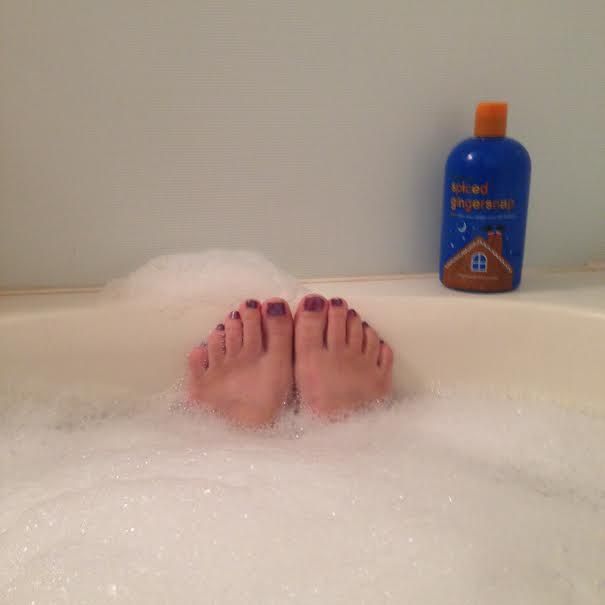 I've done all I can. All my distance runs and back to back runs. Time to trust my training. I'll be tapering my distance down for the next 3 weeks, then it's showtime at Disney World! I'm ready!