This is part II of II of my Walt Disney World Marathon weekend recap. Read part I here!
Disclaimer- This is a recap of my race experience. I don't recommend/encourage running a race while sick.
I didn't need my alarm the morning of the marathon. I was up a lot of the night, sometimes coughing, sometimes worrying. Under the sheets of my bed I texted my friend Thomas back home to ask for his advice on if I should run or not. He said I should go for it. Dan said I should go for it. When I polled my Facebook friends it was a mix of "go for it!" or "try again next year".
What if I got swept yet again? Two years in a row! I couldn't imagine. Then again, that finish line had become so elusive I couldn't imagine crossing it either. I seriously felt stuck. All night. Finally, around 2:20am, I decided I was in. I was going to run this thing, give it all I got, and know that I did my best. I had 7 hours to complete the marathon if I ran 16 minute miles, plus an additional 10-20 minutes since timing doesn't begin til the last runner of the last corral crosses the start line. I will not get swept.
My strategy was to push myself the first half, so I could take it easy with peace of mind the second half. 16 minutes per mile. I imagined a piggy bank in my mind full of minutes. I already had about 20 as a cushion just from starting in corral L (corrals went to P). There were 2 dreaded stretches, 2.5 miles each, with no entertainment (besides some characters) and no shade- Bear Island Road after Magic Kingdom and Osceola Parkway after Animal Kingdom. I'd have to power through them.
At 3am we got ready. The weather was supposed to be about 15 degrees cooler. Once we were ready to go, we made our way to the lobby and out to the race buses where they dropped us off at the finish again.I knew Dan was nervous for me. I was nervous for me! I felt even worse than the day before. After a while, we walked to the start with the rest of the runners and hugged goodbye. But first we got our photo taken!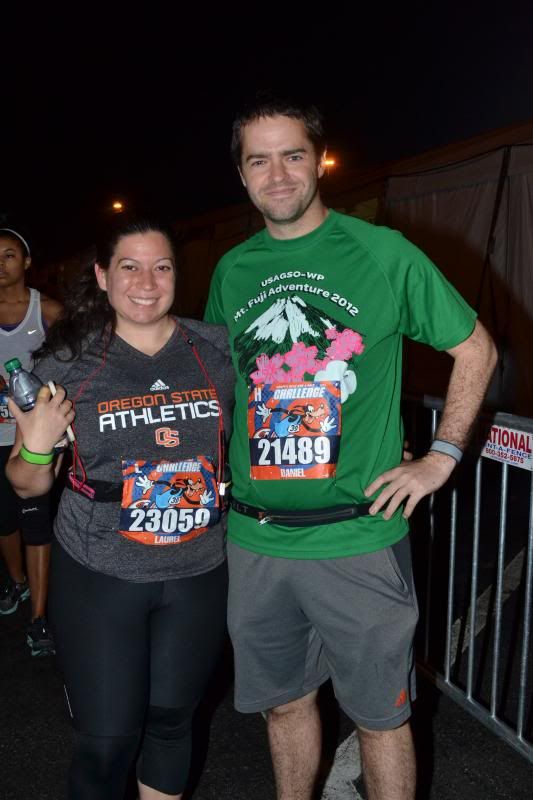 The first corral was off, and every 5 minutes or so another corral took off. Being in corral L again, I was leaving about 45 minutes after the first corral. Then, I saw my friend Holly! Finally! We got to chat for at least 10-15 minutes, about the race and how I was feeling and whatever else. I'm so glad we talked because otherwise I would have just dwelled on the race looming ahead. My corral was slowly starting to scoot up, so I said bye and we went to separate corrals.
Once in my corral, I weaved to the front. I'd never been so far forward before! There was a person or two in front of me, then the volunteer marshals who lead us to the start line with a rope to keep us from jumping ahead a corral. I took my Dayquil and tried to get my head in the game.
Corral K was off, which meant we were next. I was next. I ran through my mantras. I am great and powerful. What happened last year doesn't matter this year. Laurel never gives up, because Laurel always finds a way (a la Jessie the cowgirl in Toy Story of Terror). All I could do was stare at the giant marathon sign we were about to run under.

They did a count down from 3, then set off fireworks. I can't begin to tell you how long it felt from the time they said 1, to the boom of fireworks. In reality, it was probably about 2 seconds. But it felt like forever, my knees shaky and my heartbeat in my ears. The fireworks finally erupted and I was off.
Miles 1-5: EPCOT parking lot and Magic Kingdom
I got my GPS and music on and fell into a groove much quicker than the day before. I finished the first mile in 13 minutes, which was better than I'd hoped. Dropped 3 minutes into my time piggy bank. Got on World Drive and hit mile 2 also in 13 minutes. Another 3 minutes for my time bank. I passed through the transit and ticketing center and looked for Matt, our cheer leader, but no sign of him today. I checked my phone and saw a text saying he was in Magic Kingdom.
The first 5 or so miles are the same for the full as the half the day before. I was more than anxious to get on some new ground. Go where I didn't make it the year before. But first, Magic Kingdom! I crossed into the park by Tony's Restaurant on Main Street, and apparently that was where Matt was and I missed him. D'oh!
Obligatory castle photo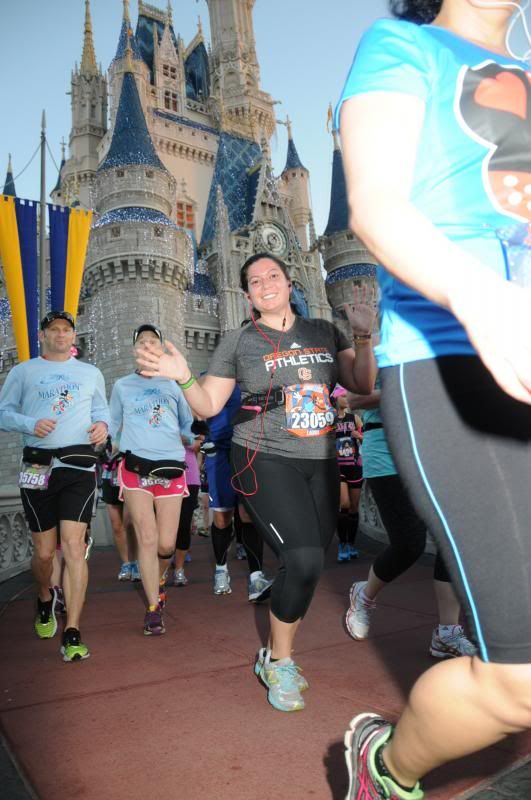 Miles 6-9: Grand Floridian, Polynesian Resort, golf courses no one cares about and the Disney Speedway
10k mark. I wasn't ready for water yet, but had to stop at the last table on the left… my friend Deb was volunteering! Her hug gave me a boost and I took off for some dreaded stretches of road.
Thanks for volunteering Deb!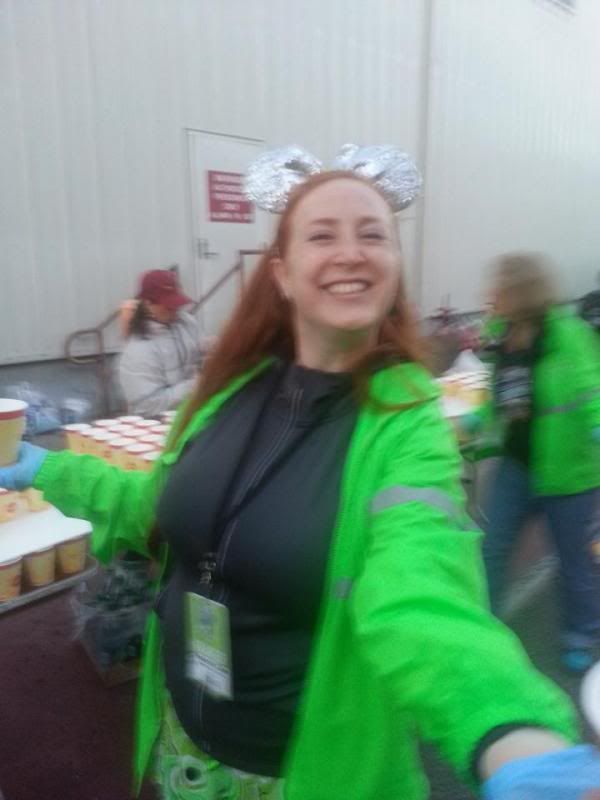 Photo by Dan Moffitt
I ran past Disney World's 2 fancy shmancy resorts, Grand Floridian and Polynesian on my left, and their golf courses (who comes to WDW to golf?!) on my right. With every mile I was banking 2-3 minutes consistently, and feeling confident. At mile 8 we were approaching the speedway, also known as Disney's race track where several cars have been wrecked in collisions and now the track is closed for racing and I'm pretty sure it's only used for the marathon now. I hate that track. It feels like you're going nowhere. But around I went, walking for a minute or so to have a Gu since I knew a water station was coming up. Hit mile 9 as I was leaving the speedway. Saw a sweeper bus parked for later use, and my butt cheeks clenched just a little bit at the thought.
Miles 10-13.1: Bear Island Road, behind the scenes and Animal Kingdom (and halfway!)
Dreaded stretch 1 of 2- Bear Island Road.
I hit up the first aid tent for a tissue. Knowing there's no shade on Bear Island Road I had a water and Gatorade at the water stop. I walked for about 2 minutes to be sure it was all digested, then off I went.
This is the first race in my life where I was able to completely tune everything out around me and just focus on my running, breathing and music. It was awesome. Like, really freaking sweet. I felt very in tune with my body and got lost in my music. On and on Bear Island Road went, past the water treatment facilities and other strange, industrial looking buildings bearing the Mickey head logo.
I felt a moment of empowerment as I rounded a corner approaching the backstage area of Animal Kingdom. Last year, that's where I saw the 7 hour pace group. I tried to keep up with them but I could only walk at that point and fell behind as they trooped on. This year I jogged around that corner and hit mile 12. Considering how sick I was, I felt pretty good.
The behind the scenes area had animal trainers holding birds you could pose for a picture with. We entered Animal Kingdom and ran towards Expedition Everest. It was operating and runners were going on, but I didn't feel like riding a roller coaster.
Me in Animal Kingdom. Hanging in there!

We ran through Dino Land USA and exited over there as well. There was a water stop and boom! 13.1! Halfway done with this beast! I believe I hit the halfway point at about 3 hours and 2 minutes. I was pleased. I knew I couldn't maintain that pace the rest of the marathon but I didn't care. I felt confident I'd finish now. That was all I needed.
Miles 14-17: Osceola Parkway and turning onto Victory Way
Once again, my heart felt a pang as I rounded another corner. I was leaving the backstage area and approaching the Animal Kingdom parking lot. This is where I got picked up by the sweeper bus the previous year. I was so upset. I was so sad. But that was last year and today I ran through that parking lot like a beast! Alright, settle down. It was a mild jog.
After crossing the Animal Kingdom parking lot we made a left on a short banked road and were face to face with the longest stretch of asphalt ever.
Dreaded stretch 2 of 2- Osceola Parkway
I walked through another water stop, then kept moving one foot in front of the other. My mind couldn't focus as well as on Bear Island Road. It was definitely getting warmer and more humid out. I took a decent walking break, maybe 4 minutes or so. People were out cheering and handing out candy and other goodies. One lady had paper cups with the tiniest sip of Coke in them. I took one and it was the most delicious soda I'd ever drank.
On, on, on. There was only one up and down, but that tiny hill felt huge 15 miles in. At mile 16 I saw a bunch of cheaters run across the median. We were supposed to make a right after Osceola, run 4-5 miles in Disney's Wide World of Sports Complex, then head back up Osceola for a bit. So those runners completely cut out at least 5 miles. It was a little annoying, but oh well. There's always cheaters in life.
At long last, at 16.5 miles, I saw the end! We were approaching the ESPN Wide World of Sports!
Miles 17-20: Disney's ESPN Wide World of Sports (WWoS)
We were running right next to people exiting WWoS, so I started scanning crowds for familiar faces. With no luck I gave up. Then, over my music I hear someone yell my name. DAN!!!!! Oh I was so happy I ran over and hugged him. I told him I was ok and not to worry because I was going to finish. We kissed and went our separate ways. I was floating. And not long after him I saw a runner friend of mine named Justin, and we waved.
Let me tell you something about WWoS. When you think it's going to end, it's not. We ran around a field. Around a track. Around a marsh. Around another field. And on and on. I was walking a lot at this point. The miles crawled by. To give you an idea, here is a picture of the complex thanks to www.allears.net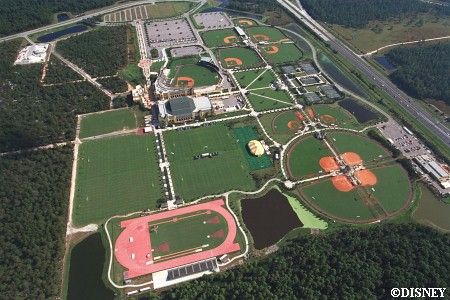 I had to get a picture of the Mile 19 marker, it was Goofy!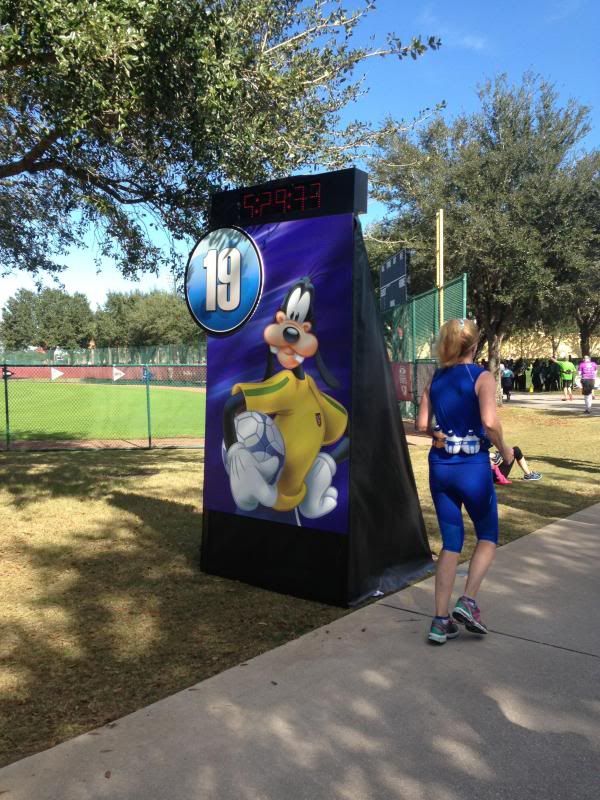 One of the last things we did at WWoS was run around a baseball diamond. I told myself if I run the whole thing, I can walk as much as I want after.
Wide World of Sports!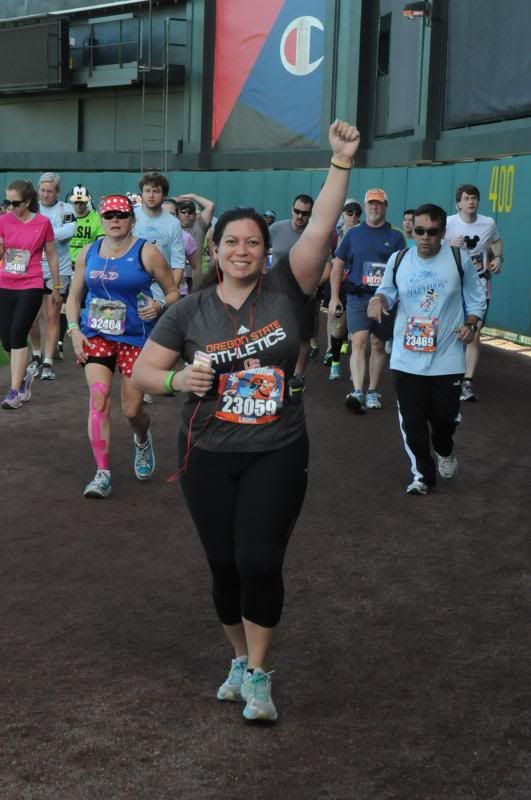 Once we were out of WWoS, we had to run nearly a mile back down Victory Way to get back on Osceola. At the intersection of Victory and Osceola, there was a giant screen set up playing Mickey cartoons. Cute!
Miles 21-22- Osceola and World Drive
I was mostly walking at this point. We went maybe half a mile down Osceola Parkway, then made a right onto an onramp to get on World Drive. It was a little steep, but a toy soldier from Toy Story was yelling at us to get to the top. He had no line for pictures so I went to get my photo taken with him. I handed the cast member my camera and the soldier says, "drop and give me 10!" I laughed, but he didn't look thrilled, so I did it! Pushups in the middle of a marathon!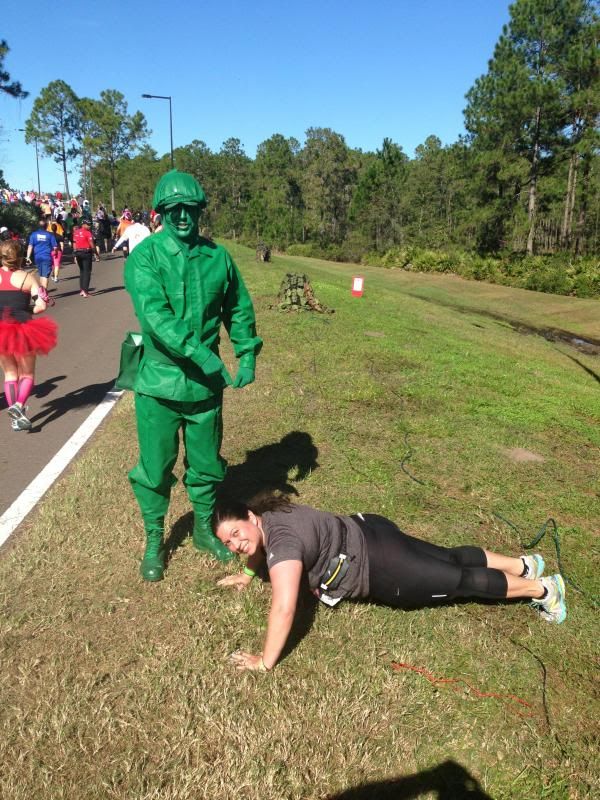 Once I got onto World Drive, I walked most of it. It wasn't very eventful. We made a right onto Buena Vista Street and made our way towards Hollywood Studios. I couldn't believe I still had 2 theme parks ahead of me!
Miles 23-25.5: Hollywood Studios, Beach Club, Yacht Club and Boardwalk
We entered Hollywood Studios via a backstage entrance and walked through the backlot tour. After that we ran towards the giant sorcerer's hat and down the main street towards the front of the park. Here I saw my friend Mel again! That was another good boost. He was there cheering people on. We exited the park near the main entrance and were on a trail along the lake that would eventually lead us to EPCOT. This was it. On my way to EPCOT!
I was completely walking at this point. We walked past the three EPCOT resorts. Many guests were sitting outside cheering and watching. Eventually we crossed into the backstage area of EPCOT, by the World Showcase.
Miles 25.5-26.1: EPCOT World Showcase and approaching the finish!
Running the World Showcase is no joke. It's never ending. Did they add more countries to this thing? We entered by Canada and made our way all the way to Mexico. I started running again just knowing how close I was to the finish.
See that look in my eyes? Dead. I was dead inside. I was a robot just putting one foot in front of the other.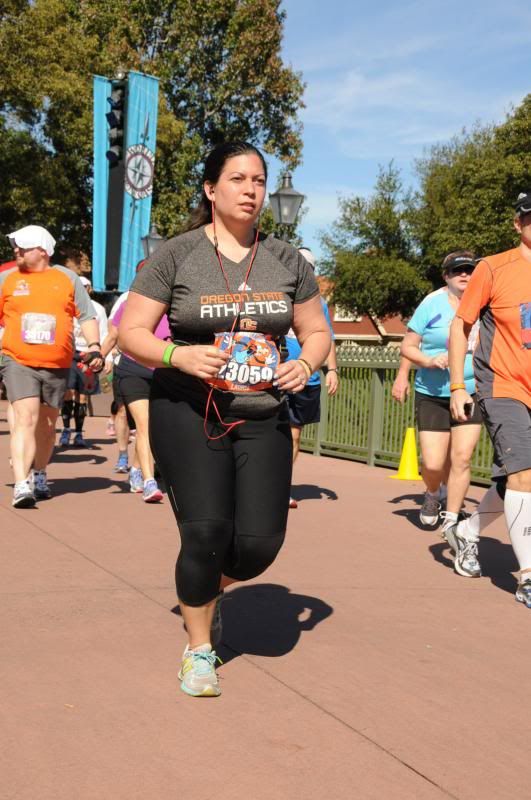 Once out of the World Showcase, I started getting ticked off at how much further I had to go. People kept yelling, "you're almost there!" and I wanted to punch them in the face. We ran past "The Ball", aka Spaceship Earth, and into a backstage area. I could hear it.. the gospel choir at mile 26… and only then did I soften. I relished. I was going to do it. After failing a year earlier, this was the moment. My moment. The one I trained for. It was here. I dreamt of this moment training run after training run. And now it was my time. All the pain temporarily left my legs and with slightly watery eyes, I pushed forward to cross the finish and earn my Goofy medal.
Miles 26.2- I, Laurel, am a marathoner
I turned the corner for the last tenth of a mile. The finish line was stretched before me. Dan was jumping up and down from the bleachers he snuck into. I waved frantically at him. My heart was beating out of my chest. The adrenaline fueled me to even confront one of my biggest fears- costumed characters. I couldn't look at Goofy, but I did high five him!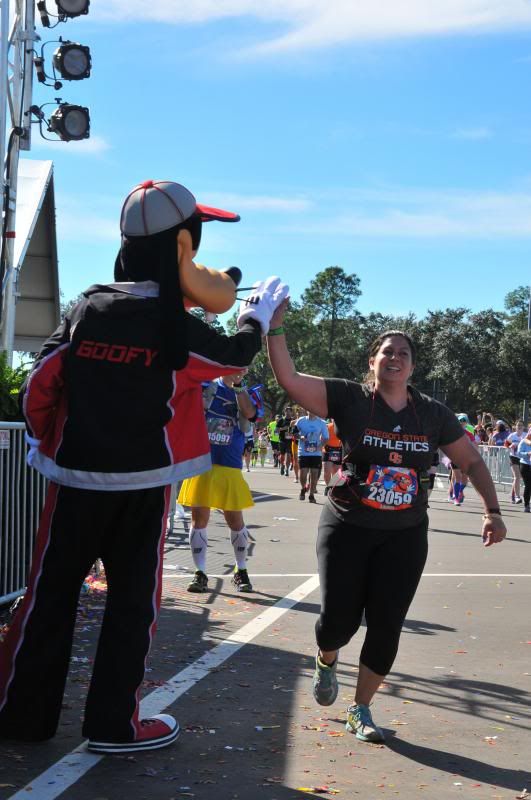 I crossed the finish line and after nearly 2 years of dreaming and planning and a failed attempt, I became a marathoner.
Normally I pose for my finish line photos, but in the moment I completely forgot. I'm thrilled that the cameras captured exactly how I felt.
What's that feeling?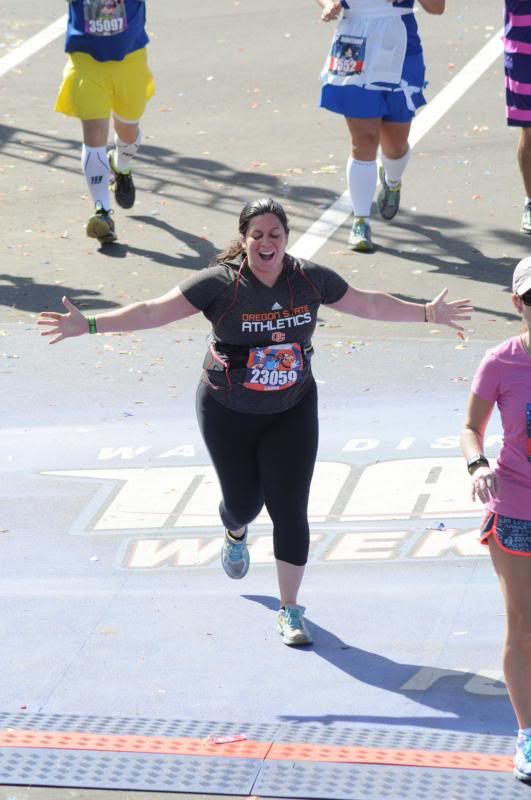 How good does it feel?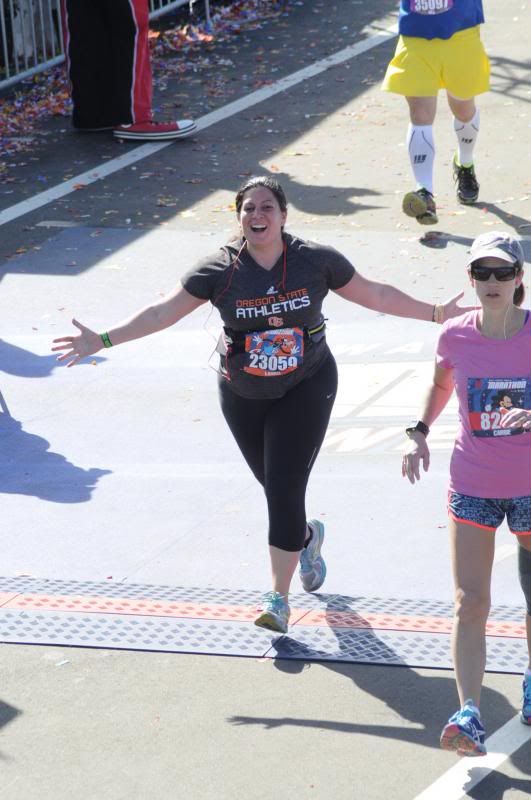 All those training runs in the park? Finding perfect shoes? Fueling solutions? Tears after getting swept last year? Race fees and travel costs? Pain? Worth it. WORTH IT.

I'm a marathoner.
The Walt Disney World Marathon 2014 by my GPS

I collected my medal and did my best not to cry. Got my Gatorade and water. Did some cheesin'.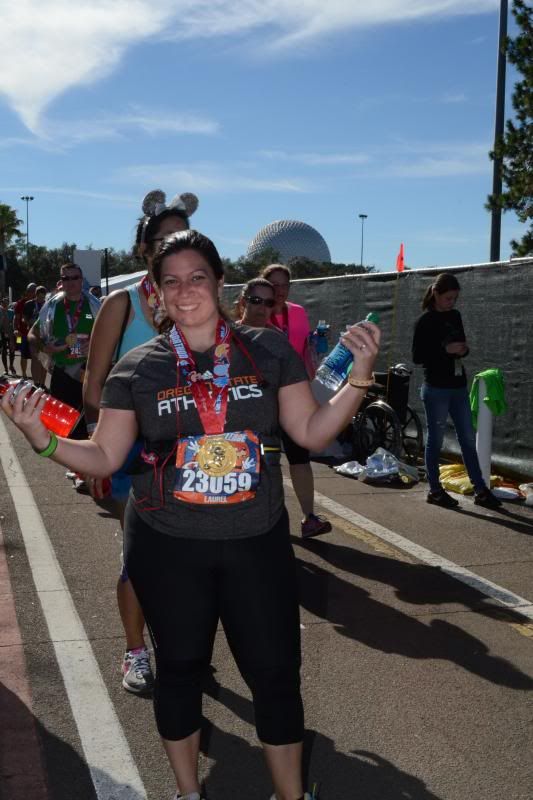 At long last, I approached the long tables where I'd get my Goofy medal. I wasn't really crying, but I was teary. The lady who gave me my medal congratulated me, saw I was a little teary, and gave me a huge hug, telling me how good I did. That didn't help my tears! I thanked her and kept going. As happy as I was, I was beginning to remember my aches, pains and sickness.
After Goofy Challenge
Dan and I had a meeting spot picked out so I headed there. Less than a minute later he showed up. We hugged and hugged. I was so proud of us and I know he was too. I couldn't have done it without him, and all his support and love. I also couldn't have done it without our friends Matt and Holly. Knowing Holly was on course with me somewhere was nice, and Matt cheering for us and sending fun texts definitely helped keep me going. We were agreed that nothing sounded better than heading back to our hotel, but first, even though I wasn't in the mood, I knew I had to commemorate the moment with a photo.
We are Goofy Challenge finishers!

We had to wait about 5 minutes for the bus, then hopped on. It felt so good to sit and drink my water. I had a bunch of Facebook messages and texts asking what I decided to do, if I finished. I proudly sent out this photo!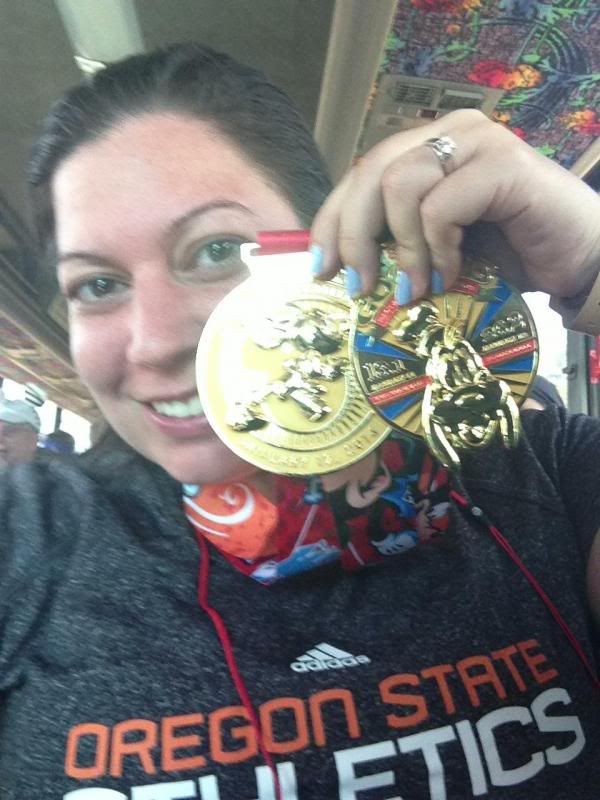 When we got back to Animal Kingdom Lodge, it was so hard to get up and off the bus. Dan took so long, the bus door closed on him! We hobbled back to the room, proudly clink-clinking as our medals bounced with our steps. And man, I was proud. I felt like absolute crap, but I still felt so good. All the worry, all the wondering, it was just completely gone now. Nothing left but good feeling! Well, mentally/ emotionally. Physically, My legs were locking up, my feet were sore and I felt very congested.
We relaxed the rest of the day. I soaked in the victory every second. The question I've been asked most: "Would you do it again? Will I see you at Goofy Challenge 2015?" YES. You absolutely will.