First off, thank you for all the sweet comments and emails about my marathon! It was a big accomplishment to me and I can't wait to work harder and improve throughout 2014. I signed up for the Space Coast Marathon November 30th. I might do one before then but if not, it will be my first stand-alone marathon (aka, not running a half marathon the day before!).
My Valentine's Day was a little lacking (because Dan's still in Japan!) but I'm having a really great weekend anyway! I went to have dinner at Pro Club (the fancy shmancy Microsoft health club with a classy little restaurant where roomie works) where Kelsey served up an awesome meal and cocktails and even snuck me some dessert. I got chocolates and roses too! She really is the bestest. I saw a bunch of familiar faces from when I had a Pro Club membership also, so it was nice seeing old friends. Much better than going straight home after work!
Saturday (today) I woke up and had a mystery Valentine's goodie bag on the porch! I was stumped as to who it was from but then learned it was Kelsey's mom. So sweet!! Later I made Valentine cookies for friends. I finally got to use my new Kitchen Aid mixer I got for my birthday last summer. I don't know how I lived without this beauty!!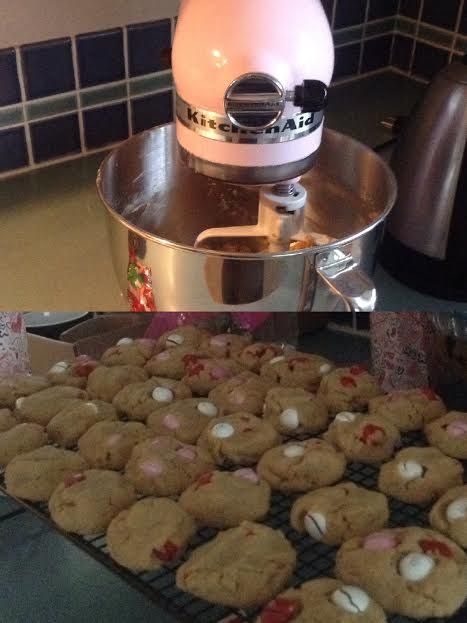 It poured all day so no distance run for me before my half next weekend. It was a general lazy day of cleaning, laundry and organizing. Tomorrow I'm going to a hasher's house for a crafting party! I'm excited about that, and I can unload some of my Valentine's cookies.
Probably the best gift of all though, was that I found my heart necklace. In 2010, when Dan and I had our first Valentine's Day together, he surprised me with a beautiful necklace. We had company in town that weekend so I wasn't expecting us to do anything romantic or special. It was a beautiful 1/6 carat diamond in white gold.
Dan and I on Valentine's Day 2010. Wearing my new necklace!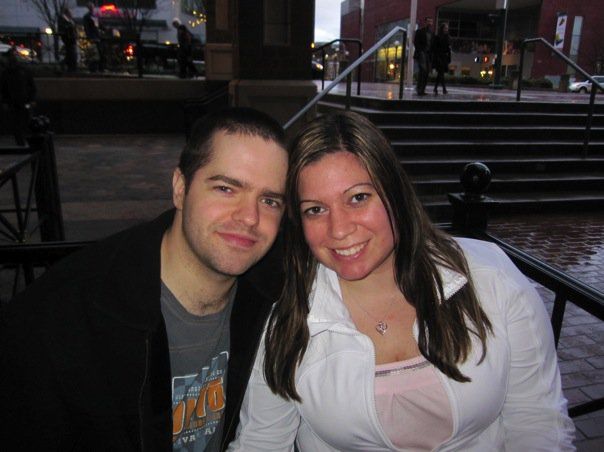 I wore it all the time. Then in January 2013 in Portland OR, I went out for a run with my girl friend Amanda and the clasp broke. Luckily I caught it and tucked it away in my pocket. Once back at my car I put it in a pouch in my purse and brought it back to Japan.
At some point, it went missing. I turned the house upside down multiple times looking for my heart. I felt naked without it! This went on all throughout 2013. When I moved out of the Japan apartment last month, a part of me felt like it was hopeless. I made peace with the fact that as beautiful and expensive as it was, it was still an object and not the only way I can see Dan's love; losing it isn't the end of the world. I've been in Seattle nearly 3 weeks now and I'm still sorting through boxes and trying to make everything fit in my closet. I got a fresh delivery of boxes last week and started unpacking clothes, shoes, handbags and other random things. I still subconsciously check little pouches and pockets looking for that necklace, and you wouldn't believe my shock when my fingers closed around that little heart!! And the day before Valentine's Day!
So this year for Valentine's Day, I got Dan's heart back and wore it proudly. I'm beyond happy. That's my little tale! Hope everyone had a great Valentine's Day!