I woke up for the half feeling more excited than I did the 10k. I sprung out of bed at 3am for the third day in a row. Usual morning routine.
I was running the half in my home made Cinderella costume. Kelsey helped me sew and stuff the shoulder poufs!

I got on the shuttle and headed to EPCOT. All of this really confirms that I have no interest in EVER running the Dopey Challenge (a 5k Thursday, a 10k Friday, a half marathon Saturday and a full marathon Sunday). The 3am wake-ups really start to get to you! I met the Teamrundisney meetup again and we took a group picture. Then I hung out with my friend Katherine, whom I'll be rooming with for the Avengers Half Marathon in November. She took off, and I finally got to hang out with my friends Matt and Holly!! If you recall they were at marathon weekend but I barely got to see them. I spent a decent amount of time with Holly the following weekend at the Tinkerbell half, but I was so sick I didn't enjoy anything about that weekend. So we all just chatted for almost an hour which was really nice.
Holly and I!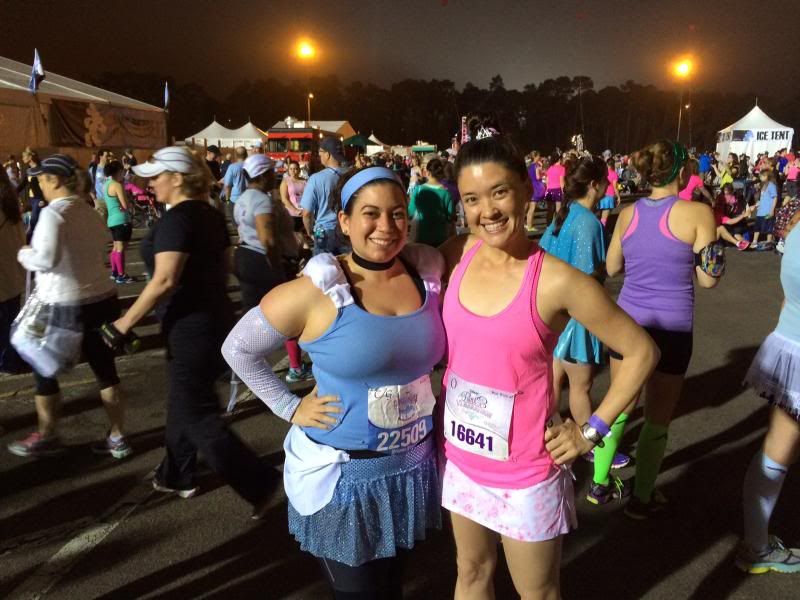 We eventually made the hike out to the corrals. We parted ways as we went to our different corrals. Things got moving pretty quick and before I knew it we were on the course!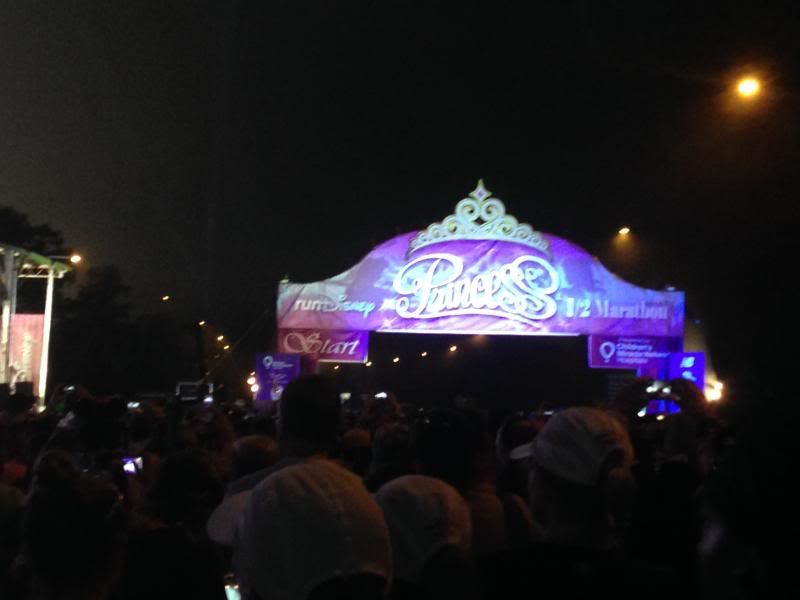 I think my biggest issue with this race was my overconfidence. I half marathon trained but I didn't challenge train, for the back to back 10k and half. Why? I just finished the Goofy challenge! If I can run a back to back half and full marathon, a 10k and half is a walk in the park, right? Eh, not really. Especially when you take 3 weeks off of running in between. I powered through the first 5 miles and then just kind of petered out. I started out way too strong. It's a pretty rookie mistake. Needless to say my tank was empty and my feet were sore from not only 2 days of racing but also hitting the parks. I was disappointed in myself but just kept pushing. I stopped for lots of photos to distract myself. It wasn't my greatest effort, but I definitely learned from the experience.
Finally reached EPCOT! Almost done!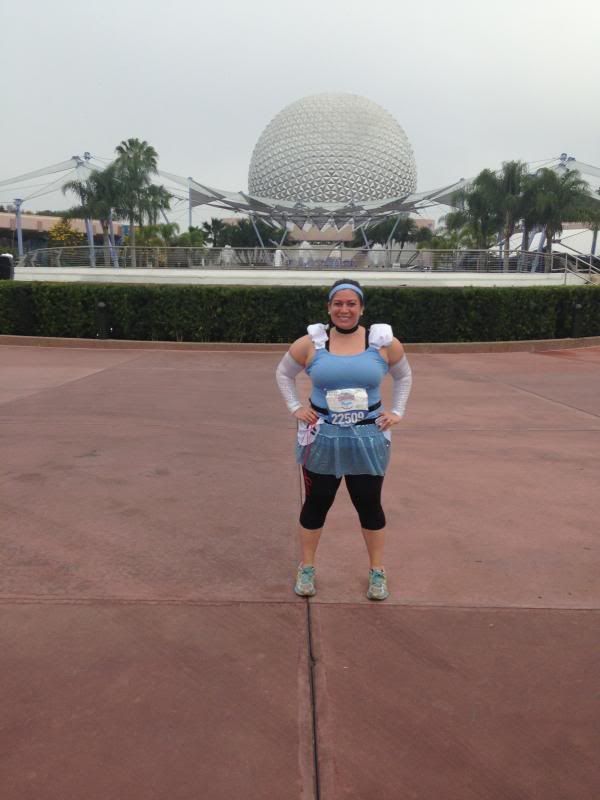 I didn't feel amazing about my finish. More like, I completed the challenge and received my medals, instead of, "I dominated that course, I earned this!!" Oh well. I sat and stretched and waited for Dee and Rachel to finish. I saw my friend Pam but she was too far away to yell to. I was also hoping to catch my friend Ashley, whom I've chatted with at large online but never met in person. And as luck would have it, Ashley, Dee and Rachel all walked out of the finishers' chute together! Quick introductions were made and of course we took photos!
Ashley and I! She did fantastic at this race, even rocking her giant ankle brace!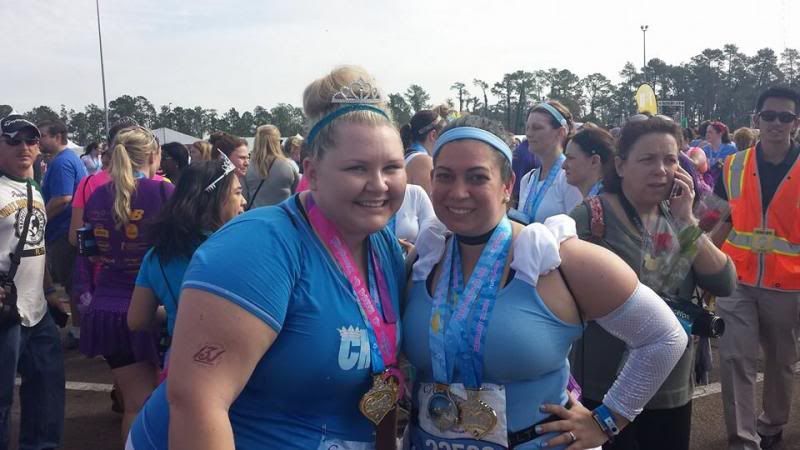 Dee, me and Rachel. They also earned their pink coast to coast medals. Proud of them!!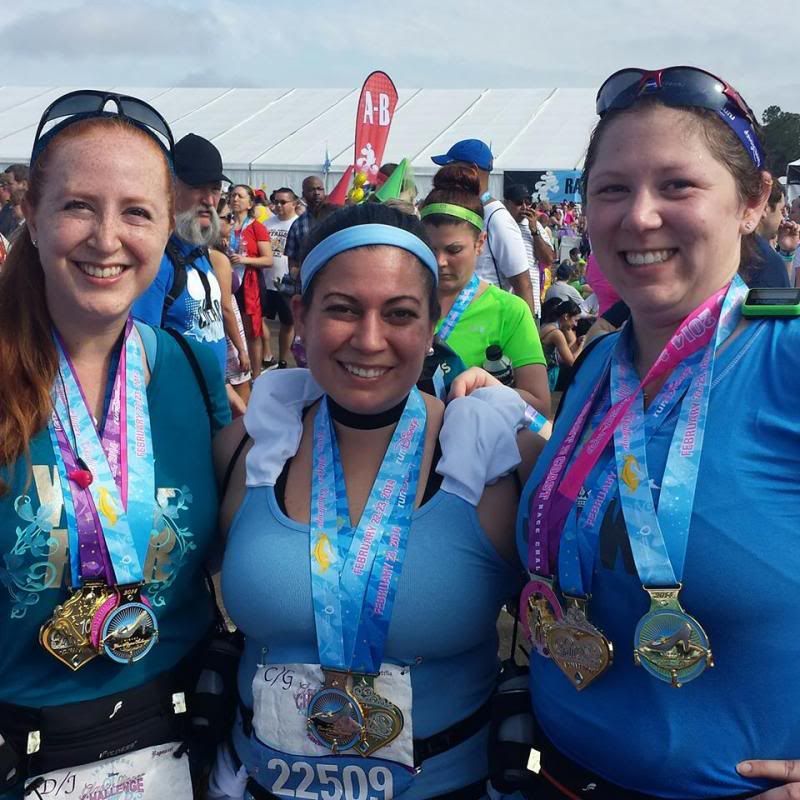 We went our separate ways to get cleaned up for the day. This was where a weekend of running really hit me. I was ready to crash. So I did. I napped. It was glorious. When I awoke the girls were already at the parks! I forgot they were checking out of their hotel today. So I flew out the door and as luck would have it, my bus was on the fritz. So I waited for them the fix its handicap ramp then was on my way to Hollywood Studios!
It was such a wonderful leisurely day. I met up with them when they got off Star Tours. Rode Tower of Terror. We communally bought a hoard of sweet treats and shared. It was all yummy, but I was most impressed by the carrot cake cookie.
It. Was. Amazing.

We walked the shops and then drove over to Animal Kingdom Lodge for our dinner reservation at Jiko! I was really excited. I'd been before in 2011 with Dan, Kelsey and Jim, and it was fantastic. We had a seat and ordered drinks. I knew Dee would love it because they had a vegetarian menu also.
And then something awesome happened- Pam stopped by! She was staying at the Animal Kingdom Lodge and popped in to say hi. I hadn't seen her all weekend so we finally caught up on each others' weekends.

She sadly had to catch a cab to the airport, so we had dinner. But not long after dinner, our friend Jindy stopped by! It was hilarious and probably really confusing to the waiter. We had rotating guests! We were just finishing up though, so Jindy was a dear and showed us where to get amazing cupcakes at The Mara. We indeed did that, then took a quick photo before we hit the road.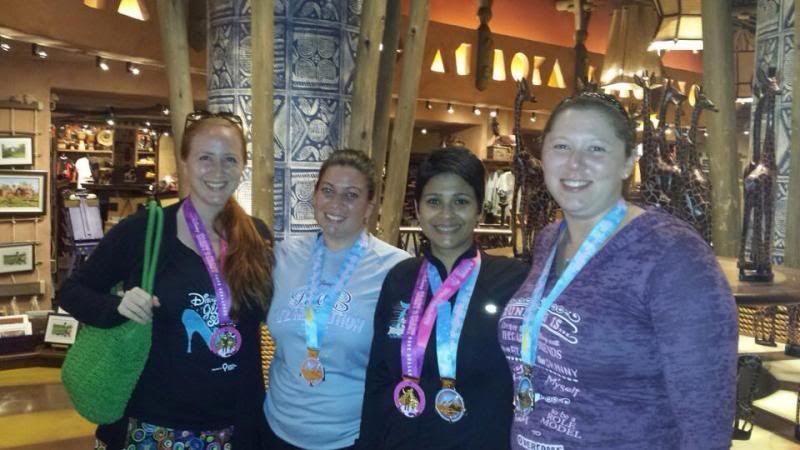 Jindy went to her room and Rachel and Dee drove me back to my hotel. We said bye and it was sad. I went from planning on spending the weekend on my own to having an amazing time, thanks to these ladies. I knew I'd see them at another Disney race in the future! Goodbyes were said and they were back on the road to Miami. I went to my room, devoured my cupcake and went to bed. The good life 😉
Monday was my last full day in Orlando. I didn't really have any plans. I reached out to my friend Jillian and she said she was hitting up EPCOT later with her friends Brooke and Morgan and I was welcome to join. I wasn't sure what to do earlier in the day, so I grabbed my SLR camera and headed to Magic Kingdom. It was my first time venturing into a Disney park alone, and it wasn't bad at all! I rode rides, took pictures and ate atrocious junk food. Frankly, it was awesome.
Eventually I made my way to EPCOT, and the girls were still on Soarin, so I jumped on Spaceship Earth. Met up with them after and they suggested happy hour sushi at Benihana. Oh I knew I was with the right people! We stuffed ourselves and then went back to EPCOT to stroll around. Rode The Seas and Test Track. It was really fun to hang out with Jillian since she used to work at EPCOT and would randomly spout out old memories or facts. I loved it! We took a quick ride on Maelstrom and feasted on School Bread in the Norway Pavilion, watched IllumiNations, and headed out. We said our goodbyes and I thanked her for everything. I'd sincerely miss her til my next trip to Florida! It just amazes me that these ladies don't even know me, and still reached out and shared their weekend with me. I really hope I'm presented with an opportunity to be that generous.
I didn't get any pictures of the 4 of us, but here is me, Jillian and Morgan the day before!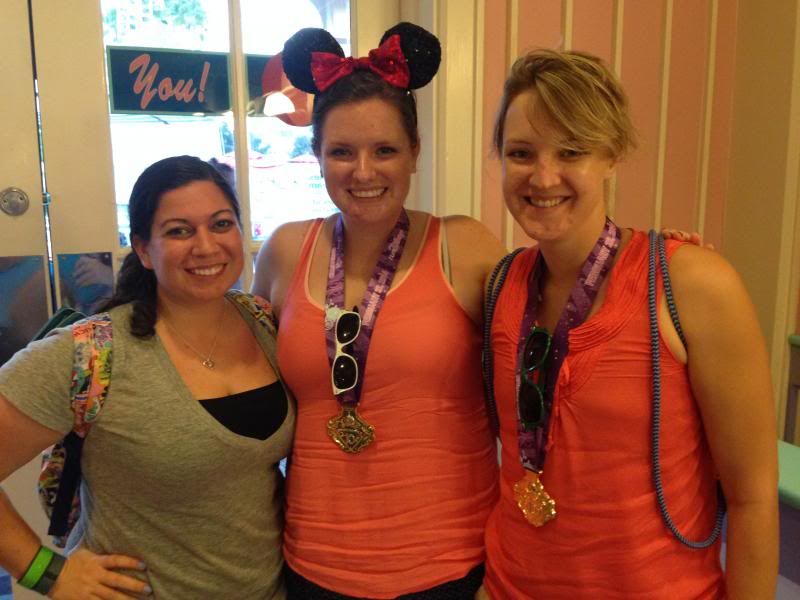 I was on such a high when she brought me back to my hotel, I didn't want to go to my room and pack. Pack, sleep, sit on a plane all day, arrive in rainy Seattle. I wasn't ready!! I impulsively ran to the bus stop and boarded a bus to Downtown Disney. I had no clue what I was doing. I got off the bus and just walked around. I walked up and down the outdoor mall twice. It was a warm night and lots of people were out. I soaked up the last little bit of vacation, before I boarded a bus back to my hotel.
I got back to the hotel around 1am. I packed and napped for 2-3 hours before catching my shuttle to the airport. This 3-part recap does not do my epic race weekend justice. It was amazing and I can't wait for the next RunDisney weekend!