To start, I said I'd talk a little more about volunteering. I'm volunteering for Purrfect Pals Cat Shelter, because they are the wonderful organization we adopted our little Penny from 🙂
Penny the day we brought her home!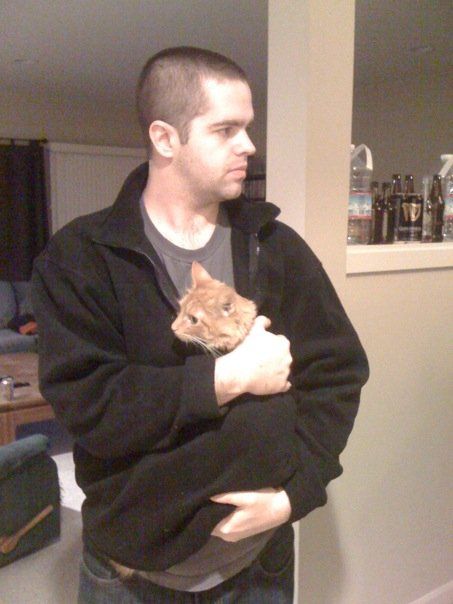 Anyways, to thank Purrfect Pals for helping make Dan, Penny and I a family, I started volunteering. Many local pet stores in the Seattle area have kennel space that they let Purrfect Pals use to get their cats more noticed and reach out to different areas. So every Monday I go to the Petsmart in Everett and play with the cats there! I clean their kennels and change out their food and water. Scoop the poops. Chat with passerby-ers on if they're interested in adopting. I love it!
From front to back this is Jake, Kaboodles and Jacksun. Jake and Jacksun sadly have been here for a few months. We have a pretty steady rotation thanks to all the wonderful people that adopt!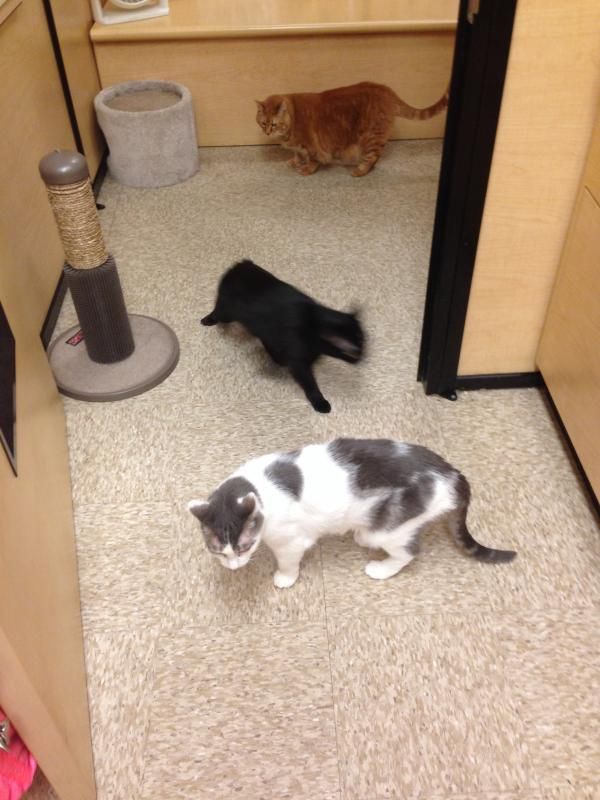 This was my favorite, Kaboodles. I wanted to adopt him so bad so Penny would have a brother, but Kelsey said no! Last week he caught a cold and was sent back to headquarters to get some medicine. I may never see him again, and I miss him! He was cuddly!

Anyway! A little bit about what I do for fun! On to running stuff 🙂
3 weeks ago (man, time flies!) Brittany came to visit me here in Seattle! We had the best time ever, but the weekend went by so fast!! She arrived Friday, and once she got settled into my place we went out for sushi, then downtown to Century-Link events center (where the Seahawks play!) to go to the race expo. Brittany had never been to a race expo before and was loving it! We got our bibs and shirts and just wandered around.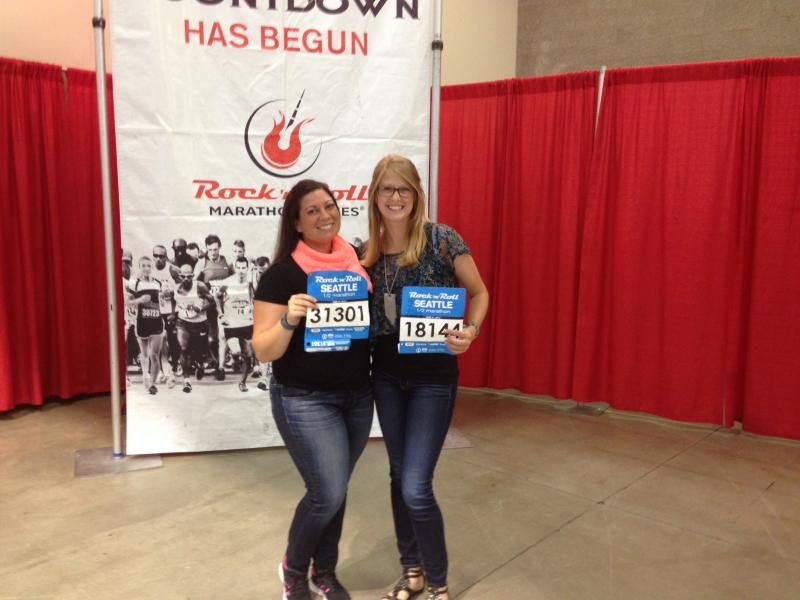 After a while we walked down to the waterfront to go to the Seattle Aquarium. Since she's a marine mammal trainer at the Oregon Coast Aquarium, she gets free entry to any aquarium! So we both got to go in and see a sea otter feeding. She chatted with the trainers about trainer things and we walked around the aquarium a bit, then moved on.
Brit at the aquarium entrance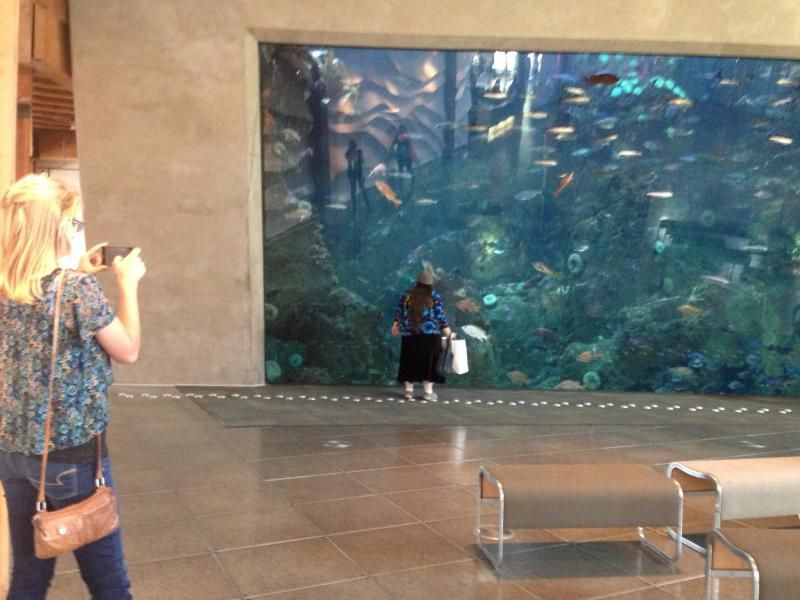 Ducked in for a quick drink at Elysian Brewery, one of my faves!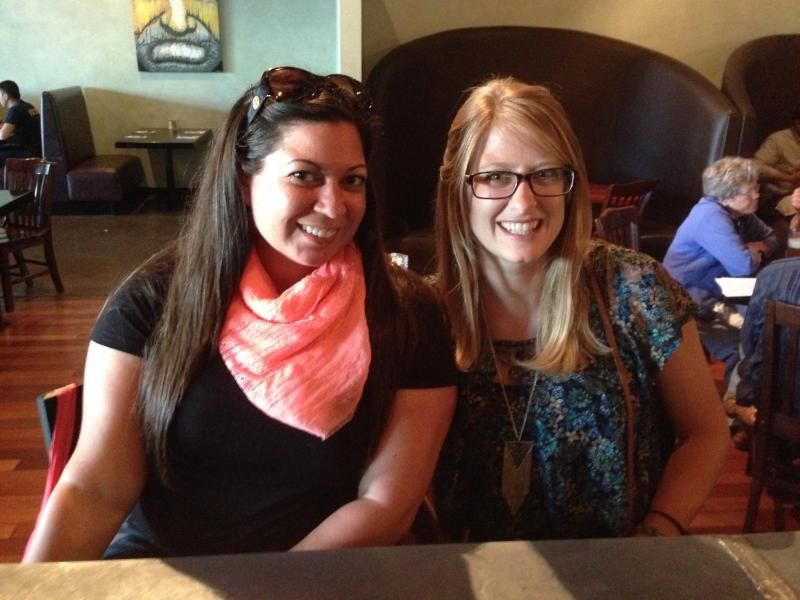 Now, it was after 7pm. We should have called it a night. We should have had some pasta at home and gone to bed. But this is Laurel and Brittany, making bad decisions since 2006. So instead we left downtown and drove out to the east side, aka Bellevue, to buy copious amounts of ribbon and tulle. That's right folks- T minus 10 hours til race start and we decide to make tutus. No, really. It's very us. We wanted to look like decked-out Seahawks fans, so we were making neon green and navy tutus, and getting Seahawks shirts.
After we bought all our craft supplies we drove over to Bellevue Square mall to go to a fan shop and get Seahawks shirts. We also picked up a pizza and breadsticks from Pagliacchi, which Brittany fed me as we drove home. We set to work making tutus, and once we found a groove finished in a couple hours. We went to bed at midnight and woke up at 4:30am.
We got up and ready. I knew parking at Seattle Center would be a nightmare so we parked at the house I nanny at in Madison Park and took an uber to the Space Needle where the race started. We waited in line for a half hour for a portapotty and Brittany dumped her stuff at bag check, then we hopped in a corral ready to go!
Miles 1-3: Space Needle, 5th Avenue to Ranier South
You think Disney has too many corrals with 10? This race had over 30! I started off feeling really good. I was still finding my groove, adjusting my music/ Brittany's headphones, dodging people, getting passed. As per every race, the first mile flew by and the second dragged on. Things were mildly inclining and declining but nothing terribly major… yet.
Miles 4-6: More of Ranier Ave South and Genessee Park
We really ran a ton of Ranier Ave. Around mile 5 I started feeling really good and was pleased with my mile times. I hate math but seem to have no problems calculating pace and potential finishing times! If hills stayed minimal and my pace was steady, a little push but no overhaul til the end, I could actually hit a PR in the mid 2:30s. Just before mile 6 there was a little hill but nothing too bad. Yet.
Miles 7-9: Lake Washington Blvd, the hill from hell, I-90 tunnel
Things got interesting here. Mile 7 was a little stressful just because I felt like I had a long way to go with the knowledge of a potential PR. But mile 7 came in great, a nice run along Lake Washington Blvd on the water. Then it was mile 8, and there was a really tough hill to get up to get to the I-90. I tried and tried, and then realized it'd be faster if I power-walked. So I did that. When I tried to run again I couldn't find my groove and was pretty frustrated. I got running again but my legs didn't feel as good as before. Darn hill! I remembered from the course map that near the end of the tunnel there was a water station, so I took the opportunity to have a Gu. Did that, had water and kept going.
Miles 10-12: Safeco Field, Century Link Field, 2nd Ave and Seattle Waterfront
I knew I'd pushed earlier because early on, downhill portions felt like a breeze, like a cheat to shave off some time. Now going downhill my legs were so used I had to be careful not to stumble. Once i emerged from the I-90 tunnel I had a beautiful view of the sports fields. Lots of people moved over to stop and take pics. Doing some math, I realized if I don't have any more hills to deal with I could PR. I ran down the ramp and onto 2nd. This is when I got ticked off. 2nd was long, and the whole way was slightly inclined. It was torture. I felt like I wasn't moving. I was losing valuable PR minutes. I was also frantically waiting to pass the Mile 11 marker which seemed to be nowhere, and then once I turned onto the waterfront was pleasantly surprised to see Mile 12! 1.1 miles to go! I was pretty beat though, and if I thought I took the incline on 2nd street slow, I really crawled up the mini hill on the waterfront.
Mile 12-13.1: Alaskan Way Viaduct and back to the Space Needle
Aaaaaand I'm out of steam. The sun had fully risen, and I was exhausted from pushing during the first half. Which I'm usually so cautious about! It wasn't as bad as the Princess half marathon though, I was able to keep running. But the viaduct had never felt longer. And once I got out I could see the Space Needle, but it was so far! While running, we were separated from the marathoners by cones, and this poor marathoner hit a pothole and completely ate it. Half marathoners jumped over and helped him up, it was so awesome to see. At this point it was about 2:50, that's an awesome marathon time! Poor guy!
Once again I'm getting irked because I just want to be done! And then I see something that sets me from irked to livid- THE FINISH LINE IS AT THE TOP OF A HILL. Why would anyone do that?! We ran up Mercer and I had zero speed. It was painful. The streets were packed with people cheering but even that didn't give me a boost. I was so dead. I made it up and crossed the finish line. No triumphant feeling, just wanted to be done. I missed PRing by about 10 minutes.
Post-race fun
I got my medal and shuffled over to get a water.

I found Brittany pretty quick, she KILLED the race at 2:01!

We collected more goodies- bagel, chocolate milk, Powerade. We went to the beer garden and used our free beer coupons.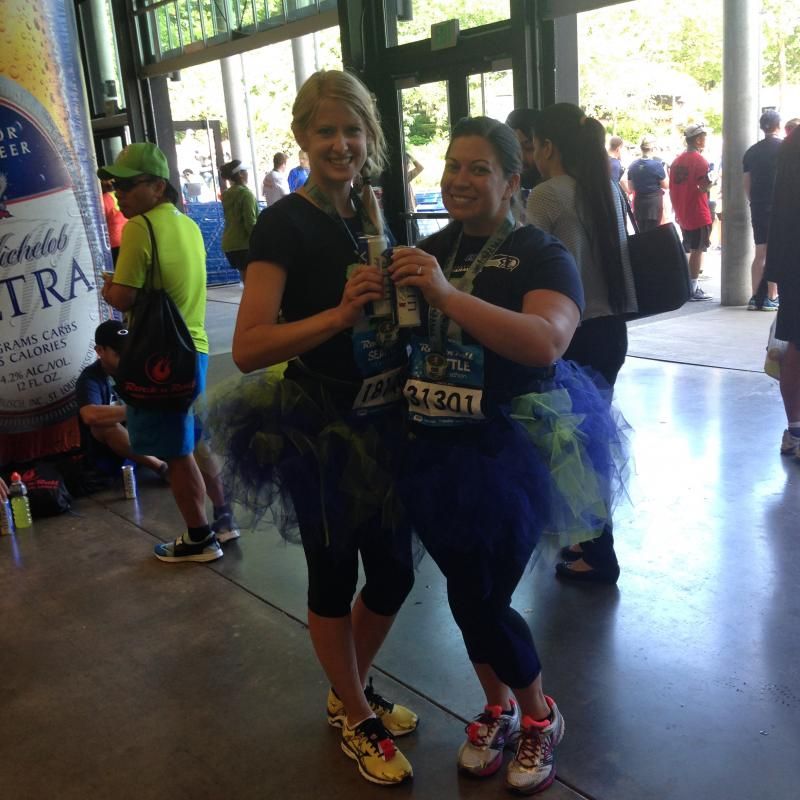 We went outside and listened to the music guests- Presidents of the United States of America and Sir Mix A Lot. The latter was pretty fun. I like this shot of Brittany enjoying the festivities with the Space Needle in the background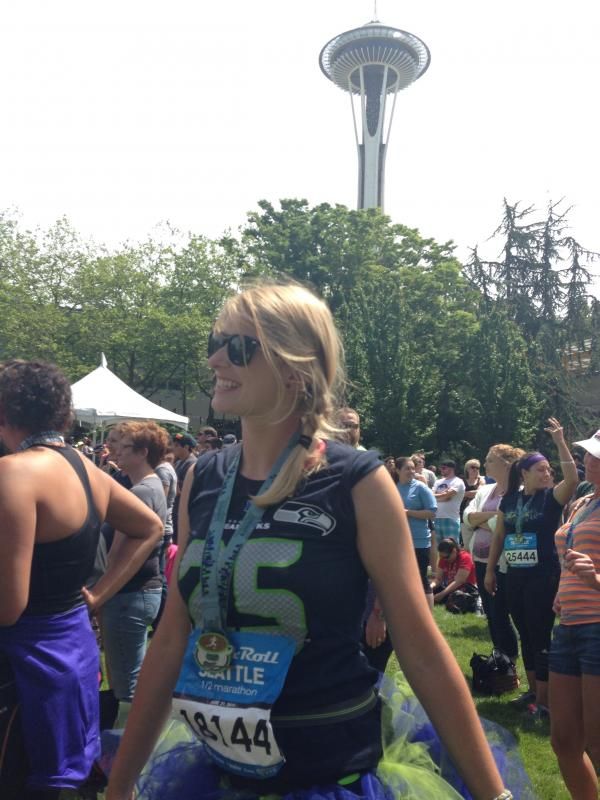 Enjoying the sunshine now that we're hydrated and stretched!

Though we were tired from 4 hours of sleep and running the half, it was Brittany's last full day in Seattle. So we walked toward Pike Market and stopped at a Mexican place to have lunch. It was delicious and as we walked everyone loved our Seahawk outfits!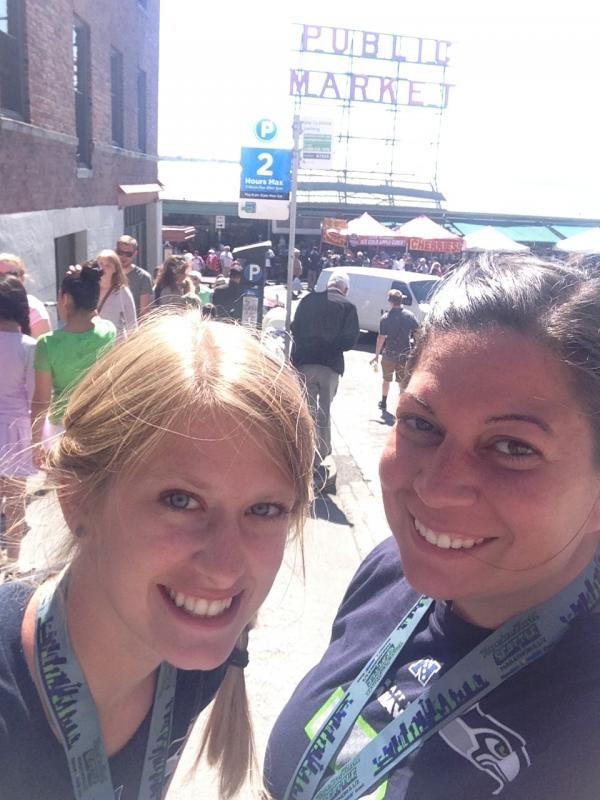 We walked through all the shops. Saw the first Starbucks. The gum wall. At one point some girls ran over in tutus and we thought they ran the race also, but they were a bachelorette party and wanted a photo with us!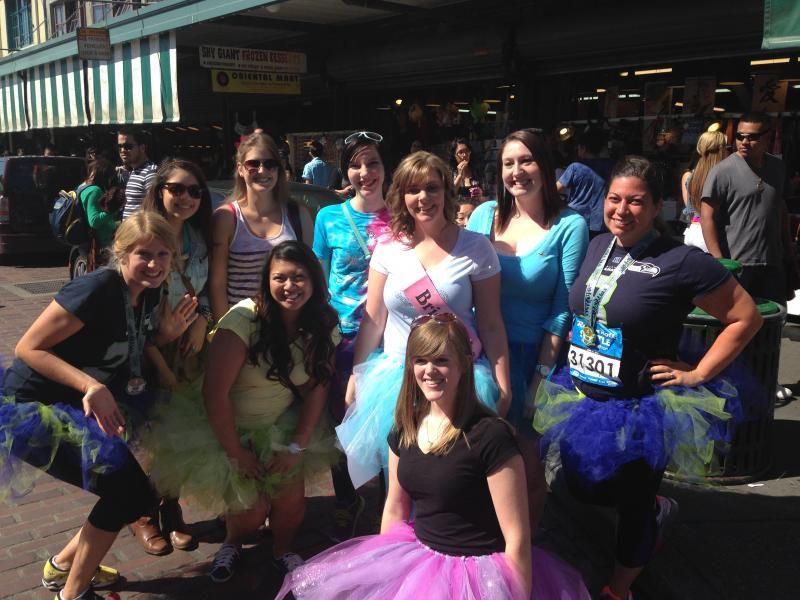 At this point, we were really exhausted, so we caught an uber back to my car and headed home.

Once home we put in a movie and just relaxed. It felt so good to sit! After a couple hours we decided to make the most of Brittany's last night, so we put on sun dresses and went to Redhook Brewery. We had drinks and shared apps, it was so good! And when we got home Brittany had an ice cream cake for me!


She even arranged the candles to say 13.1!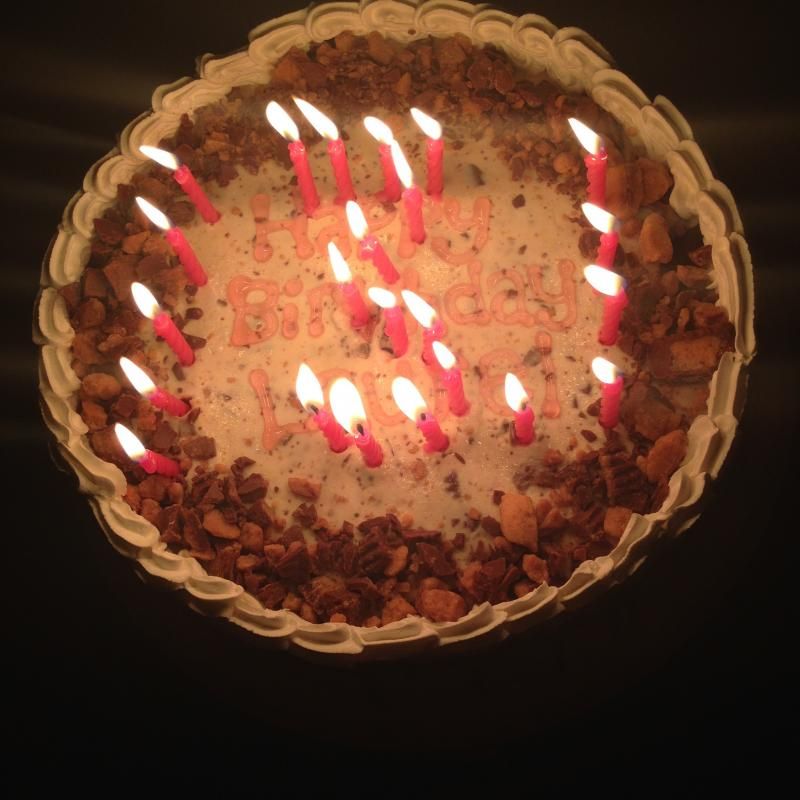 Let me tell you, we slept SO good that night!
The next morning we woke up early since we went to bed early. Kelsey had to go to work, but before she started the 3 of us grabbed breakfast at one of my favorite places in Kirkland, The Brown Bag Cafe. Then Kelsey went to work and Brittany and I went to the mall- since she lives at the Oregon coast she doesn't have a good mall near her. We shopped a bit then she packed and was on her way 🙁 It was an awesome weekend, and got me excited for the other races I have coming up!