On Wednesday we were up for our usual routine- get ready, breakfast and morning meeting. Then we boarded a bus for an hour ride to work. Today we'd be cleaning out gutters and grates. We were dressed in our waterproof gear, face masks and helmets. As you can see below, we had a lot of work to do!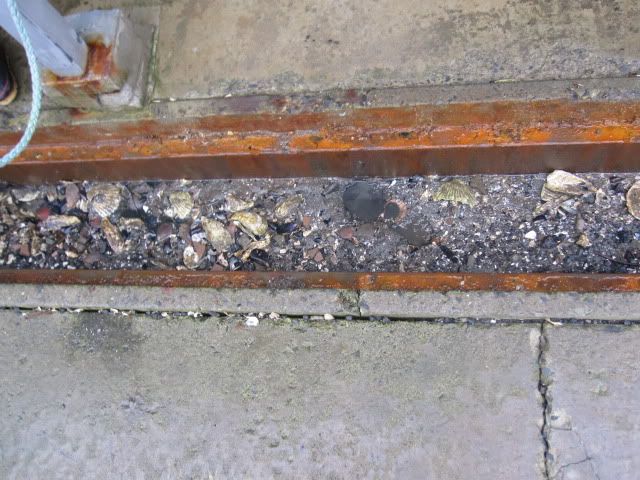 There were also a bunch of cats running around, looking for scraps and shelter. I just wanted to bring them all home so Penny could have some friends!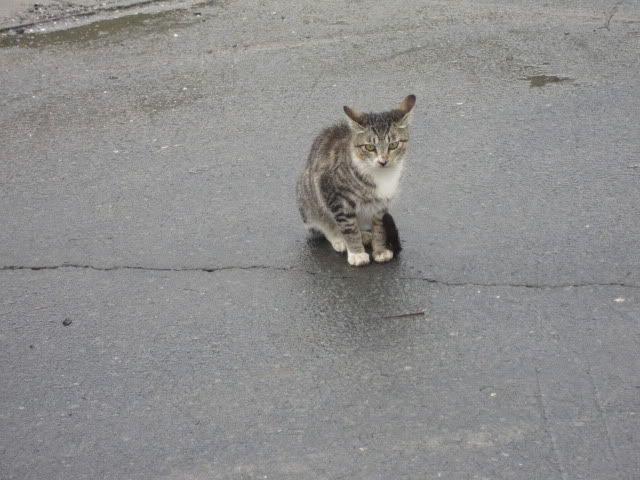 First we have to move the heavy gutter grates

The gutters are packed with mud, sand, and since we're at the port, sea life. People found parts of fish, star fish, oysters and all sorts of shells and crabs. We worked through the morning til lunch, scooping out the gutters, filling wheelbarrows, and then dumping those on a truck.
Aska working

We also had to clean out the grates that cover the gutters, which were packed with rocks, shells and leaves. By noon it was lunch time, and we cleaned off a bit and ate, what else, onigiri!

Though the lunch may be growing tiresome, you can't argue that view behind us. Ishinomaki really is beautiful. After lunch, we were back to work, but since we finished the gutters we were put on to beach cleanup duty. We collected wood and metal fragments that washed ashore. This entails picking up tiny shards of wood, to giant slabs of sheet metal. There was plenty to do and we busied ourselves for the afternoon with this job. We even formed a production line at one point to get debris up to high land faster.
Eventually the day was done and we took a team picture where we were working!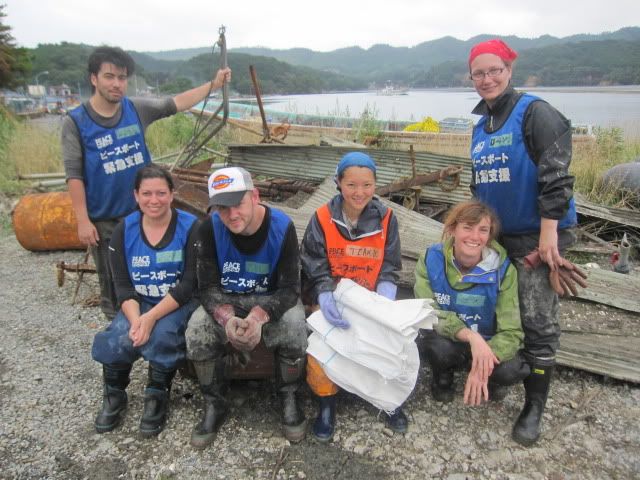 I also made another friend from Washington! TJ worked with our team today on gutters and cleanup.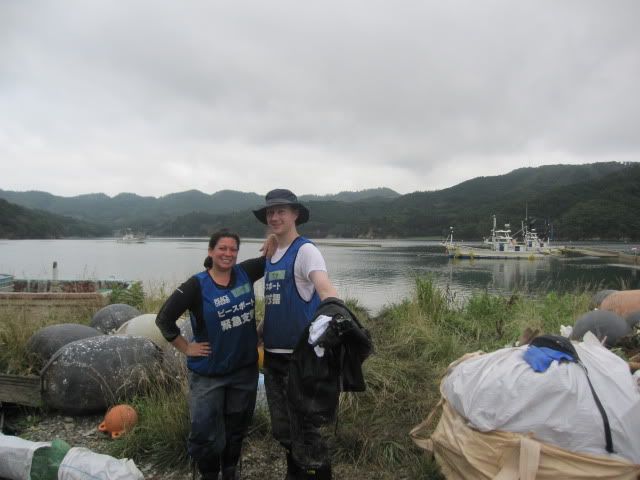 We rode the bus home and got back to camp. We cleaned our clothes and gear and socialized til dinner. I have to say, after a day of work I'm pooped! Not other volunteers though. My friend Bastien brought a soccer ball, and a fun pickup game was underway at camp.

It was a bit of a dull night at camp. We had dinner at about 6ish, and then lights out isn't til 10. So I passed the time by hanging out with friends, reading, and taking notes on my day so I can present them here in my blog! Eventually I was just too tired to stay up, and hit the sack before 10pm.
Thursday was the start of something a little more meaningful for me. It would be my first day working at a dock where I'd spend the rest of my time in Ishinomaki, and form a bond with the fishermen and their wives there. After the morning routine we got on the bus for an hour and arrived at the docks of Sudachi.
Here we began working in a small, battered yurt that was once a fish processing and refrigeration hut. We sat on upside down crates, in front of low makeshift tables covered in shells. We would then take thin metal rods and string shells with spacers between them, and tie them off. These would then be placed in the ocean to encourage breeding in oysters.

The key to a lot of these jobs while volunteering is finding a groove that works best for you. When it comes to shoveling gutters, my arms hurt after a while and the smell is putrid, but singing songs in my head or thinking of an upcoming vacation helps me forget these things. The issue with stringing shells was the repetitiveness of the jobs. You string 70 shells, you tie it off, you do it again. I struggled with picking up shells and the little rubber spacers that go between them, because my hands weren't as nimble as usual with my gloves on.
Eventually it was lunch time, and we enjoyed a beautiful view and some sunshine with our daily onigiri.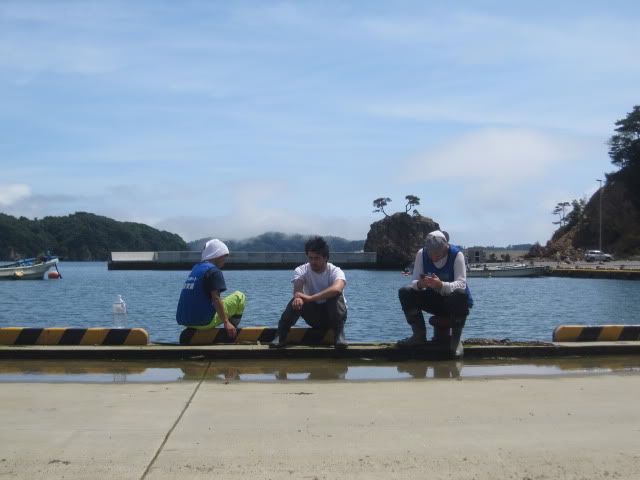 I should also mention, this day was the first time my group was separated. Aska, Niki, Lauren and I were left to string shells while Joji and Bryan were taken to a house to shovel out mud from floor boards. Aska and I were slightly mock-offended. When we were volunteering in June, that was our job duty!
We spent the afternoon stringing more shells, and listening to stories from the fishermen's wives about the tsunami. By mid afternoon we packed up and waited for the guys to come back from the house they were working on.
My team with some of the 3-day university volunteers. Awesome girls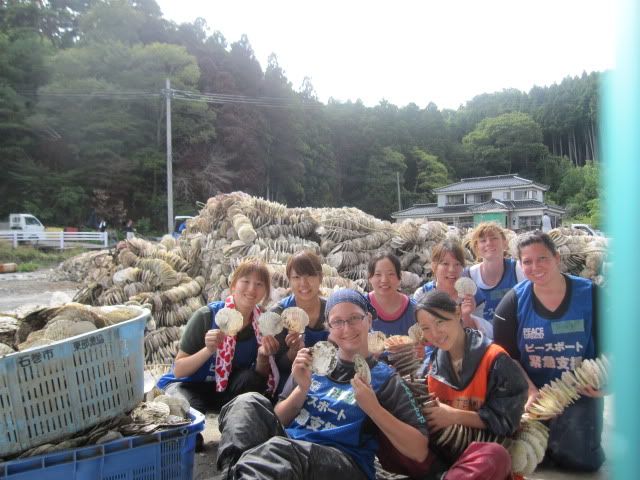 Aska, me, Lauren and Niki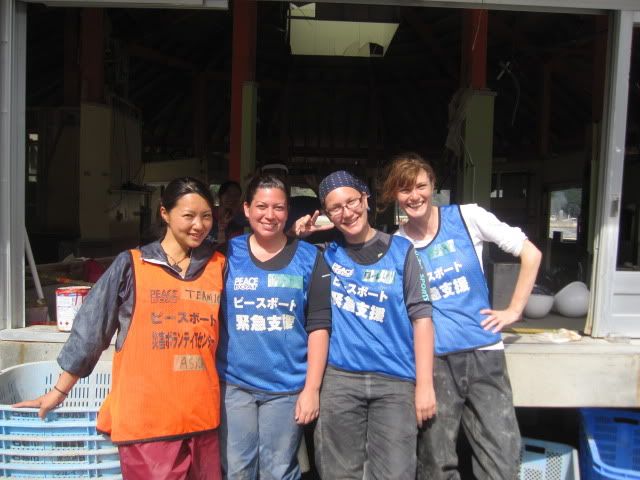 That evening after dinner, I walked to the store with Aska, Bryan, Niki and Joji, and we got some snacks and enjoyed some time away from camp. When we got back later in the evening, we played some group games before bed. I always like this part in the week during volunteering, because friendships have been made, shyness has melted away, and everyone is just enjoying their time together because for most volunteers, there's just a few days left.
On Friday we returned to Sudachi for more shell stringing. I was prepared with better fitting gloves and more comfortable clothes. This was the first time I really enjoyed working there. I had a view of the ocean, a nice breeze, and good company.
This was also the day I noticed I was getting major color, and some interesting tan lines!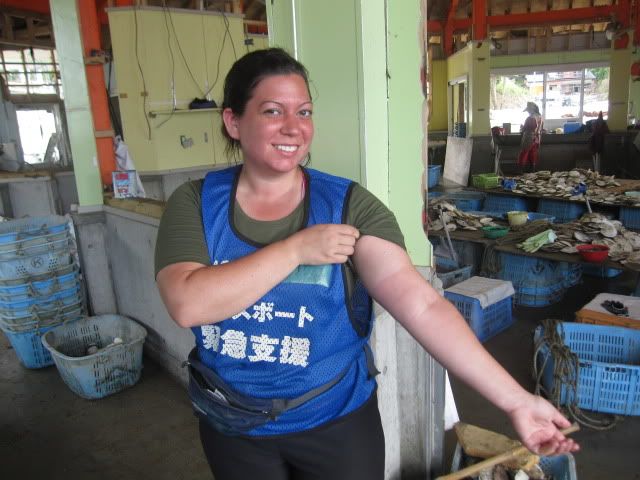 Niki and Lauren during the lunch break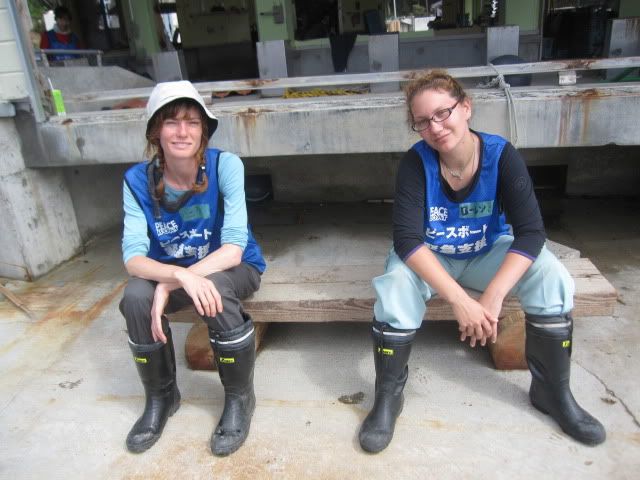 A beautiful place, just outside the hut we were working in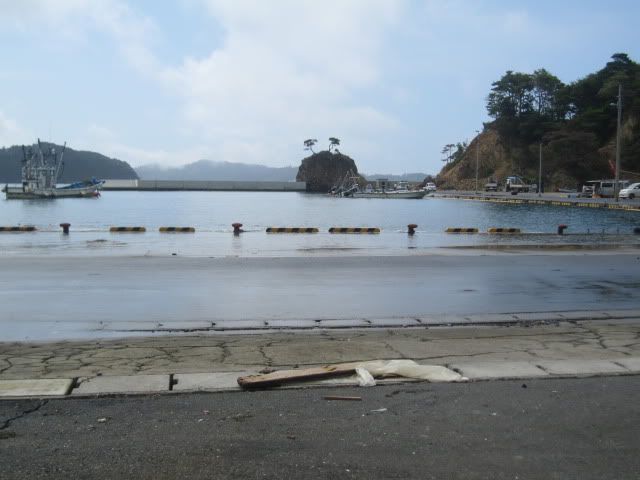 Niki enjoyed spending her lunch breaks drawing, and drew people and places around her. The head fisherman of the area saw her drawing and loved it, so she gave it to him.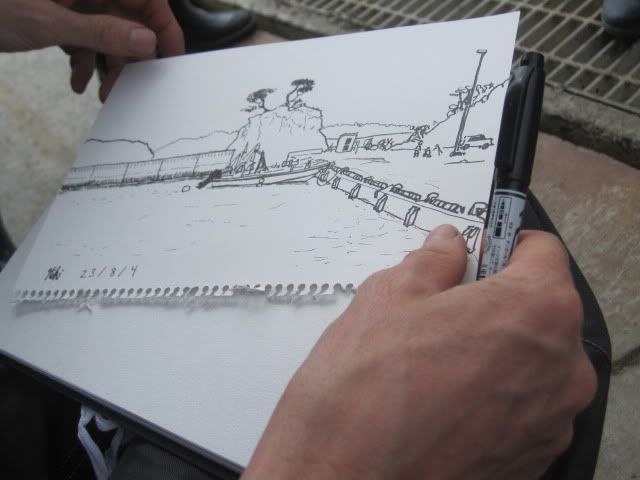 We went back to work after lunch, string more shells, and called it a day. Here's me with 2 of the 3-day volunteers, Mariko and Mocha.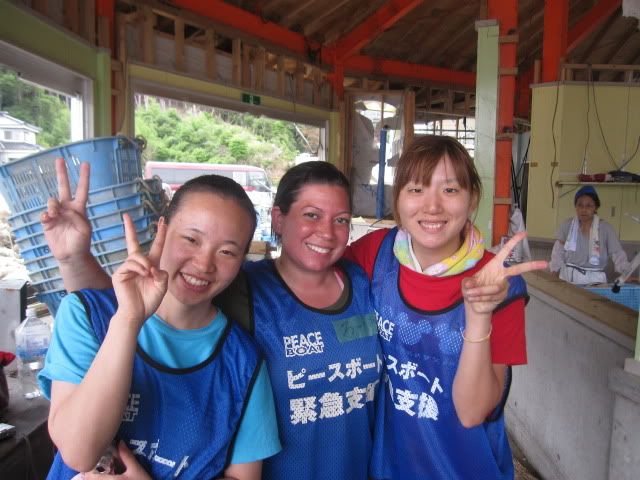 And me, showing off one of the many, many breeding columns I made during my time in Sudachi.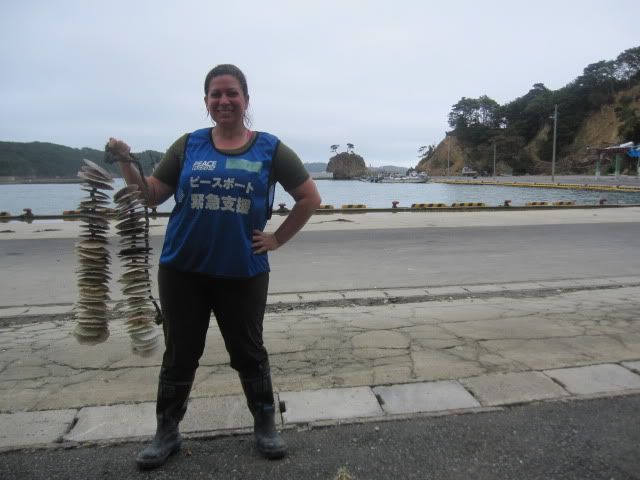 For the people volunteering for 1 week, this was their last work day, and they were rewarded with a trip into town and the onsen. I tagged along and we walked downtown a bit, where some merchants set up tables selling foods and small crafts. After that we went to the onsen. By this time, I had a plan of attack for onsen trips- start with a shower, soak in the hot spring, soak in the cold spring, sit in the sauna. It's just heaven.
We got back to camp and had dinner. We made a big group circle and played a drawing game Niki taught us, which involved lots of laughing and mediocre art skills.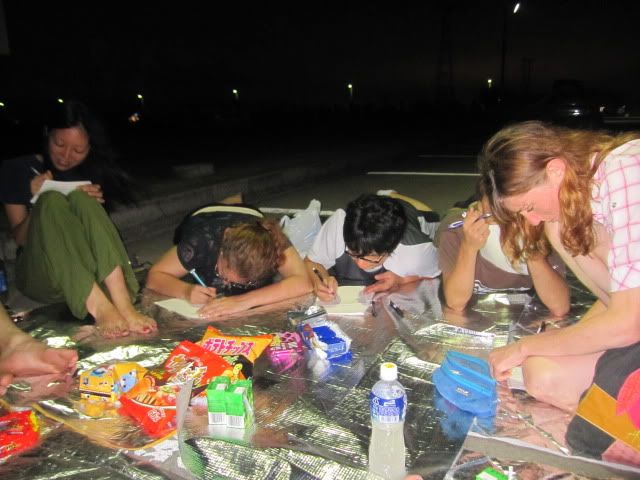 After socializing, Aska, Lauren, Niki and I headed back to our tent for one more night.