We woke up the morning of Monday Aug 1st (Happy August!) excited to work. We were running booths at the festival today! Our group met by the parking lot for our usual breakfast of "breads n spreads" (staling bread and peanut butter or nutella), then had morning meeting and got our job assignment. We were running a drinks booth! At 8:30am we got on the bus and headed downtown. There were already tons of people milling about, despite tables still being set up.
Our drink table was on one of the main streets, and I'd be working the first shift with team mates Joji and Bryan.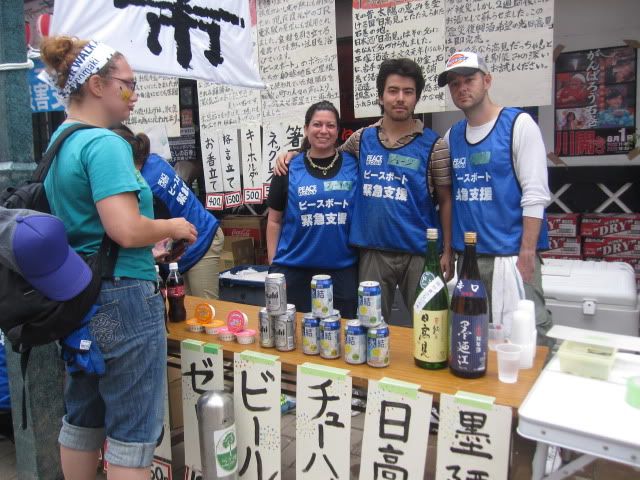 Needless to say, business was a bit slow. No one really wants a soda or beer at 10am. We had fun people watching and guessing people's ages for beer purchases. Before we knew it, it was noon and our shift was over for the morning. A nice lady was painting faces for donations, so Joji made a pit stop to get some art.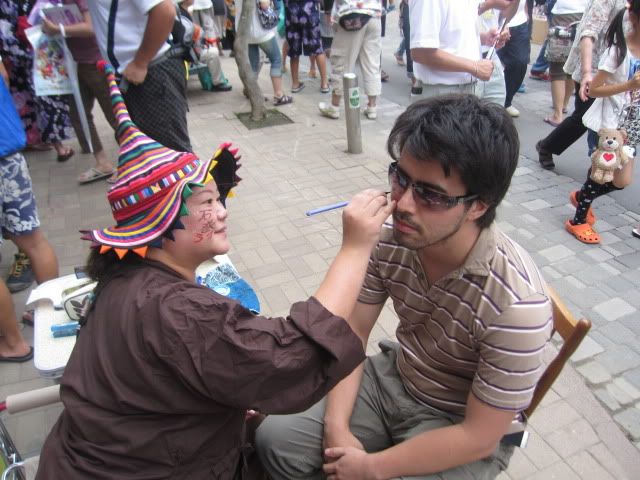 The rest of our group found us, and we wandered around the fair aimlessly, enjoying music and snacks along the way. Oh, there were snacks. Fruit, chocolate dipped fruit, gyoza, sno cones, crepes, and lots of other delicious things. We never walked too far before someone called out, "just a sec, I wanna get this!"
For example, my croquette- a dollop of cream cheese, wrapped in mashed potato, then deep fried. Mmm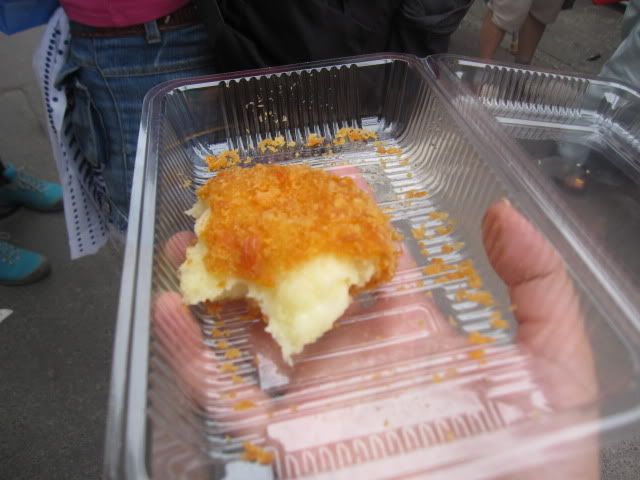 It was amazing to see so many people in and around Ishinomaki when I had only seen it battered and abandoned. So many people came out in their yukatas (like kimonos) to enjoy the festivities. They even had a parade starring who else but Mickey Mouse! Everyone went nuts!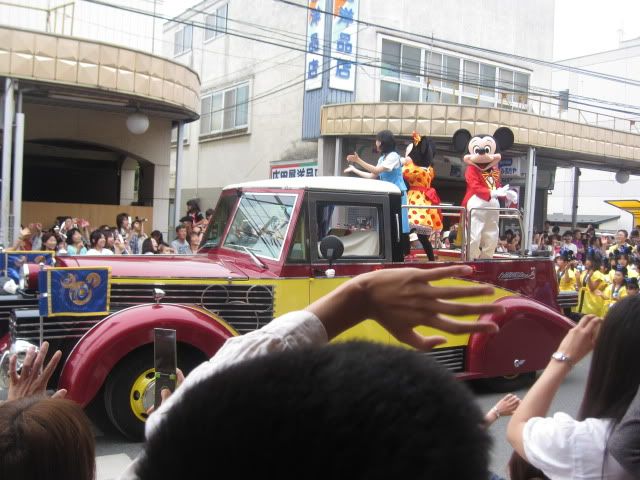 Our team stopped for a quick group picture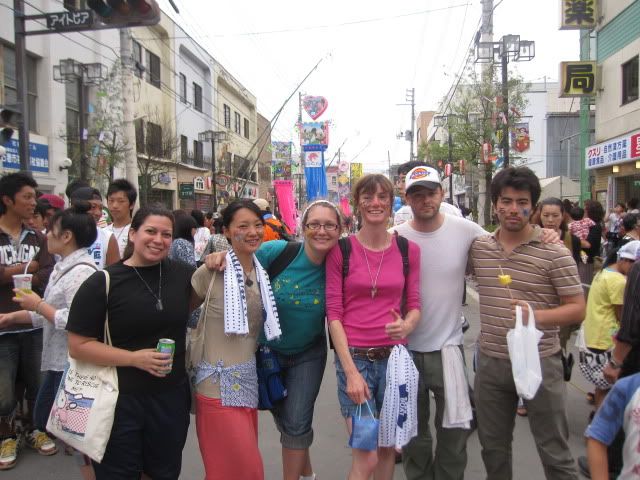 As the afternoon wore on, we passed by all the booths and had many many snacks. Said hello to other volunteers. Listened to music and rested our tired feet. before we knew it, it was time for the other team mates' shift at the drink booth. We said goodbye, and wandered in separate directions. Joji got pulled over to a sno-cone booth that was understaffed, and I caught a glimpse of a friend from my last volunteer trip- Rachael!
I was so excited to see her. We were staying at different sites at night, and we weren't working together, so I didn't have much hope of seeing her during the trip. But she was working a ring toss booth and asked if I wanted to help. I said sure and helped with collecting tossed rings, money and handing out prizes.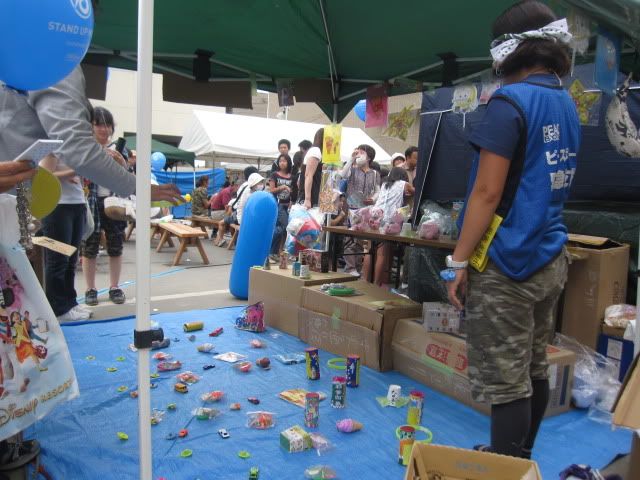 We talked for a couple hours and got all caught up on what we had been up to since we last saw each other. Nearby the ring toss botth, a live action show was going on, and I have never seen children more at attention than while watching these guys: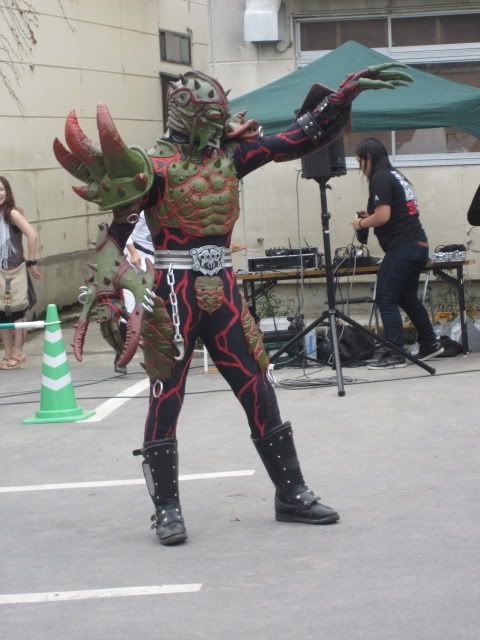 After a couple hours I left to see what my team was up to. The girls had just finished their shift at the drink booth and were hungry, so we went back up and down the streets looking for food booths with the shortest lines.
Throughout the day, small bands would perform up and down the streets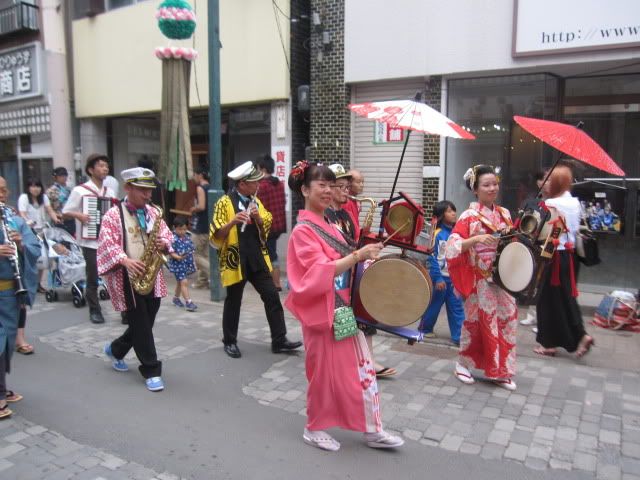 Joji and some delicious cooked pumpkin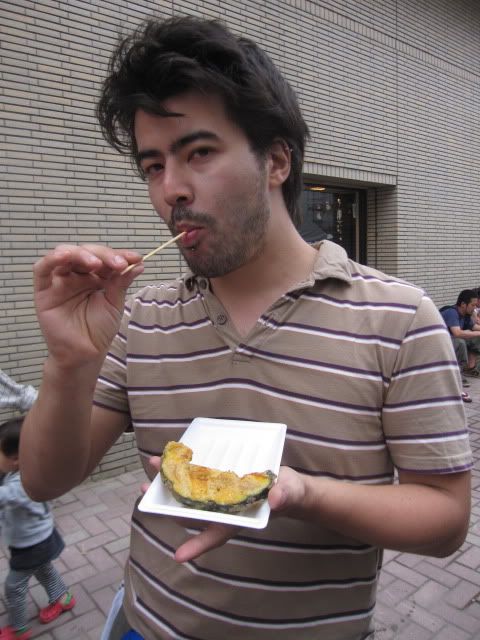 Joji and I with our chocolate bananas, Joji also has a spear of pineapple. I'm telling you, we couldn't stop snacking!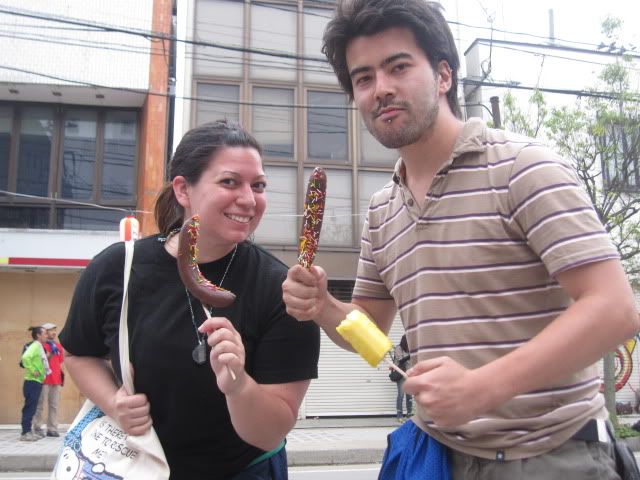 We were very pleased to find some curb to sit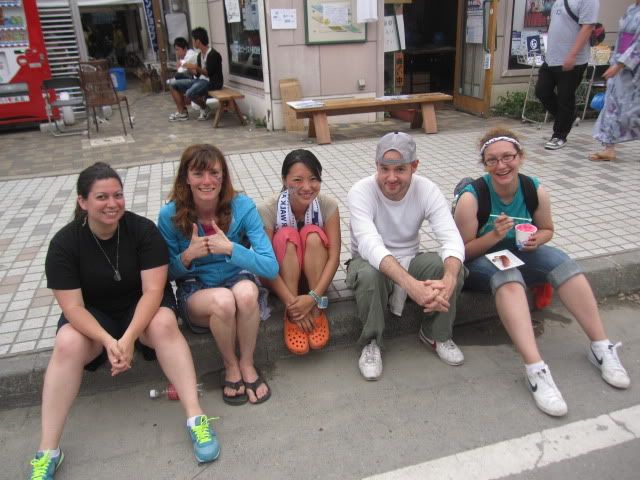 Our director Ted asked Aska if her group was willing to work another shift again tonight, and she said sure, so an hour later we all headed back to the drinks booth. Man, did it get busy! It was about 6pm at this point, and we were slammed with people wanting beers and chu-hi (like Hard Lemonade). It was a whirlwind and before I knew it, it had been an hour and a half. It was really neat to see people repping their booths. You yell and yell to get people's attention, and approach people as they walk by.
My friend Bastien trying to sell Ogatsu tile necklaces to people in passing

Another girl selling buoys in the booth next to us. This girl could yell!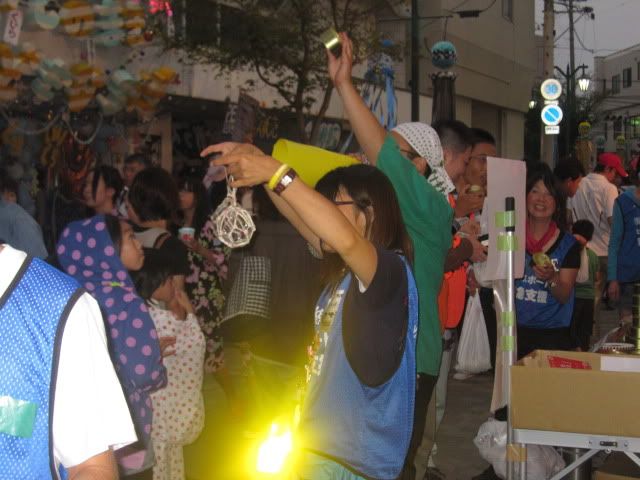 I took my turn as the yeller to get people's attention. No wonder my throat was sore the next day!

This was a neighboring booth. A canning company on the waterfront got hit hard by the tsunami, and lost thousands of cans, and profit. People would come across washed up cans on the beach and return them to the cannery. Labels missing, we decided to sell the cans anyway to help them make back some money.

More time passed, and Aska said we weren't all needed and that we should go check out the fireworks. I went with Lauren and Niki to a ridiculously crowded bridge (and a snocone!) and saw the longest fireworks show I'd ever seen. it was amazing!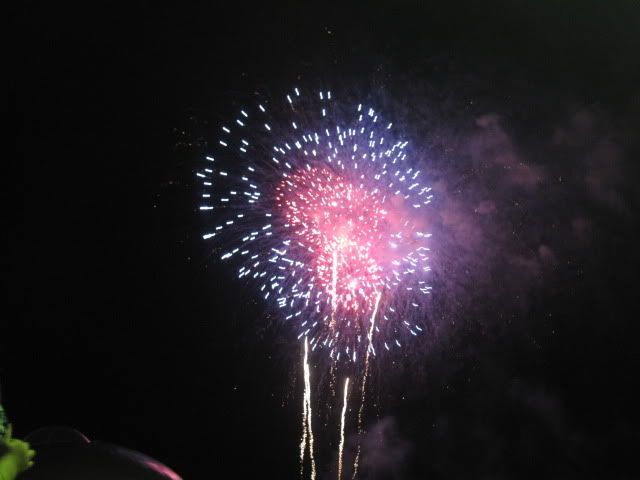 After the fireworks we went back to the drink booth where madness had set in. We only had 6 cans left and wanted to sell them all! We were yelling, following people up and down the streets and slashing prices. I jumped up and down dancing with a sign. We were down to 2 cans, and a nice couple bought them, and we erupted with applause and yelling.
Our team with Ted, the assistant director. He was pleased with our work for the day

We all gathered together for a team photo with alllll the Peace Boat volunteers, maybe about 20-30 of us. We were then given a bento box of fish and rice for dinner, and sent to the bus. Once I sat down, I realized how insanely tired I was. I'd woken up at 5:30am, and it was around 10pm.
As we walked to the bus, I noticed someone put a Peace Boat shirt on an Anpanman statue!

We got back to camp and ate dinner in the parking lot, exhausted. There weren't too many groups out and about after dinner, everyone was tired and went to bed. Aska and I took our toothbrushes and headed to the bathroom. Portable "squatty potties" about a 3-4 minute walk from the tents. As soon as we were ready for bed, we fell asleep!
We woke up Tuesday morning ready to go back to working on the docks. We had our breakfast, morning meeting, got assigned to a port and boarded a bus. Yet again I napped. These hour bus rides on slow windy roads just lull you to sleep! Eventually we got to port and saw our work for the morning- salvaging buoys.

A buoy is about $200 and many of them washed up, completely tangled with others. Our job was to cut them free and deem them usable again or damaged. We got to work. The ropes were wet and covered in algae, or completely dried out. Our knives weren't the greatest.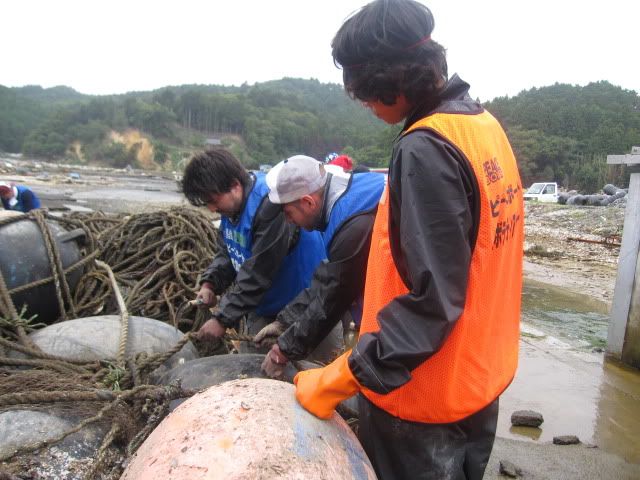 Once we cut them free we hauled them up a hill and separated them into 2 piles of good or damaged. We worked diligently for a few hours, and got most of it done. We were stopped by a crazy sight- a boat bringing sunken wreckage into port.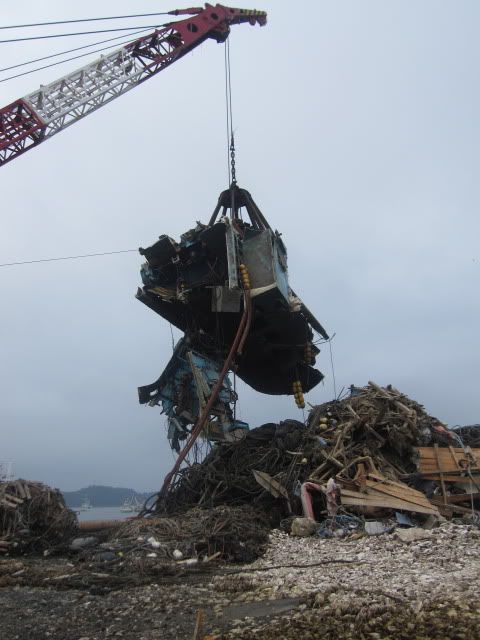 Freighters go out to sea and scoop up debris from the bottom of the water. Cars, boats, furniture and all sorts of possessions turned up. It was a chilling thing to see that just made you stop in your tracks.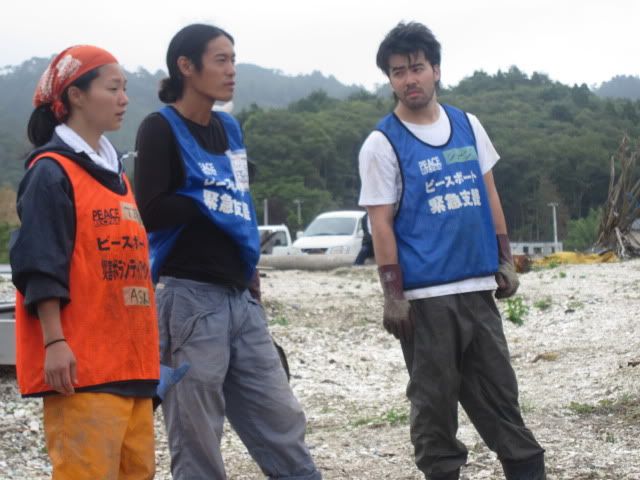 At that point, the fishermen called lunch. We settled down on the concrete docks and had our onigiri. We chatted and took pictures to pass the time. Lunch breaks were always an hour, sometimes a little longer, and onigiri can be eaten in about 2 minutes when you're starving. Sometimes, like Niki, you just want to take a nap!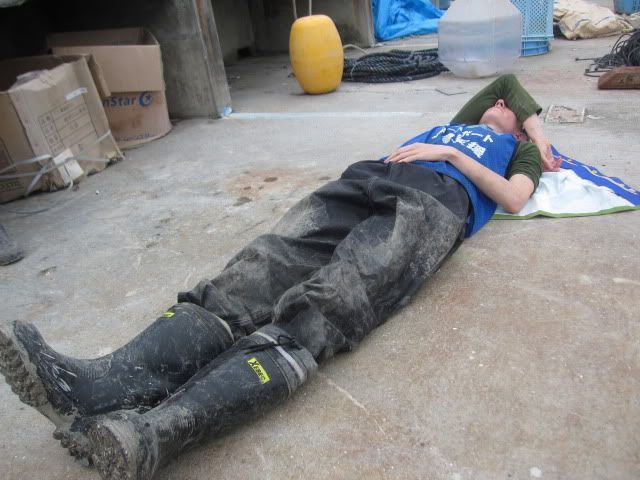 Before we went back to work, we took a quick group shot of the Peace Boat workers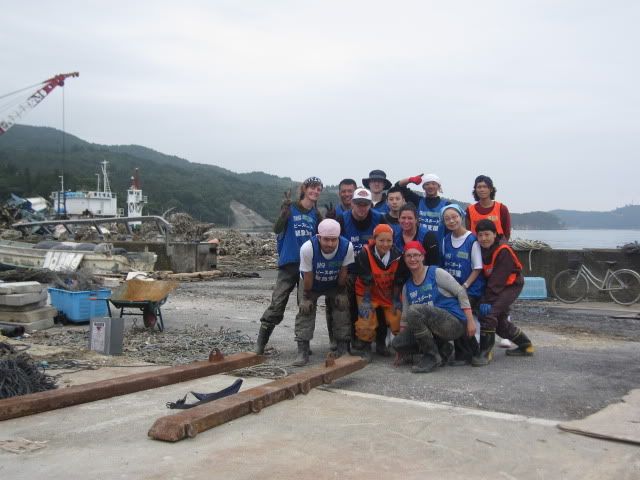 Back to work, but no more buoys. We lined up and roped oysters for about an hour like we did on the first day. Then we detangled and tied off rope!

Late afternoon finally came, and we boarded the bus, somewhat smelling like dead oysters and rope. It was incredibly overcast and we made our way back through the hills. We arrived at camp an hour later and changed. I washed my clothes (aka, dipped them in some clean water) and hung them to dry. Then I grabbed my bag and got back on the bus, because it was onsen day!
We rode into town and arrived at the bath house. I may have only been there for 3-4 days so far, but it felt so good to take a shower. After I soaked in the hot spring for a while, then jumped in the cold baths. Our time was really limited that day, so I didn't have time to use the sauna. I dressed and met up with people outside. Back on the bus and back at camp for dinner. After dinner people were milling about entertaining themselves. I hung out with friends for a bit for some card games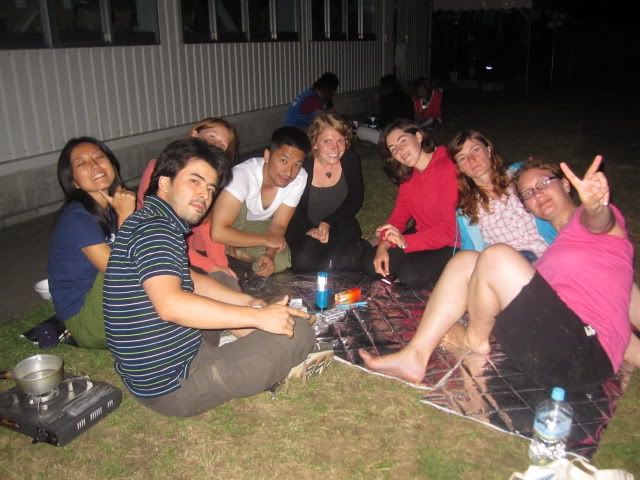 As people got tired and headed off to bed, I spent the rest of the evening chatting with Aska and Joji. Ultimately we got tired too, and went to bed.