In mid October an opportunity presented itself for myself and my friend Kelsey to take a cruise together. It was somewhat last minute, but we decided, "why not?!" We packed our bags and flew out to Ft. Lauderdale Florida. From there, we cabbed to Pt. Everglades, where the Ruby Princess was docked and waiting to take us on a tour of the eastern Caribbean. It was a 7 day cruise, with ports of call in St. Maarten, St. Thomas, Grand Turk/ Turks & Caicos, and a stop at Princess Cruises' private island in the Bahamas, Princess Cay.
We flew red eye, leaving Seattle Friday night and arriving in Ft. Lauderdale Saturday morning. Needless to say, we were very tired upon arrival. Here's Kelsey trying to stay awake as the sun rises at our layover airport, Chicago O'Hare.

Once we landed and got to Port Everglades, we waited in a long line to check in. There were delays because the ship had just returned from Italy, and the coast guard had to come on board for inspection and clearance. Eventually we went through security, had our passports checked and got our room key/ charge cards, and were let on the ship!
We headed to our room first, but our luggage hadn't been delivered yet. We decided to get something to eat. At the back of the ship a nice buffet was set up. We chose some snacks and found a nice table out in the sun.
Kelsey ready to enjoy lunch

View of the back of the ship

Then we decided to go exploring. We got a drink and checked out the pools, work out room, spa, restaurants, the theater and even minigolf on the top deck!
Me exploring our ship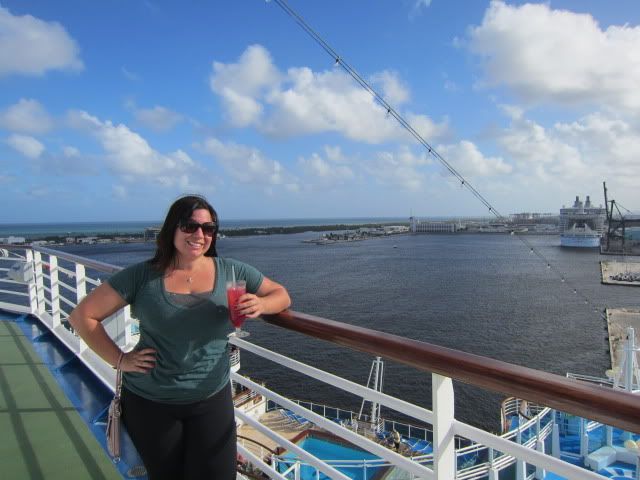 Kelsey and I ready for take off!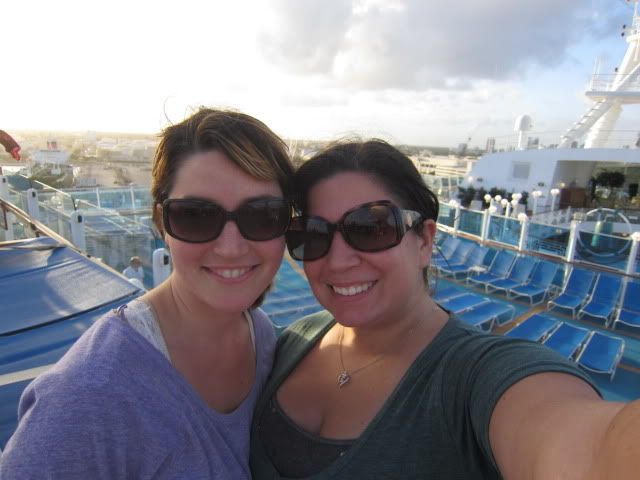 At 5pm we left Florida and were sailing the seas. We hit some major waves, but once we got our sea legs we were ready for fun! We started with a trip to the spa, where we got seaweed wraps and massages. The ship also had a thermal suite- a giant room with heated ceramic recliners, a mint steam room, a sauna and some rainforest showers. It was heaven! We had a small dinner before going to our room and passing out for the night.
The next day we were up early to explore Princess Cays. We visited the breakfast buffet before disembarking on the island.

We signed up for a beach yoga class. Let me tell you, beach yoga is not as fun as it sounds! It's hard to balance when the ground beneath you is so uneven and always shift, and sand gets everywhere when you lie down. We laughed about it after, then went swimming in the warm ocean.

We swam for a bit, laid in the sun, then had a nice lunch. I found a neat sign showing how far we were from some other major cities, including my current hometown Tokyo!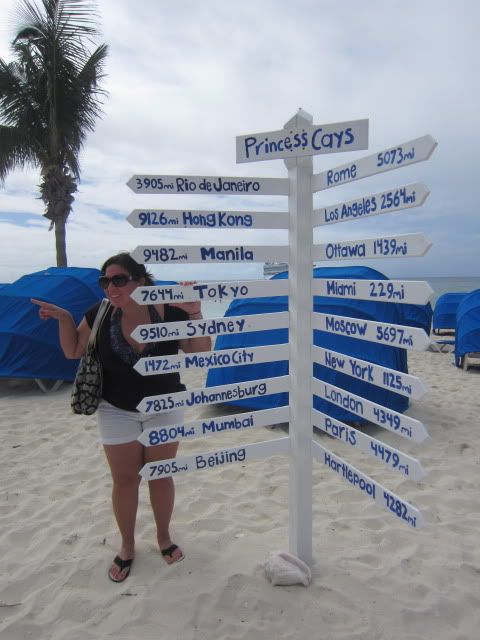 There were many vendors offering hair braiding, jewelry, purses and other small goods. Kelsey and I each got a necklace. Here's Kelsey with hers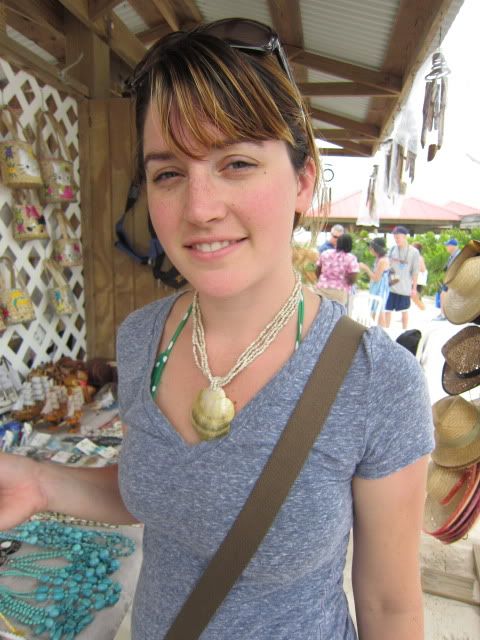 We got back on the ship and got ready for dinner. Here's me in the piazza on our way to eat!

We had a pretty low key night. We saw Crazy Stupid Love in the theater, and some dessert and called it a night.
The next day we were at sea all day, en route to St. Maarten. We entertained ourselves by visiting the spa's thermal suite, pizza for lunch, watched The Help, and played Bingo!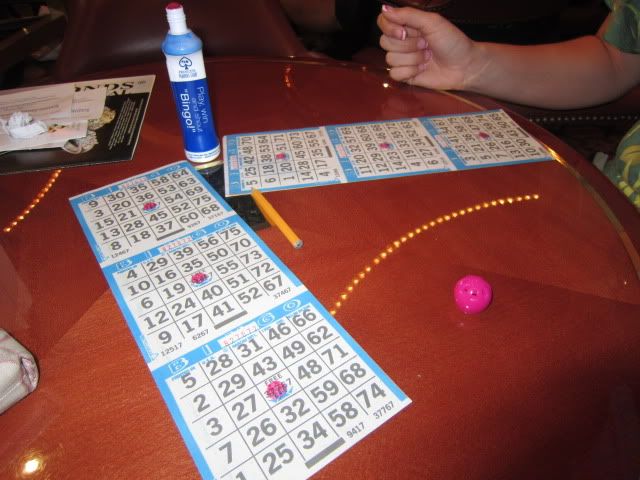 Sadly we didn't win, but had fun playing. After dinner that evening we watched as they poured a champagne fountain. It was so pretty! We each got a turn pouring champagne into it.

The next morning we arrived in St. Maarten. We woke up and had breakfast and mimosas.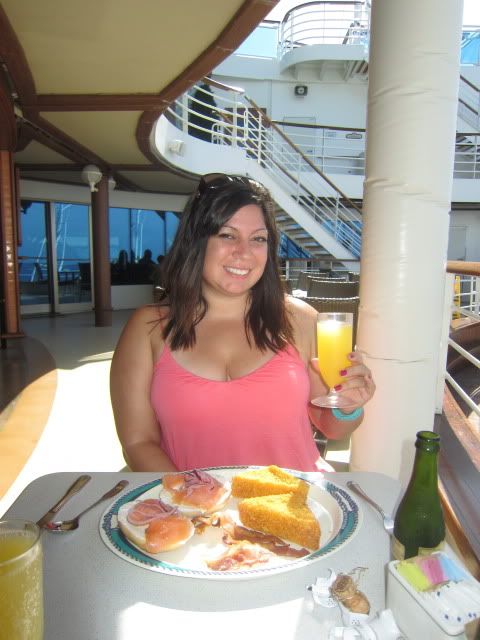 We got off the ship and wow, it was hot! We had planned to explore the dutch side in the morning, and the french side in the afternoon.
Arriving in St. Maarten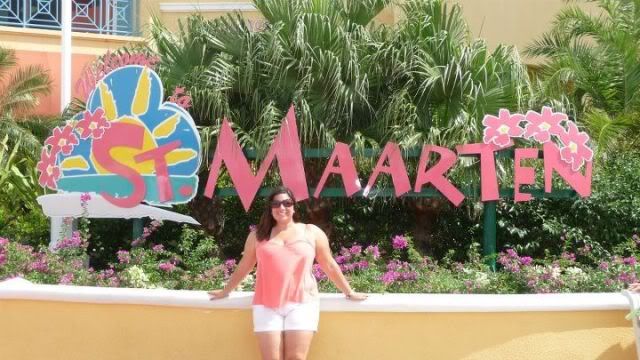 We didn't spend long on the dutch side. We perused some shops, but nothing caught our eye. Lots of jewelry shops, souvenir shops, liquor shops. We went back on the boat to enjoy some air conditioning and relax before heading out again.
In the afternoon we took a bus to the french side of the island. Our main goal was to explore and enjoy the beaches. We arrived and it instantly started raining. Didn't stop us! We jumped in the waves and let them toss us about. We walked along the beach for about a mile or so, taking in all the sights. There was even a nude beach! After exploring for a bit we headed back to catch a bus home. Our bus driver pointed out several neat sights, and we got a good view of St. Barts. Another relaxing evening of dinner, a show, the thermal suite and hot tubbing, and we called it a night.
The next morning we arrived in St. Thomas! I really enjoyed this port. We got to do some fun touristy things besides strolling through shops. The first thing we ran into when we got off our boat?
Lizards!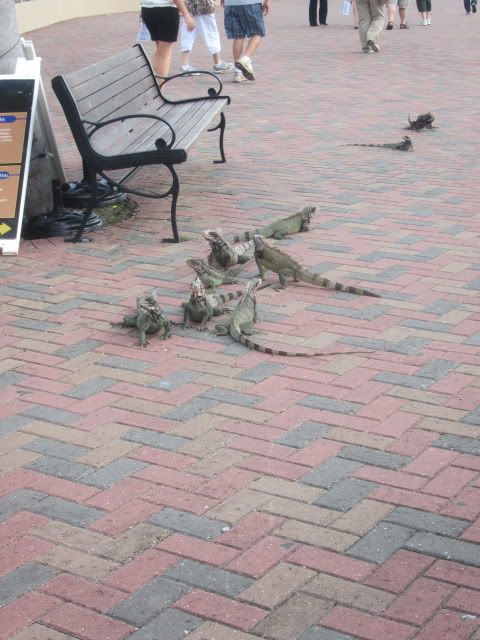 We took a bus that drove us to the very top of a huge hill, so we could look out on the island. It was a beautiful view!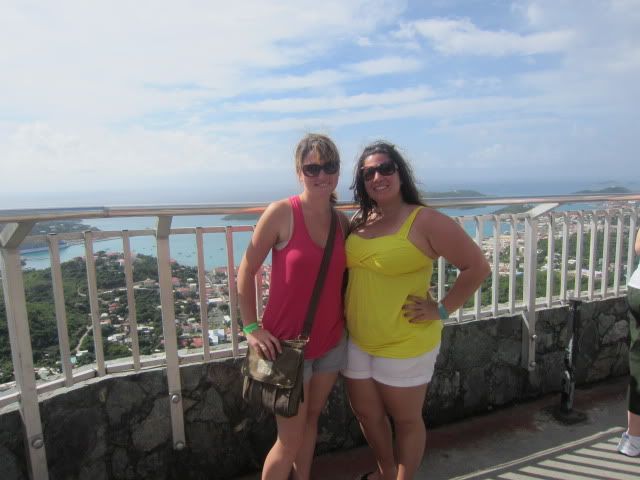 Then back on the bus where we toured Blackbeard's Castle. It was a neat little pitstop with lots of information on the history of pirates.
Blackbeard!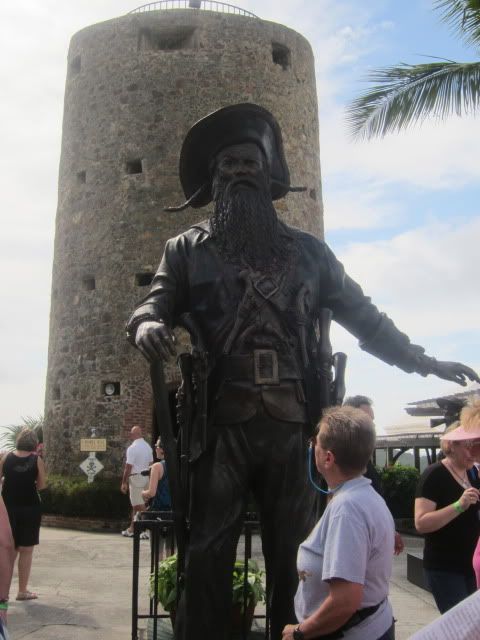 Kelsey at the top of Blackbeard's Castle. Again, lovely view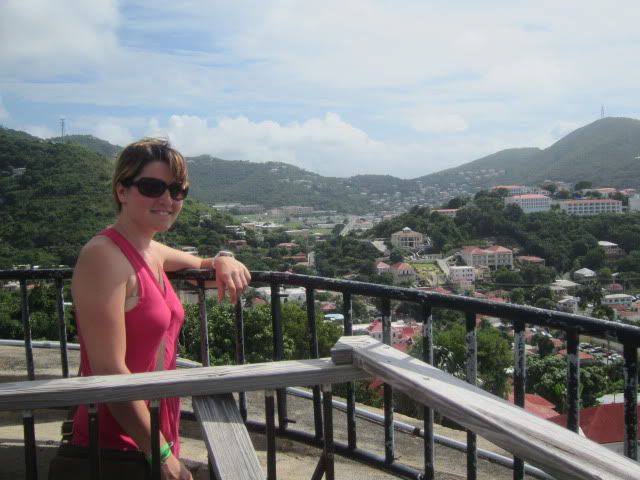 After learning a bit about pirates we explored a little rum museum and had some samples of different flavors of rum. We made our way down the hill to the Caribbean World Amber Museum. This place was beautiful! Amber from centuries ago! All different kinds and colors. Some with very old bugs trapped inside.

There was a small amber shop where as a souvenir for myself I picked out a pair of Caribbean amber earrings. We then went outside for another beautiful surprise- an amber waterfall!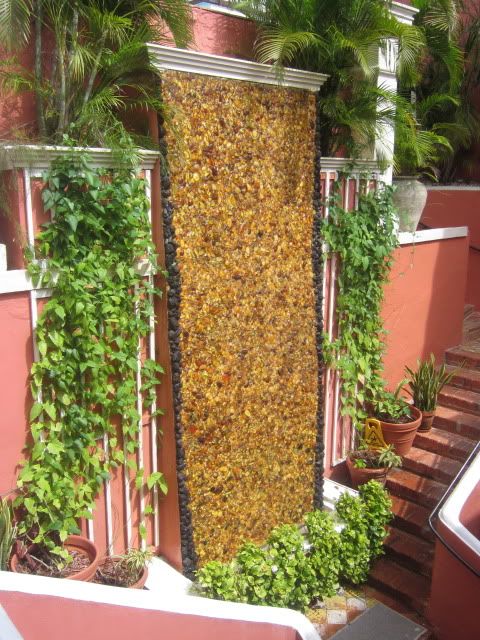 Water cascaded down a wall of amber. It was so pretty!

At this point, we had been exploring for a few hours and were hot and tired. We made our way to the ship, stopping in some shops on the way. There was even an outdoor fake purse market! It was hilarious! They had Cooch instead of Coach and Findi instead of Fendi. We got back on the ship, and enjoyed an afternoon by the pool. Then our usual evening of dinner, entertainment, relaxing in the thermal suite, dessert and bed.
The next day we arrived at Turks & Caicos. This was definitely my favorite stop! Everything here was beautiful. The ocean water was incredibly clear and you could see fish swimming.
Arriving in Grand TUrk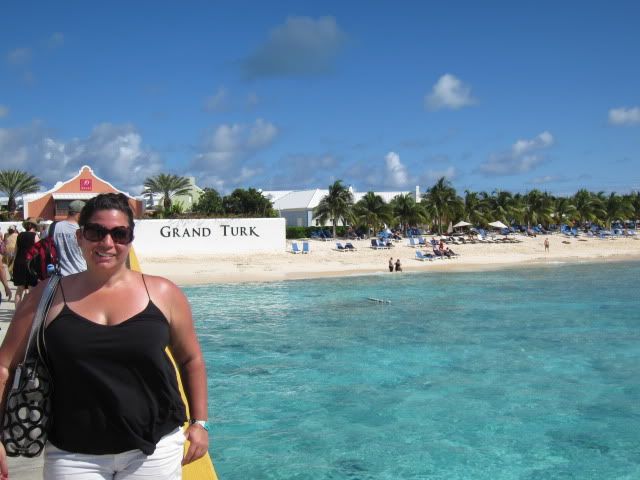 We had lunch at Margaritaville.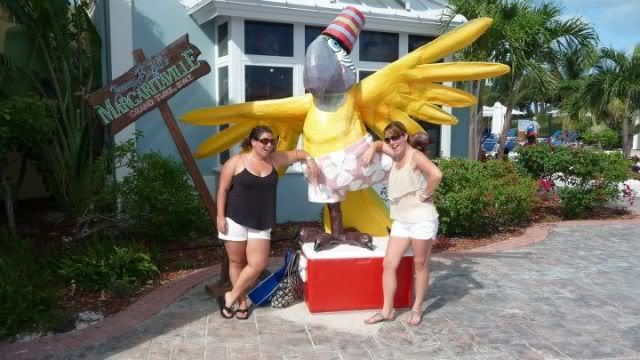 This was no ordinary restaurant. It had a pool! We changed into swimsuits and after lunch laid by the pool. It was all waist deep, with bridges, a swim up bar and DJ playing music and calling people up for games.
Kelsey and I at the swim up bar

We left the pool and browsed the shops a bit. Then we went to dip our toes in the ocean. That turned into a glorious swim as the sun began to set. Fish swam around our legs as we waded about. The sand was white and speckled with shells and beach glass. Perfection! We laid out to dry off a bit and read.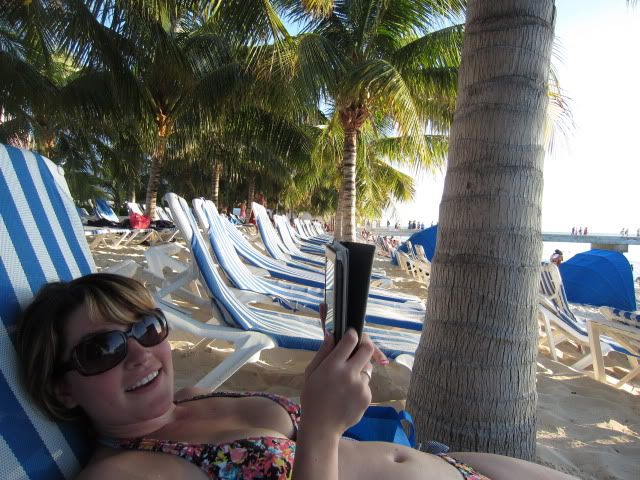 We made our way back to the ship. Kelsey and our boat!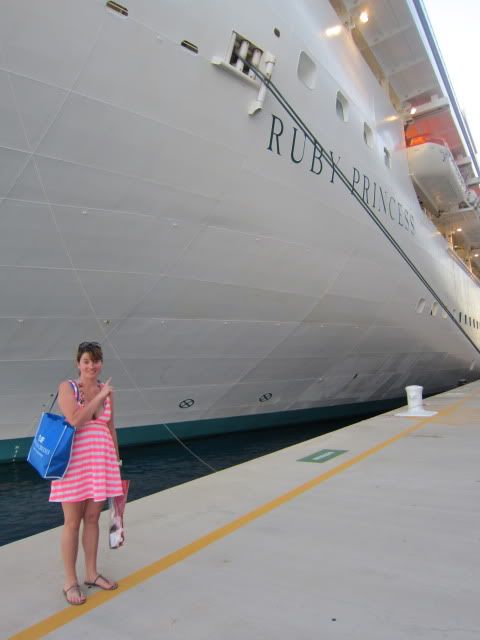 That evening we watched an employee talent show in the theater which was very entertaining. Before it began staff threw a bunch of balloons out to us to blow up and toss about. It was madness, balloons everywhere!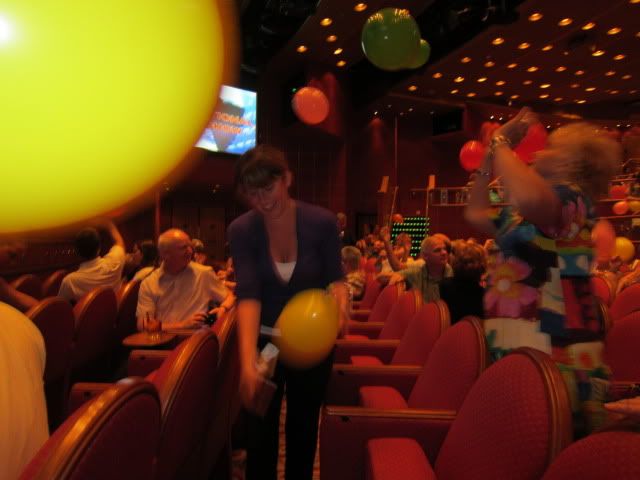 The next day was our last full day on the boat. Very sad! It was going to be an at sea day as we made our way back to Fort Lauderdale. We did various activities- played bingo, had lunch and some frozen yogurt, I went on a tour of the backstage performance area, and we saw ice carvers carve sculptures.
Mermaid and angelfish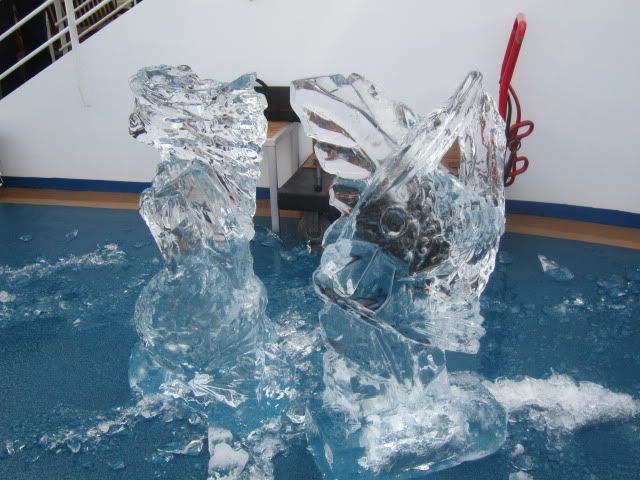 That evening we had a delicious dinner at the Italian restaurant on board, then watched the movie Bridesmaids. So funny! We went to bed sad to be leaving the next morning!
And early! We were up around 7 to get out of our room and wait at our muster station to disembark. We got off the ship, gathered our luggage, went through customs and it was back to the real world! After a full day of flying, that is.
We arrived at the airport around 10am, and our flight wasn't until 3. We had lunch and entertained ourselves with books and movies. We flew to Texas and had dinner, then flew to Seattle. Kelsey's boyfriend Jim was there to take us home where we promptly went to sleep! All in all a fantastic trip!