Dan and I had a really wonderful Christmas together here in Japan. Neither of us had ever been away from family before during the holidays (pretty impressive, considering we're 26 and 29!), but we still really enjoyed it.
On Christmas eve we had a very relaxing day of entertaining ourselves around the apartment with Christmas music playing. We watched some of our favorite 90′s sitcoms' Christmas episodes which was fun. I also decided to make ebelskivers for Dan since his mom makes them Christmas morning. Wow, that turned out to be a project!
Ebelskivers are little spherical stuffed pancakes. We decided to stuff ours with peanut butter and Nutella, and dust them with powdered sugar. We were off to the grocery store to get our ingredients when we learned they don't sell buttermilk in Japan! Some frantic in-aisle Googling taught us we can substitute buttermilk with 3/4 a cup of beer and some soy milk. This seemed crazy but we got our ingredients and headed home.
We began mixing all our ingredients up and got to cooking. Here is our lovely buttermilk substitute with egg yolks!

Making ebelskivers is definitely tricky business. You fill these little wells about half way with batter, then after a minute or so add a scoop of your filling, more batter, then flip them. Easier said than done!
Getting started with a batch

We burned up our first batch. I wasn't quick enough with my pancake flipping! We then got the hang of it, and though they weren't picture perfect I assure you, they were delicious!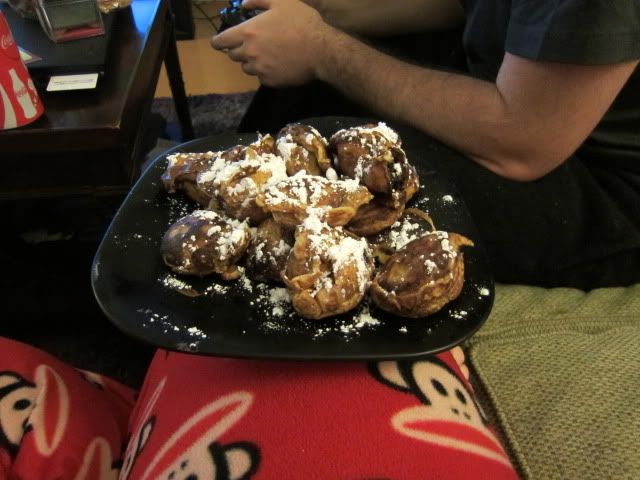 Even though it was Christmas eve, we decided to do gifts. We had a nice little pile form wonderful friends and family who thought of us during the holidays.

Dan and the epic Christmas box his mom sent us! Thank you Cathy!

We were spoiled with gifts, goodies and treats which was so nice. Even little Penny got spoiled by her Aunt Lauren with all sorts of treats!

That evening after an afternoon of gifts and belly full of ebelskivers, Dan made his delicious tacos and we watched The Nightmare Before Christmas. Love this movie! I remember when my mom took me to see it back in 1993. The movie ended and we clicked through some special features, including the Haunted Mansion Holiday, when some Disney Parks turn the Haunted Mansion into a Nightmare Before Christmas ride. Dan and I had forgot to ride it last time we were at the park! He asked me if I wanted to go and I said sure. We decided that even if the park was insanely busy, we love to just stroll around, enjoy the festive sights and treats and catch some rides while everyone is watching the parades.
We woke up and decided to fill up with a warm meal before heading out to the parks. It's half price if you go after 3 on holidays, so that was our plan. We went to the ramen shop next to our apartment called Fukujyu, and had giant noodle bowls and some rice. Then we were off to Maihama!
I'll say this much- to say the park was busy is an understatement.


All these people were waiting for the parade to start! We made our way through the streets to one of my favorite sights, the castle!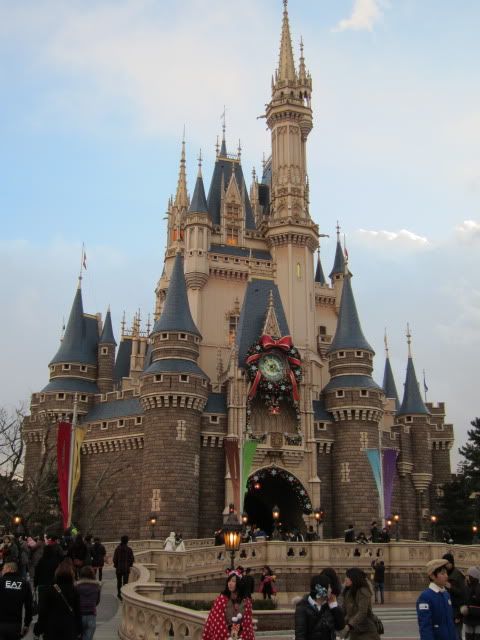 A quick shot facing away from the castle, back to Main Street. This area isn't too busy because the parade had started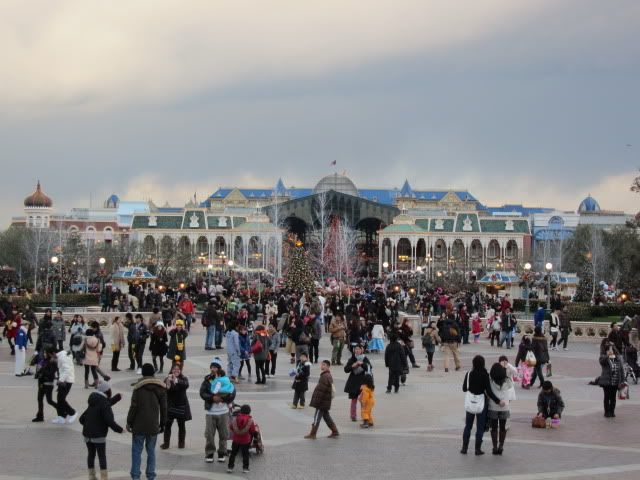 It was cold! Luckily we bundled up, and Dan wore his silly Minnie hat from a past trip, but he was sweet and got me a Christmas gift- a Jack Skellington santa hat! It's warm and fuzzy and the ear flap strings have a little Zero dog and vampire teddy bear on them. I love it! I felt especially ready to ride the Nightmare Before Christmas ride now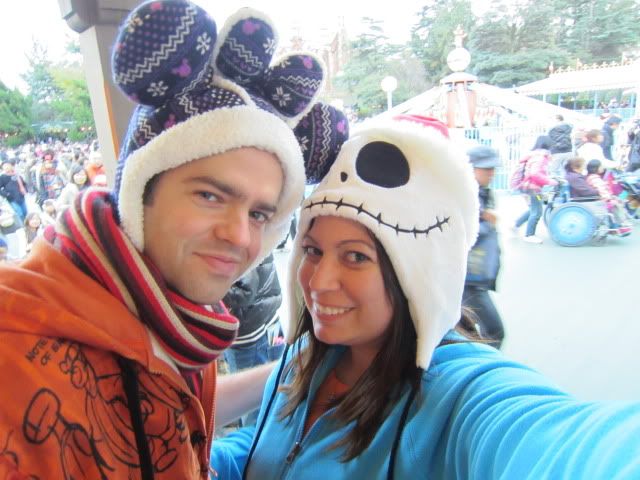 The Dumbo ride with the Haunted Mansion in the background

And just the Haunted Mansion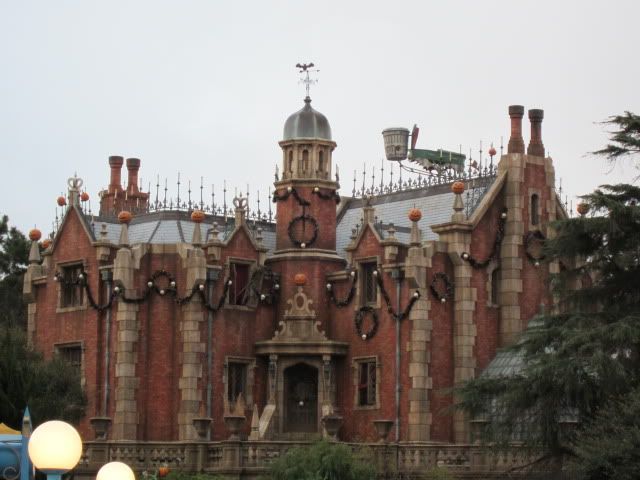 As I said, Dan and I love Disney rides but we are so content just wandering that we don't like to spend a whole day in line. Since we had done most the rides numerous times in previous trips, we wanted our only priority to be Haunted Mansion Holiday Nightmare, and possibly Winnie the Pooh's Hunny Hunt, since it's been closed for repair the past couple times.
We got to the Haunted Mansion and the wait time was about 2 hours and 2 minutes. Yikes! We made a quick plan to just enjoy the park, and try again when the Main Street Electric Parade started around 7.
We caught a bit of the Christmas parade from Toon Town

We had snacks and rode some less popular rides. I took Dan for his first visit to the Country Bear Jamboree (an animatronic attraction with singing bears in a theater). We were shocked to discover about a quarter of the audience had fallen asleep near the end! Mostly adults! We enjoyed spring rolls and churros and gawked at ride wait times. We perused little shops and rode Pirates of the Caribbean.
The sun had gone down and we got in line for Haunted Mansion. The sign said an hour and 40 minutes, but we always have so much to talk about and Dan had a fresh hot batch of chocolate popcorn, so we were armed and ready.
The wait was only about a half hour. It was incredible! People were actually getting out of line to see the Electric Parade. We got on the ride and it was as great as we remembered it from the year before. All the wonderful movie details are so fun to look out for, and I feel like every time we ride it I see something new.
We got off the ride, pleased with our plan, when we noticed the wait time said 15 minutes. No words were exchanged, we simply got back in line.
15 minutes ended up being no wait at all! Like little kids we trotted through the queue and jumped into our ride car. It was as great an experience the second time as it was the first.
Pleased with ourselves, we made our way to Winnie the Pooh. The wait was about a half hour, which wasn't bad at all. Just cold! This ride is much more exciting than the versions in California and Florida. It's a trackless ride, where cars are guided by an LPS. You never know which way you'll go, and your car does a synchronized dance with other cars! An experience you won't find elsewhere for now.
We decided to warm up in some main street shops with some cocoa. They have such cute kitchen gadgets and knick knacks, but we just don't have any space in our tiny kitchen! Dan did spoil me with some Christmas gifts though- A grey hoodie with neon Mickey Mouse faces all over, and a gorgeous Alice in Wonderland bag for me to take my ballet things to class in. It's possibly one of the cutest things I've ever seen, and hopefully I'll post a picture of it soon! The hoodie is exciting because Dan almost always finds a cute hoodie that suits his personality at the Disney parks (most recently a black one with Genie from Aladdin printed all over) so now I have a Disney hoodie too!
After my little shopping spree we decided to call it a night. Along with the other 60,000 people leaving the park that evening…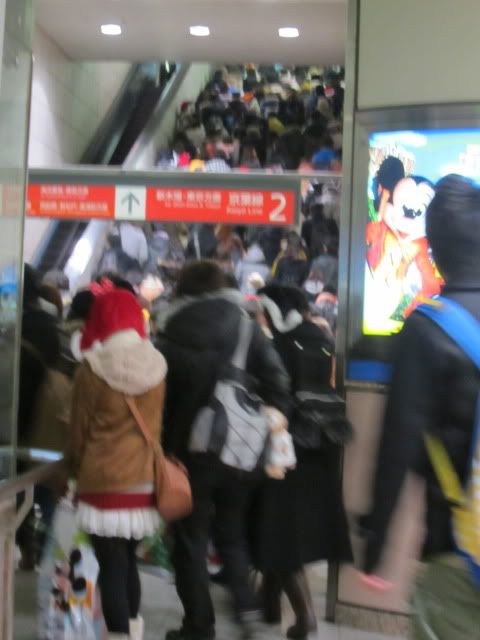 It's always crowded at the Disneyland train station, but as you get further out the crowds thin out, going all different ways into Tokyo. It was one of those fun magical nights where I wouldn't have changed a thing. It was also a very different way for us to spend Christmas. We loved every minute of it!