I'll start off with my most exciting news- I am finally an employee of Tokyo! I've been hired by a great school to teach English 5 days a week. I'm really excited about this. I will start February 13th.
My little Penny turned 4! Two years ago on February 1st, Dan and I brought her home from a PetCo adoption site in Kirkland, Washington. I remember we brought her home, then got some Chipotle to go with our room mate Stephen, and watched 3rd Rock from the Sun dvds and watched miss Penny take in her new surroundings.
Me and my littlest love on her last night of being 3!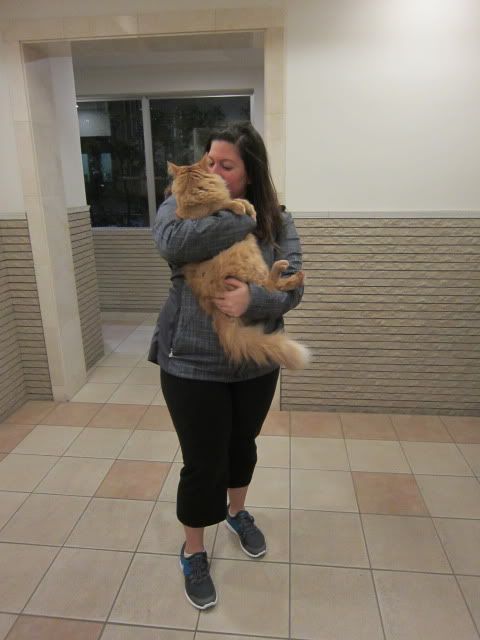 Going back a week or two ago, Dan and I live a block away from a nice little bike shop. Dan takes his bike there form time to time for a tune up or repairs or whatever it is that bikes need. I was looking at the bikes parked out front and he asked, "you like that one?" and I said, "no, it's not pink!" The shop owner came out and asked if I liked it and to take it for a test ride. I refused because I can barely ride a bike, but he wouldn't take no for an answer so I went down the block and back.
Dan asked if he could order the bike, complete with a basket, bell and in pink. The guy said it would take about a week.
I was getting incredibly antsy for my bike. A new way to exercise, and the ability to go places without relying on trains. It's sort of like having a car in Tokyo!
It was supposed to be ready Monday afternoon, but we didn't hear from the bike guy. So I went to ballet class, and then Dan met me and we had a workout on the ellipticals. As we walked home I looked in the windows of the bike shop, and there it was in all its pink glory- my bike!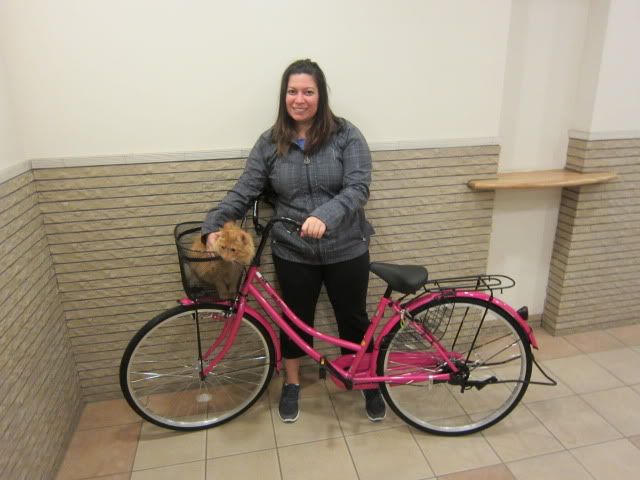 I love it! Dan and I went for a quick ride that night, but it was busy out and freezing. Hoping he will give me another lesson this weekend!
I've also been spending a lot of time with Dan's super awesome friend named Ryan. He hangs out with Dan and I, and lately he has been taking me to places I want to explore. Earlier this week I told him I love to knit and I"m looking for a yarn shop. He said, "I know one close, by, I'll take you there!"
Beautiful yarn!


A small yarn shop called Avril in Kichijoji

We also had delicious bubble tea- tea with tapioca pearls in it!

Dan and I have started going to the Ghibli Museum in Mitaka once a month. It's an animation museum that showcases the work of Hayao Miyazaki and some other animators who work for Studio Ghibli Animation. Once a month, the museum plays a 10-20 minute animated short. They are just adorable!
Dan and I at the Ghibli Museum in the rooftop garden

Dan and Ryan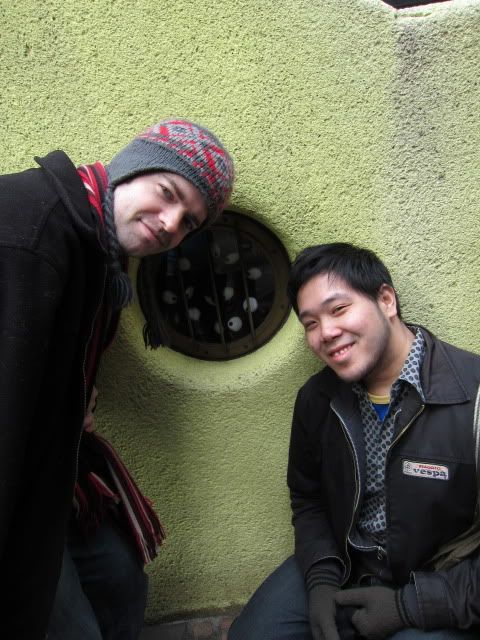 Dan and I are also still running. Remember when I could only run 9-10 minutes at the start of January? Today, February 3rd, I ran 42 minutes! And I feel great doing it! That's roughly 12 laps around our park. Dan and I calculated that it would be about 80-something laps to run a half marathon around our park, haha! We'll get there eventually. He's doing great too. He's up to about 16 laps. So far my weight loss for the year is 11 lbs and still moving downward.