Despite not getting much sleep (5 tossy-turny hours), today was fabulous! I taught 10-1pm and came home and had a protein filled lunch of eggs and a banana. Then Dan and I went to the bedroom to get ready to run. I pulled open the curtains so Penny could lay on the bed in the sun. Then I opened the window so she could enjoy the breeze. Then… we laid down and took a nap! I'm ashamed we wasted a chunk of the beautifully sunny day on a nap, but it was so nice!
After that we headed out to run. I had Dan snap a quick pre-run pic:


This outfit is special because I bought the top at the Underarmour outlet in Oregon in November. I was sure a medium would fit, but I got home and it was too small, snug everywhere. The outlets were about 40 minutes from my house, so I had no desire to exchange/ return the $8 top. So I hung on to it. And now it fits! Also, the cropped pants from Lululemon are exciting because when I was trying them on I did my usual habit of grabbing the largest size and heading to the fitting room. Since they're cropped and I'm short I wanted them hemmed (free alterations at Lululemon!), and as the guy was measuring and pinning he said he was going to grab the next size down. I turned red and wanted to run out of the store. I was ready to be horribly embarrassed that the smaller pants would rip or be grotesquely small. But he assured me that since they're activewear, they're stretchy, and if I'm planning to lose weight I'd be happy I got the smaller size. And to my surprise they fit great and I love them! So, this is my exciting outfit of a top that was once too small, and the pants I was too scared to even try on one day.
Off we ran. I set my iPod to 9 miles, feeling ambitious. I knew this would be 27.25 laps around our little loop. Around lap 9 I saw Dan on a bench. His leg hurt, so he was out. It was so tempting to just call it quits with him, but I decided to keep on keeping on.
Remember when I said I had to add 5.1 more miles to hit half marathon distance? Make that 4.1!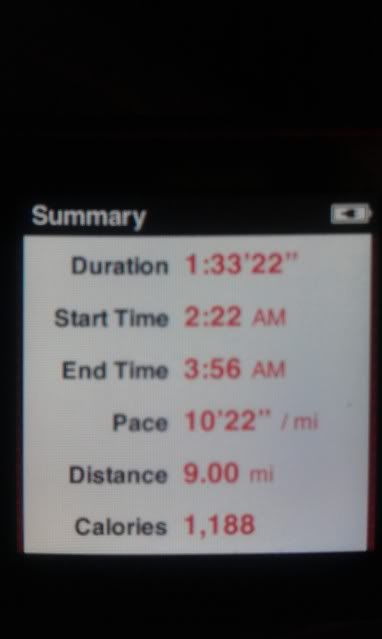 I felt pretty good after! Sore in the lower legs but everything else felt great. I even had a quicker pace than I've been having the past week! I came home and found Dan getting some house stuff done, like cleaning Penny's water fountain, dishes, etc. We decided since it was such a nice night out and the start of the holiday week (Golden Week), we went out to dinner. We had delicious yakiniku, the restaurant that let's you grill your own meat! Fun and tasty!
From left to right, short rib from cow, chorizo sausage, and cow tongue!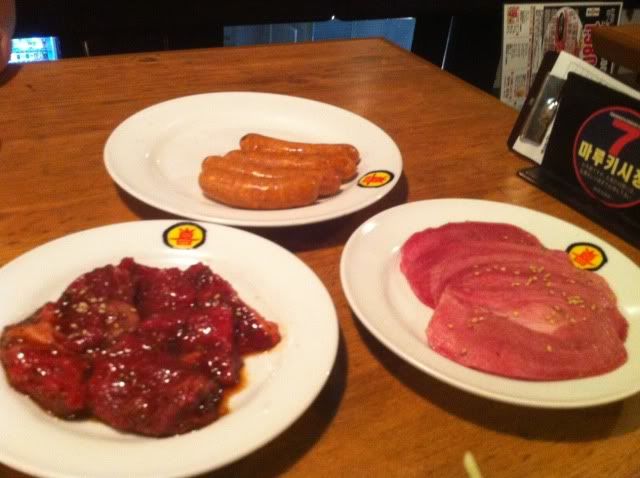 Doing some cooking!

Now Dan and I are home for the next two days enjoying the holiday weekend! I only have to work 2 days next week- woohoo! A weekend full of running, making cards and either a bike ride or hike.
Also, my nephew Big Nate is a week old already! Hoping he can leave the hospital sometime in the next week! Dan and I can't get over how much attitude/ expression he has!