Now that you're all caught up on (most of) my out of town races, it's time to catch up on my every day happenings!
But first, I'm excited to announce that I have partnered with Bulu Box and became their newest ambassador!


Bulu Box is a fun company that sends you 4-5 vitamin or supplement samples every month. It's a good way to stay in the know of current products on shelves at stores! What I like about it is getting to try, say, a protein powder, without committing to a giant, $50 tub, where I might try it once and not even like it!
A monthly box of samples is $10/ month. You can buy a month at a time, commit to 3, 6, or 12 months. If you are interested in giving it a try, I say go for it! Use promo code BULUGAN771 and get a free Bulu Box! No commitment, no subscriptions, nothing like that. Just try it

You just might get hooked like me and become a Bulugan!
Tiny print: Bulu Box gave me their product to try, but my opinions and reviews will always be my own, positive or negative!
And now, back to present day!
I am currently not running. But hope to start again in the next week or two! While attempting to run Goofy's Race & a Half Challenge, I tore my achilles. All I can say is YOWWWCH!!!!! In the following weeks, I wasn't sure what the problem was. I thought it was simply a pulled muscle, so I iced it and tried to maintain my training run schedule. No dice.
Once I got back to Japan it became so frustrating. I would rest it for a few days, then once I started running it would hurt all over again. I finally went to see a doctor and he broke the news to me: no running for 4-6 weeks! I simply had to rest, rest, rest.
This seriously drove me crazy. I sat in the house for weeks! And I was still feeling pain on stairs or with excessive walking. I felt like nothing was working.
About 2 weeks ago I started vigorous physical therapy. And it has been working! My ankle is getting stronger with my exercises and I'm continuing to ice it. I went on a 4 mile walk yesterday and had no (well, minimal) pain. I was elated! So I plan to get a couple more walks under my belt, then hopefully I can lace up and slowly start running again.
Even though I'm not running, I try to remain active with our running club, Hash House Harriers. Our chapter is the Tokyo Finally Friday Fukov. Though not running, I try to help by watching bags, taking member dues, and making sure runners have something sweet to eat upon their return!
A couple weeks ago I made blondies. They were a big hit!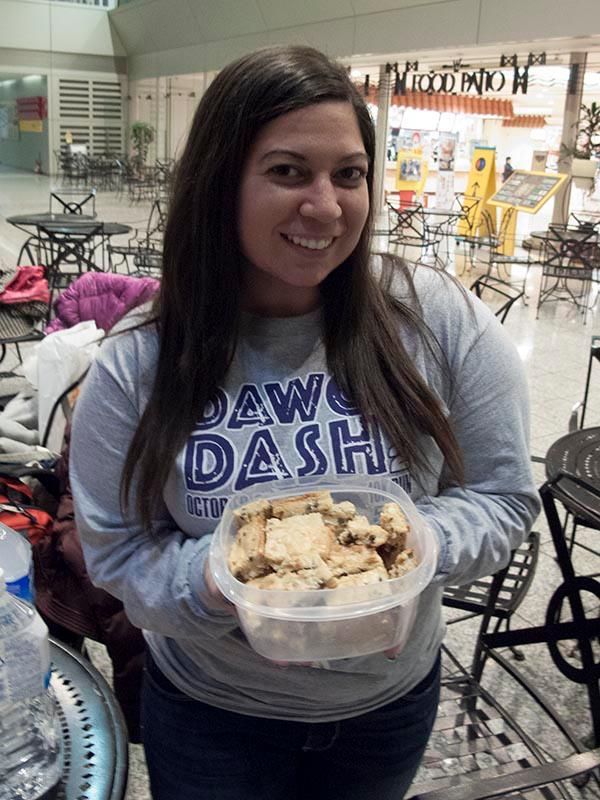 A group shot of all of us, enjoying a limited edition Yebisu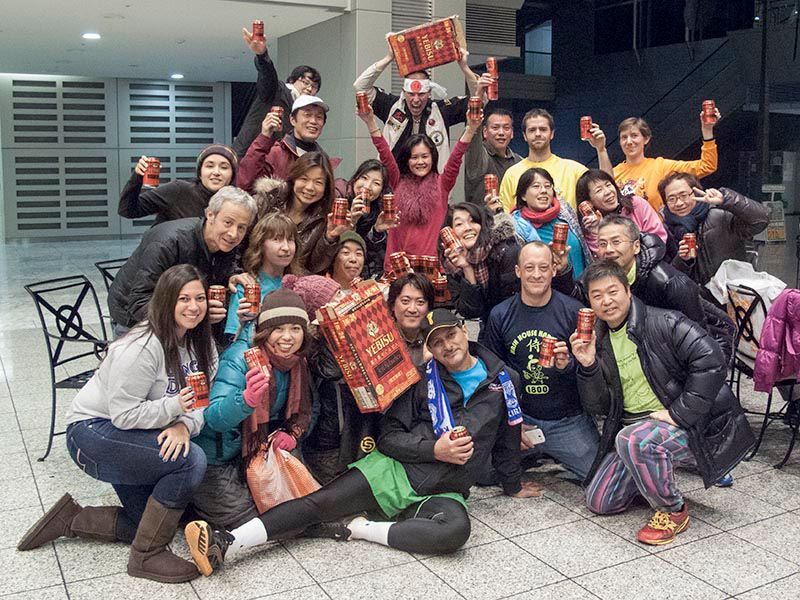 This has definitely been what my life has revolved around lately. That, and a never-ending parade of house guests! It seems like every week we're putting sheets on the couch for someone new! Good thing we love keeping busy!
I'll leave you with one more photo- Dan and I cheering at the Tokyo Marathon. We stood at the 18 km point, and people got a big kick out of our signs!