Last Friday, we celebrated Dan's birthday with our running group (aka our hash). It was loads of fun, but before I get into that I have monumental news: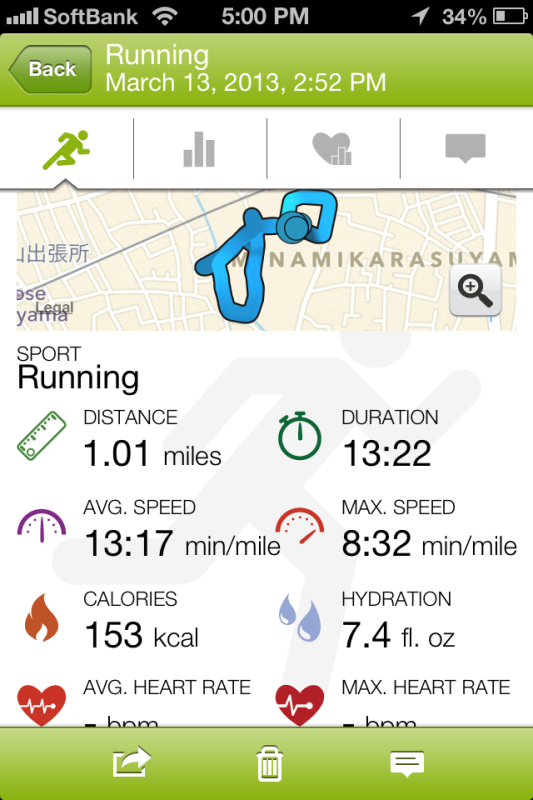 I went for a run today! It's my first run back from my achilles injury. It was slow and a little painful (not in my achilles, but all my unused muscles!) but it was great to just get outside again. I came home and stretched and iced immediately. Hopefully I'll be pain free tomorrow as well and can head back out again

But back to Dan's birthday!
Since he was turning 31, we made it an ice cream themed party, like Baskin Robbins 31 Flavors. It was a big hit! In addition to having a sundae bar, I made 60 cupcakes! You have to have cake and ice cream at a birthday, right?!
This was the first cupcake I made. Snickerdoodle! I followed this recipe and they turned out great!


Dan's favorite drink is an Irish Car Bomb, so while on that web site for the Snickerdoodle cupcake I noticed a recipe for car bomb cupcakes. I made them and they were a huge hit! The recipe took some time, but was pretty easy to follow. To recreate the flavors of the beverage, you make a chocolate cupcake mix with Guinness beer, fill the insides with Jameson whiskey- spiked ganache, and top with Bailey's buttercream frosting.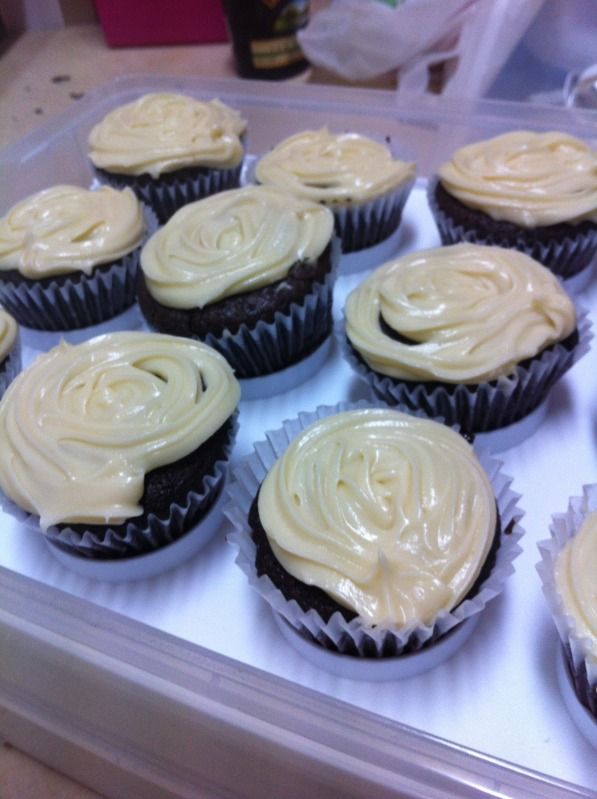 The Bailey's frosting was very sweet and I didn't want it to overpower the cupcake, so rather than my usual giant puff of frosting I piped it on in somewhat of a flower pattern with a new tip I haven't yet used. Needless to say, it needs some practice!
I was especially excited because this would be the first time I was using my new cupcake courier!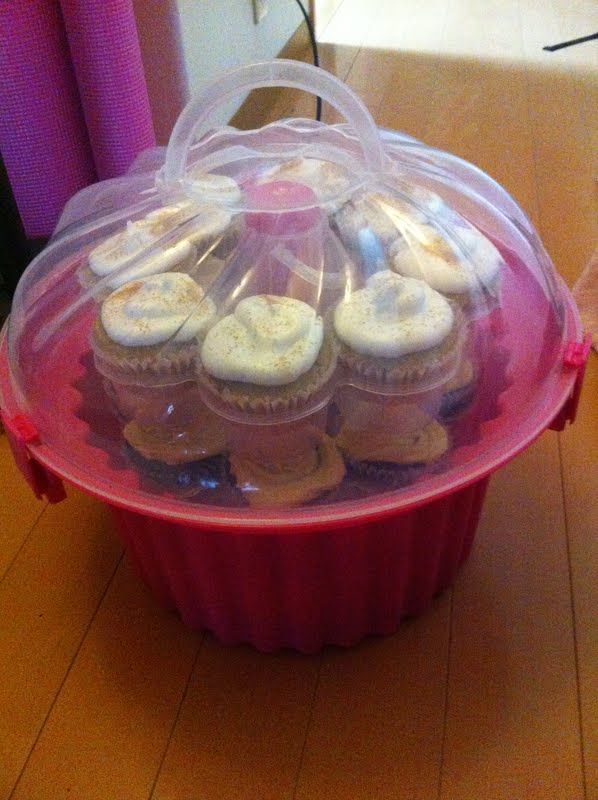 Oh, the joys of city living. About to get into some packed trains with 48 cupcakes!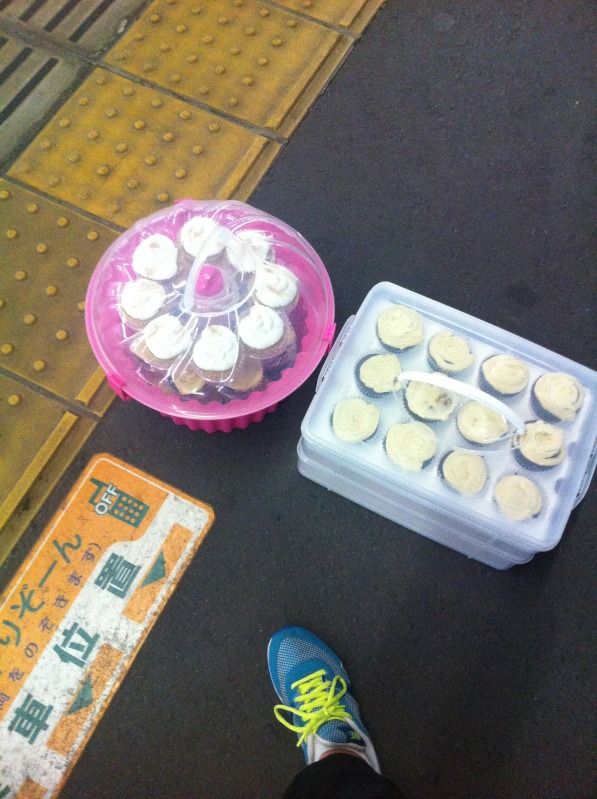 We had a turnout of about 40 runners for running club that night! It was so great to see everyone. I think the celebration, as well as better weather, drew more people out tonight.
Once everyone returned from the run I presented Dan with a gift: I had shirts made for everyone who came out tonight! I took our running club's logo hare and gave him a birthday makeover, complete with ice cream. He loved it and so did everyone else!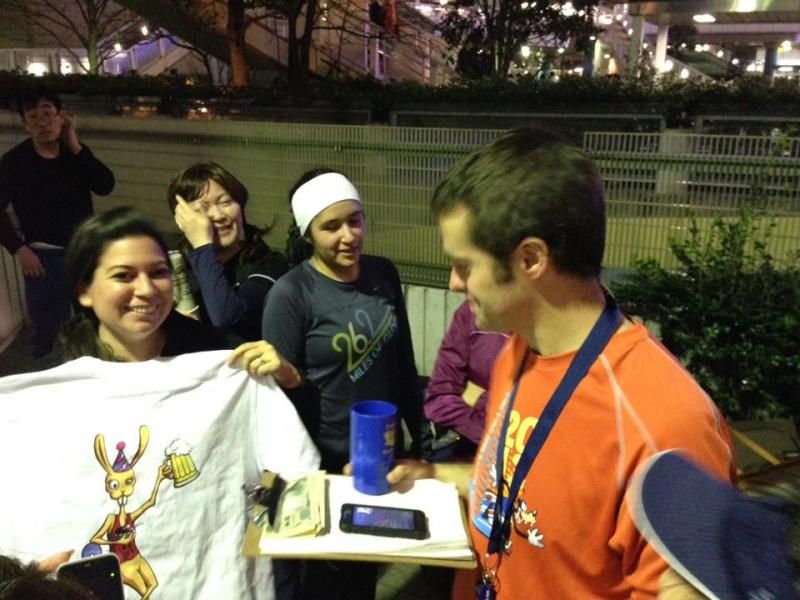 Photo by Kyle Fagan
My friend Annmaree took his picture. My good friend Kat and I! She's over here with the Army, and sadly her time is up in Japan in just a few weeks

The woes of expat life- no one stays in one place very long!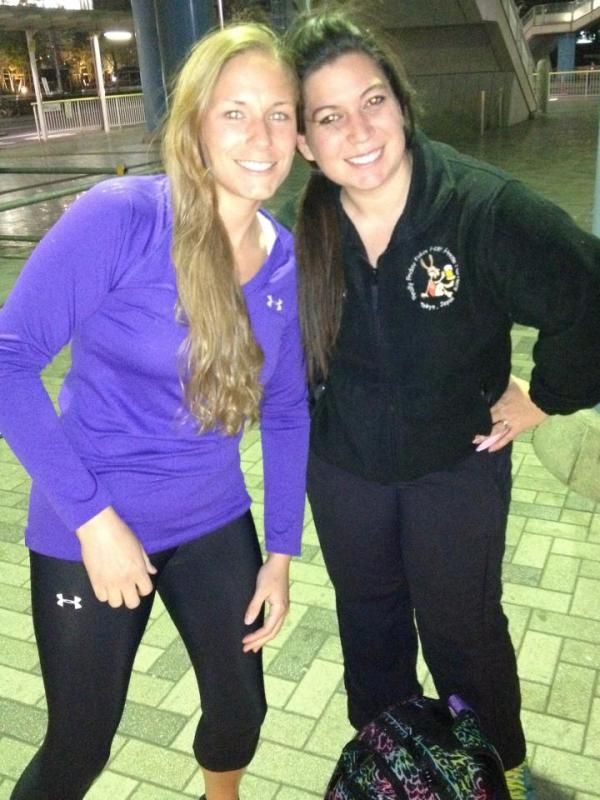 The night continued with cupcakes, ice cream, drinks and mingling. Before everyone left, I made sure they got a goodie bag! I whipped these up on my Cricut this week, some of Dan's favorite American candy