Hey all! I want to thank you all for your kind comments and e-mails I received yesterday. It has been so incredibly frustrating not only NOT being able to run, but having no one understand when you explain the pain! So thanks for that!
I thought I'd start today off with something I observed at the train station today. Do you remember my post explaining how a very old train line, The Tōkyū Tōyoko Line, was having its last night of operation? I walked by it for the first time since that night, and you'll never believe what it looks like:
The only picture I could find of it before it changed: regular train station!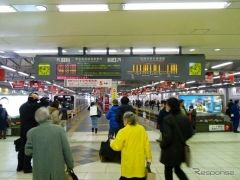 Photo by ResponseJP
And what it looks like now


It was turned into a Uniqlo store! It's so crazy, seeing clothes rack on train tracks.
Anyway, I tried to start my day out with a run but after spending all day yesterday in my new shoes, my feet were really sore and achy. Probably from using all new muscles I wasn't using in my other running shoes! It was really disappointing.
So I came home and tried a new work out dvd a friend lent me. It was recommended to me by a running friend of mine who is a fitness consultant, and it's called the ChaLEAN Extreme Workout. It has a hefty price tag, but luckily a friend let me borrow it so I can test it for a workout or two before I commit to dropping the cash on it. I believe it's about $90 plus $20 shipping, but it has nothing but positive reviews on many web sites.
It was about a 35 minute workout, a good burn without being too difficult. I was only on day 1 though! I plan to do it again tomorrow and see how I do. On a random note- if you want to get fit I highly encourage you to blog if you don't- I didn't want to have yet another day with no workout to discuss, so I did the dvd! Nothing like a sea of people via the internet holding you accountable 😉
Also, how's this for embarrassing? I was rooting around the apartment looking for some weights I purchase when I first moved to Tokyo 2 years ago, and eventually found them- with the packaging still on them! Yikes! Time to put these to use!

I didn't have much free time after til I had to hit the trains and head out to the air force base for tanabata dance class. I'm still reading City of Bones by Cassandra Clare and it's become a lot more interesting. I should finish tonight or tomorrow, and then I can have a little book club with my niece! Now, what should I read next?
Dance class was fun, most of them were preparing to dance in a festival this weekend, and I can't make it 🙁 I'll be cheering Dan on at the half marathon, and then our running groups Sunday chapter, Square Hash House Harriers, is having a 4 year anniversary party, and I volunteered to bake something (of course!). Our next performance is at an elementary school, where we'll perform and then teach the children a simple dance. Fun!
QOTD Do you have an at-home work out you love?