Happy Tuesday all!
I haven't had the greatest running week. I'm on a new physical therapy regimen and it's giving me a run for my money! My foot problem finally has a diagnosis- Hyperpronation, or inward rotation of feet. I'm working to strengthen the front half of my foot to get some of the weight off my heels. My achilles has been suffering because since my feet turn in, it isn't properly aligned.
I feel so much better just knowing what the problem is! Now I just have to get stronger so I can get back to running!
In the mean time, I haven't been feeling awesome about all my failed runs lately. I felt especially ashamed when I received a bracelet from Endorphin Warrior, asking for a review and giveaway. I really didn't want to send it back, but what could I do?
My new bracelet, waiting to be loved.


Endorphin Warrior specializes in apparel and jewelry with a message- one that will keep you going. So I put the bracelet on and thought about it. How can I keep going?
In the mean time, I really liked the fit. Comfy, not binding, but also not jangly.

I thought about what a warrior would do. A warrior would find another way to thrive. So I decided to start that cross-training regimen, I've been talking about since last week, ChaLEAN Extreme. And I've been at it ever since! (I should mention I found a fantastic online fitness consultant and I'd be happy to recommend her to you! Just comment or email laurel[at]penniestoyennies[dot]com). I still get out and try to run every afternoon, some days I can make it and others I'm just in pain. But this dvd is a way I can still get my blood pumping and not lose all my muscle strength- aka how to keep my warrior status!
Workin' it out at home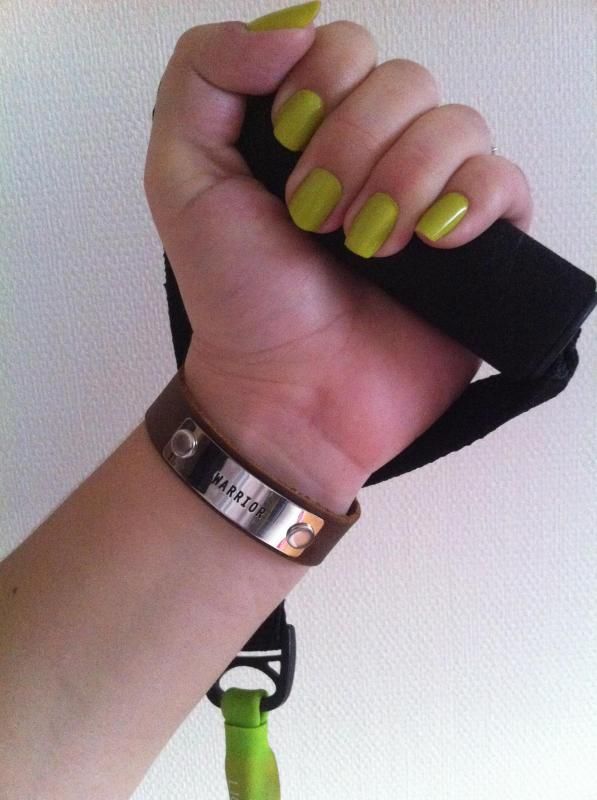 Ok, ok- THE GIVEAWAY!
So now I want to give you all the chance to win one! All you have to do is comment and tell me what word you would want on your bracelet. All the choices are available here.
You have til Friday at midnight. Good luck! I will announce the winner Monday, and your bracelet will be shipped out 48 hours after claimed. 🙂
a Rafflecopter giveaway