This is Part II of II of my Goofy Challenge experience. You can read about part I here.
Dan and I arrived in sunny Orlando a few days before the races. We headed to the expo at the ESPN Wide World of Sports Complex and that was when I started getting really excited.
This expo was huge!!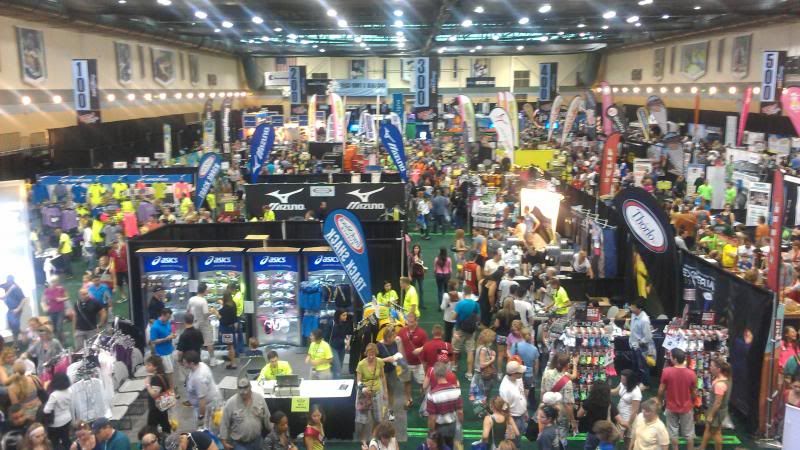 We got our bibs and shirts, browsed the booths, then headed to our hotel. We stopped briefly to dump our bags, then had a really great dinner at Kouzzina. Long day means asleep by 9pm!
Race shirts and bibs. The marathon shirt was definitely my fave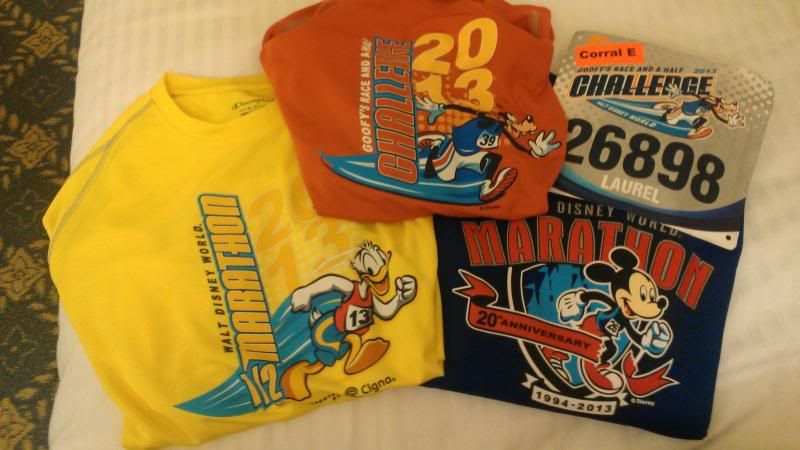 Friday we decided to take it easy. We were incredibly fortunate to get into the WDW Marathon Weekend Meetup, an opportunity to go for a short training run through an empty theme park with Jeff Galloway and other Olympic runners. It was an incredible experience, shaking hands with Des DeVila, Joan Benoit Samuelson, Bart Yasso. There were even some celebrities we got photo ops with!
Joey Fatone of NSYNC!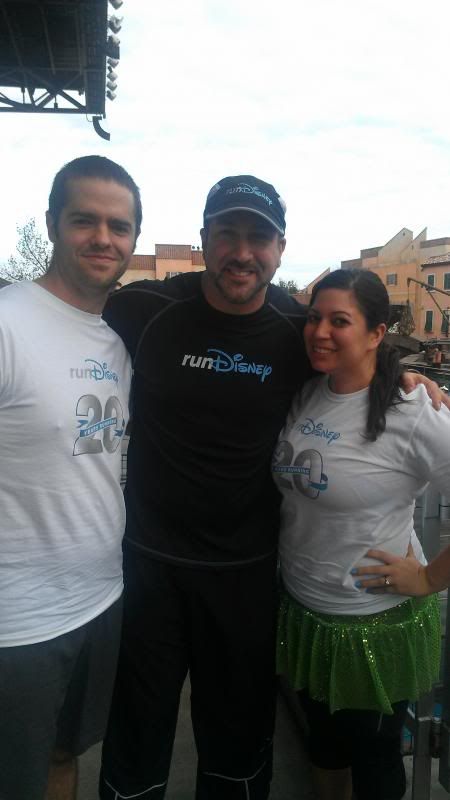 Drew Carey!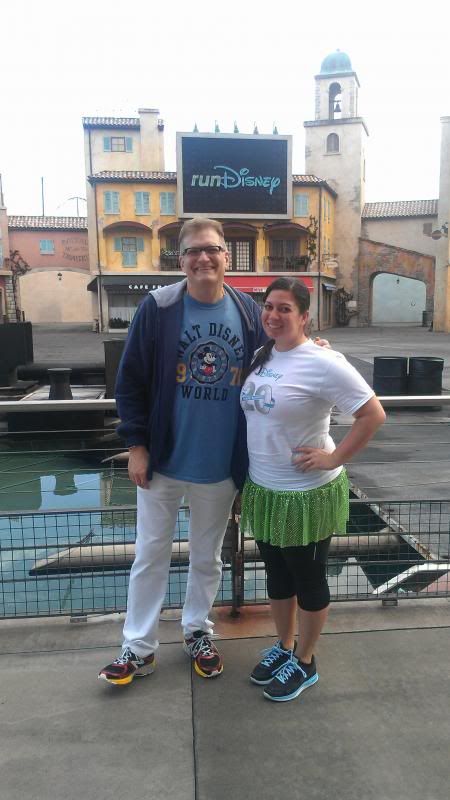 We went back to the hotel after, and decided to spend the late afternoon at EPCOT. We rode rides and had dinner at Biergarten in the Germany pavilion. Not wanting to be on our feet too long, we packed it in and headed back to the room for bed!
We stayed at Disney's Boardwalk. The balcony and view blew me away!!


3am came way too fast. We dressed and ate protein bars. I wasn't particularly happy with my outfit- my carefully planned outfit had to be scrapped, as it was for cold weather and Orlando was in the midst of a freak heat wave. I wore capris and one of Dan's Adidas tees. It didn't take us long to get ready, and we were out the door and in the long line for a bus to the race.
The line for the bus took longer than anticipated, so when we got dropped off at the finish, we walked about a mile with the masses to get to the start corrals. Dan and I parted ways, and I found myself thinking about what was about to happen. 39.3 miles. In all honesty, I hadn't give it much thought at all. I'd dreamed about crossing the finish line for 7 months, but I didn't consider logistics. Should I go easy on the half so I can put all my energy into the full? Go hard today and take it easy tomorrow? I started worrying, but before I could do much of that, the gun sounded, fireworks filled the sky, and we were off!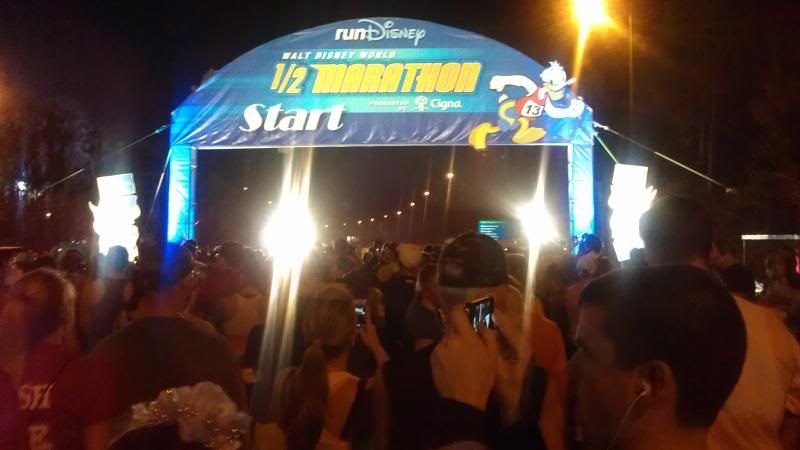 I ran the first 3 miles, then took a walking break for water. I decided to run-walk the half marathon in an effort to preserve my legs for the marathon the next day. I wasn't following the Galloway Method or anything, just on my own accord. So off I went, but man, once the sun rose, it was miserably hot. I did FAR more walking than I'd planned. I took full privilege of water stations, having a water and Gatorade at each one. By mile 11.5, I really didn't care about my time. I was miserable and wanted to get out of the sun. It was the first race in my running career I used a porta-potty.
I had to say though, the mile markers were pretty awesome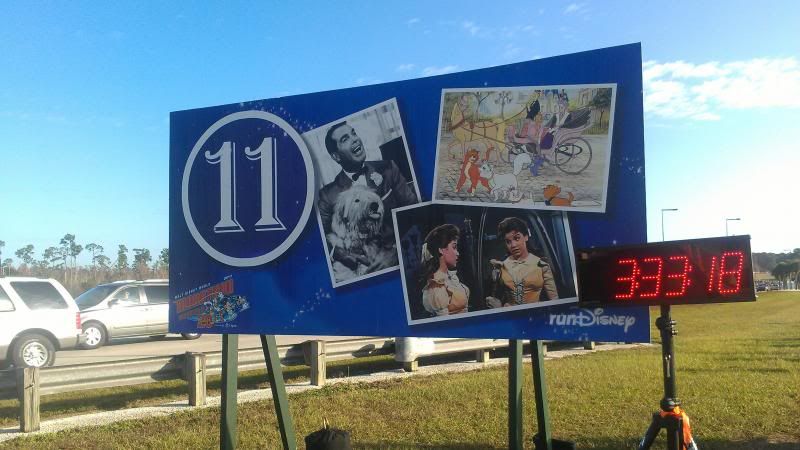 I crossed the finish with a time of 3:37. I was pretty unhappy about it. When I did my first half in 2010, which I walked most of, my time was better than that! I got my medal and snack box and found Dan who was at the icing station. As a preventative measure, I got my shins iced and sat for a bit. We chatted about our races. I was getting pretty darn nervous for the full.


We cabbed back to our hotel and took it easy. No parks, no meals out. We laid by the pool. I swam a couple laps, sat in the hot tub, and read under a palm tree. We chatted with a nice guy in the hot tub who told us not to worry, Disney was family oriented, they hardly ever sweep people. I relaxed a bit hearing that. Once we got our fill of the pool, we headed to the room to change, got dinner on the Boardwalk, then called it a night around 7:15pm!
My view at the pool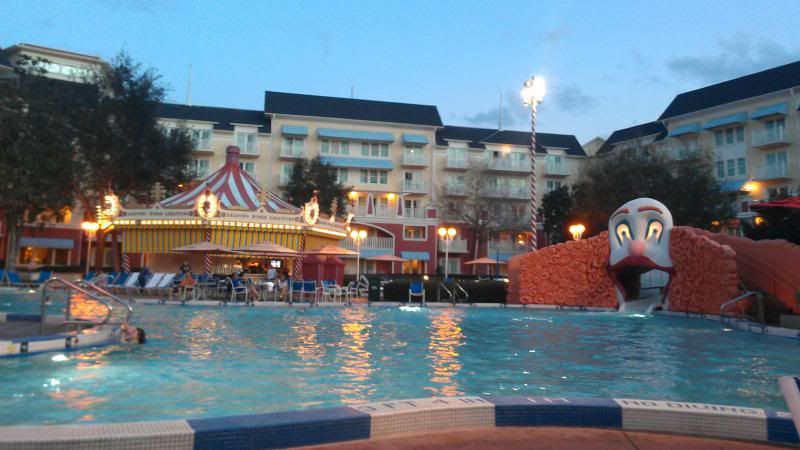 One again the alarm sounded at 3am. The soles of my feet felt pretty used. Besides that, I felt good to go. Once again- protein bars. Races clothes. Bibs. Line for bus. Bus. We were able to catch the tail-end of the Team Run Disney get together, where people in the online community can meet and take pics. That was nice and took my mind off things.
We hiked out again to the corrals. We were earlier than the previous day, but didn't have much to say, so we went to our respective corrals. This is when I really started sweating. 26.2 miles? I barely survived 13.1 yesterday! And my feet already hurt! I decided to listen to some music and stretch. At this point, I realized my iPod was dead. No. NO! I need music to fuel my pace! My heart was thudding out of my chest. At this moment, corral A was off. Despite the heat and humidity, a cold blanket of terror swept over me. I tried to pay attention to the MC. He was promoting the new Oz movie and said, "but you know what, we're not here to talk about movies, let's talk about you, Runners! Because you're great and powerful, just like Oz". I am great and powerful. I can totally do this.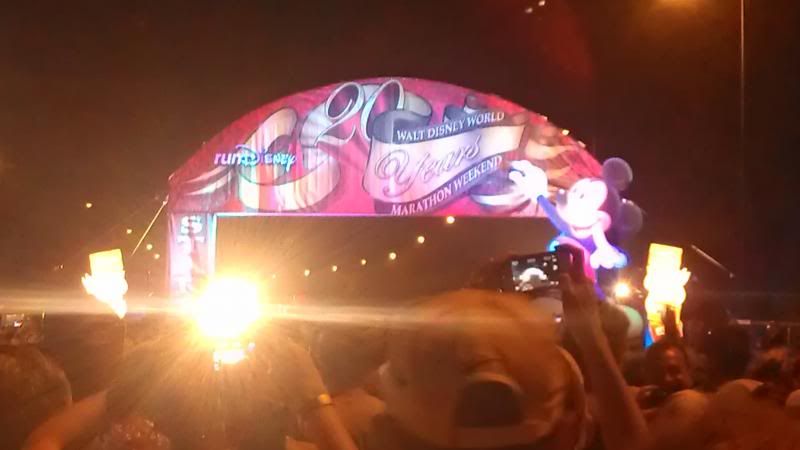 My corral was off, and I jogged slowly. I am great and powerful… I walked the water station and got back to my jog. I HAD to take it easy. I decided to jog as much as I could before the sun rose. The sun came up as I was approaching Magic Kingdom. it was instantly hot. I decided to start implementing my run-walk. Running through the parks was no problem since it was so distracting, early in the race, and generally exciting. I hit 5 miles as I left MK, and took a walking break. My feet really hurt. That can't be good. Water break. Gatorade break. I am great and powerful. Some time later, we reached the Disney speedway, where we run a lap on a race track. I was seriously losing steam. The heat was killing me, my feet hurt, no music. My problems were mounting. I realized I was jogging and walking so slow, that I decided to give up jogging and powerwalk. This felt good! Yes. I look like a local mall walker at Washington Square mall (shout out to my Portland peeps!). This, I could do.
Well, by mile 10, without even realizing it, my power walk turned into a regular walk. I was passed, passed, passed by so many people. Pace groups. Senior citizens. Obese runners. My ego took a beating. I told myself to calm down. There's no point in comparing. I am great and powerful.
The first time I got worried about being swept was just before we entered Animal Kingdom. I was passed by the 7 hour pace group. We were supposed to finish the race in 7 hours! I powerwalked to the last person in the group and hung on briefly, then watched as they marched on. I lost a bit of hope in that moment, and really got worried. I looked around. There were still people around me, but not many. I just had a terrible feeling, but suppressed it. Surely someone would come talk to me, right? Dan and I texted briefly at this point. He was struggling at mile 20. I was so proud of him.
I just love this photo he took around mile 20. Also appropriate with the recent release of Monsters University 🙂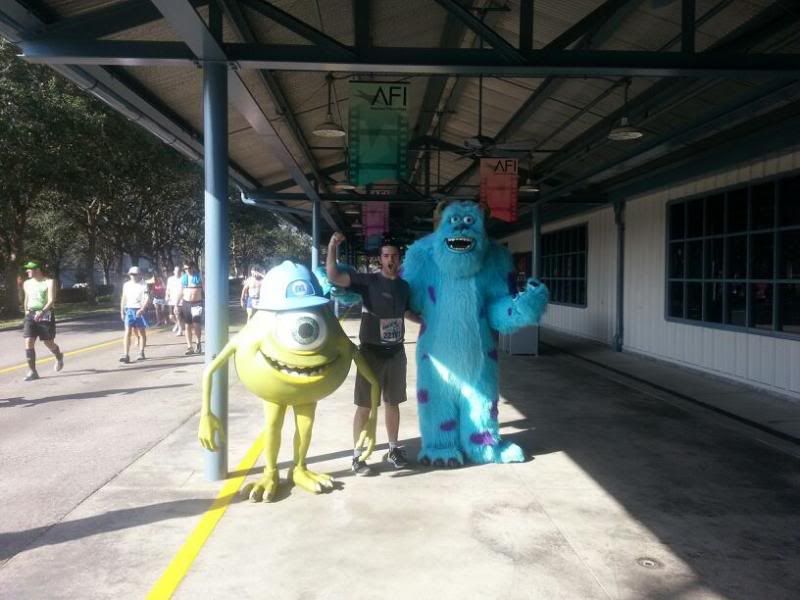 I walked through Animal Kingdom. I wanted to at least jog, because there were spectators, but I didn't have it in me. My feet were screaming now, and I developed a dull, persistent ache in my right achilles. I was in so much pain at this point, I worried I'd develop an injury. I didn't even pose for the photogs. I walked out of the park and towards the parking lot. Then, I saw something strange- a guy with a race bib deviated from the race course and was cutting across the massive parking lot! What?! That's not fair. Someone will stop him, right? Oh well. I lapped the parking lot, looked up, and there it was.
A bus. I stared at it in shock for about 1.5 seconds, then burst into tears. It was over.
They had parked a bus across the race course. Game over. That guy knew it was over, so he cut across the parking lot to the bus. One girl was on her phone sobbing, sitting on the curb. Another man was yelling at the employees, saying he paid for this race and was going to finish. I couldn't say anything. I just put my hand over my mouth and sobbed. I'm not a big crier in general, and certainly not a public one. As I queued up to get on the bus, I had employees saying I was breaking their hearts, my spirit was incredible, thanking me for coming out, that I'd done more than so many people ever would do.
But I didn't finish.
I cried the whole ride to the finish. The poor girl next to me tried to tell me I was awesome over and over, but I couldn't even acknowledge her (was this you, Reader? Let me know! I owe you and thanks and high five). What I couldn't wrap my head around was how many people were in sky-high spirits. They were happy they gave it their best. Lots of knee braces. Lots of obese folk. Even fairly fit people. And the girl who didn't train and thought she could skate by. I am not, in fact, great and powerful.
I texted Dan and told him I got swept. He was shocked. I continued to cry into my hands. I missed the bus ride, which went through some pretty cool behind the scenes areas. I didn't care. I didn't finish. We got dropped off near the family reunion tents, and given medals. I just kept walking. The lady actually followed me. She said I earned it and I (in a not so pleasant tone) said, "No, I don't". The tears spilled again, and she hugged me. She slipped the medal around my neck and whispered, "you'll be happy you have this some day".
I went to the barriers where Dan would eventually emerge from. It was torture- the clink clink of all the finisher medals around me. I took mine off and jammed it in my Spibelt. A man next to me then stepped forward and hugged an approaching, medaled woman who said, "You beat me?" and he answered, "No, I got swept, but I am so proud of you, you are amazing". I wanted to be like that for Dan. I really did. But when he came around the corner with his medals, I cried. He hugged me and I cried and cried. it was all I could do. We went back to the hotel.
And that was my Goofy experience.
This was 6 months ago now. I've come to terms with some things:
*I was not ready for this race. Goofy and Dopey runners- respect the distance. Train. Don't try to get by doing the minimum. If you feel in over your head, defer. I ended up with a bruised ego and torn achilles tendon. Be smart. Be realistic of your expectations of yourself.
*Thousands of runners were swept at this year's Walt Disney World Marathon. Despite keeping pace (there was no "balloon lady"), I was swept. There were 2 deaths at this race, one heat related and one heart related. At this point, Disney opted to start pulling runners from the course. I might have taken some comfort in knowing that at the time, but I'm sure Disney wanted to figure out how to respond to that appropriately. Out of respect for those who passed at this race, I can take some acceptance in being swept.
*No one can be blamed for the weather. I cursed Florida. I cursed Disney. I cursed past runners who did not warn me. But the year before, it was cold and rainy. That's central Florida for you. Unpredictable.
*I was ashamed to tell anyone about my experience. Blog about it? Ha! This blog entry was a laughable concept in January. I was humiliated. As time passed, and I've been more open with my story, I have received a lot of positive affirmation for my efforts. And unlike the poor woman next to me on the bus, I was able to graciously accept them.
*I am great and powerful. I had the mantra right. But this race is just like life- you get what you put into it. No training, no victory.
*I'm about to marry a really incredible guy. Dan only took interest in running because I did, and ran this race because it was important to me. I can't believe he went to such lengths, trained, committed and saw this through. He amazes me day after day and I can't believe I get to call this guy my family. I wasn't able to make the words on race day, but Dan- I am so incredibly proud of you and your performance at the Goofy Challenge. You are so inspiring and positive. I'm honored to be your partner.
My champ at his victory lunch at Steak N Shake. Well earned!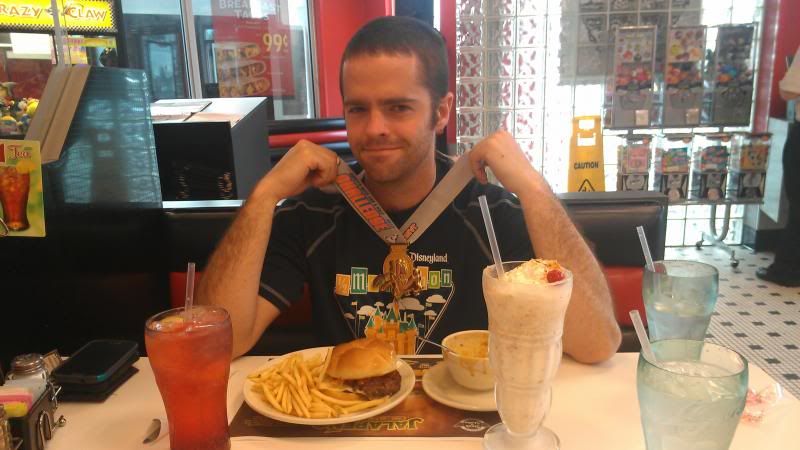 I am signed up to run Goofy's Race & a Half Challenge in January 2014. I will train and prepare myself accordingly, and hope to blog about it along the way. My DNF this year wil make finishing next year that much more epic. Will I see you at WDW Marathon Weekend?