I'm ridiculously pleased to say that training for Goofy's Race & a Half Challenge is going really well. Or at a minimum, FAR better than last year (when I didn't train). I haven't missed a distance run yet and my mileage is climbing. When it was time to run 16 miles I couldn't fathom it. But I did it! Then this past weekend I had to run 19 and again, I seriously didn't know if I had it in me.
I think the most stressful part about the training isn't the distance run itself, but the moderate the day before. Since Goofy is a half marathon Saturday and a full the next day, I'm training by going on a moderate run Saturdays and then a long run Sunday, to prepare myself for running on fatigued legs. So this weekend I ran 9 miles, then got my rear back outside less than 24 hours later to run 19.
I created a loop by running from my apartment, to Chitose Karasuyama Station, bypassing my town of Rokakoen, then on to my usual park in Hachimanyama and back to my apartment in Rokakoen. It worked out nicely!

With all this marathon training I've been doing, something else cool happened this month…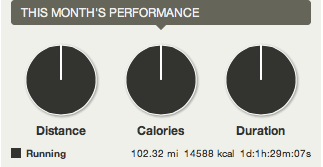 100 miles! I don't think I've done that before. December will also likely be a 100+ mile month, as I have THREE 20-milers scheduled. I'm dreading those!
So all in all I have to say that I'm really pleased with my progress in preparation for Goofy weekend. It's funny how after a good run, I feel like I'll crush Goofy weekend, but if my legs feel tired or I just feel off, I start worrying and thinking it will go horribly. Time to think positive!!
In other news, November is rapidly slipping away and there's still time to donate to Dan's Movember efforts!!
Dan on the right with our friend and Mo Bro, Kyle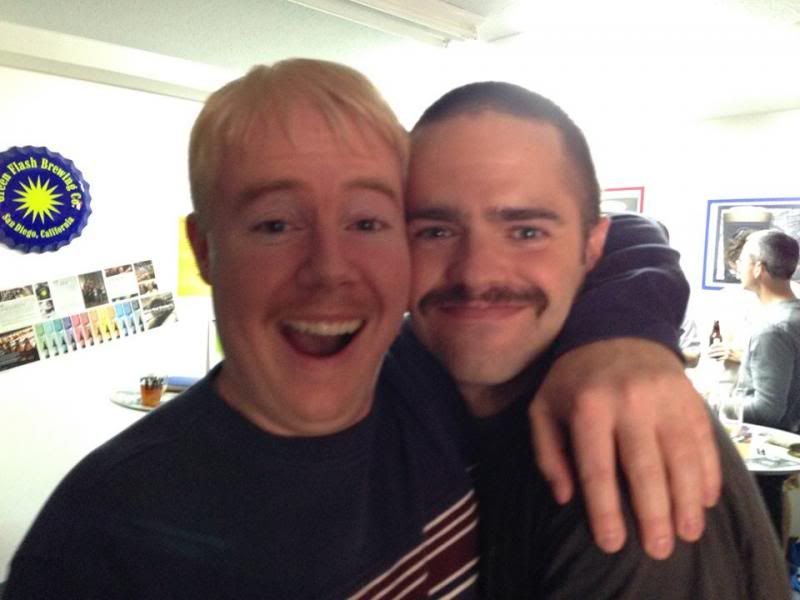 Dan is a mere $21 away from raising $1,200!! And his team is only $190 away from raising $7,000! So please make Dan's day and click here to donate!!
Speaking of Movember, we had a really fun night at a Movember benefit at one of our favorite bars I've mentioned before, Antenna America. Besides donating ¥100 from every pint to Movember, they had a huge keg for us to throw change into. As I'm not shaving my legs for Movember, I garnered quite a few donations- people dropped their change into my Ugg boot!
There was a raffle for donated prizes and Dan and I kicked tail!
I won a shirt!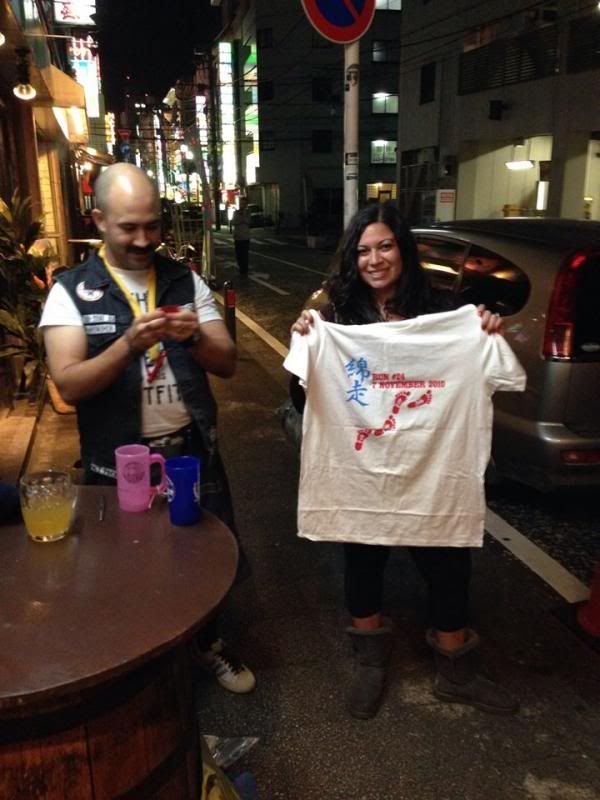 And a mustache kit!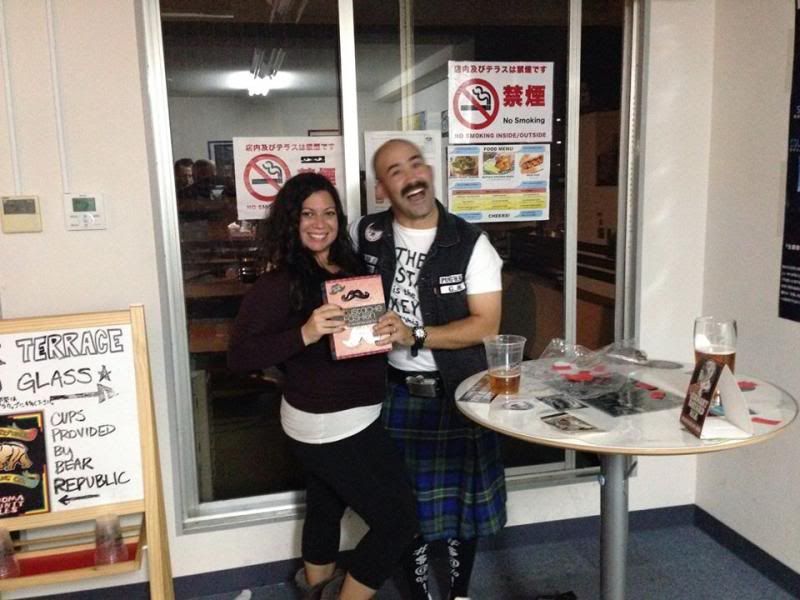 We also had a great time just socializing with friends.
We weren't exactly ready for a picture, but this is my awesome friend Cole. I'm sad because the Army is sending him to Yemen so he's getting ready to leave Japan 🙁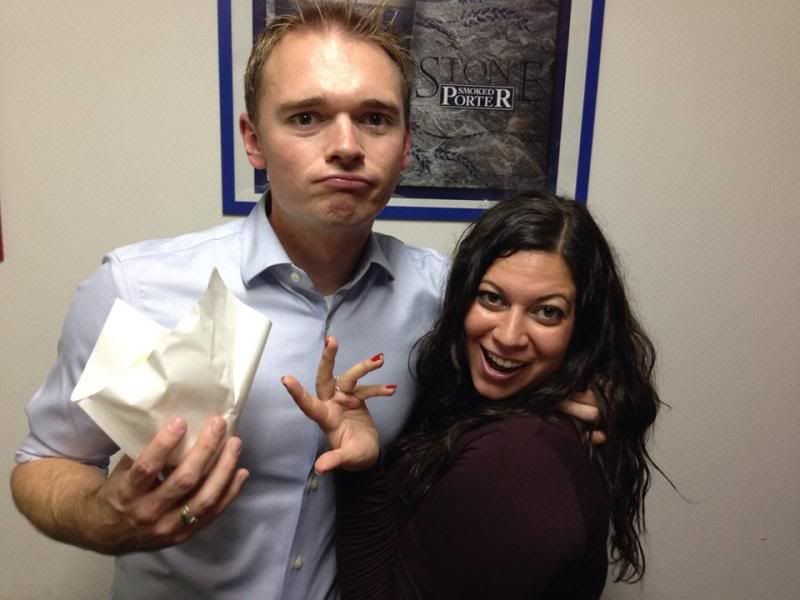 And I never thought this would happen… I have a new friend… named LAUREL! 😀 (also, our friend Steven is behind us)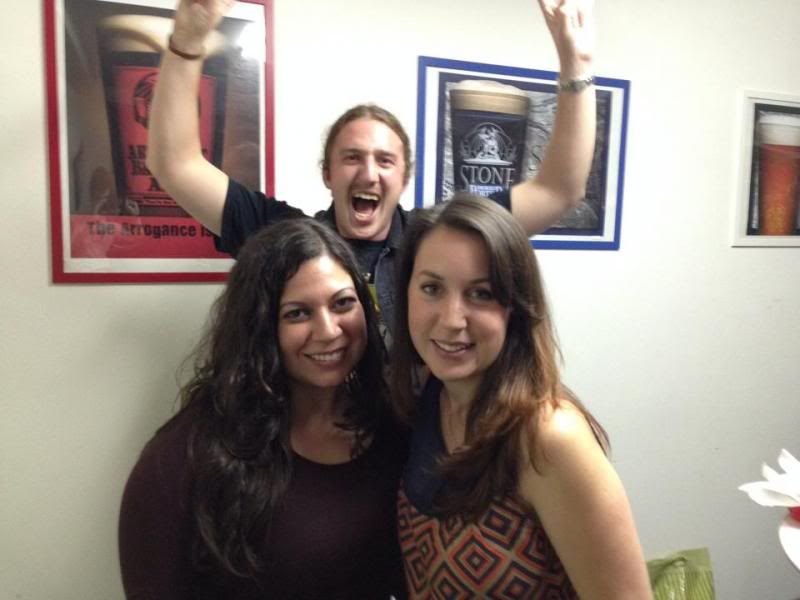 Laurel rocks. She's just like me! She works in PR and loves running and Ke$ha. It's the start of a beautiful friendship. She just moved to Tokyo from Chicago.
This is just another busy holiday week- Dan and I are hosting 2 runs this week for our running groups, I'm cooking up desserts for 18 people for Thanksgiving, and finishing my first ever sewing project- my nephew's stocking! Pics of all of those things soon to come!